Steve Pinn sent me this report of his success at Lakeside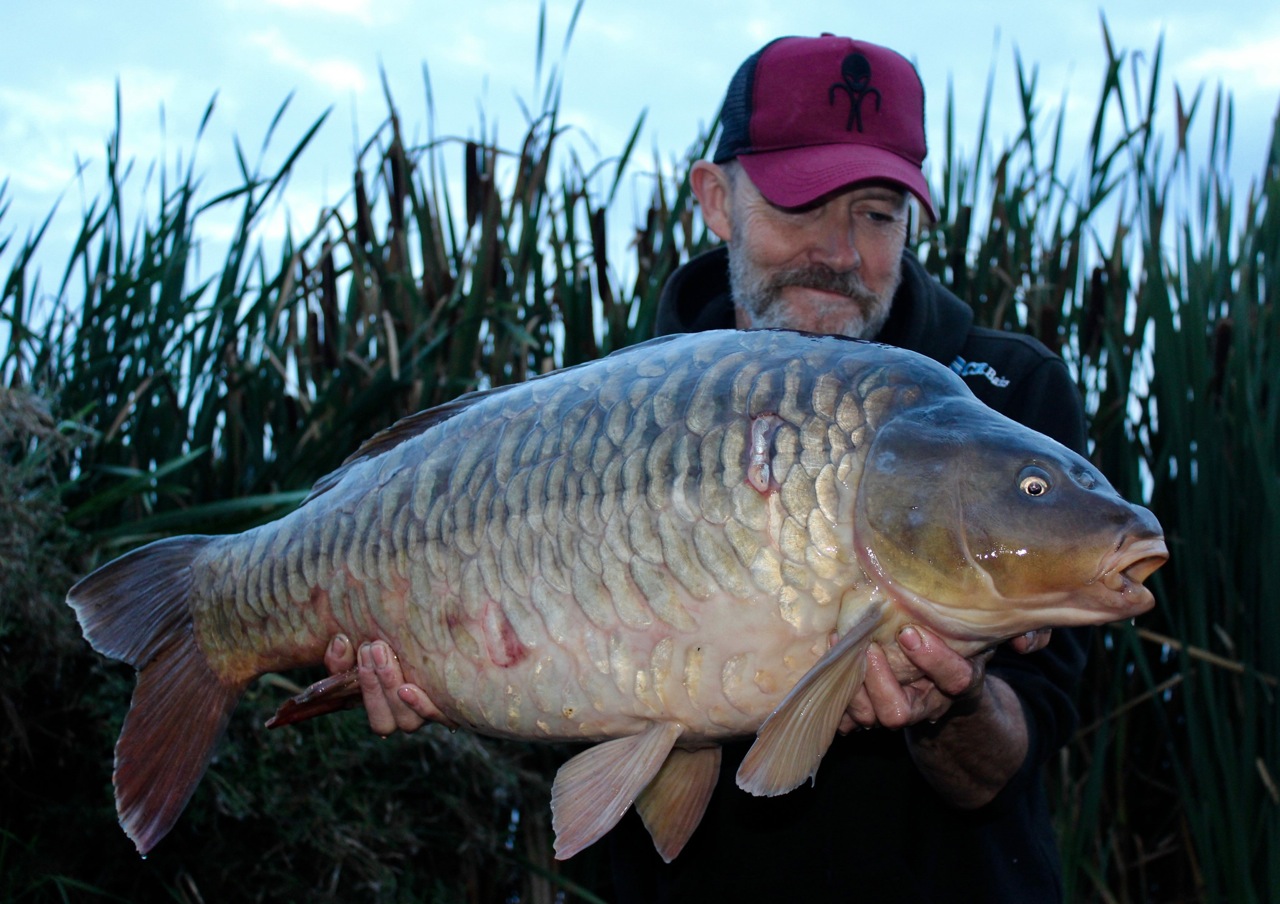 LAKESIDE FULLY SCOOPS A GRAND
I'd never fished Lakeside View before so enlisted good buddy Haribo (Harry Collins) to show me around and pass on a few hints and tips.
It's a lovely looking, reed lined lake of around 10 acres near Collumpton in sunny Devon. Had a walk around and settled on 2 neighbouring swims, 13 and 14. Not a lot was showing but a few had been out.
We settled up in the shop and added £2 each to the bill as part of the sweepstake for catching either a 30Ib common, a 35Ib fish or the 'Big Fully'. I was expecting a new venue blank but parted with the extra dosh nonetheless.
Rods out, social on. Harry was in to fish straight away, all stunning fish from low to high 20s.
The order of the day was "dark baits tight to the island" so I HAD to have one rod on a bright peach pastel pop up about a rod length off, just to see what happened, if anything, on the first night.
We'd been getting liners all evening and after about an hours kip (with one eye open to the sound of bleeps) my peach pastel rod tore off at 2.15am.
After a lengthy, solid tussle a very scaled fish appeared on the surface in the torch light. In a daze, I said "oh, it's a fully" to which Harry replied "It might be THE fully…..it is THE fully…..it's the money fish….it is !!……that's a thousand pounds!!!" That was it, we were in raptures.
The owner (Peter) comes out at all hours for 'special' fish and was there for the weighing and to verify that it was THE fish. It was, 28Ib 10oz of stunning fully. At first light he was back for pics and congrats.
I was in a daze for the rest of the night as the social continued. It turned out to be my only fish of the session but what a fish and what a memory.