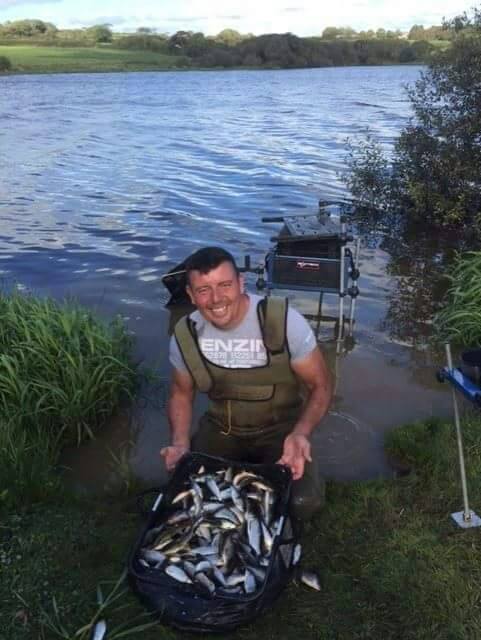 Norman Martin and Jim Lawries won this years Continental Pairs Match at Upper Tamar lake. Norman putting together a fine net of mostly roach totaling 48lb 12oz and JIm a net of 43lb again mostly roach a paired total of 91lb 12oz. The runners up had a total of 77lb.
Stewart Lister had the biggest individual net of the day at 51lb.
Andy Seery also commented on the match result where the two anglers used his new bait to great effect.
Norman Martin and Jim Lawrie fish Simon Poynters first ever continental pairs comp,the two boys fished an incredible match just 6ft apart and landed an incredible 93lbs of silvers at 3.6m to hand ,both lads fed small balls of GB sprinkled with our Little Red Devil Micros! This outstanding performance won them first place in the pairs! All of these new baits are now available direct from myself ,the Little Red Micros are a 2.3mm slowbreak down bait ,ideal for the summer and hot weather when you get pestered by small fish and you want a bait not to just dissolve,it has good holding powers of the Go-nut smell and attractant ,when you damp they release bright red plumes when entering the water,they seem to be working really well with the carp and better skimmers!

Andy will have a website to promote the baits where people can order direct from Andy of all the bait used on Facebook on his fishing adventures.