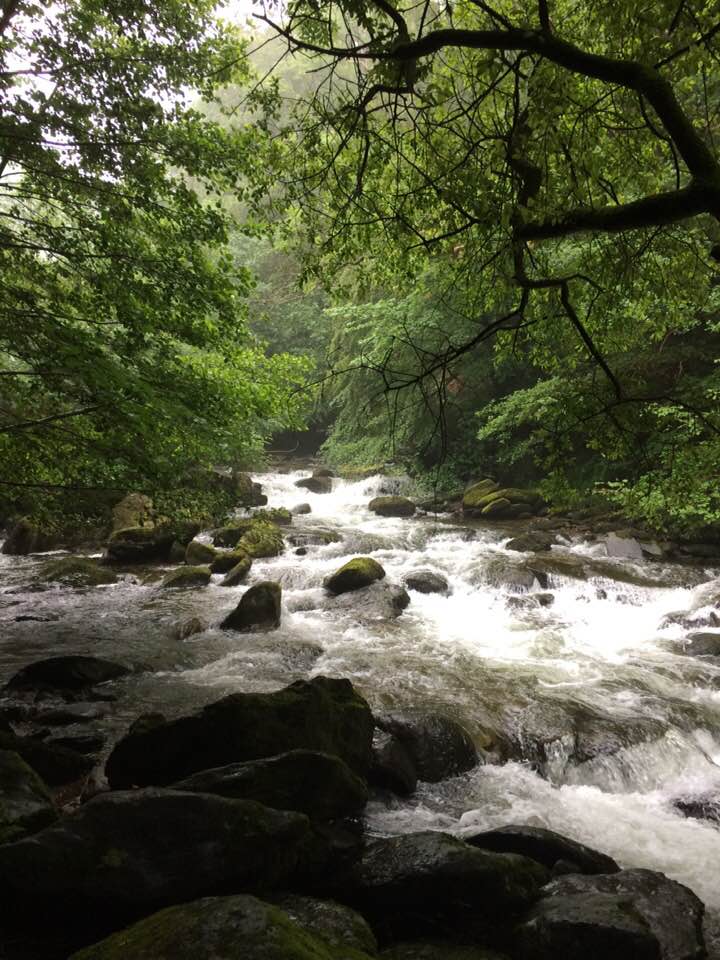 We took a short evening walk beside the River East Lyn. The water tumbled over boulders as it raced to the sea. The valley was in sombre mood with mist hanging in the warm summer air. The vivid vibrant green of summer was subdued in the early evening gloom.
I fished this beautiful river frequently for close to thirty years and caught my first salmon in 1981 a silver bar with sea-liced flanks. When I say the River valley is in sombre mood what I really mean is that I am perhaps in a sombre and reflective mood myself. The river holds a wealth of memories of fish and fishers. Whilst salmon and sea trout still forge up through the vibrant tumbling water's they are far scarcer than they once were.
Today all salmon must be returned to the water and whilst I am happy to fish with a fly on the Taw and Torridge, I have reservations about spinning and worming with the dangers of deep hooking. The Lyn is not a river for the salmon fly fisher.
It is not the salmon anglers that have decimated the salmon of the Lyn but it is mankind I feel sure that has contributed to a sad demise. So when I walk the banks of this river the memories come thick and fast. To think of the river with no salmon or sea trout is like a book with no words or a candle with no flame. As an angler I have taken gleaming salmon from the river and extinguished their life. I remember that momentary sadness as that vibrant hue faded from silver flanks. I will never forget the power of the salmon as it battles on the line, the rod bending frightfully in my hands. Strangely this direct contact and interaction with the salmon brings the angler close to the fish and its environment.
I guess what I am saying in a clumsy sort of way is that as angler on the river I feel that I have been in the film instead of watching from afar. I fear that day when no salmon swim the river and that glimpse of silver is no more.