It's seems I have lost the knack of catching fish in these post lockdown days. The top priority in a fishing session is of course to enjoy it and to that end I am generally a highly successful angler. But it is nice, indeed essential that at some point connection is made with a fish!
After a difficult day at the wonderful Wimbleball reservoir and a couple of unsuccessful lure fishing trips after a bass. A day at the ever reliable Blakewell was planned with James. James was also in need of actually catching a fish having shared my lack of success with the lures.
Blakewell has been fishing exceptionally well since reopening with several stunning double figure trout caught.
I received the below report from Wistlandpound Fly Fishing Club secretary David Richards :-
I fished Blakewell on Saturday you have to pre- Book £40 for six fish pay over phone so you don't need to meet anyone, arrived at 8.30 two others guys fishing (max 12) although there wasn't 12 there. Weed free fishing good sample 2x3lbs 4×2.5lbs. Fishing at the top of finger using a little black and blue dancer. The chap down about 20ft away hooked into a big trout after about 20 mins I helped him land a 13.2lb fish looking immaculate. 
John Jobson below :-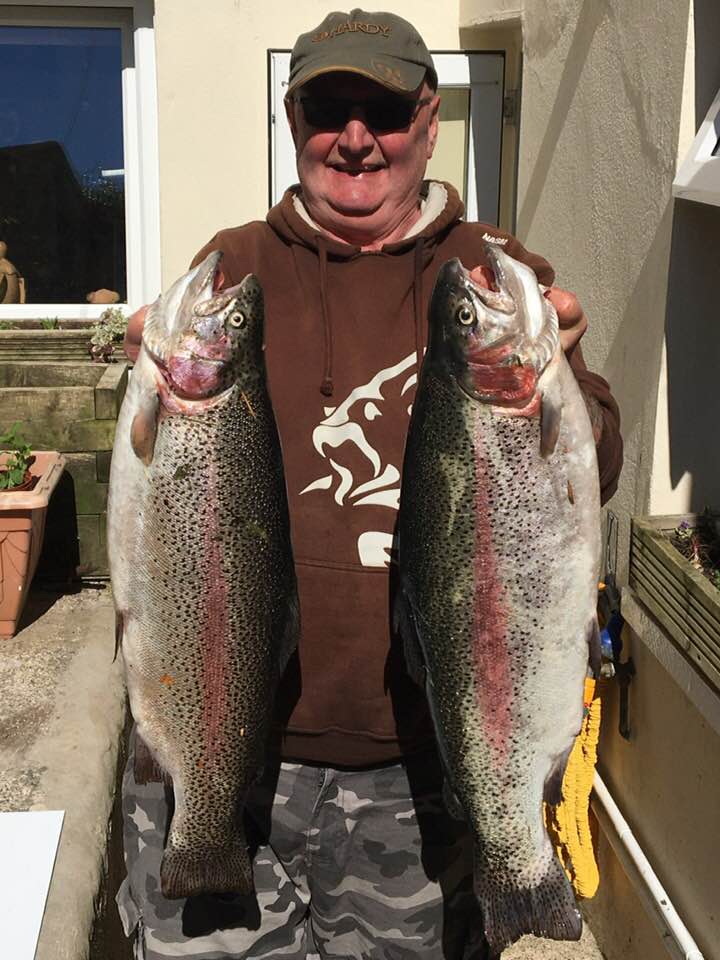 Terri said can we have some trout please, always happy to oblige, opening day Blakewell get in ! biggest 14lb 2ozs, 13lbs 6ozs, new pb total wt 6 fish was 40lb 1oz. Freezers full , I'm shattered happy days , fantastic day out , thank you Richard and John, trout for tea I guess.
James and I arranged to meet in the carp park at 9:30am and with a strong south west wind( gale) blowing with intermittent cloud I was confident of success. We promptly tackled up and headed for the lake choosing a spot well away from the other four anglers.
It was an awesome late spring day beside the lake with bright yellow flag Iris lining the banks, electric blue damsel flies, birdsong reverberating all around and the fresh green leaves shimmering in the strong breeze. The lake had a tinge of colour and a well riffled surface.
We cast our lines expectantly and after just a few casts James glimpsed a big rainbow in the margin as it followed his lure. I fished a team of small imitative patterns a PTN on the point with two buzzers. I was surprised when after an hour we had both failed to connect.
Joint fishery owner Richard Nickel strolled over for a chat and talked eagerly about their plans for the fishery. As we chatted I missed two opportunities as the line tightened momentarily in a signal of  successful deception. As with most recent conversations modern phrases dominated with COVID-19, lockdown, social distancing, post pandemic and the few positives of reduced air pollution the embracing of local business and a refocusing on family life. Richard and his brother John have great plans for Blakewell in the coming months and have some super specimens ready to stock over the coming weeks.
James hooked a trout that struggled free after a few moments giving hope that success would come. As we fished on we caught the occasional tantalising glimpse of large trout rising but our offerings failed to tempt.
As confidence started to ebb a strong pull brought momentary contact followed by that despairing moment of slack line. Next cast and I was in action and after a brief tussle secured a rainbow of a couple of pounds. At least I had avoided a blank!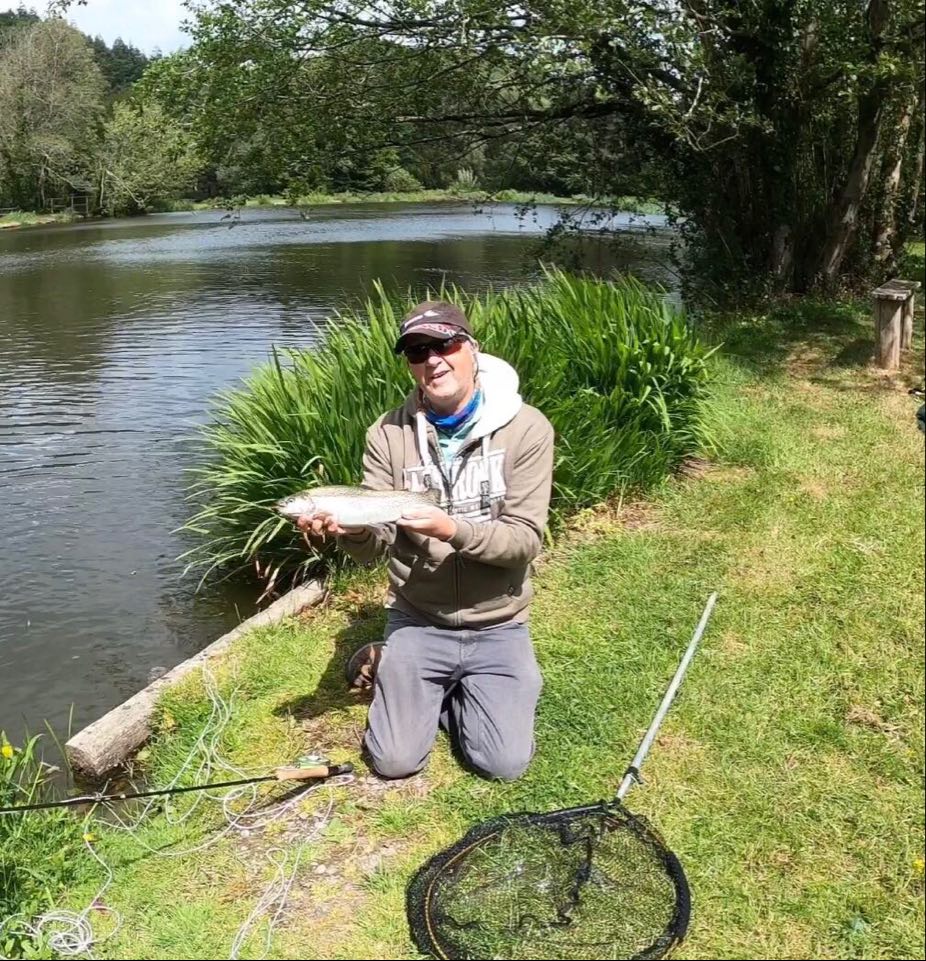 We searched our fly boxes for inspiration and began to swap and change searching in vain for that effective combination of right fly, right retrieve and right depth.
Eventually we ran out time and had to admit defeat. It's not often I have a bad day Stillwater trout fishing and I generally bank on Blakewell producing the goods relatively easily. Perhaps it's good to have that occasional hard day to raise the appreciation of the good days.
To round the day off I arrived home to find that I had forgotten to replace the cameras memory card last time I downloaded and so I had no photos of those beautiful flag Iris.