Great Torrington Detachment Devon Army Cadet Force
Fly Fishing for Duke of Edinburgh's Award Skills Section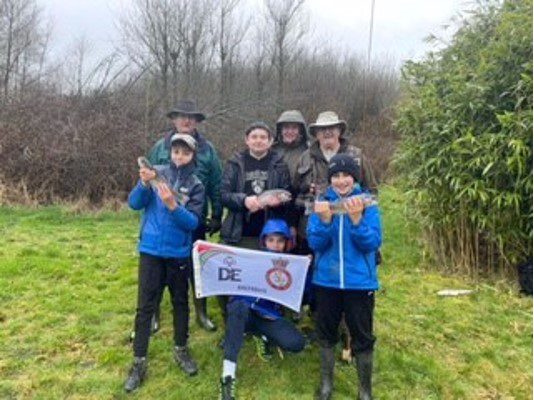 Back in September four Army Cadets from Great Torrington Detachment undertook the challenge to learn fly fishing as a skill for the Duke of Edinburgh's Award and Hobby.
Cdt Sjt David Lee, Cdt Barnie Reeves, Cdt Archie Reeves & Cdt George Batten have worked hard over the winter months to master all the relevant skills required, under the supervision of Captain Trevor Cook.
The program followed by these four Cadets included a visit from Environmental Agency Fisheries Enforcement Officer Callum Underhill to talk about his job role and licensing. Also included were rod actions, reels, types of lines, types of flies, line installation, braided loop install, knots, roll casting, false casting and turn over plus a session of fly tying and two days on the lake.
On both lake days the cadets managed to catch and take home 1 fish each, the second day on Sunday 12th March proved quite challenging and the rain in the afternoon didn't help. But they all achieved their goal and had a great time.
Very Special Thanks
Very Special Thanks to Paul Cozens and Simpsons Coarse and Trout Fishery for their continued support in making our two lake days possible, it is greatly appreciated for without their help and support these young people may not have had the full experience.
Also, special thanks to Callum Underhill EA Fisheries Enforcement Officer for giving up his free time to come along and do a presentation. Thank you we really appreciate it.
We are now planning our next course starting in June with fishing days in the Autumn 2023.