I was looking around on my computer and found the Journal report from Ten Years ago. Might be of interest I thought. A few points of Interest.
Flounder fishing was Ok but ragworm digging hard going.
What happened to Barnstaple Rod N Reelers?
A few familiar names in the report and interesting comment on the state of angling at the time. Is this feature worthwhile if popular I could make it a regular feature?
Comments on NDAN's facebook page please.
ANGLING REPORT
Where are the fish?
Sea anglers are having a bleak time at present with fish hard to find all along the coast. The cod of past winters are virtually non existent and even the dogfish are not prolific. I am hearing more and more concerns about foreign trawlers plundering fish stocks ever closer to our shores. The lack of saltwater sport is of great concern to all connected with the sport. The estuary is a traditional retreat for sea anglers to seek the humble flounder that are showing in reasonable numbers in both estuaries. There is certain appeal to the estuary landscape in winter with its flocks of bird and ever changing sky. Bait digging has been particularly hard going this year with ragworm in short supply. Of course nature is cyclic and has a habit of coming good eventually, as I feel sure it will this time.
Bideford Angling Clubs latest mid week rover saw Damien Babb secure victory with a dogfish of 2lb 1½oz. Close behind was Mike Grayson with a doggie of 2lb 1¼oz. Dick Talbot's dogfish of 1lb 14¾oz was third.
Barnstaple Rod N Reeler's November Rover saw Steve Baker take top spot with a fine rockling of 1lb 13½oz. In runner up spot Julian Stainer with a dogfish of 2lb 7¼oz and in third John Passmore with a doggie of 2lb 4oz.
Andrew Atkinson won Appledore Shipbuilders Christmas Competition last Sunday with a flounder of 1lb 8½oz. In runner up spot was Graham Fisher with a flounder of 1lb 7¼oz. Junior member Cameron Atkinson took third with a flattie of 1lb 7oz. Thirty-Three anglers took part, which included 9 juniors. Chelsea Babb was amongst the other juniors to catch landing a flounder of 15⅛oz and Millie Ayres aged four was thrilled to catch her first ever fish a flounder of 11¾oz.
Combe Martin Sea Angling Clubs annual general meeting at Braunton Cricket Club saw members vote for a radical change in competition format. The coming year sees the club adopt an optional catch and release policy for all club competitions. The club are also introducing month long competitions to help enable members to enter competitions whatever the restraints placed upon them by this demanding 24/7 society.
There was also an in depth debate regarding the forthcoming Marine Bill and the need for involvement in the consultation process. The club is to join the Angling Trust in the New Year which is the national body set up to represent all anglers.
Wistlandpound Flyfishing Clubs AGM saw members pay respect to their late Chairman Terry Hulland with a minute of quiet reflection. Terry had been a keen supporter of the club for many years and his presence and enthusiasm will be greatly missed.
Bob Gooding has been elected as the clubs new Chairman with David Eldred stepping forward as vice chairman. Nigel Bird continues in his joint role as secretary and treasurer. A full calendar of events was compiled at the meeting with most fixtures at the clubs home venue of Wistlandpound.
The clubs Tony Lovemore cup for the most consistent angler in competition was awarded to Colin Combes with 1610 points. In runner up spot David Eldred with 1567 points with Terry Hulland third with 1546.
Members had enjoyed a good season at Wistlandpound with members averaging 2.56 fish per rod in competitions. Anyone interested in joining this small friendly club should contact Nigel Bird on 01271 883252.
Cold winter weather seldom puts rainbow trout off the feed and great sport can be enjoyed at small still water trout fisheries. Southern Wood fishery is nestled in a wooded valley near Bratton Fleming and has been fishing well with several big rainbows gracing the net. Dave Mocks recent visit to the fishery was rewarded with a three fish bag for 19lb 8oz the best trout scaling 8lb 8oz. Dave Richards also landed a three fish bag for 17lb with a best of 7lb 8oz. Neil Roulde secured a fine double figure rainbow of 10lb 12oz in a four fish bag that totalled 31lb and also included a 9lb specimen. David James from Derby landed a brace for 17lb and Paul Cossey of Cambridge a four fish bag for 27lb. Brown trout have also been giving good sport with fish up to 3lb 12oz that have to be returned of course as they are out of season.
Ilfracombe Match groups two-leg match against Bude Pirates saw a very close finish with Ilfracombe securing victory by one point with 242 points. The second leg was fished at Highampton lakes last Sunday when a bitterly cold wind suppressed the fish's appetite. John Pyle of Ilfracombe secured individual success with a bag of skimmers totalling 2lb 6oz. Kevin Hill of Bude took runner up spot with 1lb 13oz and his team-mate Ade Larkin third with 1lb 4oz.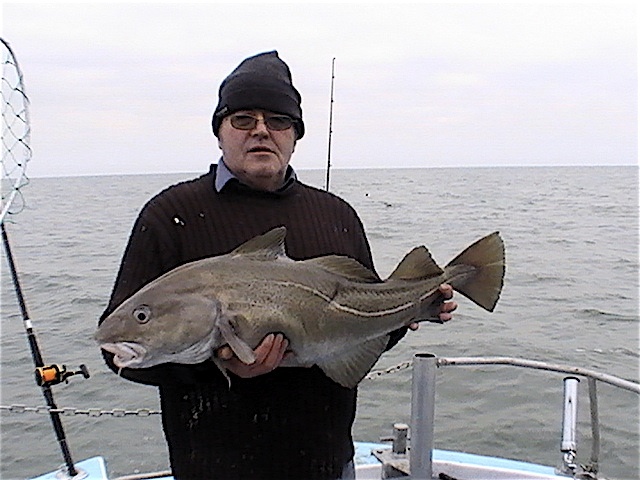 DIARY DATES
December 7th– Blakewell Fishery Christmas Competition – Sold Out
December 7th– Bideford Angling Clubs Rover
December 7th– Appledore Shipbuilders Rover
December 6th7th– Combe Martin SAC – Christmas Competition
Fishing 6.00pm Saturday to 7.30pm Sunday.
Weigh in at Braunton Cricket Club 7.30pm
December 6th7th– Rod N Reelers Rover
December 7th– Triple Hook Club – ladies and Junior Flounder Open
Fishing 9.00am to 1.00pm Weigh in at Royal British Legion