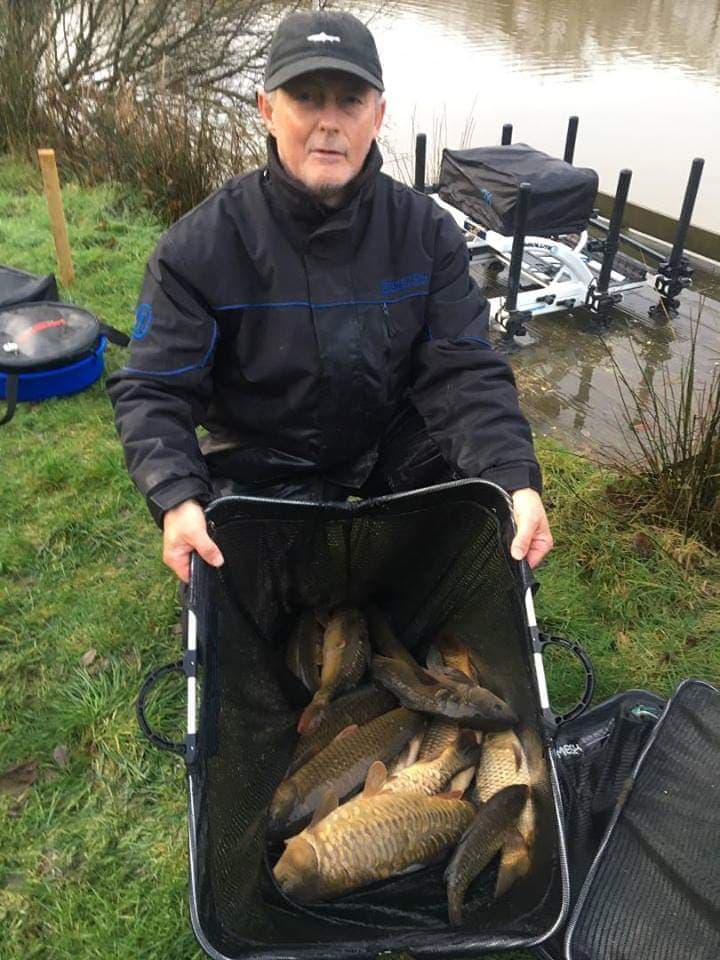 A big thank you to the 21 anglers who turned out to fish Wooda Lakes Annual Fur 'n Feather Match, fished across their Mixed Match and Carp match lakes. With mild weather the fishing ought to have been excellent, but with an influx of cold water it made for tough fishing for most. With the carp holed up tight, the silver fish at least gave sport for some, while others just enjoyed the day out, the occasional drizzle and banter…. the John "I'm admitting to 10lb, but your carp are bigger" Lisle and Pete "I only have 10lb" Slade banter continued after the match!
Overall winner on the day was Neilsen Jeffrey, pegged on the wood side of the Carp Match lake, weighing in 53lb 2oz of carp caught mainly on the pole. Second was Kevin Shears, from the point on the Mixed match lake, with 40lb 4oz. Third was Lewis Jones with 37lb 12oz at the far end of the Carp Match lake.
Pools was paid out to:
Neilsen Jeffrey – overall winner 53lb 2oz
Kevin Shears – winner Mixed lake 40lb 4oz
Lewis Jones – winner Carp match lake 37lb 12oz
Martin Crouch – r/up Mixed lake 29lb 10oz
Rich Dennis – r/up Carp match lake 34lb 15oz
The blind pairs was a tight encounter with Kevin Shears and Rich Dennis on 75lb 3oz just beating Mat Sampson and Neilsen Jeffrey on 72lb 6oz. Kevin and Rich picking up a crate of beer each for their win.
The mystery weight (of 12lb 1oz) was won by Ian Croxton with 12lb 2oz, who picked up a bottle of bubbly.
All anglers also picked up a selection of prizes from 1st place down to the wooden spoon.
Full results:
Mixed match lake
Peg 1 – Mat Sampson 19lb 4oz
Peg 2 – Peter Horton 14lb 7oz
Peg 3 – Peter Seward 16lb 2oz
Peg 4 – Mick Seward 6lb 13oz
peg 5 – Stephen Craker 16lb 13oz
Peg 6 – Simon Allen 7lb 11oz
Peg 7 – Kevin Wilton 4lb 12oz
Peg 8 – Ian Croxton 12lb 2oz
Peg 9 – Martin Crouch 29lb 10oz
Peg 10 – Kevin Shears 40lb 4oz
Peg 11 – John Forster 10lb 4oz
Carp match lake
Peg 12 – Rich Dennis 34lb 15oz
Peg 13 – Keith Copeland 30lb 6oz
Peg 15 – Shaun Stenton 10lb 2oz
peg 16 – Tom Downing 18lb
Peg 17 – Martin Turner 21lb 3oz
Peg 18 – Neilsen Jeffrey 53lb 2oz
Peg 19 – Kev Grant 5lb 12oz
Peg 20 – Lewis Jones 37lb 12oz
Peg 21 – John Lisle 11lb 4oz
peg 22 – Pete Slade 9lb 14oz