Wimbleball is a good hours drive from our house North of Barnstaple but it's a drive I always enjoy winding across Exmoor's wild landscape. A wintry dusting covered the moors on the high ground yet signs of spring were all around with daffodils already blooming and the snowdrops already withering.
I had been looking forward to Opening day with anticipation since my last visit to the venue on the close of the season last November. Storm Jorge had forced the cancellation of the boat launch and undoubtedly deterred all but the hardiest of Fly Fishers. I had arranged to meet Fishery Manager Mark Underhill and his wife Trudi for a chat before joining former England International Matt Kingdon at the lakeside. Mark and Trudi have transformed Wimbleball over the past two seasons stocking the lake with large numbers of fighting fit full tailed rainbows and introducing an enlightened catch and release option that enables anglers to enjoy a full day on the bank.
Early March is not for the faint hearted as it can be bracing. A cold wind was driving across the lake as I walked down to greet Matt who had been fishing for fifteen minutes without a touch. I had set up an intermediate Snowbee Fly Line with a gold headed black lure on an 8lb b.s leader. I never go below 8lb b.s as the trout at Wimbleball have smashed up many an angler's tippet as they seize the lure.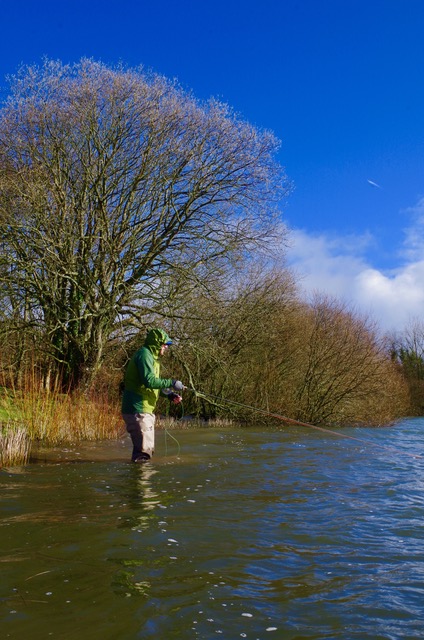 I waded out into the cold water and put a line out allowing the fly and line to sink a couple of feet before starting a slow erratic retrieve. The cold wind and icy water tingled on the fingers. I settled into the rhythm of casting and retrieving, relishing the ever changing vista of the lake, hills and sky. Dark clouds threatened bringing showers of sleety rain.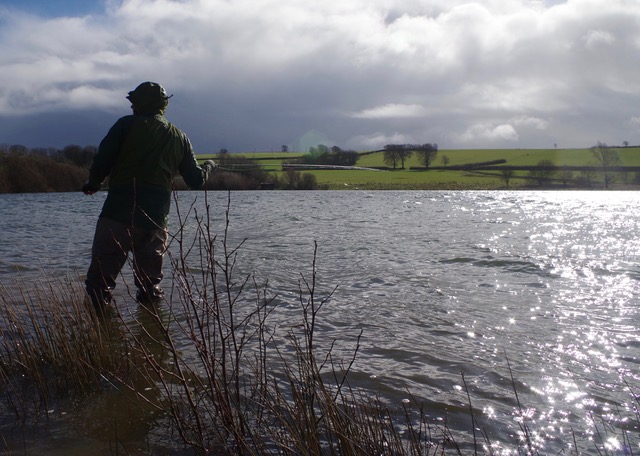 Suddenly the line zipped delightfully tight and the rod hooped over as a feisty rainbow lunged and powered away causing the reel to sing pleasingly. Matt grabbed a couple of pleasing images of the battle. The full tailed rainbow was well over three pound and a great start to the day.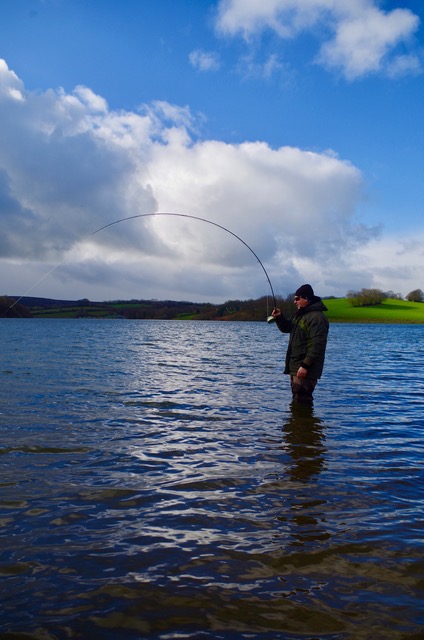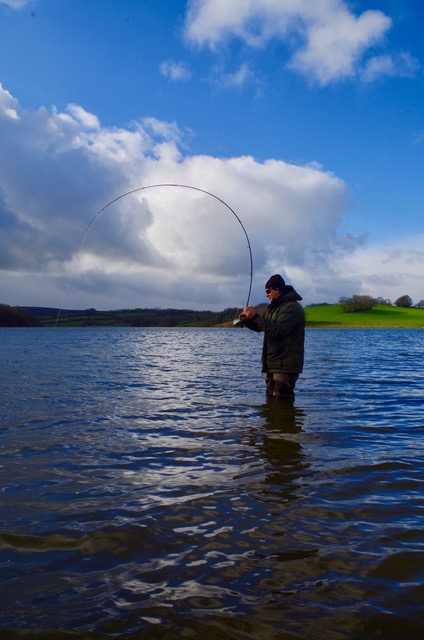 A few moments later Matt cursed as a vicious take smashed his 9lb point! Ten minutes or so passed before another rainbow hit my lure and gave an aerobatic display on a tight line.
An hour passed with a couple of fish coming adrift for both Matt and I. The hectic sport we had hoped for was not forthcoming though neither Matt nor I mind having to work for our fish.
When it goes quiet a move is often a good idea as the walk warms the body and the change of location brings an injection of fresh hope. The move brought two hook ups in quick succession with both fish coming off after a few seconds.
An angler appeared at the point to my left and immediately hooked into a trout his line singing tightly in the wind, rod hooped over forming a pleasing image against the horizon.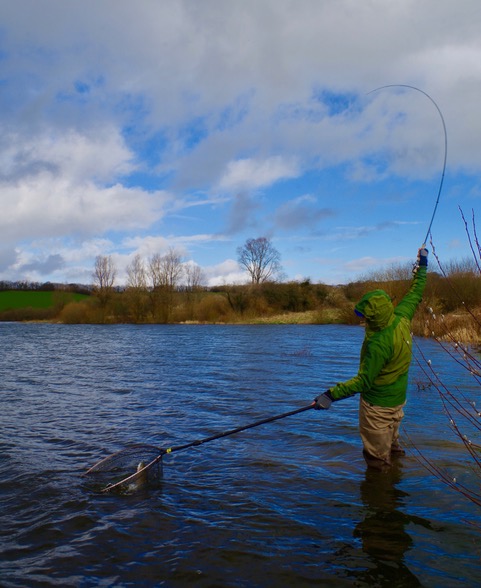 Matt suggested a move to some deeper water and so we set off once again in search of rainbows. The ongoing search inevitably brought connection for Matt as his black lure was intercepted. The next hour saw us catch a further four trout all cracking thick set rainbows of between 3lb and 4lb.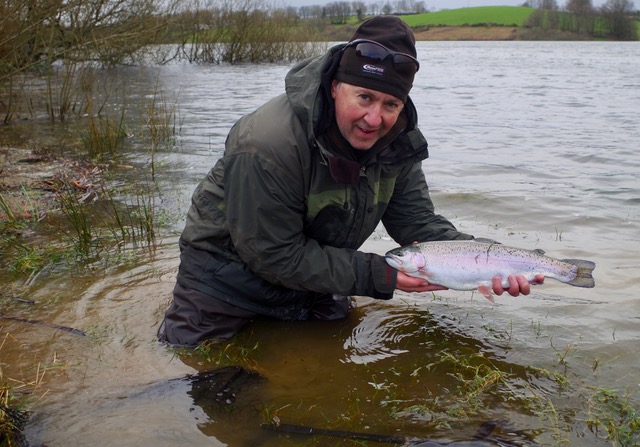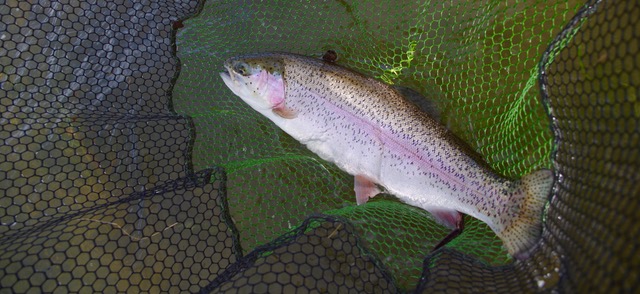 Dark clouds hastened towards us and icy droplets of  wind blow rain beat upon the face and hands. It was close to 3.00pm and we both were pleased to have had enough for one day. We walked back to the cars chatting eagerly of the season to come and more days beside the water.
With frogspawn in the shallows, hawthorn in bud and the soft grey of pussy willow tipping the branches spring was on its way and days of warm sunshine undoubtedly just a few weeks away as winter inevitably gives way to a new season.
Calling in to fill in our catch returns revealed that other anglers had also enjoyed some great sport with plenty of five fish bags, one individual catching fifteen trout on a catch and release ticket ;all on snakes and lures.
The return journey across the moors to the soundtrack of Johnny Walkers Sounds of the seventies was a fitting end to the days fishing. The poignant sound of Terry Jacks; "Seasons In the Sun" reminded me of a  work colleague whose funeral I attended a couple of days ago. A prompt to savour these precious spring days.