West and Woon scoop £2000 with Mainline Pairs win……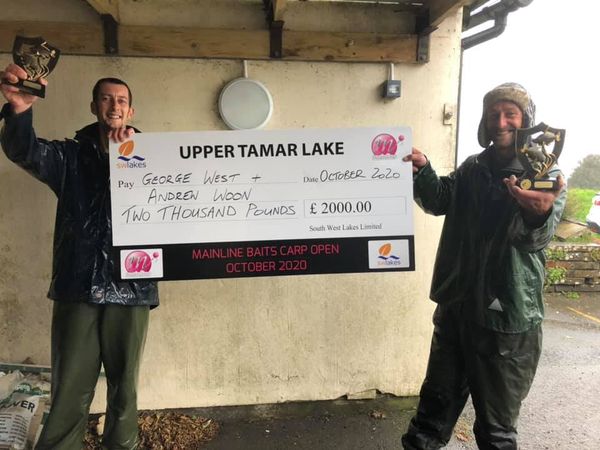 What a weekend here at Upper Tamar for the Mainline Baits carp open pairs!
42 carp caught by 19 pairs in brutal conditions!
Massive thankyou to our sponsor Mainline Baits and John Kneebone in particular for their ongoing and generous support. The prize winners were:
1st place George West and Andy Woon peg 12 with 7 fish for 84lbs. They win £2000
2nd were Ben and Matt Cooper with 7 fish from peg 20 for 74lb 13oz. They win £1000
3rd place were Jamie Woods and Richard Chalke who had 5 fish for 63lb 10oz from peg 26. They win £500
Largest fish (not finishing in top 3) was Jason McEvoy with a 24lb 11oz common. He won a box of Mainline PVA and spod mix and a Baseball cap.
Smallest fish (not in the top three) was Matt Pepperell with a 7lb 15oz mirror. He won a box of Mainline PVA and spod mix and a Baseball cap.
Section winners winning 5kg of Mainline freezer boilies were:
pegs 1-9 were Chris Hudson and Matt Pepperell. 4 fish for 60lb 15oz peg 9
Pegs 10-18 were Barry Hazleden and Mark Brett with 2 fish for 32lb 11oz
Pegs 19-26 were Scott and David Bowden with 2 fish for 23lb 8oz
Pegs 27-35 were Karl Yates and Allan Jones with two fish for 30lb 13oz
Full results are in the pictures.
Next competition is Mainline singles 6-8 November. Entries on 01566771930