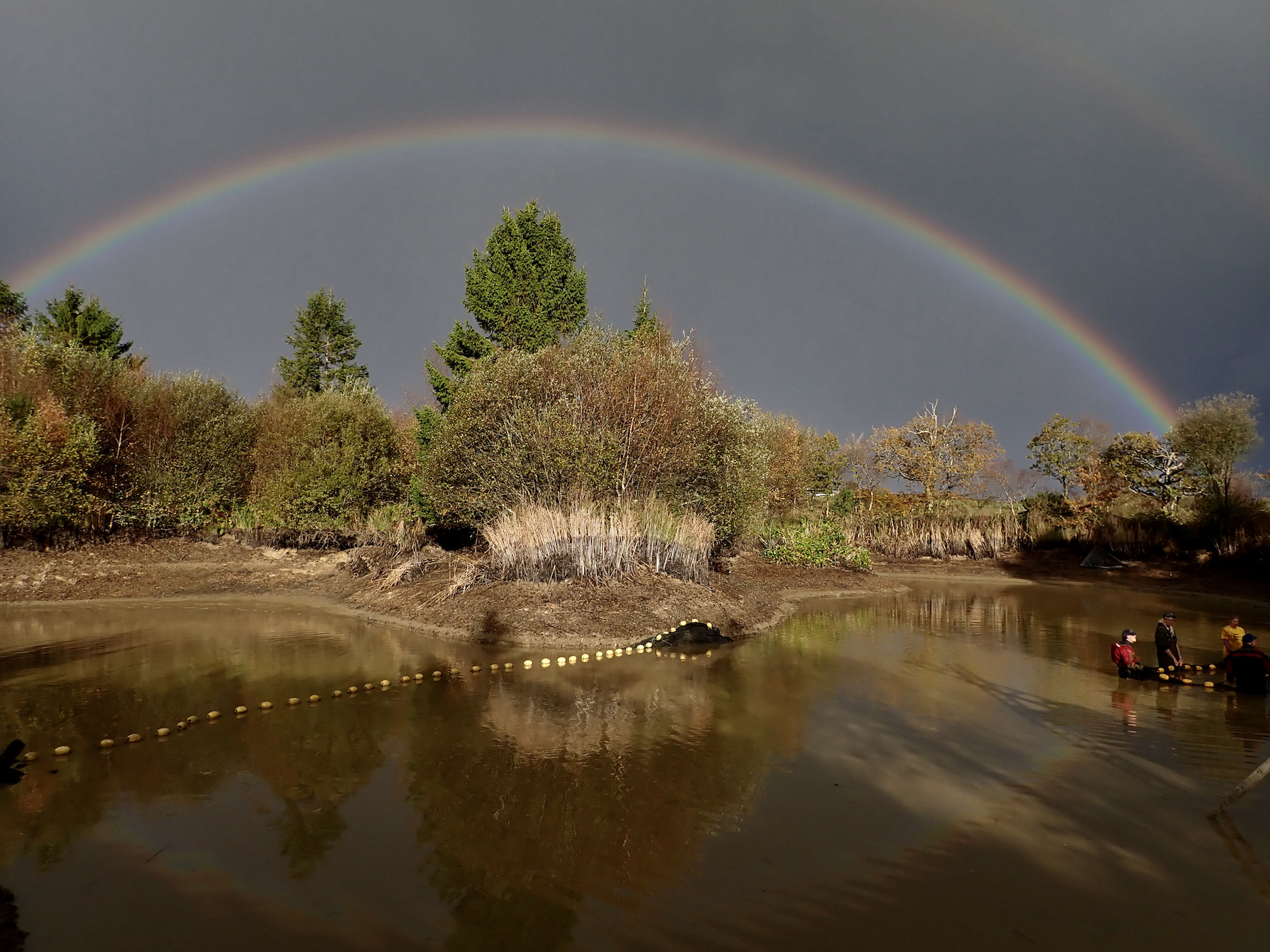 Anglers Paradise near Halwill Junction is a well known complex of fishing lakes and holiday lodges founded in 1981 by the ever colourful character Zyg Gregorek. Boasting over thirty lakes there are a wide range of options for anglers with tiddlers to specimens of many species. The core value of the venue is family oriented with many families returning year after year to enjoy the friendly atmosphere and excellent fishing.
A fishery like Anglers Paradise requires careful management of stocks and maintenance to each lake. A popular event in the Paradise calendar is the annual netting event that takes place in early November. Each year regular guests, members of the 5 C's
(Crazy Crafty Cunning Carp Catchers) and staff embark upon the netting of a nominated lake.
I was pleased to attend this years netting and record the event for North Devon Angling News. Each year a different lake is netted the fish removed and kept in stock ponds whilst the lake is de-silted. The fish are sorted and distributed across the venue ensuring that the diverse nature of the fishery is maintained.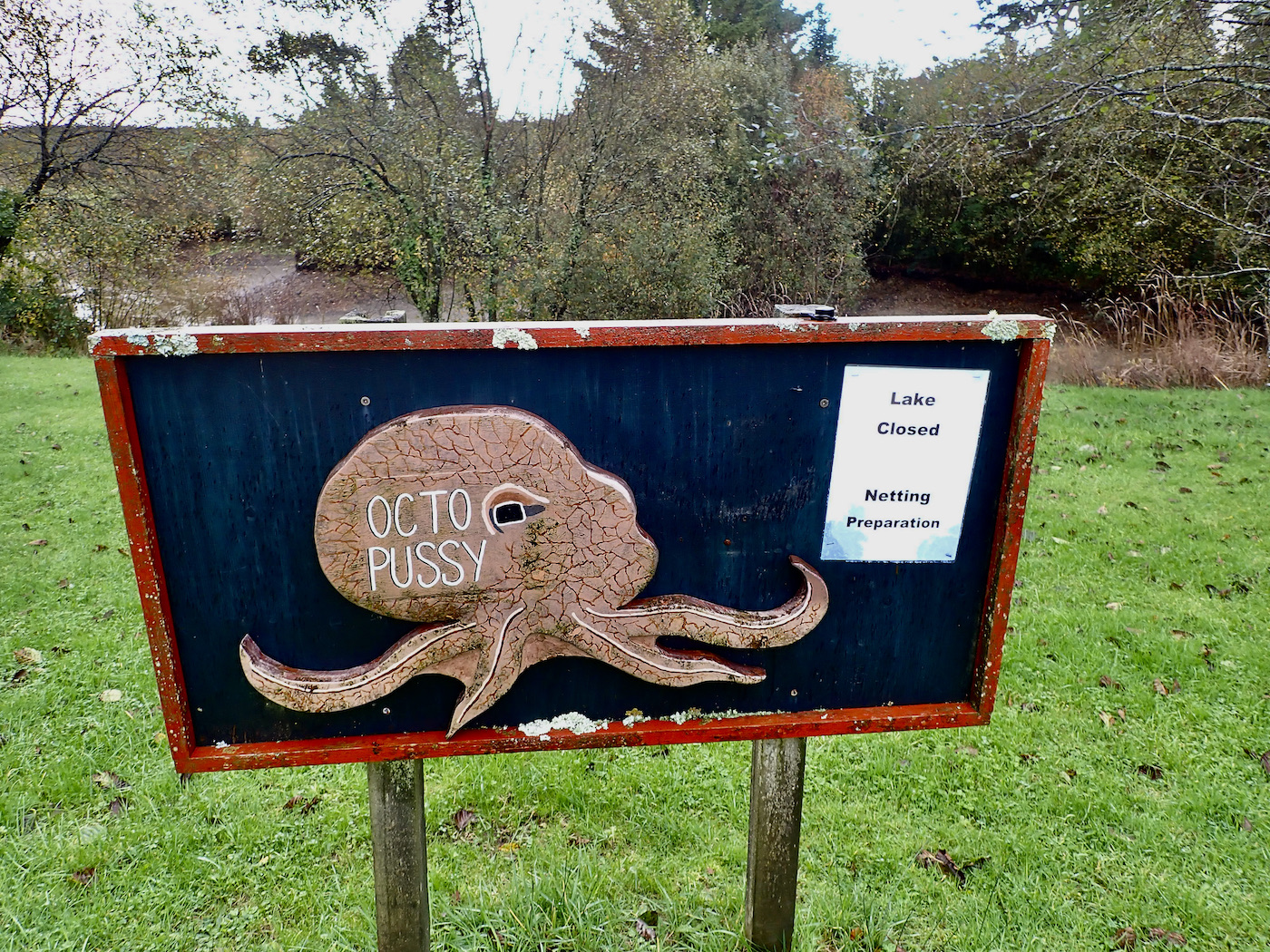 This year's nominated lake was Octopussy last netted over ten years ago. The stock consisted of specimen carp, catfish and numerous silver fish.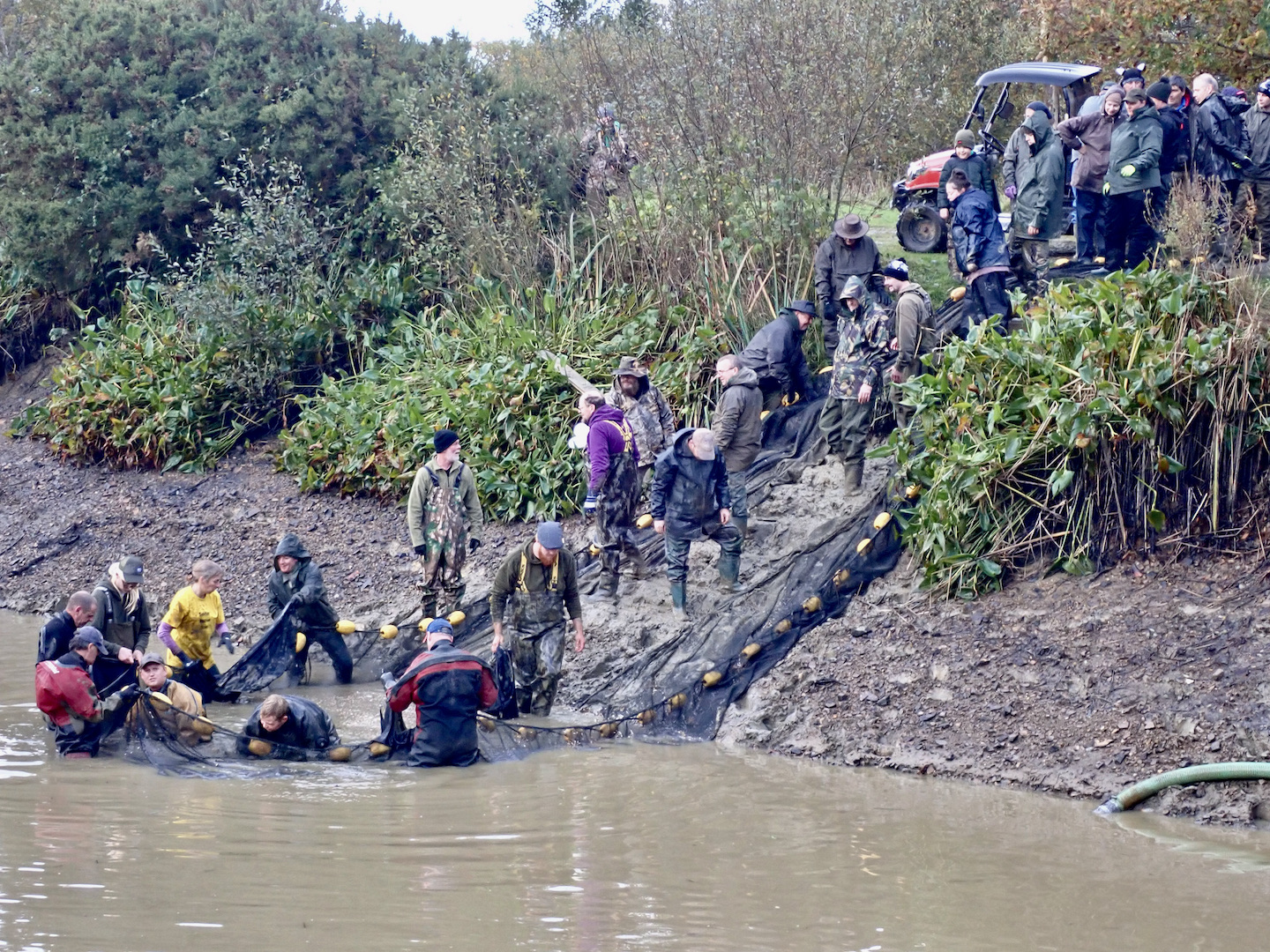 I arrived shortly after 9.00am and followed Zenia and her son Zee Jay to find a busy team already at work lakeside hauling nets and floundering about in glorious oodles of thick cold slimy mud. Dark clouds loomed on the horizon as heavy squalls passed frequently to be punctuated by sunny spells that created spectacular rainbows. The leaves glowed in full autumn glory as laughter and banter filled the air.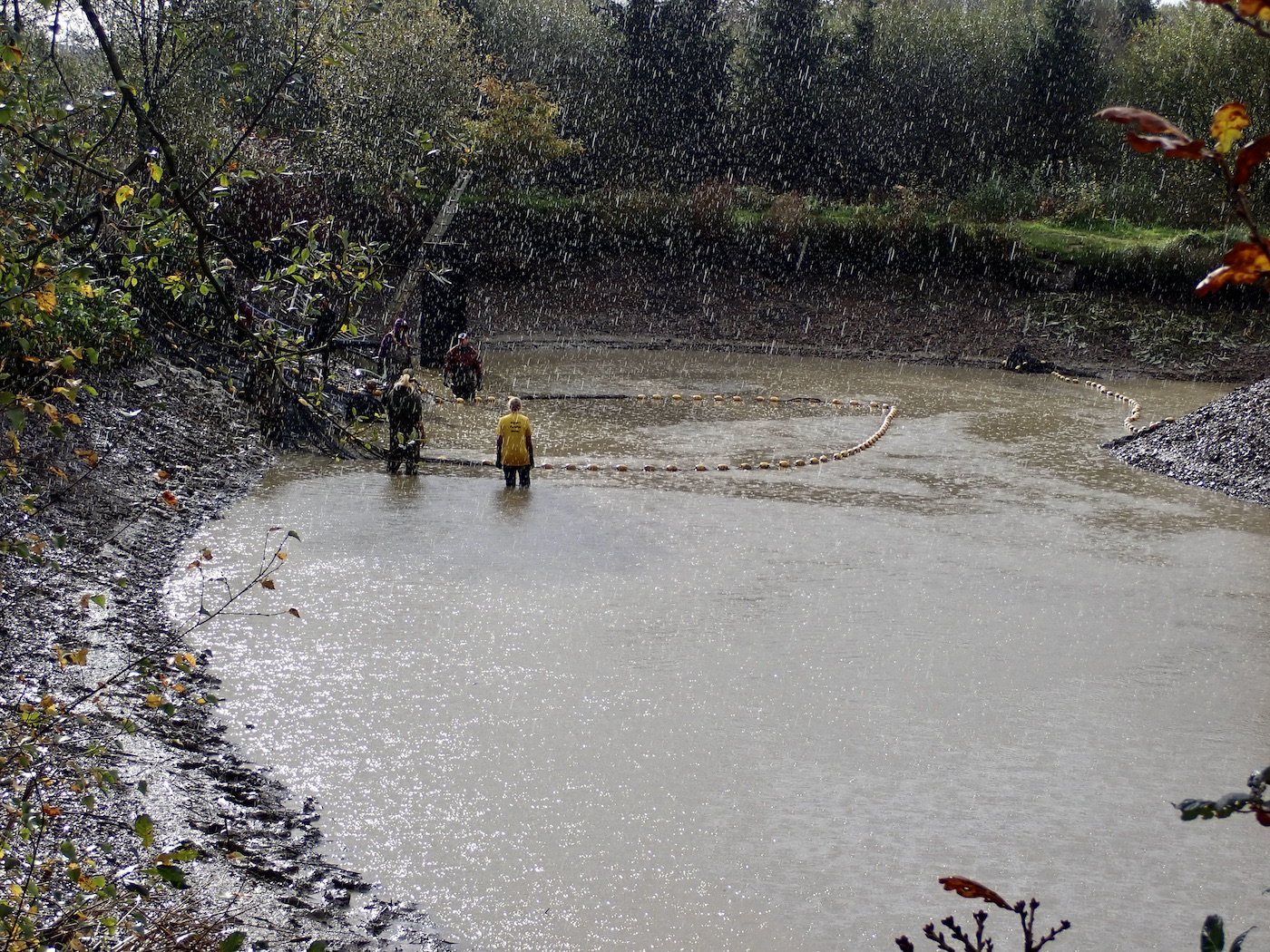 I was immediately impressed at the smoothness of the operation.  The net was drawn in by those on the ropes. The catchers catching the fish and placing them in soft sacks and slings. These were then elevated to the top of the bank by a human conveyor belt and then placed in tanks of water. When the tanks were full of precious cargo they were taken to a series of stock ponds ready for sorting and restocking over the coming weeks.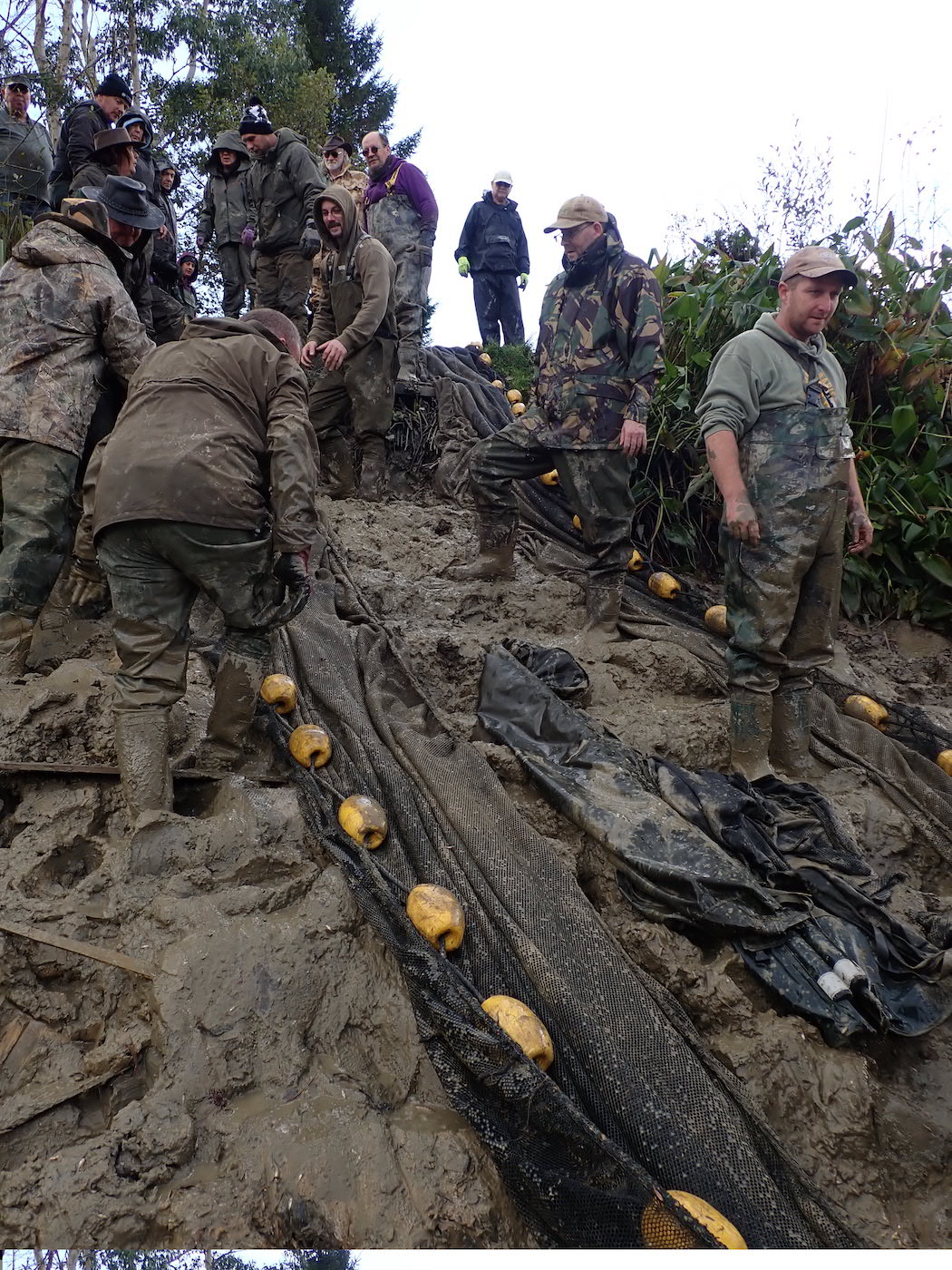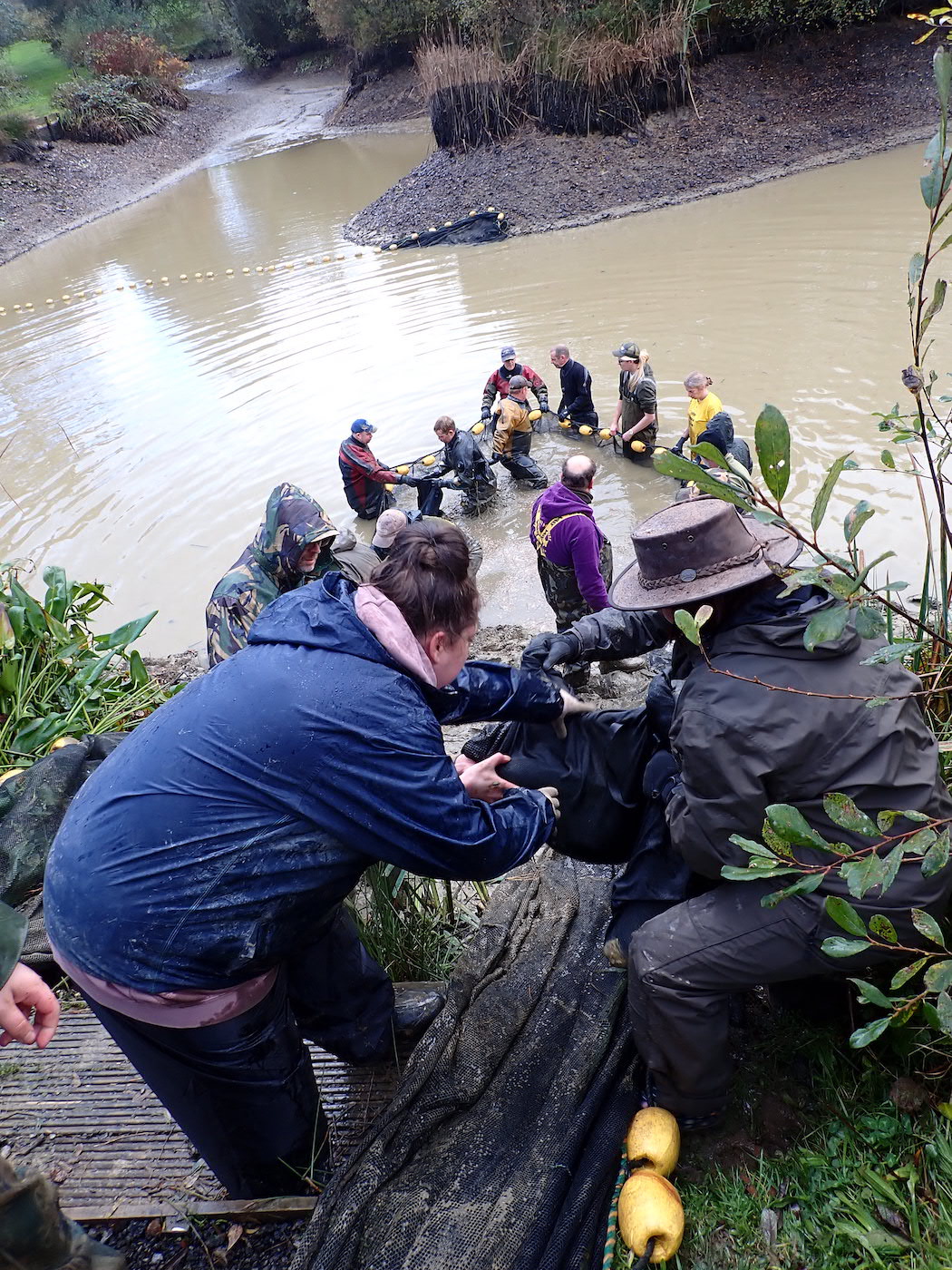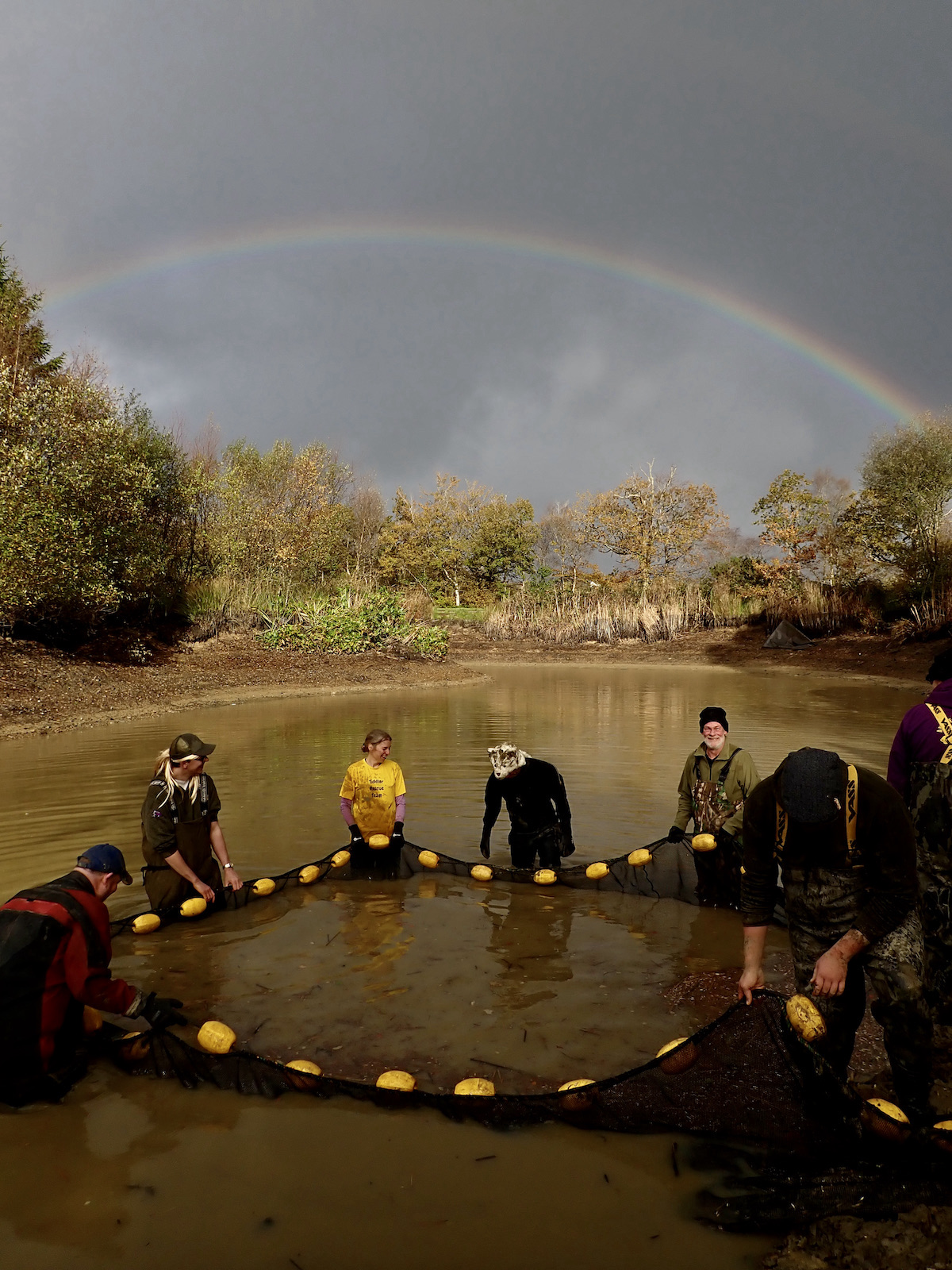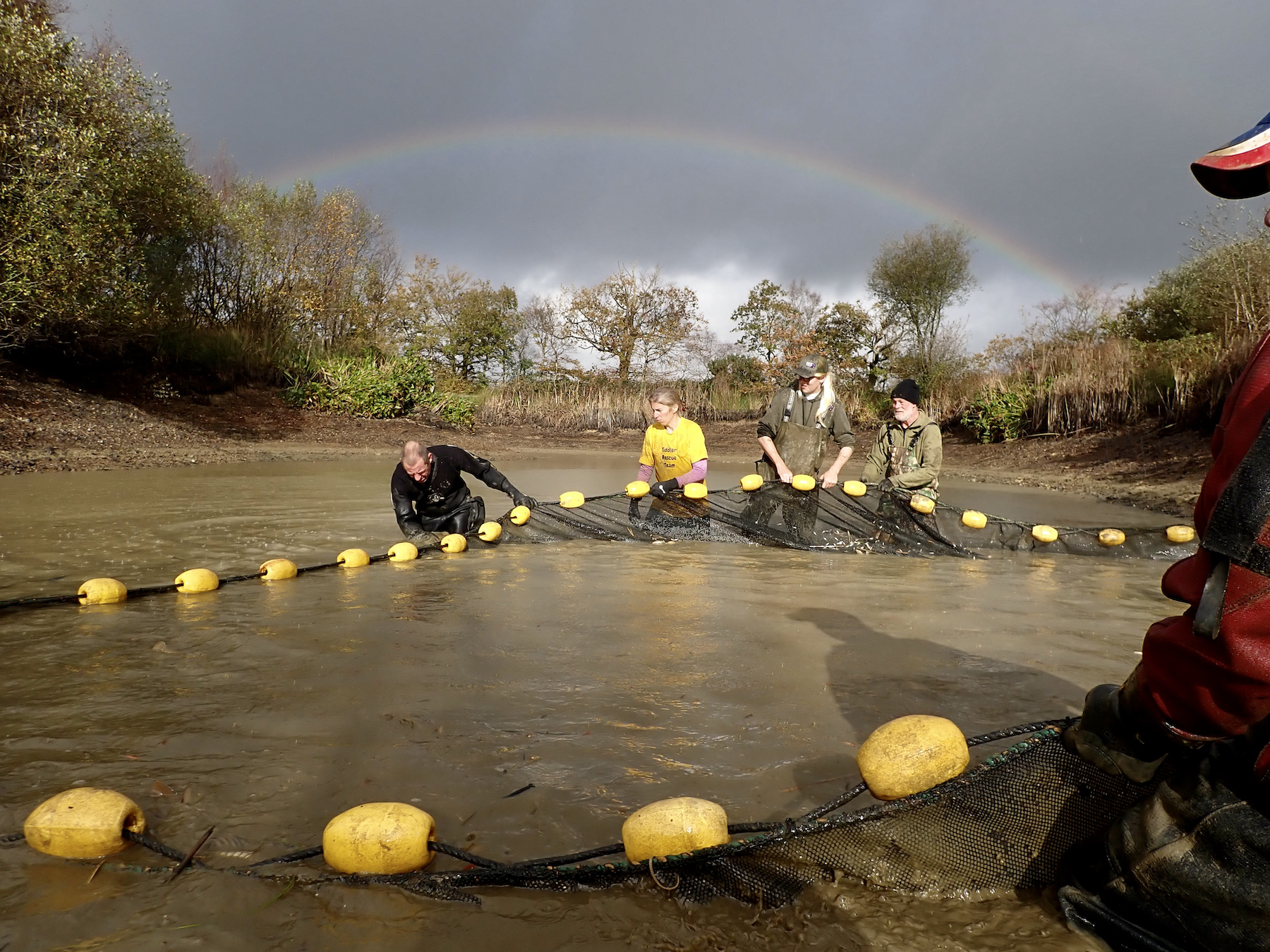 As I walked from Octopussy to the stock ponds I was thrilled to catch sight of a kingfisher, its vivid electric blue colours a magnificent sight in the autumn sunshine. The complex is undoubtedly an oasis for wildlife within the rolling Devon hills.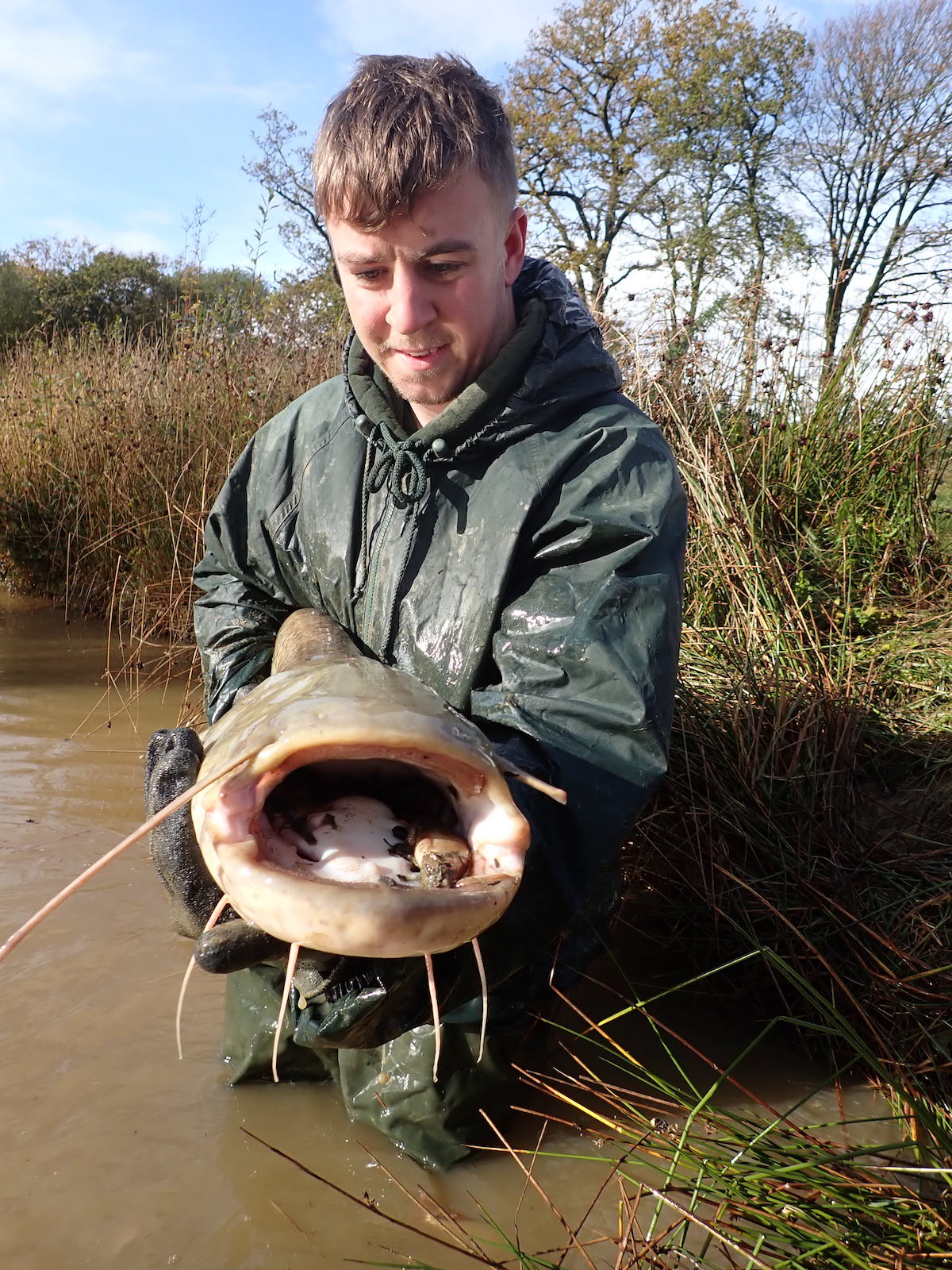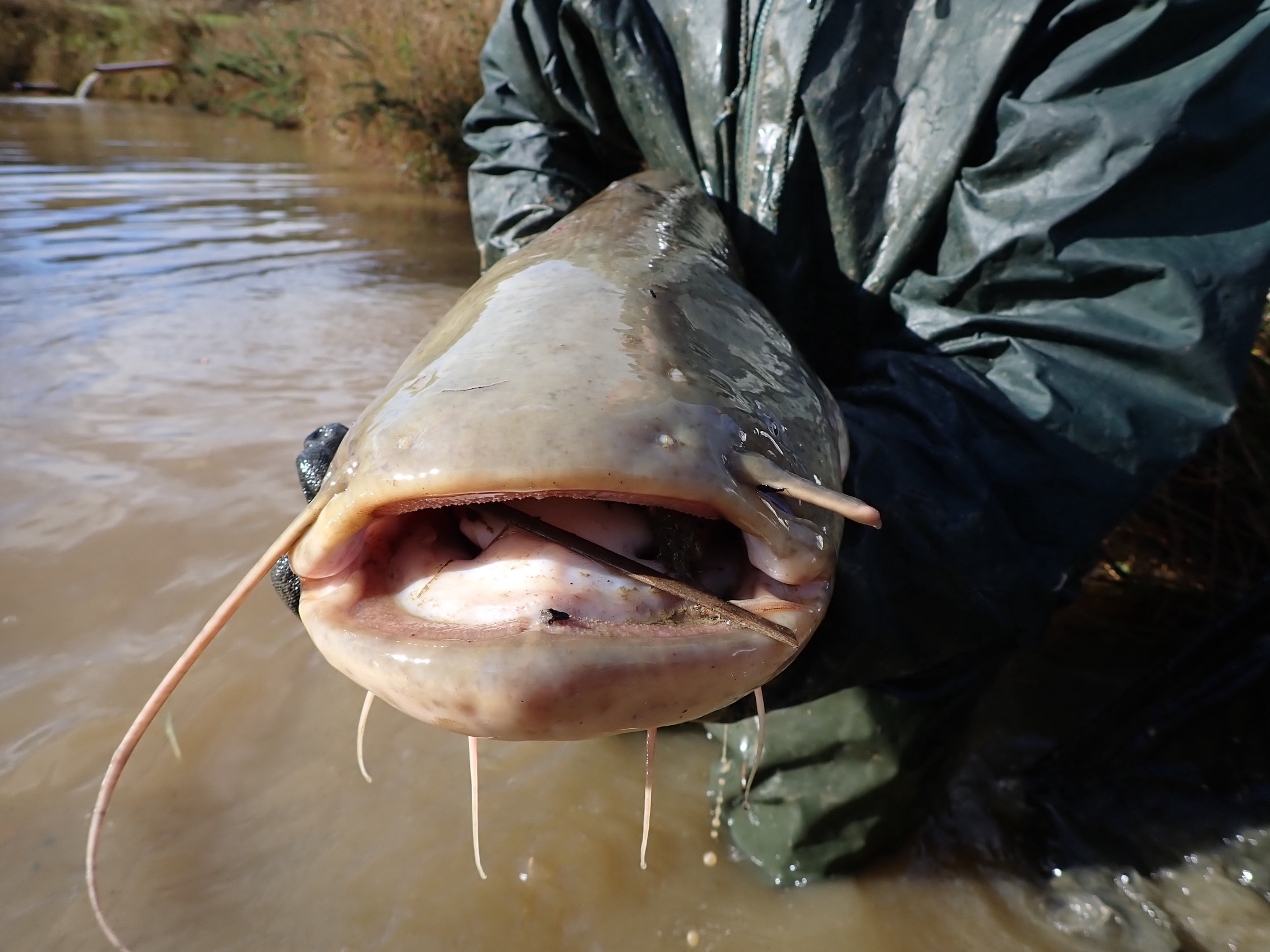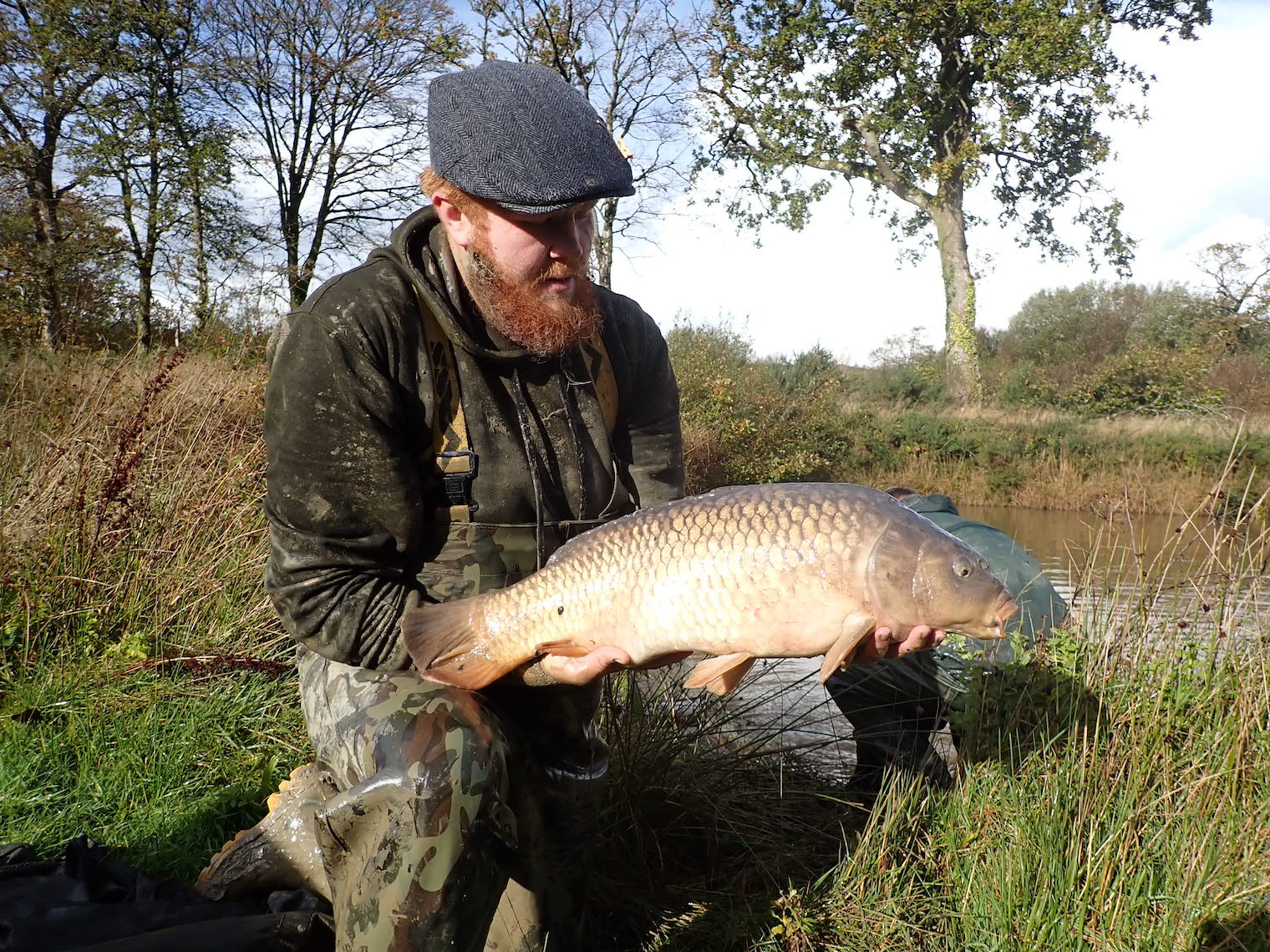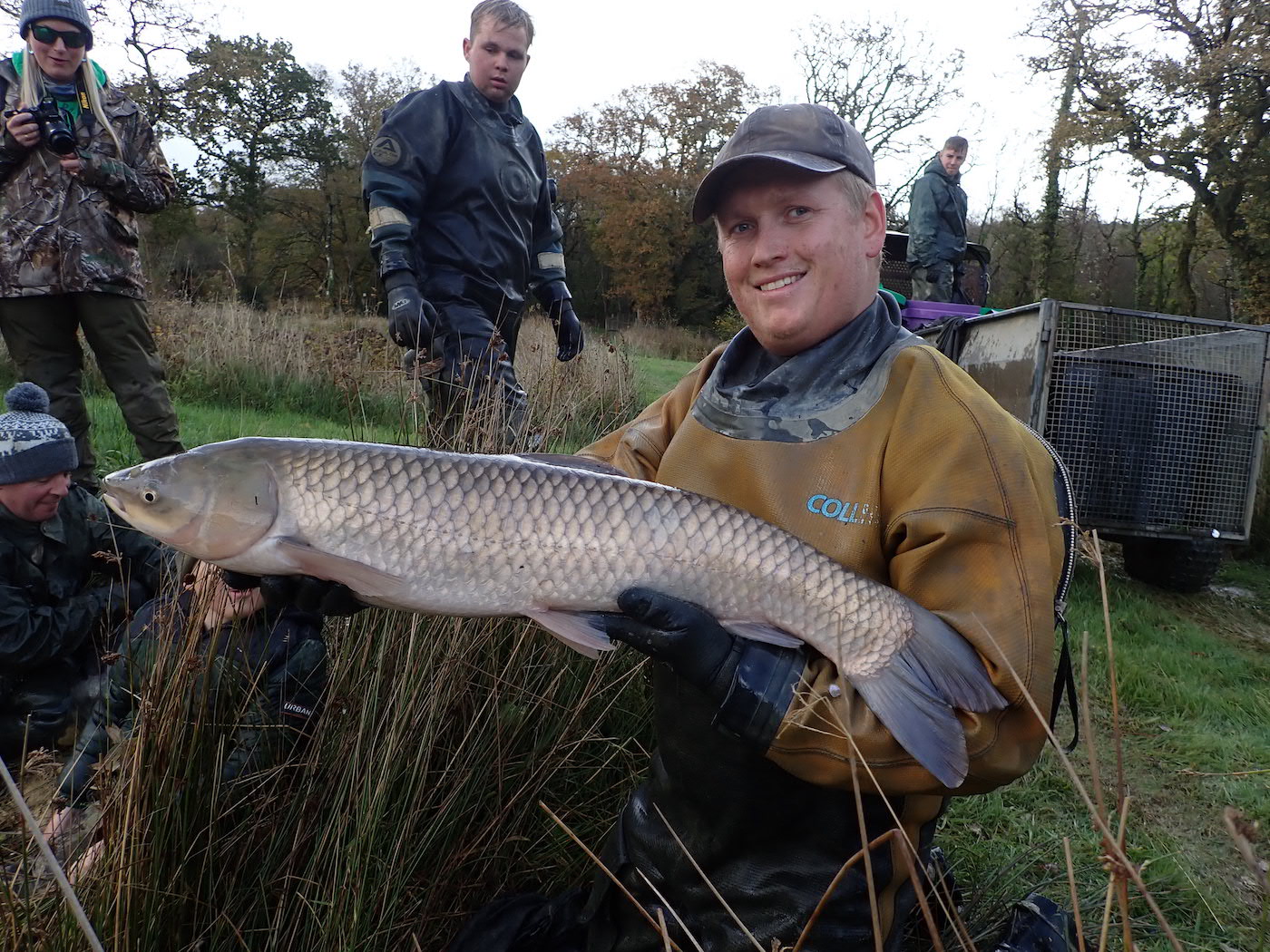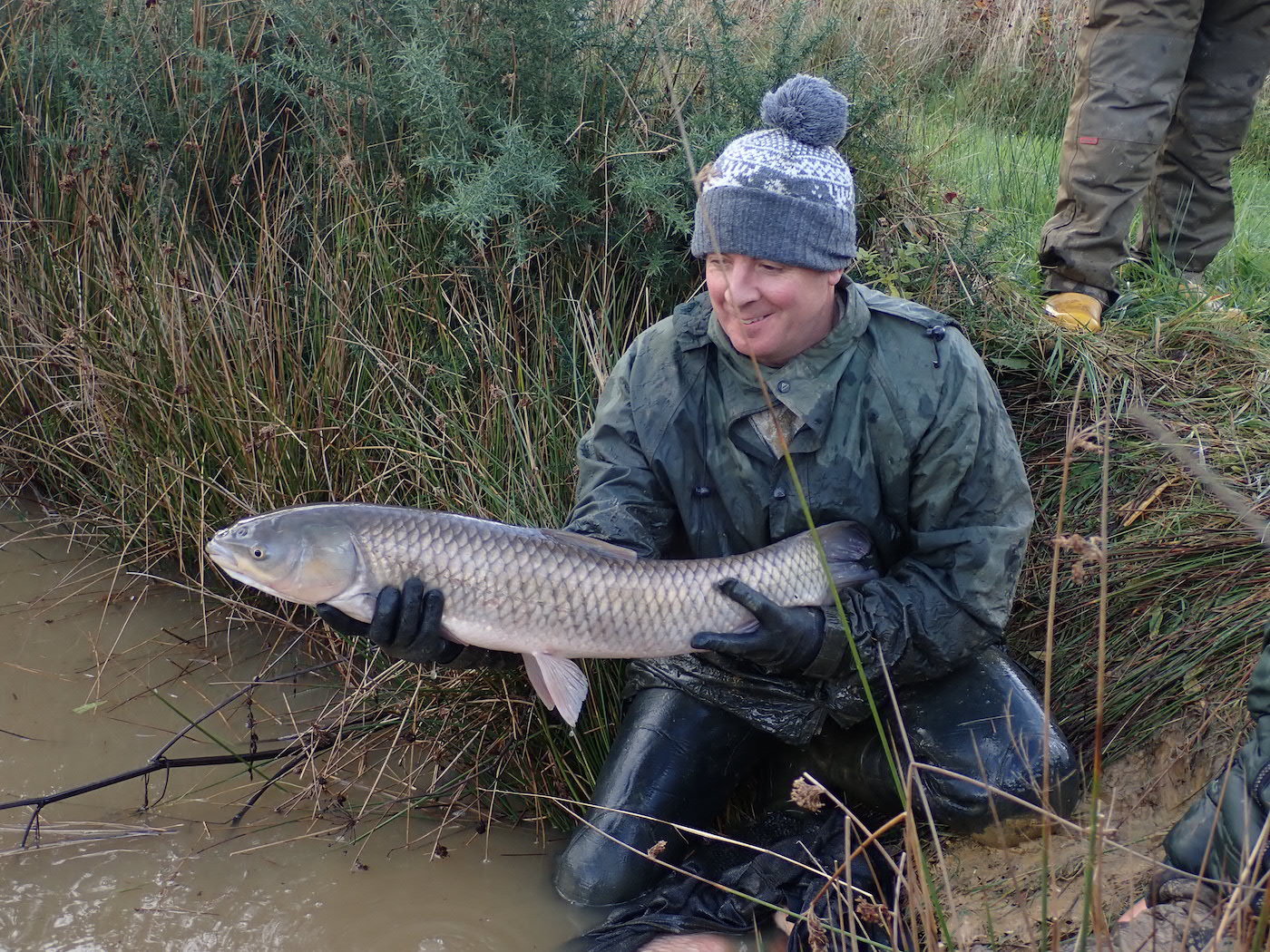 It was fascinating to witness the range of fish present in this moderately sized lake. Specimen carp to over twenty pounds, catfish nudging forty pounds and plenty of doubles. There were also huge numbers of golden flanked rudd, the occasional golden tench, tiny fry  a few good sized eels and several grass carp.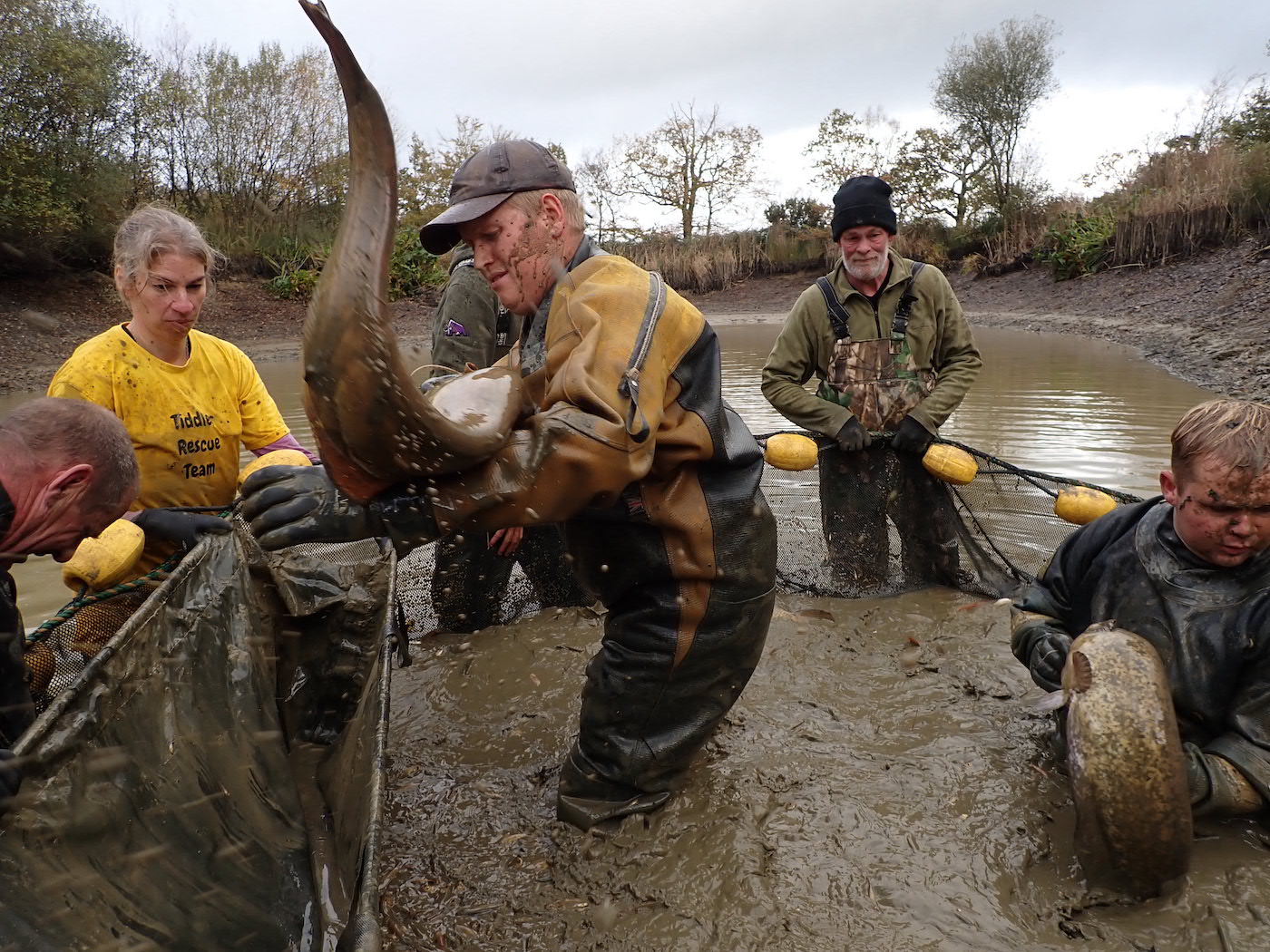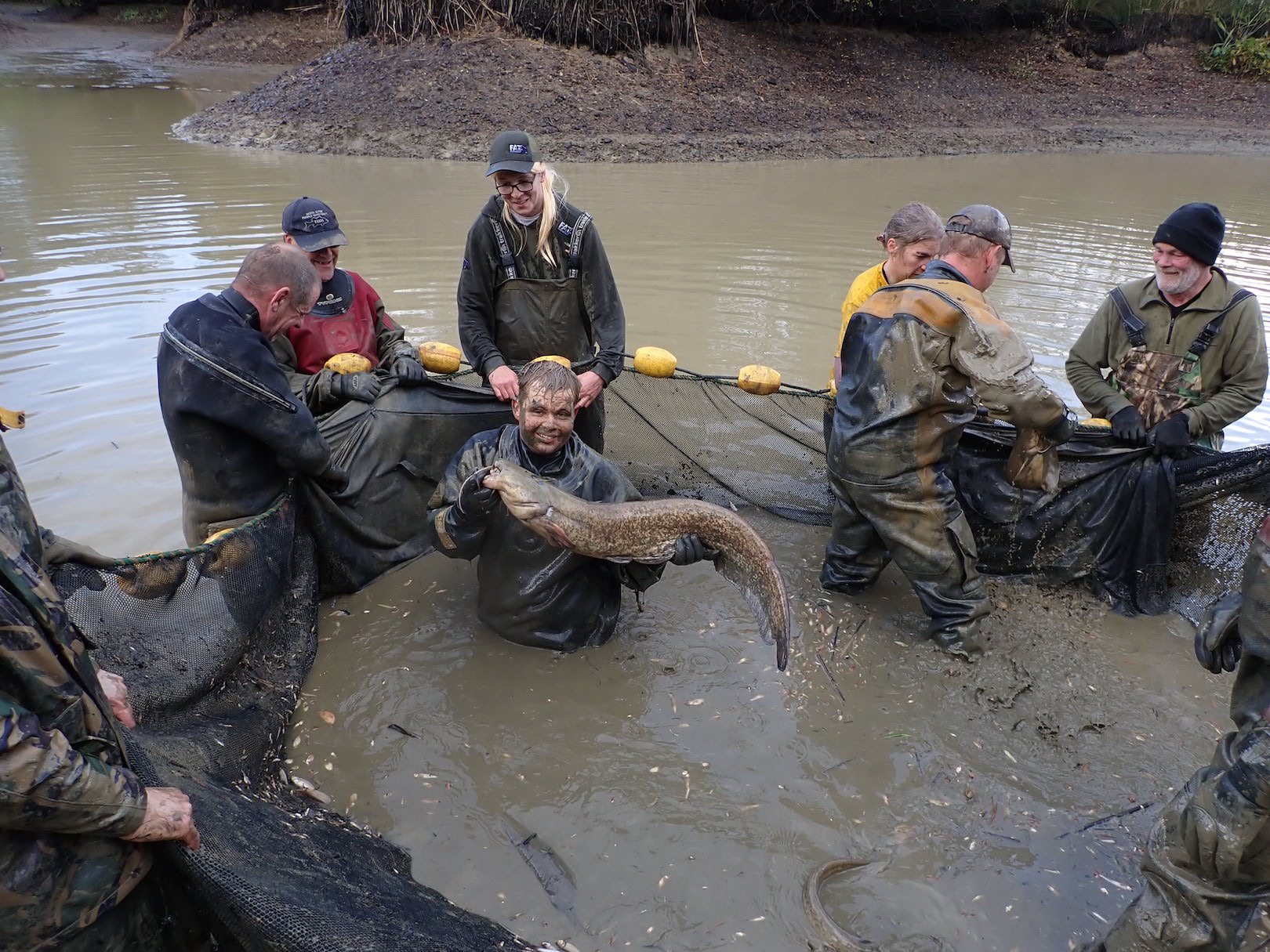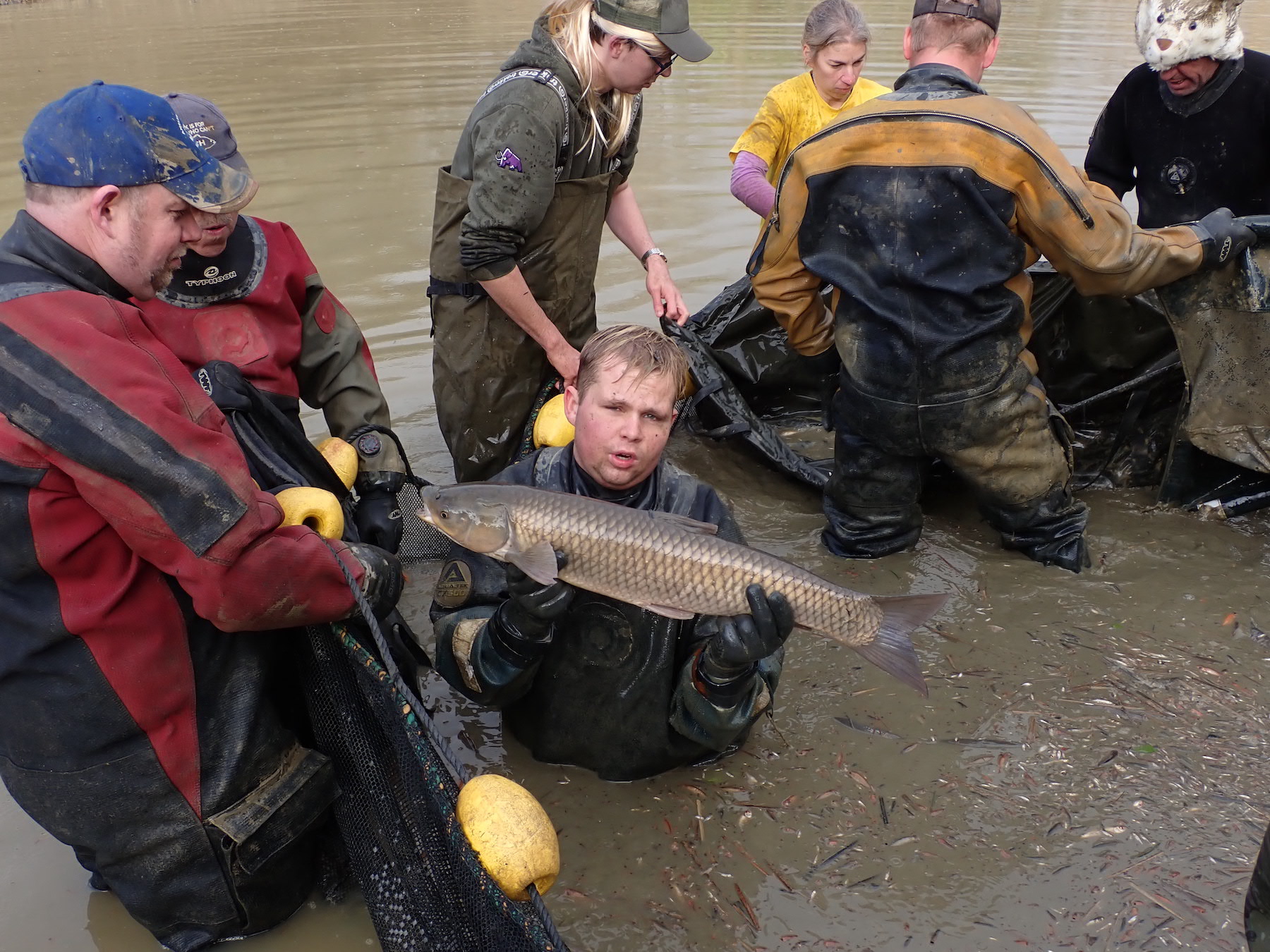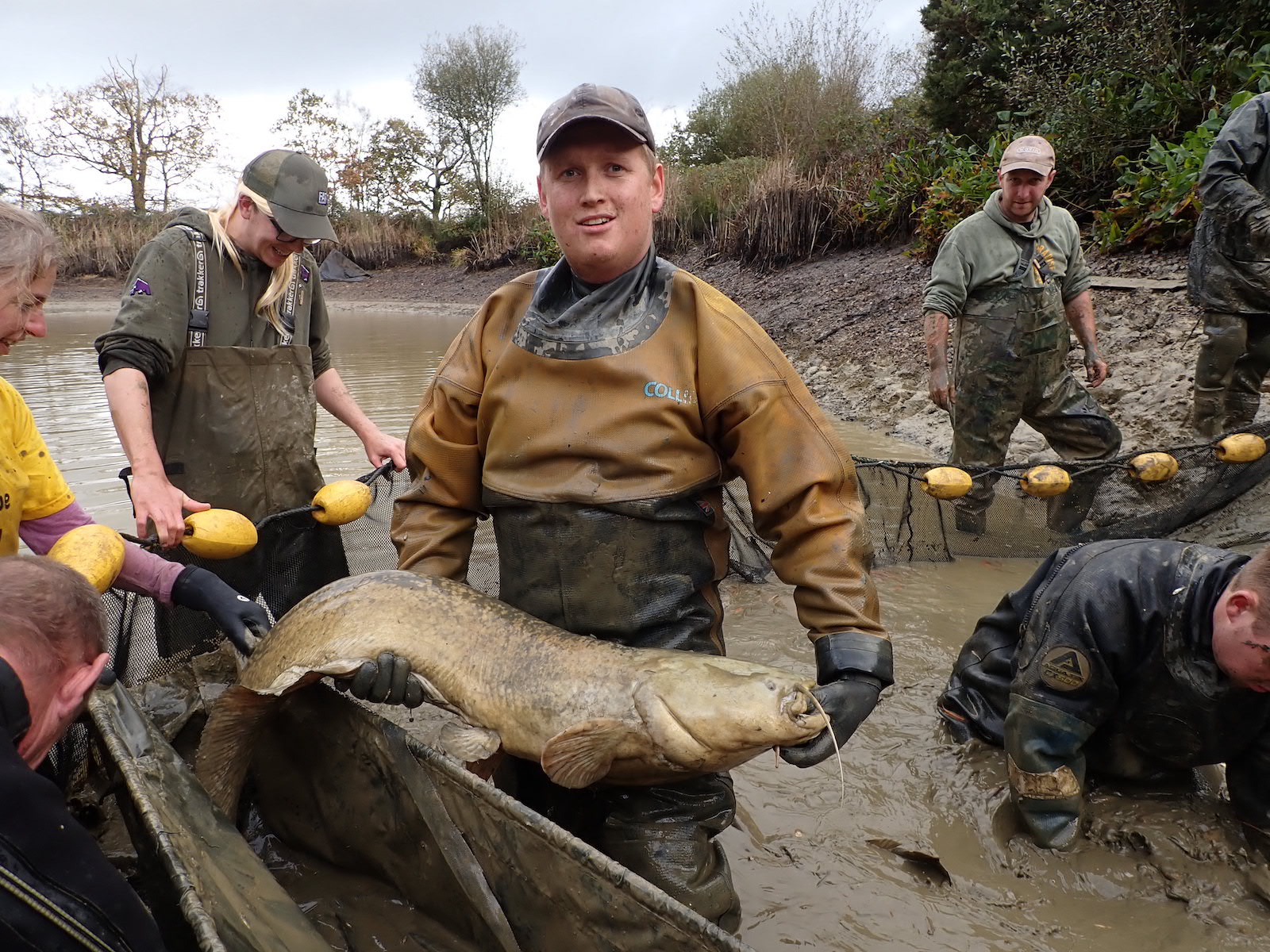 Zenia chatted enthusiastically about Anglers Paradise, her work with the Angling Trust and her role with tackle giants Shakespeare promoting fishing for families and children. The COVID pandemic has had a positive impact on many aspects of angling with many people discovering the pastime and others rediscovering its joys. The contact with nature and the outdoors is acknowledged as having huge benefits for mental health.
The role of social media was also discussed with both positive and negative aspects considered. An integral part of the modern world it can at times distract from the core aspects of fishing feeding egos with some fishing for likes instead of fish!
Ashley Bunning has been a part of the venue's fishery team for several years and his passion about the fishing and the future of Anglers Paradise was apparent as we chatted. Ashley is like myself a keen all rounder casting his lines in both fresh and salt-waters across the UK.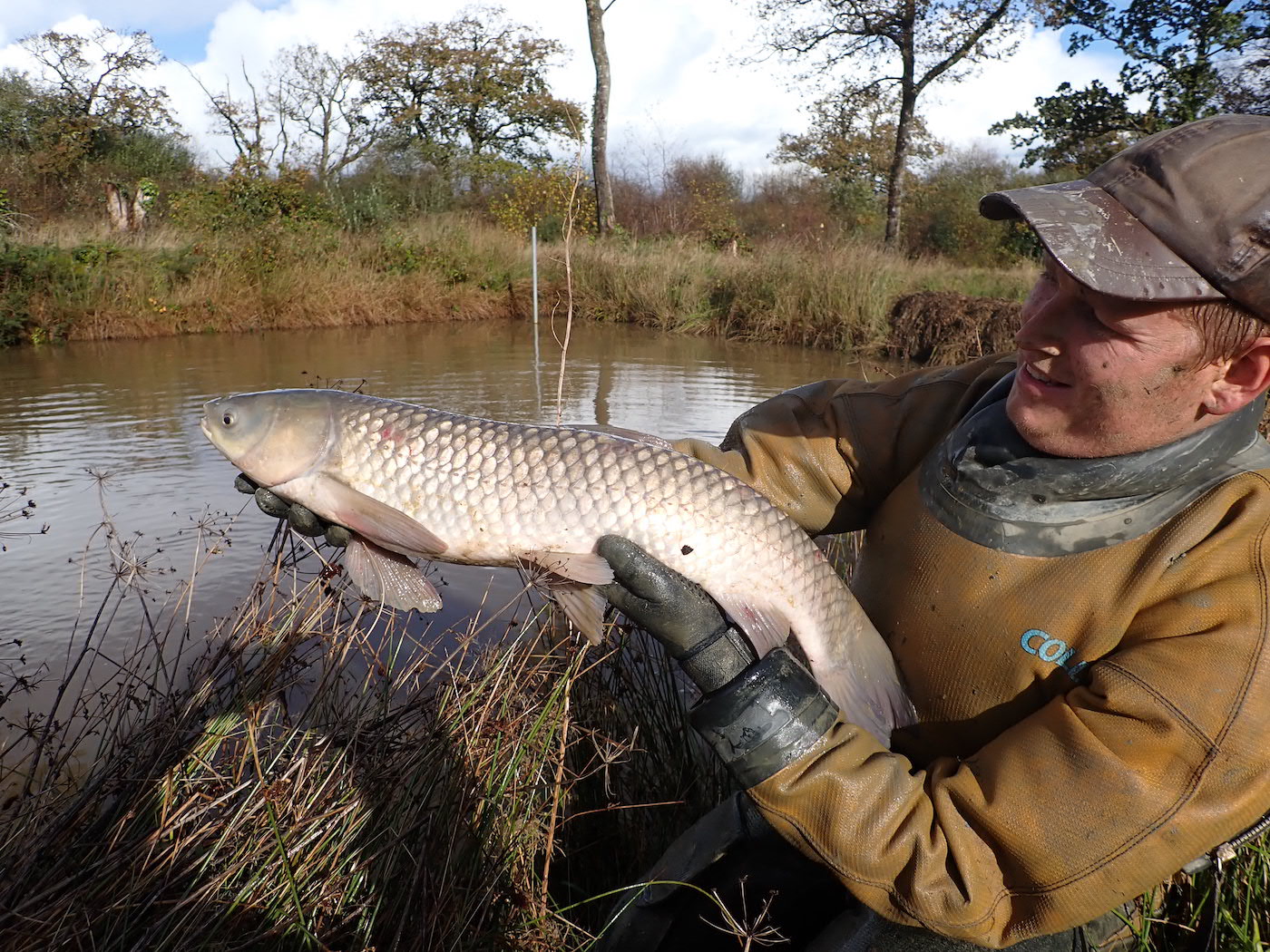 As the mornings work drew to a close I asked Ashley if he could gather the forty plus team together for a team photo. Fortunately, the sun broke through as the muddy masses posed together as one big happy team celebrating a job well done.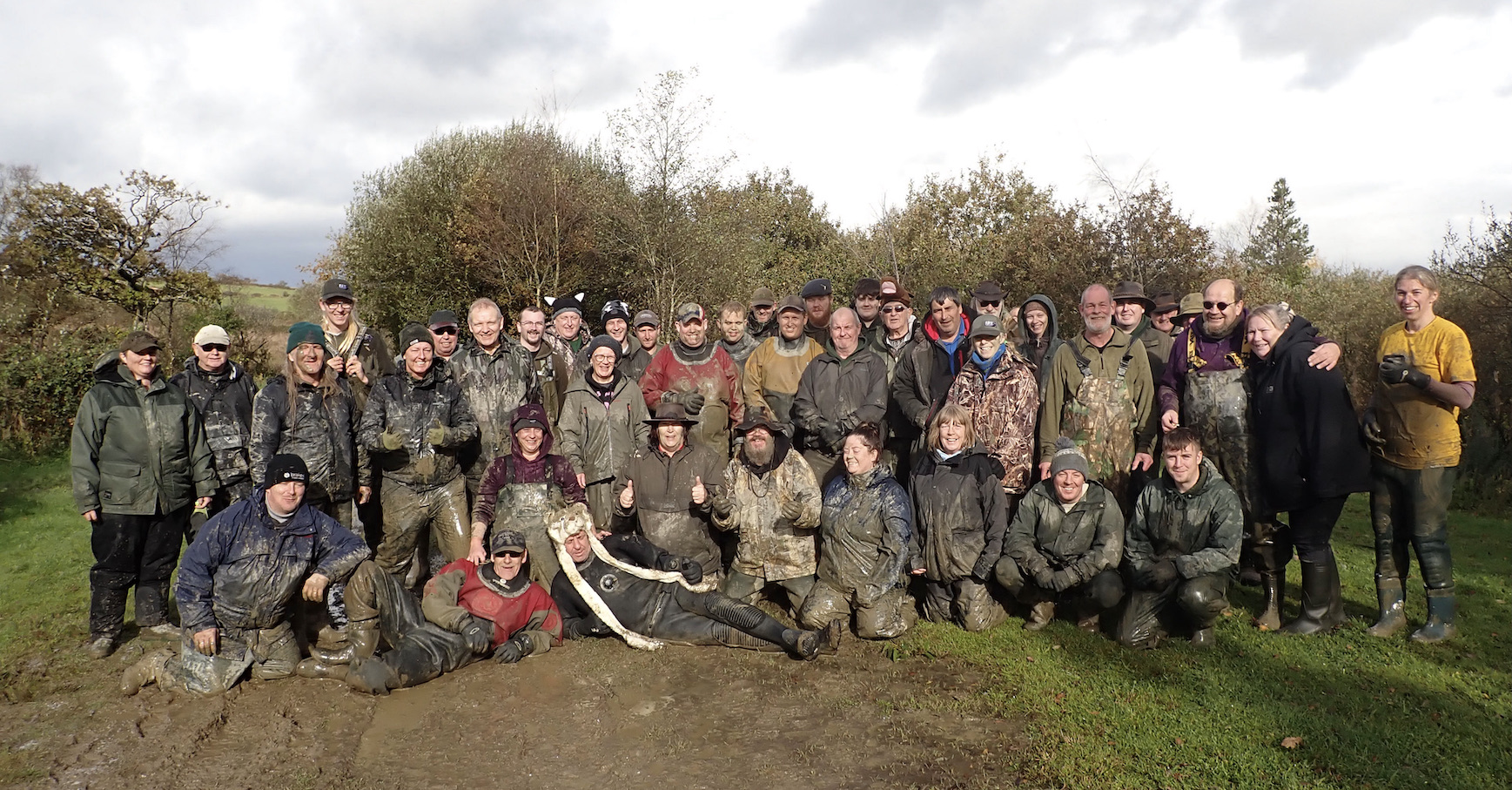 Minutes later the rain belted down in epic proportions as I walked back to my van to climb out of my waders and waterproofs. I called into the Safari Bar for a chat with Zyg who greeted me warmly before proceeding with recollections of his years at Anglers Paradise and beyond. The walls of the bar are a fascinating testament to a lifetime of fishing and adventure enjoyed by a larger than life character. Photos of famous anglers, celebrity's, a fine collection of taxidermy and casts of the many fish caught by Zyg along with other treasures collected on his travels around the globe. Anglers Paradise shows what can be achieved with determination, hard work and perhaps a touch of mischief along the way.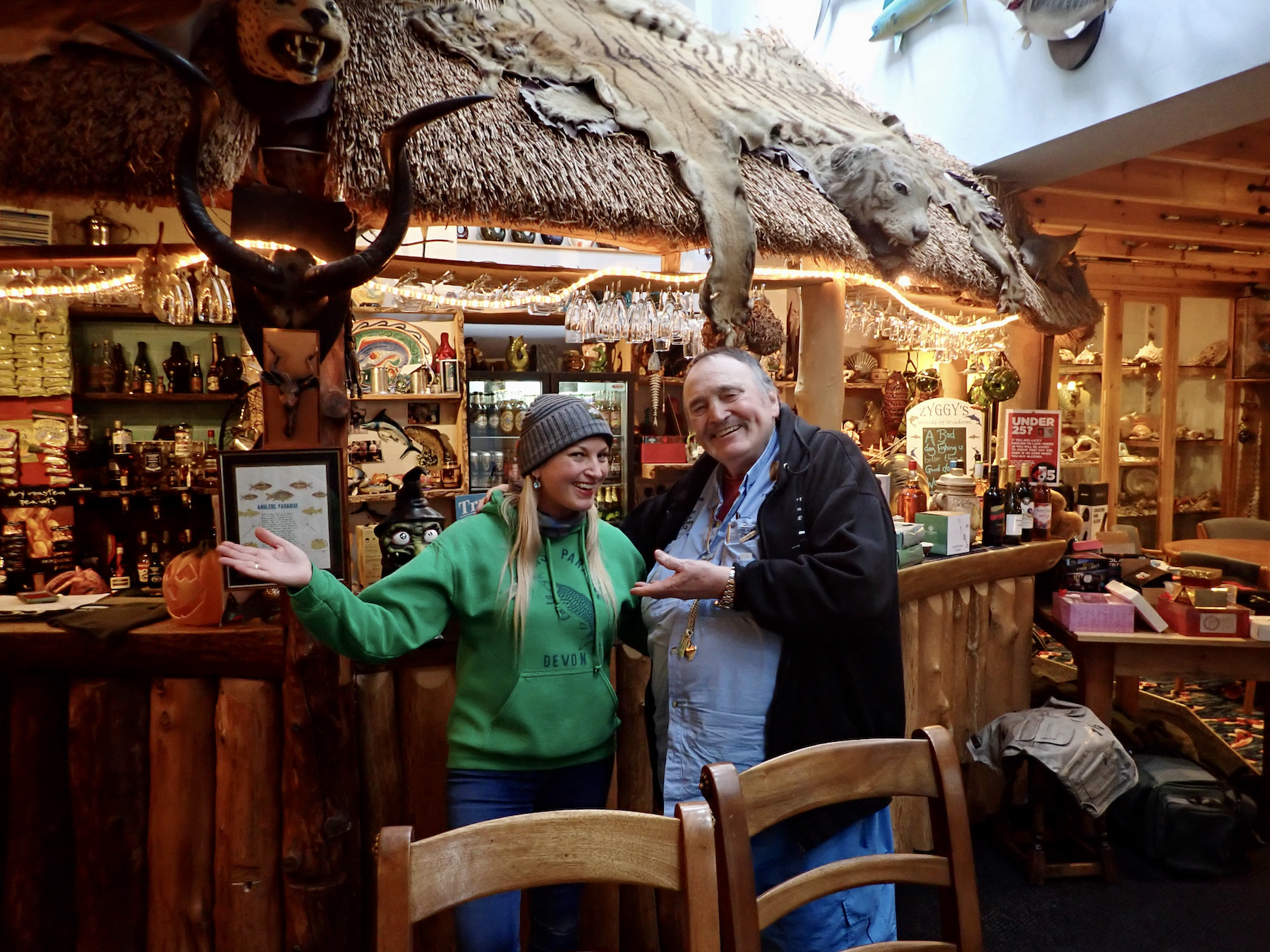 The 2021 Netting week raised an impressive £2,763.35 for local charities. The week culminating with a firework display on bonfire night. Chatting with the guests I know that many will be back next year to once again frolic in the mud and wrestle with the fish.
Zenia's summary of the week below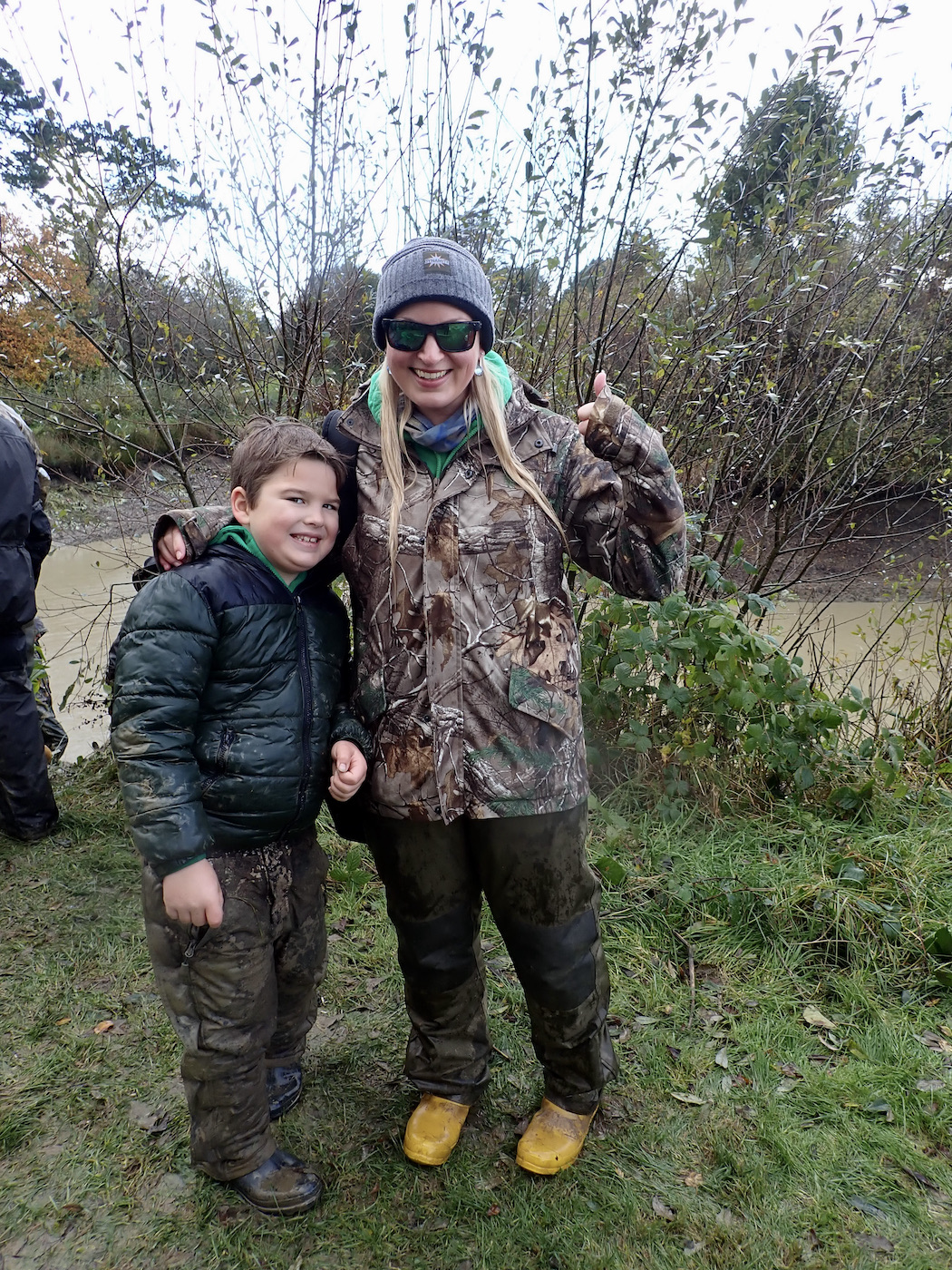 NETTING WEEK FUNDRAISING SUCCESS 🥳🎉🥳
Well, what can we say – what a fantastic week it has been!!
We are truly blown away with everyone's generosity and are overwhelmed with how much we raised in a week!! Here is a rundown of what 'we all' raised…
Burgers and hotdogs (kindly donated by Warrens's Butchers in Launceston) – £138
Bingo – Mick & Dawn Whitfield – £405
Nail painting – Cristal – £45
Curry Night – Zyg & Rose/Anglers Paradise  – £199
Badges – Di Mepham – £74
Race Night – Paul Beamont, Tackleshop Goblin aka Richard Flynn – £100
Fishing Match – Jordan Whitfield – £60
Quiz – Paul Tegg – £74
Fart fund, Yellow dress party & Ghost 👻 Hunt – Wendi Postma & Friends – £251.85
Charity Wine – Zyg & Rose/ Anglers Paradise – £380
Darts and Pool Competition – Johnathon Arnold & Nicky Lock – £90
Raffle – EVERYONE 💖 – £947
MAKING IT AN AMAZING TOTAL OF –
£2,763.35 ‼️‼️‼️‼️‼️🥳🥳🥳🥳🥳🥳
Just WOW!! We want to take this opportunity to THANK EACH & EVERYONE OF YOU & FOR EVERYONE'S GENEROSITY.
To have raised this amount in just a week is pretty awesome & we couldn't have done it without all of your kindness!!
We will be donating the monies to various Charities & will announce the chosen ones soon, so watch this space!