I arrived at Blakewell just before 9.00am to meet up with members of the Wistlandpound Fly Fishing Club and fish for the Edwards Floating Line Cup. It was a very pleasant late spring morning with lush green growth all around and birdsong filing the calm morning air. Dennis Toleman and Rob Hancock also arrived to fish Triple Hook Clubs A & J Barrow Fly Trophy Competition. They were a little concerned when I told them it was Wistlandpounds competition but when I told them it was not starting until 10:00 am they breathed a sigh of relief as they would most likely have got well underway towards their four fish quota by then as early morning before the sun gets on the water is often the best time of day.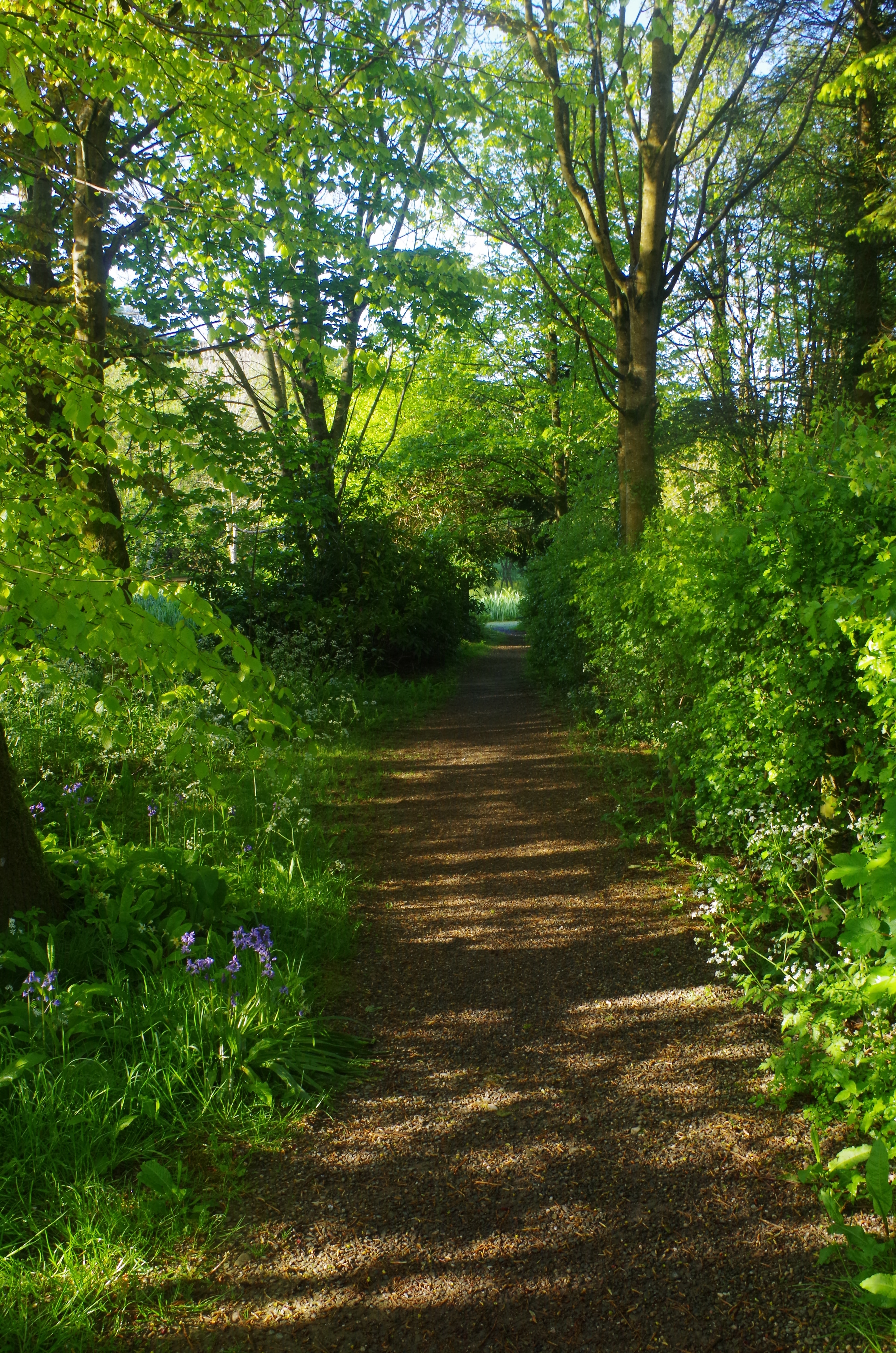 After setting up my tackle I took a walk to the lake to capture Dennis and Rob in action and see if I could get any tips for the competition ahead. Both anglers were in action by the time I arrived and I took a few snaps as their rods absorbed the lunges of the hard fighting rainbows that both exceeded 4lb.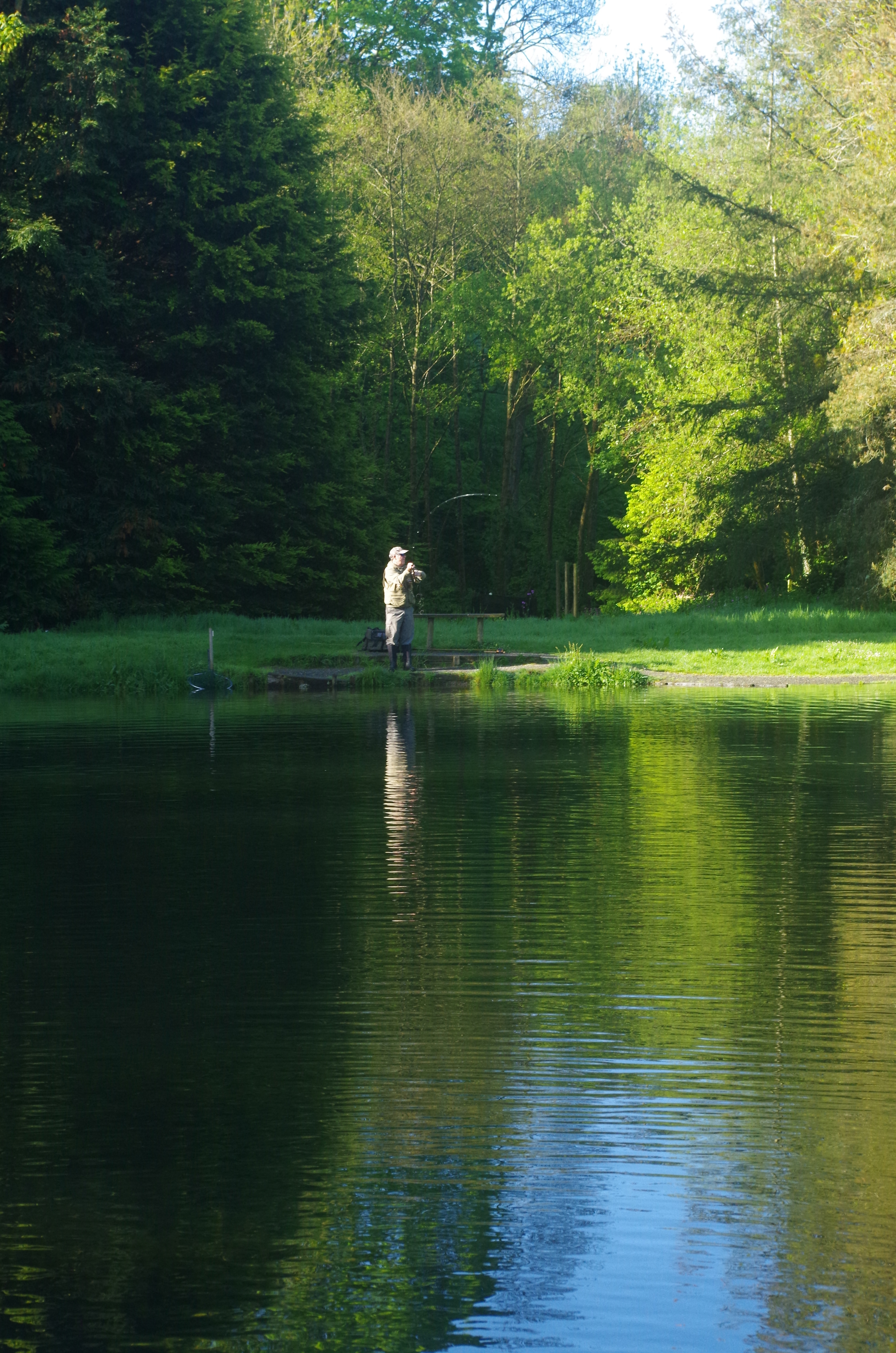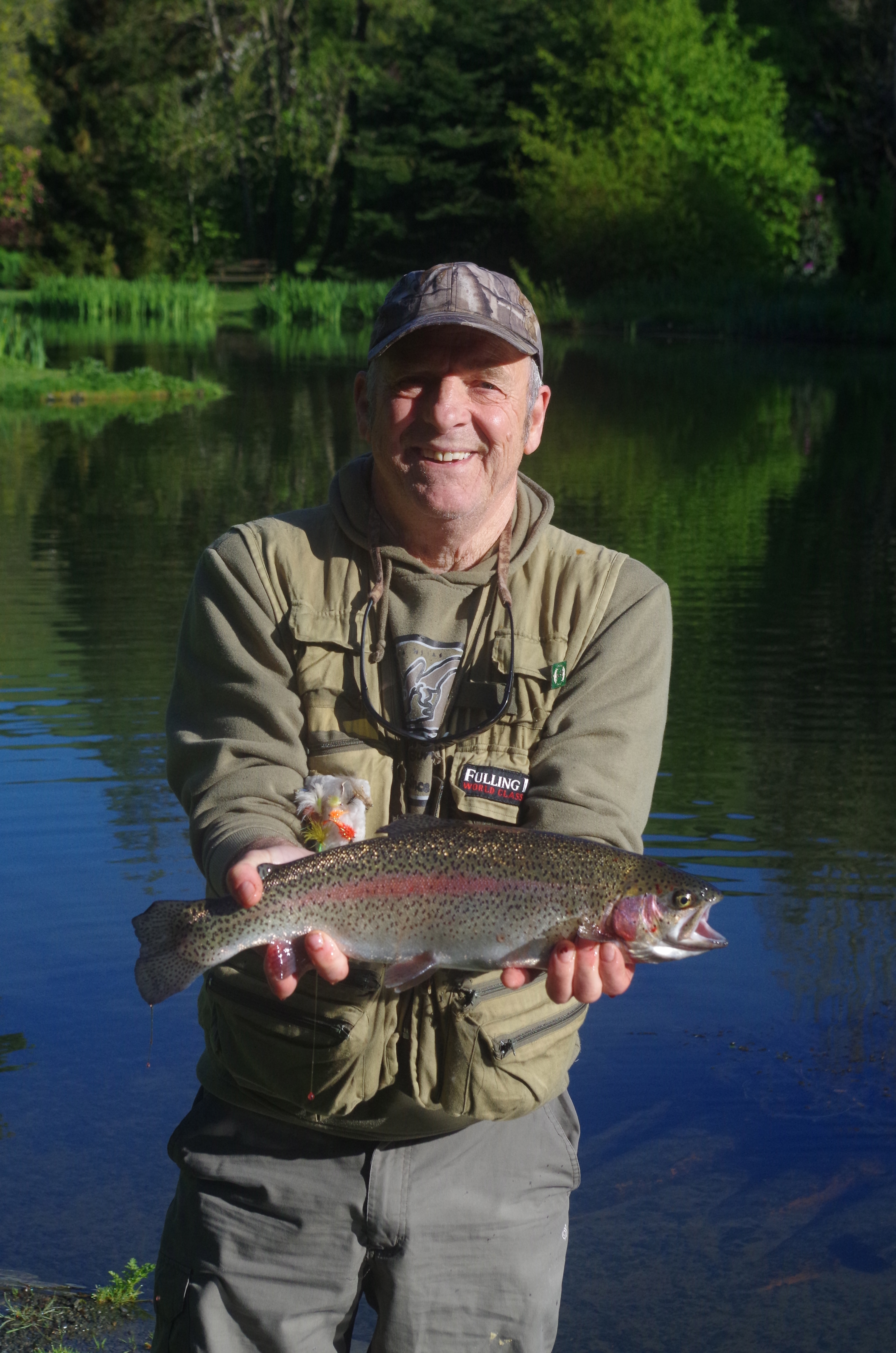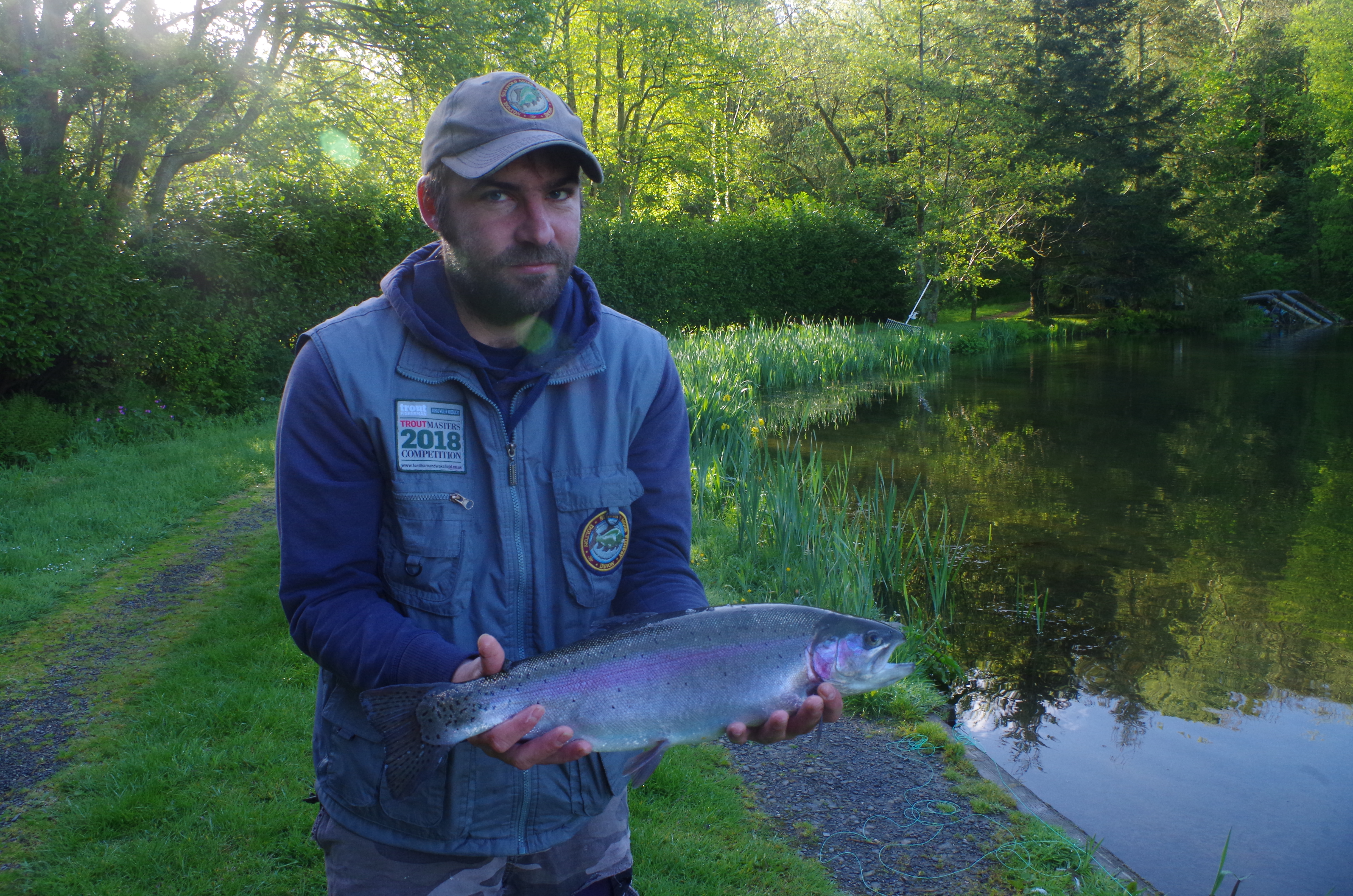 Dennis Toleman went on to win the A & J Barrow Trophy with a four fish bag totaling 13lb 4oz. Robbie Hancock finishing runner up with 12lb 3oz.
Blakewell's  Lake looked the perfect trout lake on this sunny morning with a brood of ducklings chirping as they dashed to and fro amongst the reeds. A few swallows swooped speedily over the water  and high above a pair of buzzards soared on the thermals.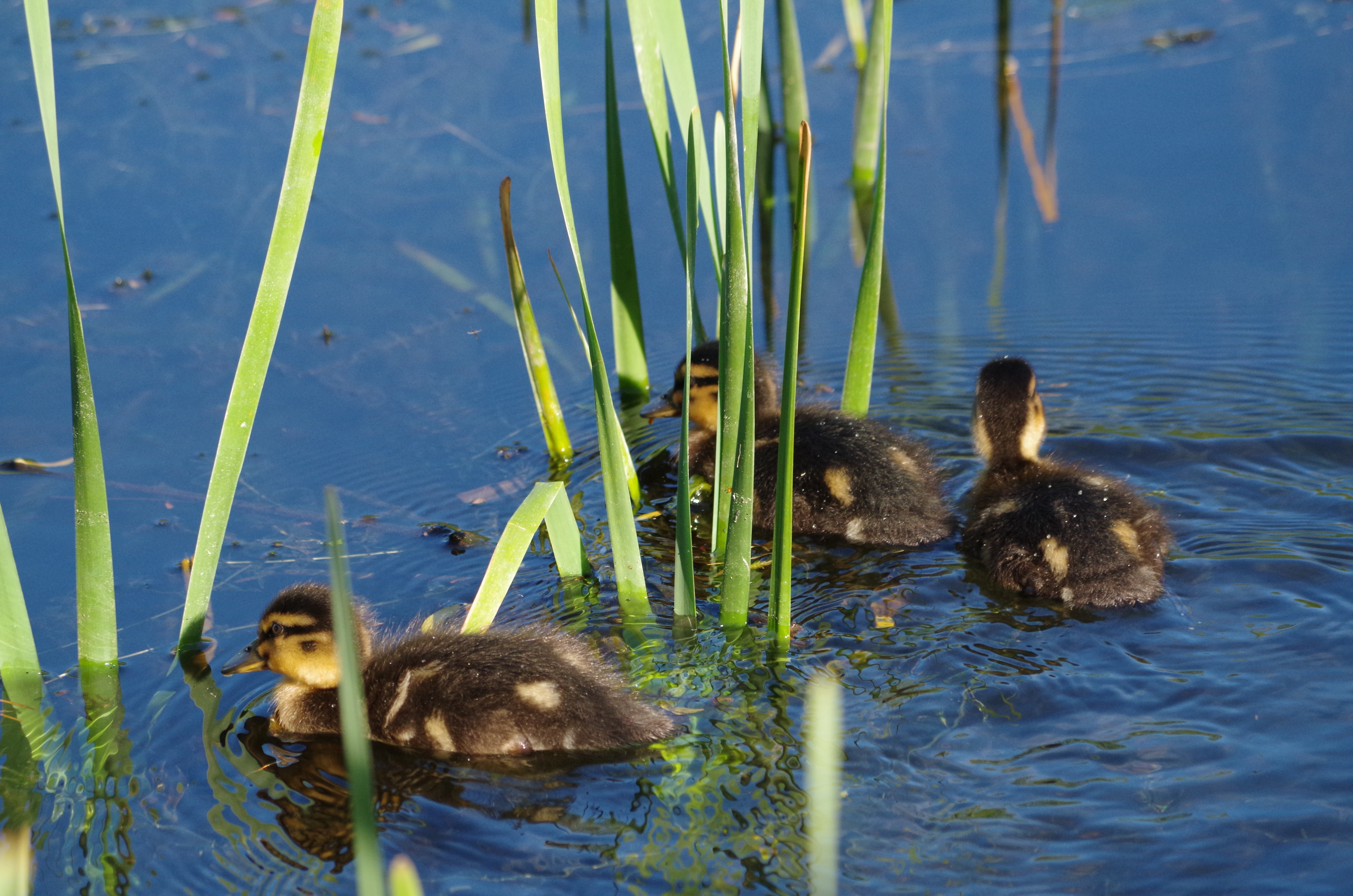 My fellow Wistlandpound club members duly arrived and after purchasing three fish tickets sauntered out to the lakeside. Within a few minutes several members were in action with bent rods as the lakes hard fighting rainbows surged to and fro in the clear water. I had tied on a damsel nymph and cast it well across the lake towards a rising trout. As I started to retrieve I noticed a trout of a couple of pounds closing in on the fly. Hoping for something a little bigger I stopped retrieving and watched the trout turn away. I fished on and within a few casts felt the pleasing tightening of the line. Whilst not big the rainbow fought gamely before eventually slipping over the rim of the net.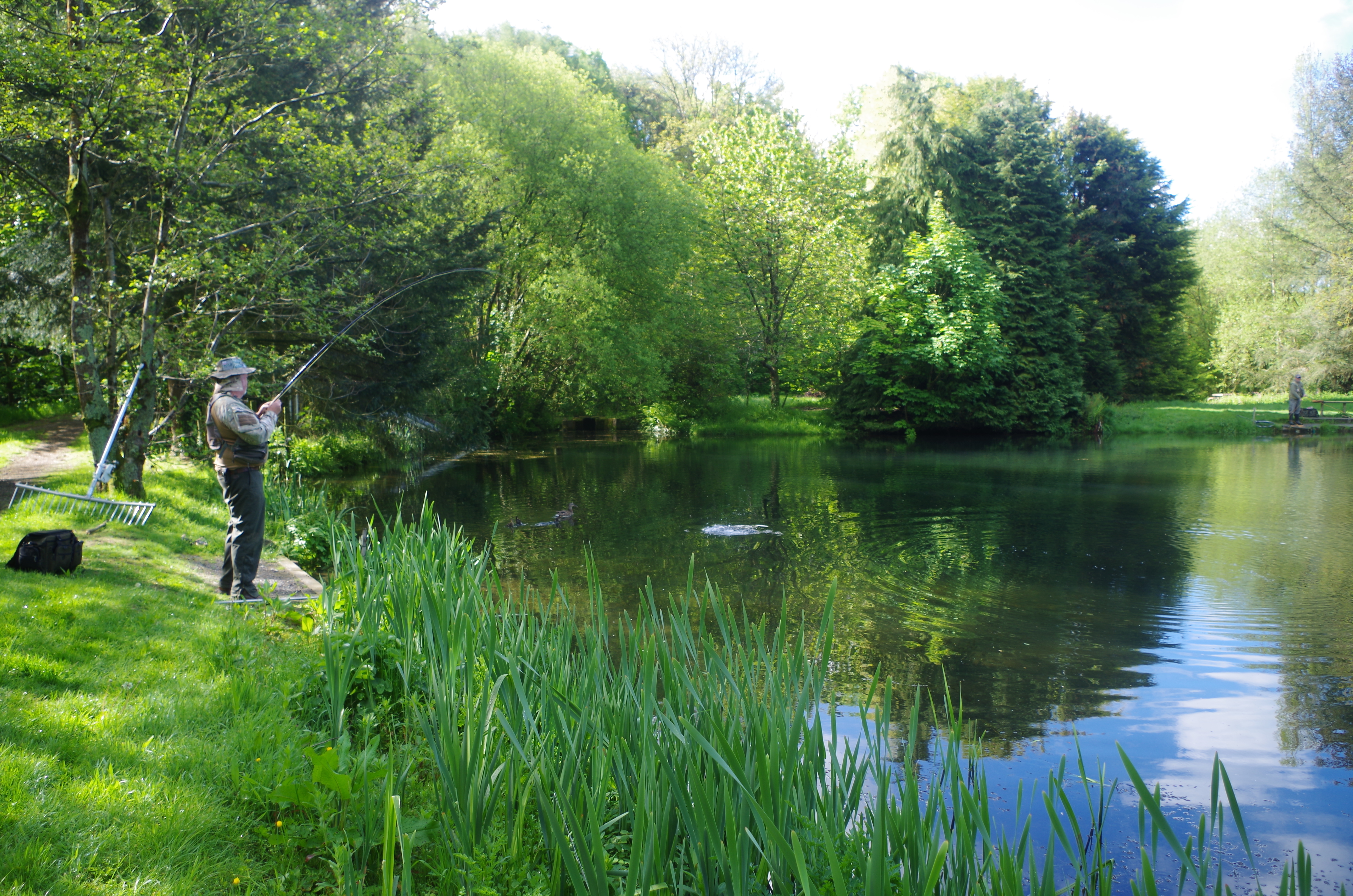 A few casts later I hooked an almost identical rainbow of a couple of pounds. Aware that other members had already landed bigger trout I decided upon a change of tactics and wandered to a shady corner on the far bank. I stood quietly leaning against a tree and peered into the crystal clear water watching as trout cruised past. I had tied on a gold headed green nymph one of my favourite stalking fly's. After a few minutes a larger fish appeared and I flicked the nymph a few feet in front of the rainbow. I allowed the fly to sink then gave a twitch giving life to the gold head. The trouts mouth opened, the line twitched the rod lifted and I felt the weight of the fish and watched as it shook its head before surging away ripping line though my fingers before making the reel sing and rod absorb the strain. An enjoyable tussle followed before my prize was secure in the waiting net. At around four pound it was a pleasing result and emphasized how a little patience and stealthy angling can bring a better result than fishing blind.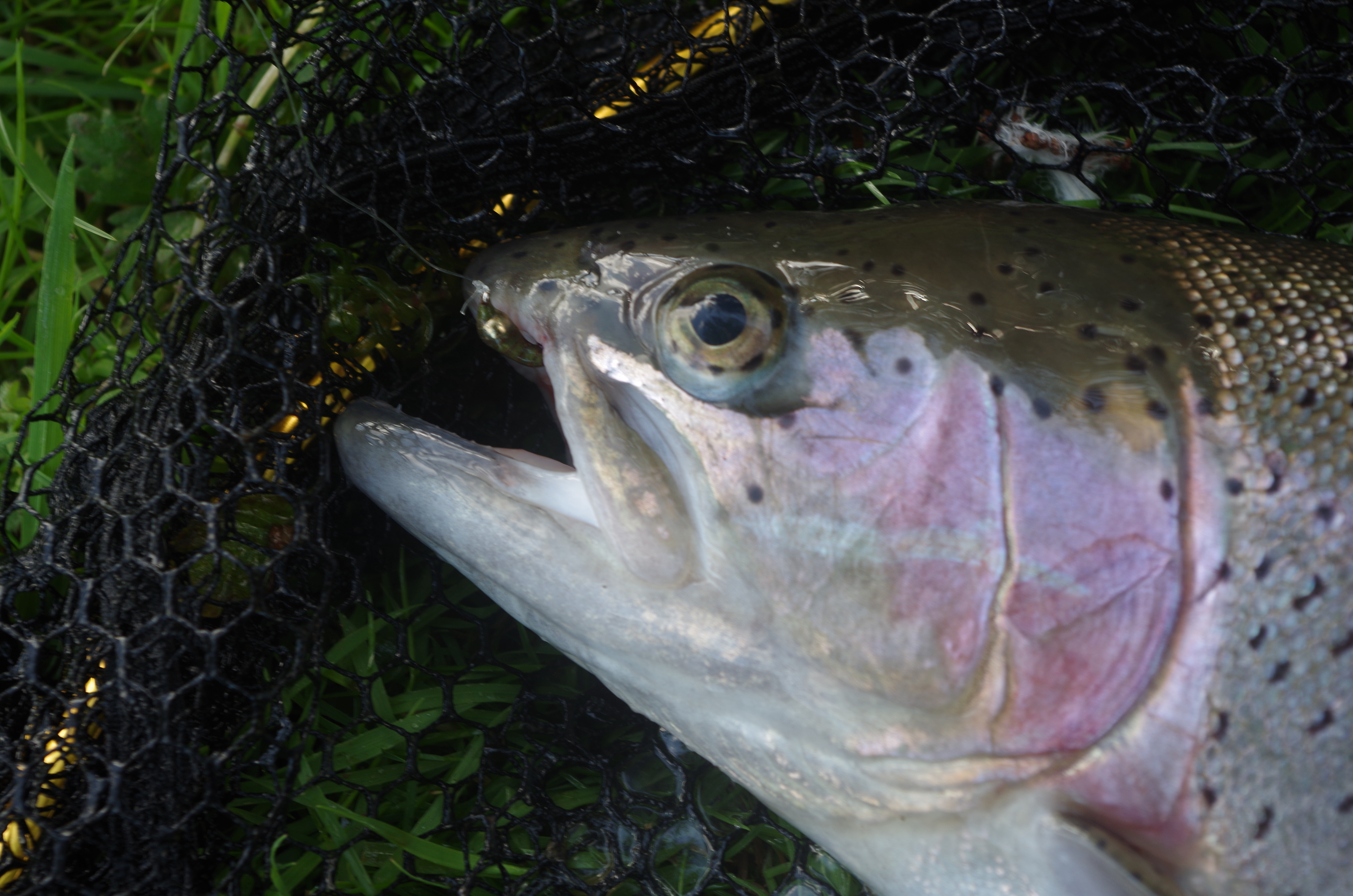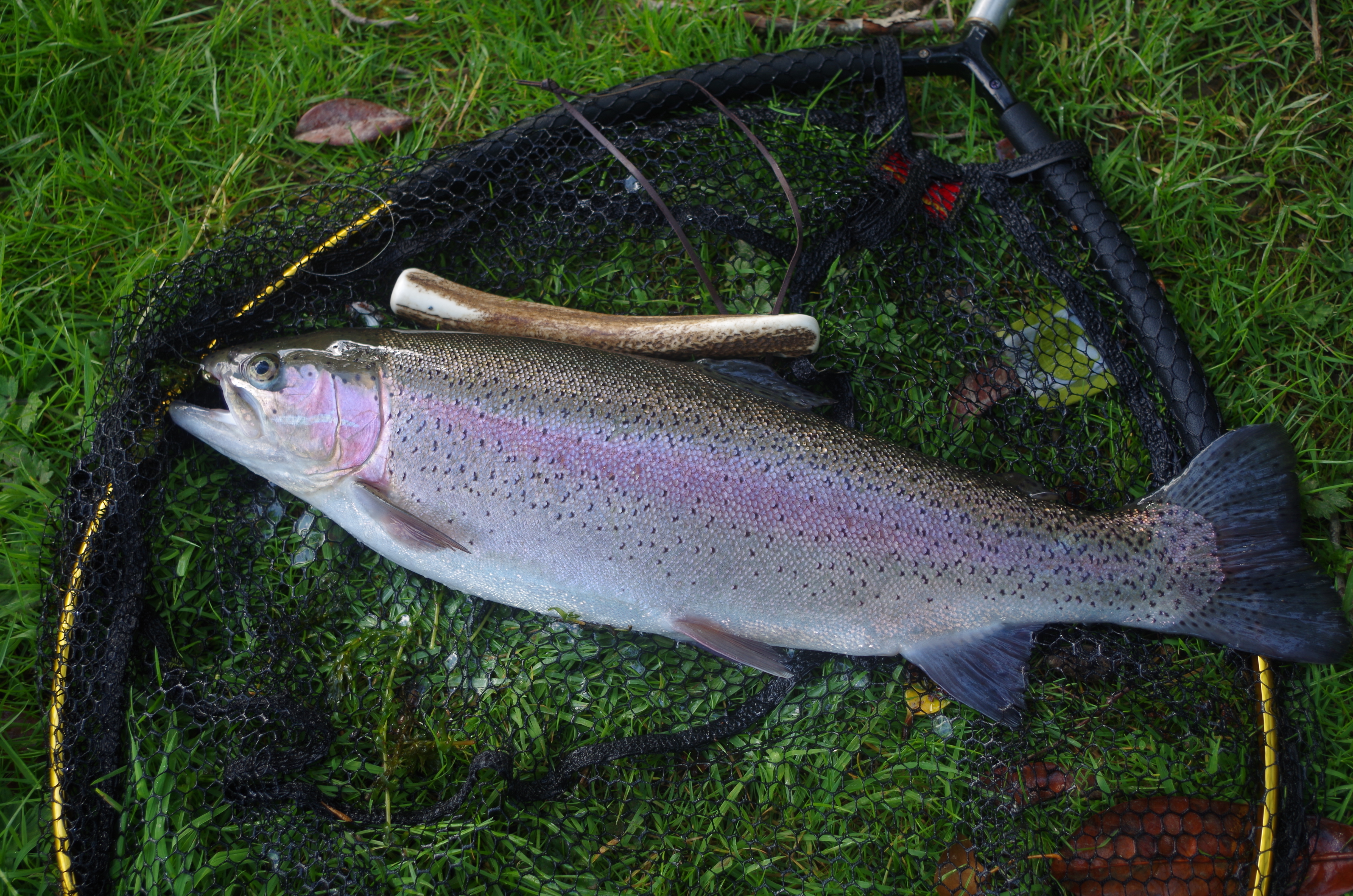 By midday all members had secured their three fish bags with Paul Grisley taking top spot with a bag of 9lb 9oz the best fish a fraction under 4lb. David Eldred was runner up with 9lb 6oz, Myself third with 8lb 13oz and forth Colin Combes with 6lb 12oz.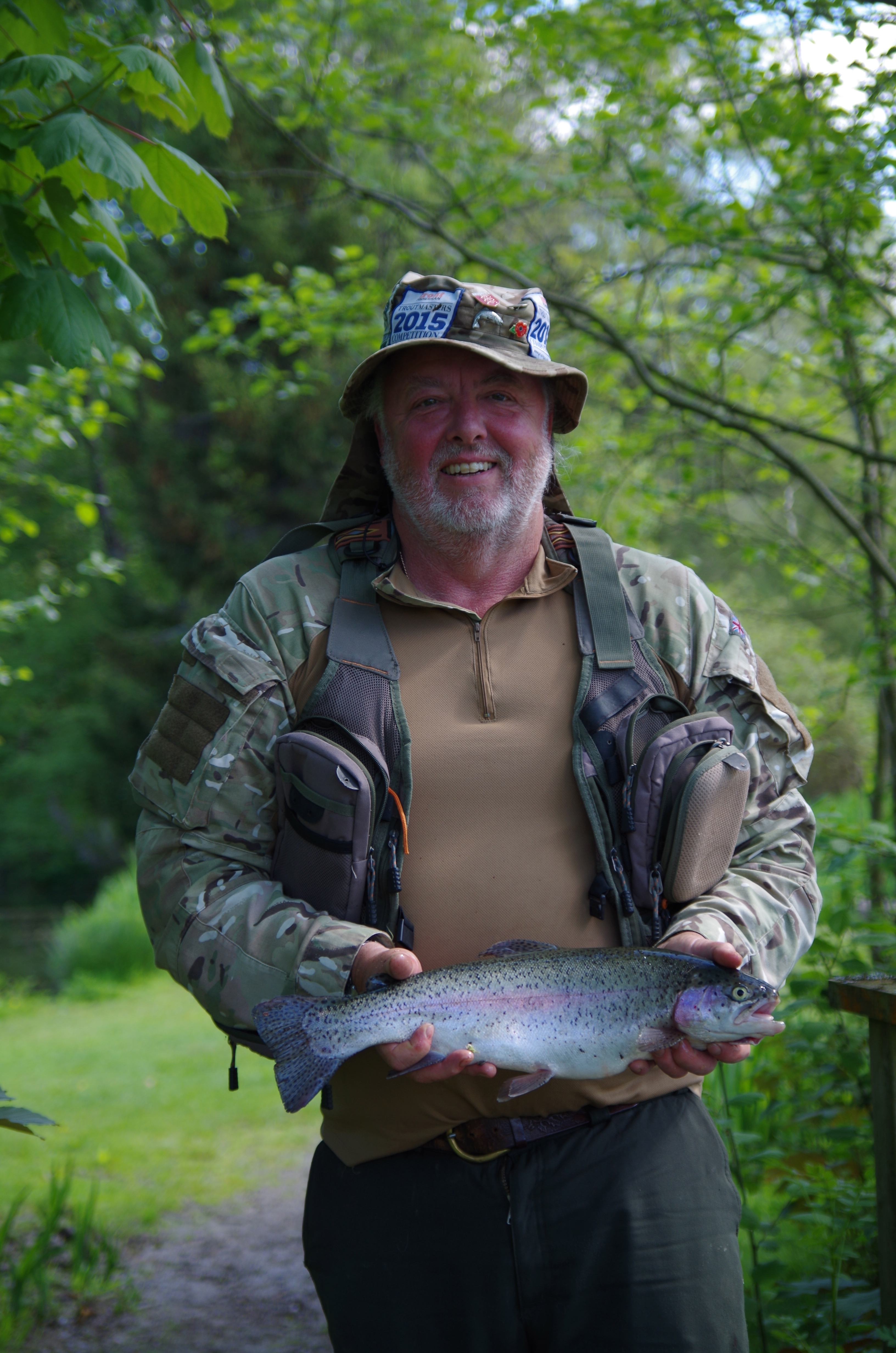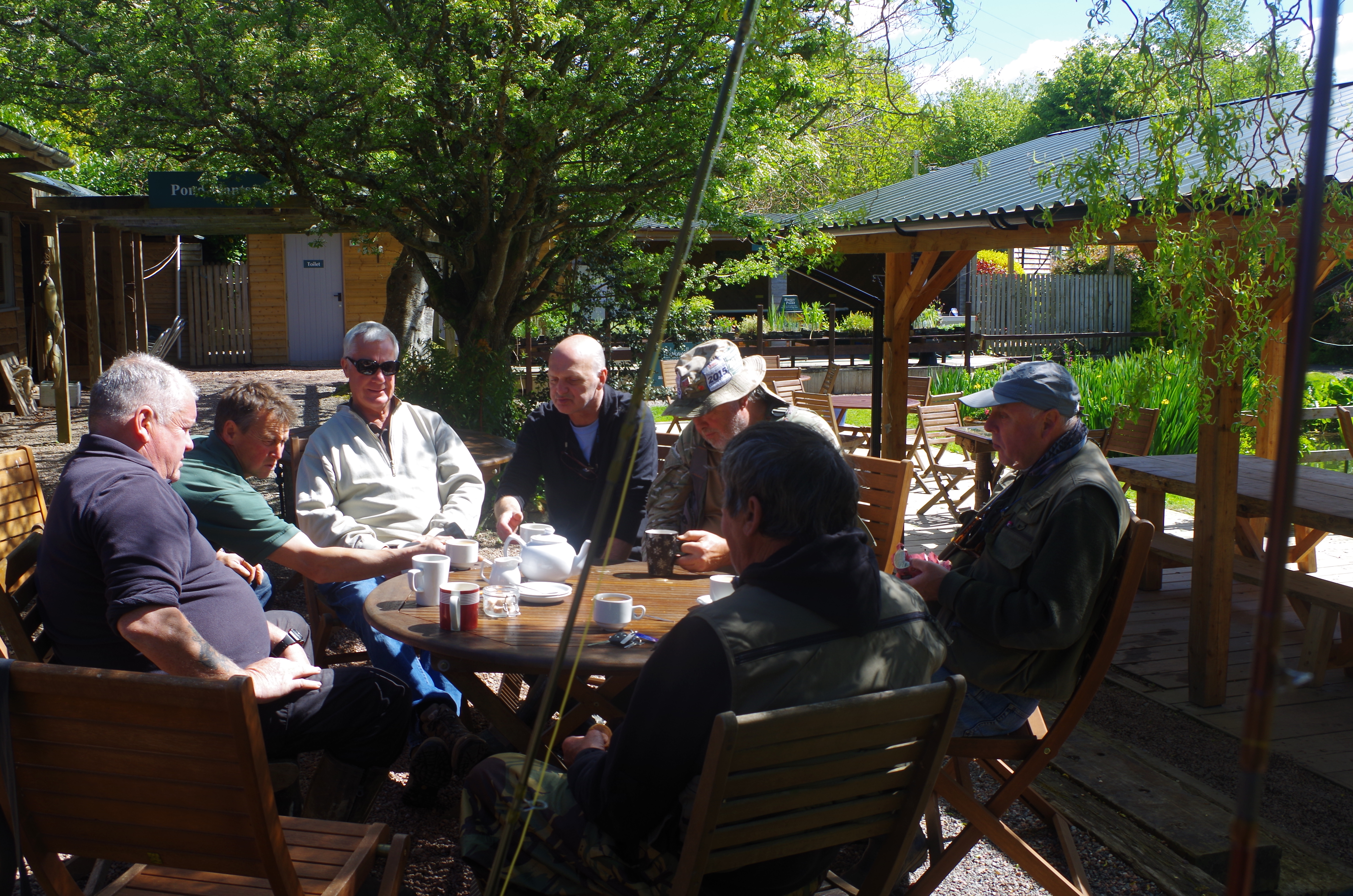 With the competition over it was time to retire to the decking for welcome cups of tea and coffee. After a lengthy chat about fishing trips, catches and holidays it was time for a behind the scenes tour of the fish farm with co fishery owner Richard Nickell. Richard gave a fascinating and at times humorous  account of rearing thousands of trout from fry to table size. Explaining the many trials and tribulations that can beset the fish farmer and the extensive costs involved. Richard ended the tour with a demonstration of his skill with the filleting knife and many ways to cook trout.