Great Torrington Army Cadets take on the trout
Fly fishing for Duke of Edinburgh's Award
Captain Trevor Cook
ACF Instructor

Fly Fishing for D of E skills element ,,
20th February 2018 Saw the start of a new challenge for five young members of Great Torrington Army Cadet Force who decided to take on fly fishing for the skills element of their D of E Award scheme.
Prior to the course starting we arrange a Sunday morning visit to Monkokehampton Salmon Hatchery on the 4th February to learn about their work, kindly laid on by Charles Innis, who explained to the Cadets about the life cycle of the Salmon from egg to return, we looked at the setup and walked up river to see the weir, the Cadets found this visit very educational.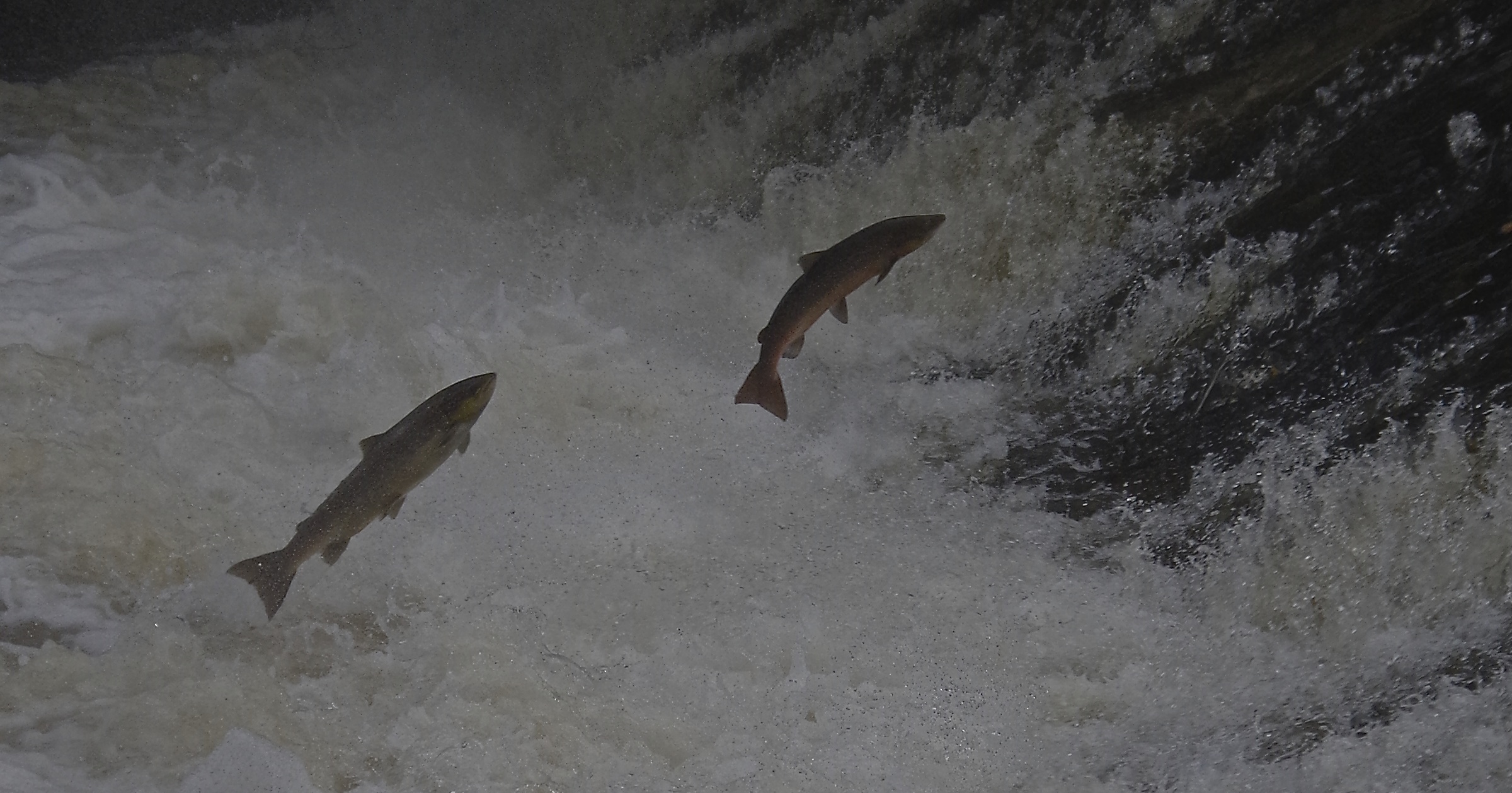 Over the past 5 months Cadets Sjt Daniel Lobb, L/Cpl Tyler Bolt, L/Cpl Jack Pledger L/Cpl Sam Newberry & Cdt Harvey Hodge have learnt and practiced all the skills needed to become proficient fly fishermen.
The course covered all elements such as types of rods, reels, lines leaders, knots, casting techniques and types of flies and how to fish them, which was then followed up by a day tying their own flies for them use on the two lake days.
The course also included two guest speakers, the first being Paul Carter, Environment Agency Water Bailiff who gave the Cadets an insight into his job role, Licensing and environment, the second was Allan Crawley Commons Conservators River Warden, Allan gave the Cadets an insight into his role and how they were working on better access for anglers along the commons riverbank. We also had a third speaker Keith Armishaw lined up from the fly fishing section of the Torrington Museum, unfortunately Keith was taken ill, the Cadets found Paul and Allan's presentations really interesting. I'm sure Keith's presentation would have been equally as good, we do hope Keith is on the road to recovery and wish him well for the future.
Months of hard work practising paid of on our two lake days, the first being at Simpson's Valley Coarse & Trout Fishery nr Holsworthy on Saturday 26th May 2018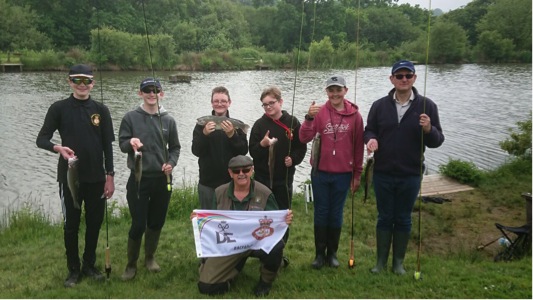 This was a good days fishing and despite it being hard work all five managed to catch a nice Rainbow Trout, the first fish of the day was caught by Col Ashley Fulford OBE, Chairman of the Army Cadet Force Association and Duke of Edinburgh's Award Advisory Panel who joined us for the day being a keen fly fisherman himself.
The heaviest fish of the day was caught by L/Cpl Tyler Bolt, a nice Rainbow weighing in at 3 ½ pounds. Everyone went home excited having caught their first ever Trout, thanks to Paul Cozens & Andrew Moores for making this possible for us, we really appreciate it.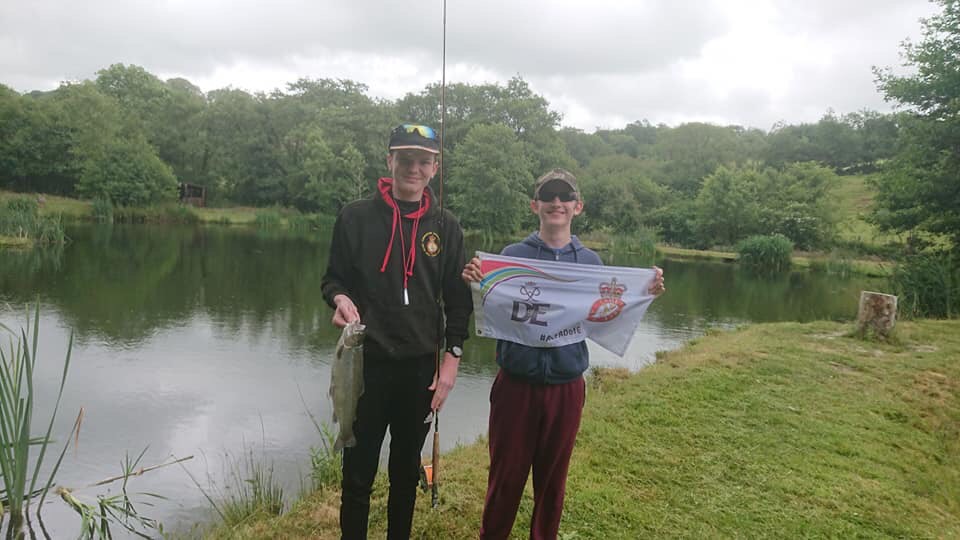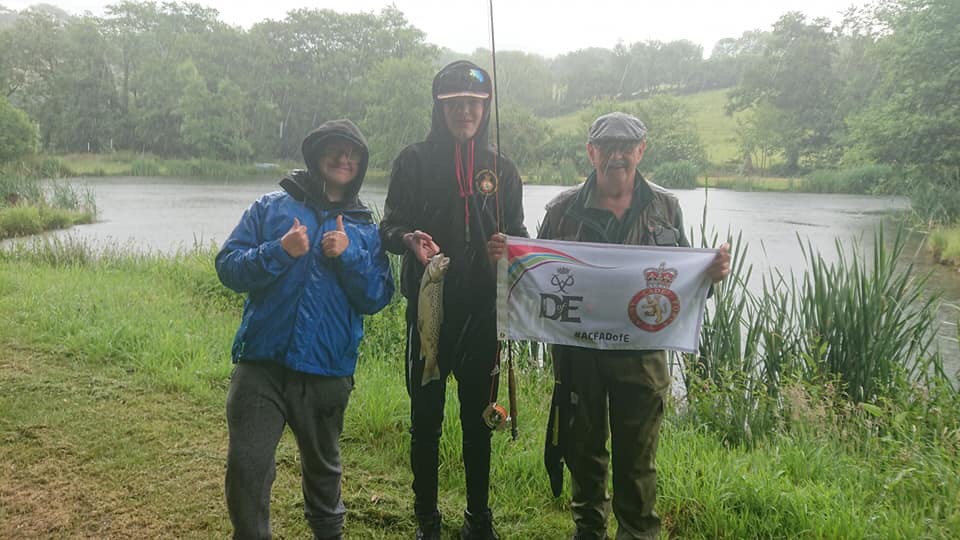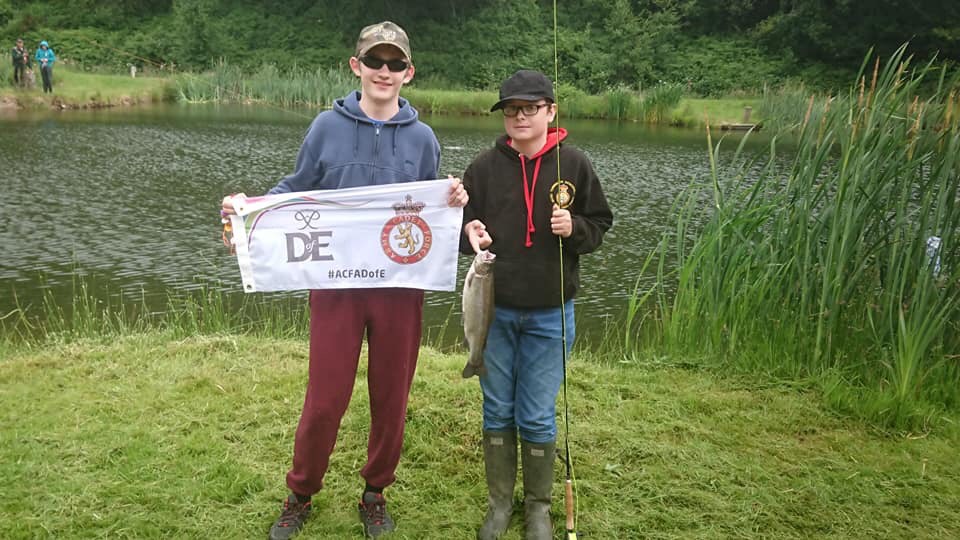 Our second lake day was held at Bratton Water Trout Fishery, Loxhore Cross, nr Barnstaple, This proved to be another cracking days fishing where after a slow start all five caught their second ever trout. The first fish of the day was caught by L/Cpl Sam Newberry and the largest was caught by L/Cpl Pledger. Thanks to Mike Williams for all his help setting this up and accommodating us on the day , really appreciated.
This Course is the third one we have run but this year we have built a lot more into it and it has gone so well these five Cadets have started buying their own kit and asking for more lake days in the future.
Great Torrington Army Cadets would like to express their sincere thanks to the following people for their help and support this year it really has been appreciated, thank you.
Charles Innis : visit to Salmon Hatchery
Paul Carter : EA Bailiff
Allan Crawley : Commons Conservators River Warden.
Paul Cozens & Andrew Moores : Simpsons Valley Coarse & Trout Fishery
Mike Williams : Bratton Water Trout Fishery
Keith Armashaw : Great Torrington Museum
Again many Thanks
Capt Trevor Cook ACF Instructor.   Lt Matt Sanders OC Great Torrington Detachment
Great Torrington Army Cadets started fly fishing for D of E two years ago, buying six starter kits directly from Airflo at a special price thanks Glenda Evans (Airflo) and funded by a grant from Great Torrington Town Council.
We now have enquiries from Cadets about the next course.
From this years five Sjt Lobb has now used fly fishing for his Bronze, Silver & Gold Awards
L/Cpl Pledger for his Bronze & Silver
L/Cpl Bolt, L/Cpl Newberry & Cdt Hodge for Bronze.