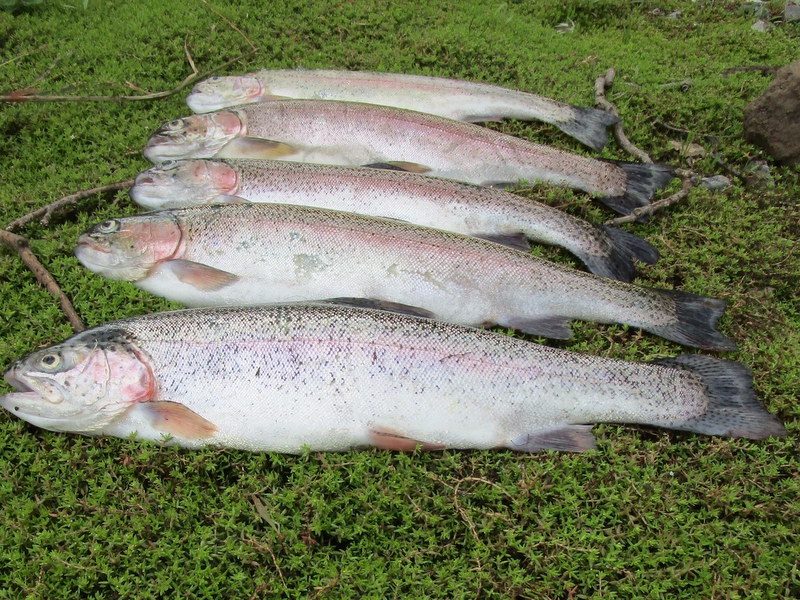 Saturday 20 August, Kennick Reservoir- Free Trout Fishing Taster Day (Booking Essential).
National Fishing Month (1-31 August) is all about celebrating the social, wellbeing and environmental benefits of angling.
Angling offers you a chance to get outside, experience nature at its best, get the whole body moving, take a breath and allow your mind the time it needs to reset.
We would like to extend a warm welcome to all new beginners to our sport, and of course any established anglers who would like to come along. Join us at Kennick Reservoir for a 'Have a Go Session' with local and experienced Fly- Fishing guides and anglers.
The event is kindly supported by Snowbee and Turrall. As well as tuition, there will be Fly-Tying demonstrations with Brian Ratcliff and Colin Nice, casting Demonstrations with Simon Kidd at Snowbee, fishing gear and accessories available to buy from Turrall (cash only please as no card facilities at Kennick) a raffle, as well as countless tips and tricks to use going forwards. Plus a gift bag from Turrall for participants.
Wellies or old footwear advised as it can be muddy in places. Equipment is available to use on the day but feel free to bring your own if relevant. Bring a Packed lunch (Tea, coffee and biscuits provided).
Raffle tickets available in advance. Raffle prizes include Snowbee Classic Fly Rod, Fly Reel and Fly Line, Rod Kits from Turrall, Kennick Day Permit, Boat Permit. Tickets cost £2.50 each or five for £10.
If you would enjoy the chance to try fishing for the first time or brush up on techniques as well as catching up with some friends over coffee and biscuits then we look forward to seeing you. The kettle is on!
There are three sessions to choose from: 10am-11.30am, 12pm-1.30pm and 2pm-3.30pm.
Tickets are free but booking is essential. 
https://www.swlakestrust.org.uk/free-trout-taster-day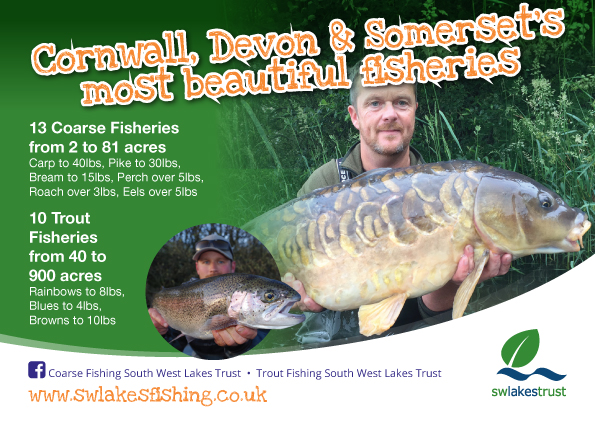 South West Lakes Trout Fisheries Report
July 2022
Hot sunny weather conditions have meant that, as the month progressed,  water temperatures have started to rise quickly, levels dropped, and fish (rainbows in particular) have generally preferred to move to and feed in deeper water during the heat of the day, when boat fishing has proved to be popular. South West Lakes stress that during these conditions, fish welfare must remain paramount, and care must be taken to limit handling fish, and that catch-and-release must be done promptly to avoid stress.
Fishing:
Kennick – Anglers found, unsurprisingly, that success rates dropped as the month progressed and the water warmed. The monthly rod average was 2.5 fish per rod. The fish were well spread out earlier on, but moved to the deeper waters by the dam, Clampitts Bay, and Boat Bay as the water warmed, and fishing from a boat with a long leader or sinking line resulted in the best sport. Traditional dry fly techniques (black gnats and daddies) worked well in the early mornings during buzzer hatches, but otherwise nymph, lure, and booby patterns accounted for most catches. Graham Roberts (from Totnes) caught six rainbows to 4lb, mainly on lures and nymph patterns; Brian Sedgebeer caught two rainbows to 3lb 4oz fishing from a float tube with a sinking line and slow retrieve, while Malcome Ure caught seven rainbows to over 3lbs in one session.
Burrator – Again catches dropped off each week as the month progressed (with weekly rod averages falling from 3.8 to 1.5 fish per angler), and the fish moved out to deeper water. Longstone, Lowry Point, Pig Trough, and Pines Bay proved to be the best locations, and while dry fly techniques worked well in the earlier part of the month (with Beetles, Black Gnats, and Hoppers all catching fish), as the water warmed,  nymphs (Montanas, Damsels), blobs, and boobies fished on intermediate or sinking lines proved preferable. Mike Lunney (from Douseland) enjoyed some great sessions, catching bags of six rainbows on two visits, and a bag of three to 2lb 2oz on another.
Siblyback – A mixed bag this month at Siblyback, when some days provided excellent sport and others proved to be challenging. When there was a bit of cloud cover and a surface ripple, fish were keen to rise to Sparkle Hoppers and foam beetles, but otherwise sub-surface tactics with nymphs (Red Diawl Bachs, Buzzers, Damsels, and Montanas) and lures (Cats Whiskers, Blobs, and Orange Fritz) accounted for most fish. Stocky Bay, Two Meadows, and the West Bank proved to be the most productive locations. While no exceptionally large fish were caught during the month, there were some decent bags of fish, including five rainbows each for Andy and Al Lawson (from Plymouth) on dries, and Paul Bancroft (from Plymouth) also caught five rainbows to 2lb.
Stithians – Anglers averaged 2.3 fish per rod over the month, with plenty of rising fish throughout, particularly in the evenings, when Daddies, Beetles, Black Gnats, and Hoppers gave rise to some great sport, and floating line tactics have produced the best catches, even with sub-surface patterns (Spiders, Damsel Nymphs, and Diawl Bachs) on a slow retrieve. The Dam Bank, Goonlaze, Yellowort, and Hollis Bank proved to be the best locations, although other banks also produced fish. Simon Peters (from Cusgarne) caught fourteen rainbows to 2.5lb, starting on dries at 5am to catch seven fish, and switching to the washing line method as the sun rose to catch a further eight. John Henderson (from Falmouth) caught six rainbows and seven browns in one session using a floating line with beetles and a damsel nymph on the point.
Fernworthy – Has produced consistently good sport, with anglers averaging 4.4 fish per rod, and fish looking to the surface to feed in spite of the hot sunny conditions. Floating lines with a variety of dry patterns (Hoppers, Beetles, Sedges, and Black Gnats) worked well, otherwise nymphs (Damsels, Spiders and Montanas) fished just below the surface on a slow retrieve caught fish. South Bank, Lowton Bay, the bank by the Dam, and Permit Hut bank all fished well, although it pays to keep on the move and cover as much water as possible. Alan Green (from Plymouth) caught twelve browns to 1.5lb in one session using Bibio and black dry patterns, with fish often chasing a medium retrieve strip. In another session, Richard Buckingham (from Helston) caught five browns.
Colliford – Anglers enjoyed outstanding sport this month at Colliford, averaging over 6.4 fish per rod. Fish were well spread out around the lake, although Stuffle, Lords Waste Bay, and Menaridian banks recurred repeatedly on catch returns – the recommended tactic is to keep on the move to cover the most water. Floating lines with dry patterns (Black Gnats, Bob's Bits, Beetles and Sedges) caught well, as did sub-surface spider patterns, buzzers, Hares ears, Soldier Palmers, and Sedgehogs. Tim Laws (from Falmouth) caught a 3lb 4oz brown (in a bag of three fish) – the best fish of the month (and the season so far). Chris Tilyard (from Fraddon) had four excellent sessions, catching three bags of fifteen browns, and one of thirteen, using black spiders and Bob's Bits fished close to the bank, or pulled wet patterns fished into the wind. Paul Rollings (from Polperro) caught seven browns to 30cm, initially using Soldier Palmers, and then moving on to dry patterns.
Roadford – Floating lines with dry Hopper patterns or sub-surface nymphs (Diawl Bachs, Damsels, or Soldier Palmers) accounted for most fish, with Wortha and Davey's Bank the most productive locations. Dean Boucher (from Gunnislake) caught fifteen browns to 14" in one session, using Soldier Palmer, Zulu, and Black Tadpole patterns fished on a floating line.