First day of autumn probably the finest season for angling. One more try for a bass in Combe Martin SAC's lure competition.
As I walk to the shore a few family's are enjoying time beside the sea as summer fades. Its a balmy air as I make my way across the familiar boulder strewn foreshore. I arrive perspiring just before low water and make my way out onto a favorite  rocky promontory. The sea is calm, clarity good and I feel confident as I clip on a patchinko surface lure and launch it 40 yards or so out onto the water. After searching the water for ten minutes or so without any swirls behind the lure I clip on my favourite candy coloured shallow diver. After two casts I feel that electrifying jolt through the thin braid as a bass slams into the lure. The rod pulses in my hands as a bass of a couple of pounds fights for freedom. I relish the sight of the bass as it swims on a tight line in the clear water.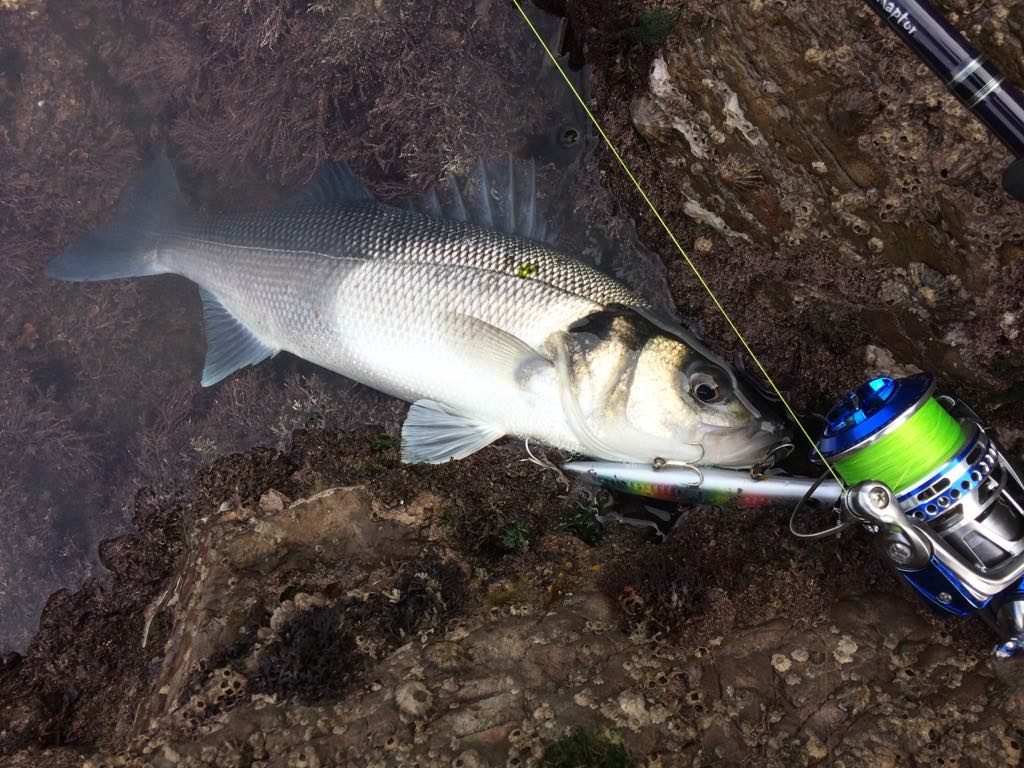 A couple more casts and a repeat performance as bass number two hits the lure.
As the tide pushes in I hop off the rock before getting trapped by the rising water and move fishing from boulders flicking a surface lure into the shallow water. There is a swirl behind the lure and I pause momentarily before twitching the lure and get an immediate response as a small bass nails the lure hard. I lift the bass from the water and on grabbing the fish impale my finger on a flying treble hook. Bass on one hook finger past the barb on the other; Ouch!!! I really should carry a small first aid kit..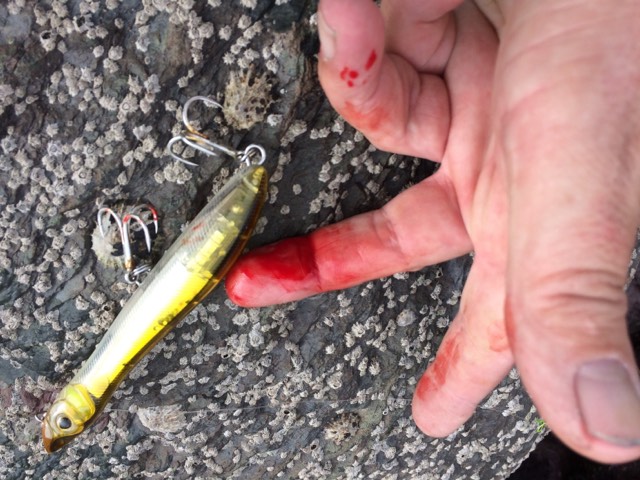 A wash off in salty water and its time to resume fishing. I search the shoreline finding three more bass as I relish the calm water and the splendid scenery. I love fishing these shallow boulder strewn shorelines and the exciting encounters as the bass appear in the clear water sometimes smashing the lure just a few feet from the edge.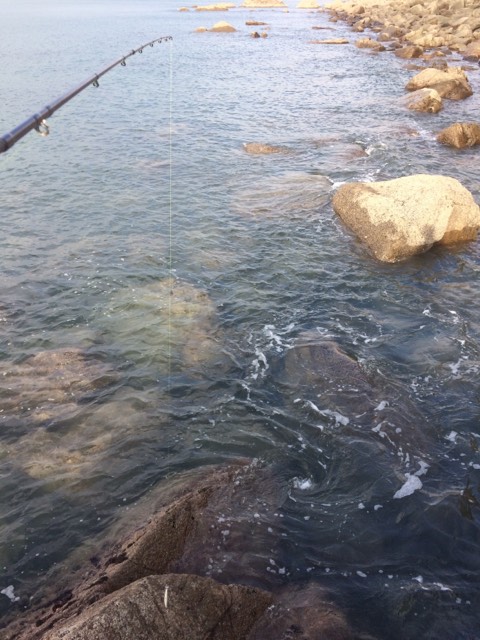 I end the session as the evening sun illuminates the steep cliffs pausing as I walk back to enjoy a hot coffee from my new drink pod.
The next few months are an exciting prospect for the angler with bass, mullet and tope on the sea angling agenda.