Many thanks to John Slader for contributing to North Devon Angling News following on from William Ould's writings.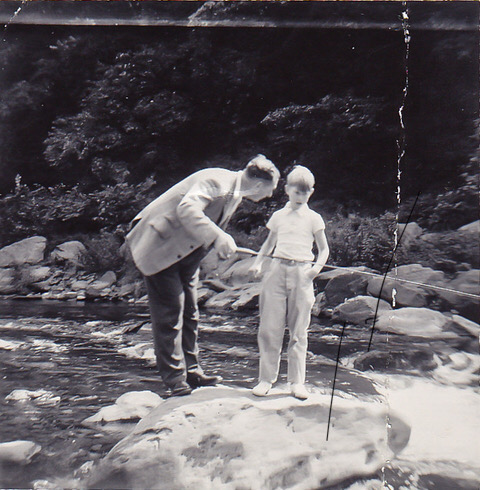 Your recent post with the contribution from William Ould I found most interesting and it brought back many happy memories of the river Lyn I like to call home.
Not sure if William will remember me but for sure he will recall Bill my father.  There is not much difference in age but being brought up and going to school in Barnstaple our paths didn't cross that often.  I remember him along with Michael Shute and Chick Andrews, not to mention a host of other individuals that frequented the river.
Regretting not having kept a diary, I nevertheless vividly recollect an occasion fishing for mullet just below Lyndale bridge on a high tide.  William was also there and at the top of the tide he hooked and landed a specimen of a mullet.  I have in my mind it was much bigger than the 4lb 9oz show in the photograph.  It drew a crowd of visitors and Jack Clapp came out of his café to see what all the fuss was about and killed the fish by breaking its neck.  Not such a fitting end to a splendid fish.
As a child I often accompanied my father when he was salmon fishing but my true first time for salmon was in 1960 when at the age of nine he bought me a day's  licence as a birthday present.  Costing the sum of five shillings, a not insignificant sum in those days, he bought it at Tregonwell's on the Tors Road.  We sat on the first floor looking down the river as Ronald Burgess filled out the paperwork and my father enquired whether there was a concession for a child. He was told there wasn't as it was not expected someone of my age would fish for the king of fish.
Licence secured, we went up to Watersmeet walking up the path behind the house towards Stag Pool and Horner.  The route taking you well above the river and what my father always referred to as the "Hangings";  an area which brought me into contact with a number of fish in later life.  The path eventually comes back into close proximity to the river below Stag pool.  I was given instructions to stay put whilst my father back tracked and ventured down to Dumbledon a particular favourite pool of his although not so easy to access.
As I was waited for his return I looked into the river to see a salmon laying back in what was a very small pool.  I cautiously took a few steps closer and surprisingly managed to get into position without disturbing the fish.  Using a No 4 mepp I cast upstream but my inexperience kicked in as I managed to line the fish which immediately shot off and took sanctuary in the white water.  My heart sunk believing I had scuppered my chances but I had a couple more blind casts only to find myself attached to the fish hooked fair and square in the mouth.  Typical youngster I held my ground not wanting to give the fish an inch and shouting at the top of my voice "Dad, Dad…."  A waste of breath really as any shouting would have been drowned out by the sound of the river.  As luck would have it, looking down river, my father's head appeared over the rocks as he exited Dumbledon.  He quickly negotiated the rocks to join me and help land the fish; a grilse of just over 4lbs.
Returning to Watersmeet we each had a celebratory small bottle of fizzy grapefruit and Dad caught up on the news with childhood friend Roy Nercombe.
I went on to catch many more salmon in the 60's / 70's but none stick in the memory quite as much as the first.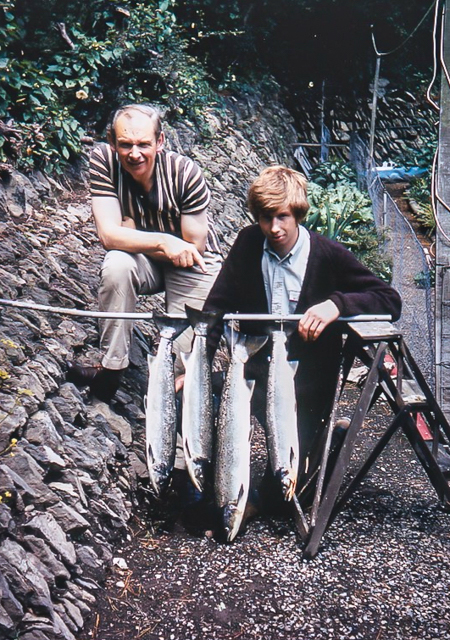 The last time I fished the Lyn for salmon must have been over 15 – 20 years ago.  I was visiting my parents in Barnstaple in August after very heavy rainfall; what would have been the perfect conditions in years gone by.  I arrived in Lynmouth at lunchtime but questioned if I would be able to find a parking space although to my surprise there was only one vehicle parked above Vellacotts.  Thinking everyone had caught their brace and gone home I ventured down to the river to find an angler fishing in Overflow who, along with a friend, had travelled from Cornwall for a day's salmon fishing.
We chatted and although he had caught a grilse he had little else to report.  Because I couldn't see the salmon I assumed he had returned it but later during the conversation he opened his bag to reveal the fish.  I went on to fish until dusk casting in every known pool from the Tors Road to Watersmeet without a touch and nor did I see a fish in what I considered perfect conditions.   Rather disheartened I travelled back to Barnstaple wondering whether I had seen the last Lyn salmon!  So sad when I think back to those days of abundance we enjoyed and took for granted back in the 60's.
Although I still purchase a migratory fish licence I really do call into question whether I will ever cast for a salmon again.  I think I would rather live with my memories and feel privileged that I experienced first hand those days which, when we look back on them, were so special.
John Slader
17th February 2020