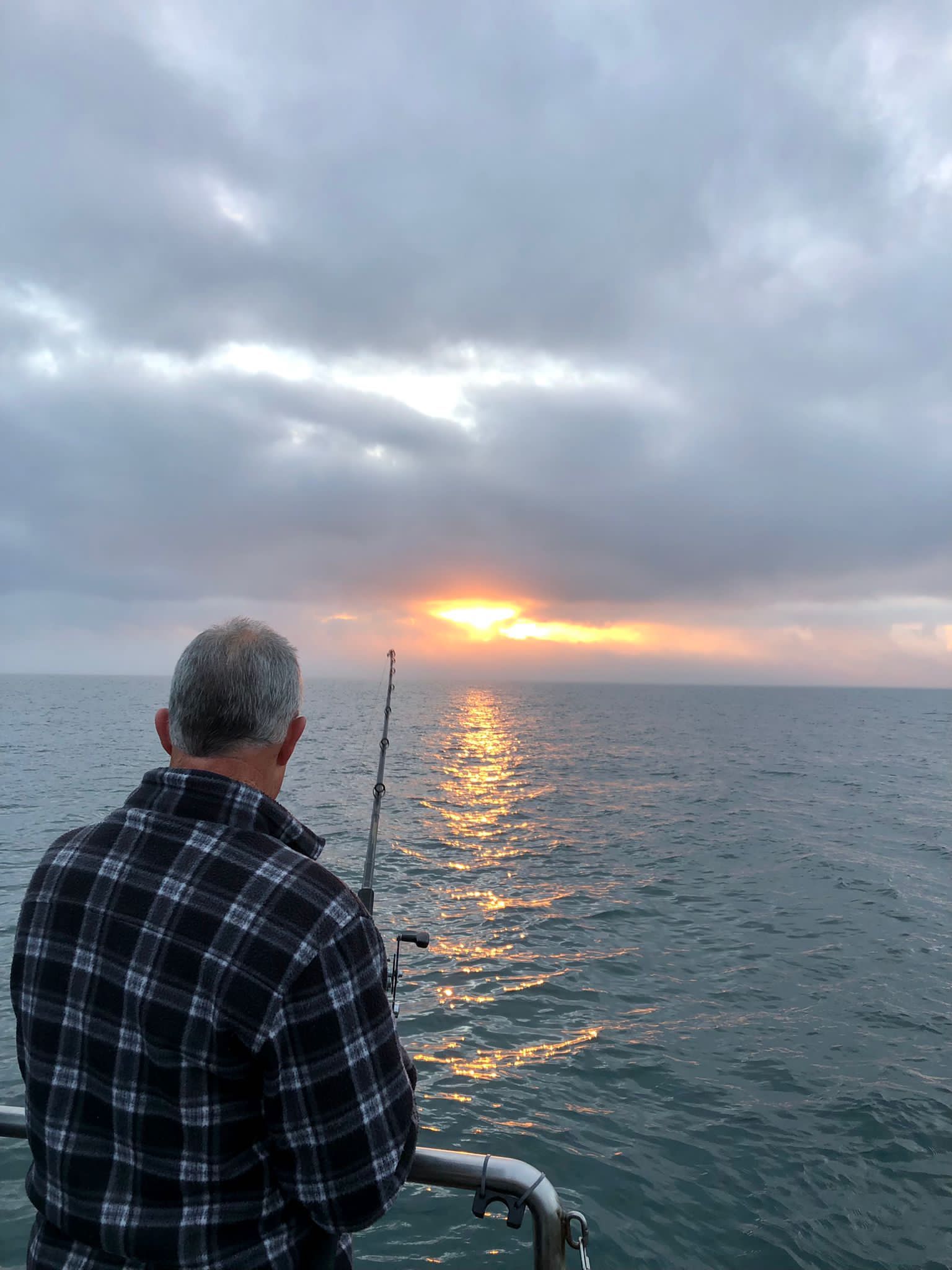 The coast was shrouded in early morning mist as dawn broke, sunlight breaking through low cloud to glisten upon the calm waters of Lyme Bay off Beer in South Devon. We were fishing aboard Orca Charters skippered by Stuart Pike. A trip that had been rearranged on several occasions over the past two years due to weather conditions and COVID isolation concerns. I was joined by two previous work colleagues fishing pal Mike Spiller and my son James.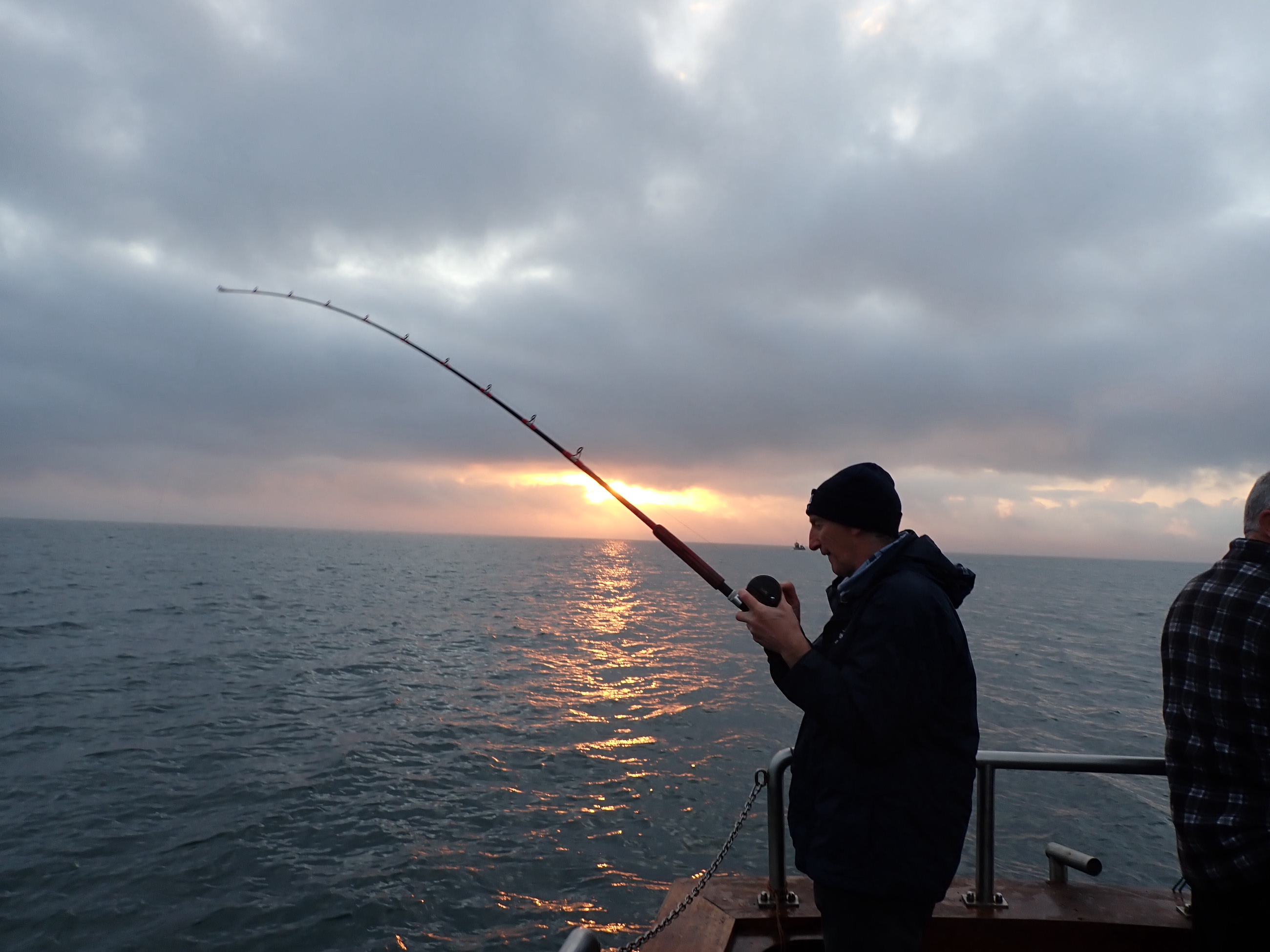 It was mid-October yet there still seemed to be the lingering essence of summer. Mackerel had only recently arrived in any number and it was indeed pleasing to catch a few strings of the fish I had always associated with summer. The weather forecast told of a change over the coming days as low pressure systems were due to sweep in from the South West. This would undoubtedly stir up sediment and reduce the water clarity signalling the transition into the true autumn season.
It is always exciting and refreshing to visit and fish a new venue. It is also extremely rewarding to meet up with a new skipper and glean valuable knowledge that can be deployed both at the venue being fished and further afield.
This was not a serious outing in many ways more of an excuse for friends to meet up and enjoy a day afloat fishing for a variety of species. Derek Walters and Simon Trapnel are not seasoned boat anglers but were very keen to learn and enjoy. Mike Spiller is a long time sea angler and has like myself been dangling a line for many decades. My son James enjoys a day's fishing and has travelled extensively with myself and my friends in search of fish. He is not a dedicated angler but relishes the experience along with the environment and wildlife that it allows him to observe and enjoy.
This was to be very much a team effort without any competitive edge. Well only a little! Black bream were the main target using light tackle with the chance of ray and conger on a heavier outfit.
Orca is a traditional fishing boat and is ideally suited to fish five or six anglers with comfort. The skipper operates fishing trips in the Lyme bay reserve an area that has benefitted from a mission to forge valuable links between fishermen, conservationists, regulators and scientists in order to maintain a sustainable marine environment.
https://www.lymebayreserve.co.uk 
Stuart had greeted us warmly the moment we had climbed aboard and chatted enthusiastically throughout our day afloat. Imparting a wealth of knowledge learned throughout many years at sea.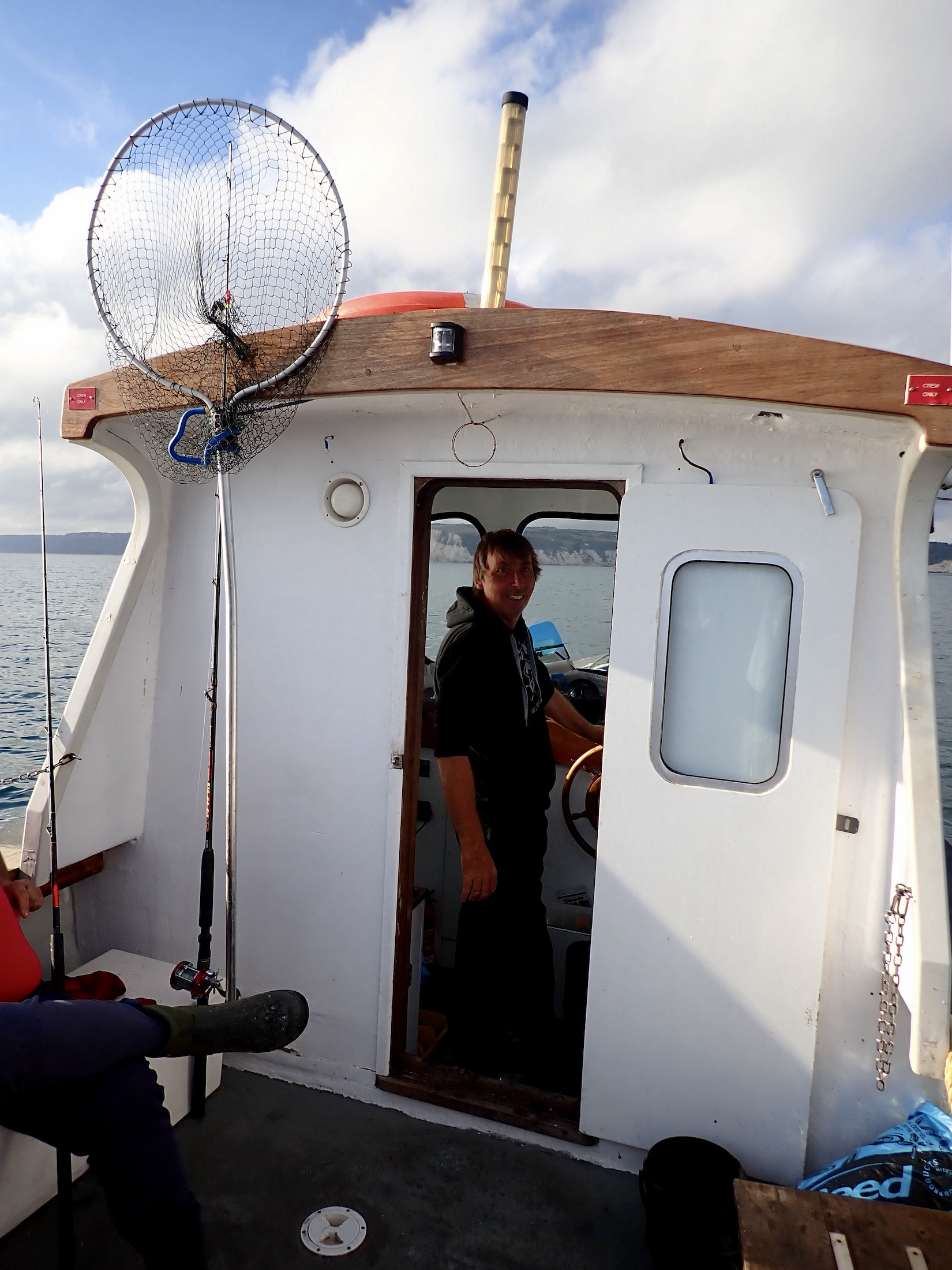 I had made up numerous two hook rigs for the intended bream that Stuart frowned upon offering up one of his own bling free rigs. I passed this rig to Derek who proved its effectiveness by out-fishing the rest of us throughout the day.
Derek, Simon, James and myself all targeted the bream whilst Mike decided to focus upon larger fish using  larger baits for most of the trip. I also set up a heavier outfit with joey mackerel or large fillets. The intention was to take it in turns to land fish on this outfit giving everyone the chance of a larger specimen.
As the sun burnt off the morning cloud and mist we soaked up the ambience of the seascape. Gulls cried out, fishing boats floated at anchor, gannets dived into the clear water and porpoises rolled close by.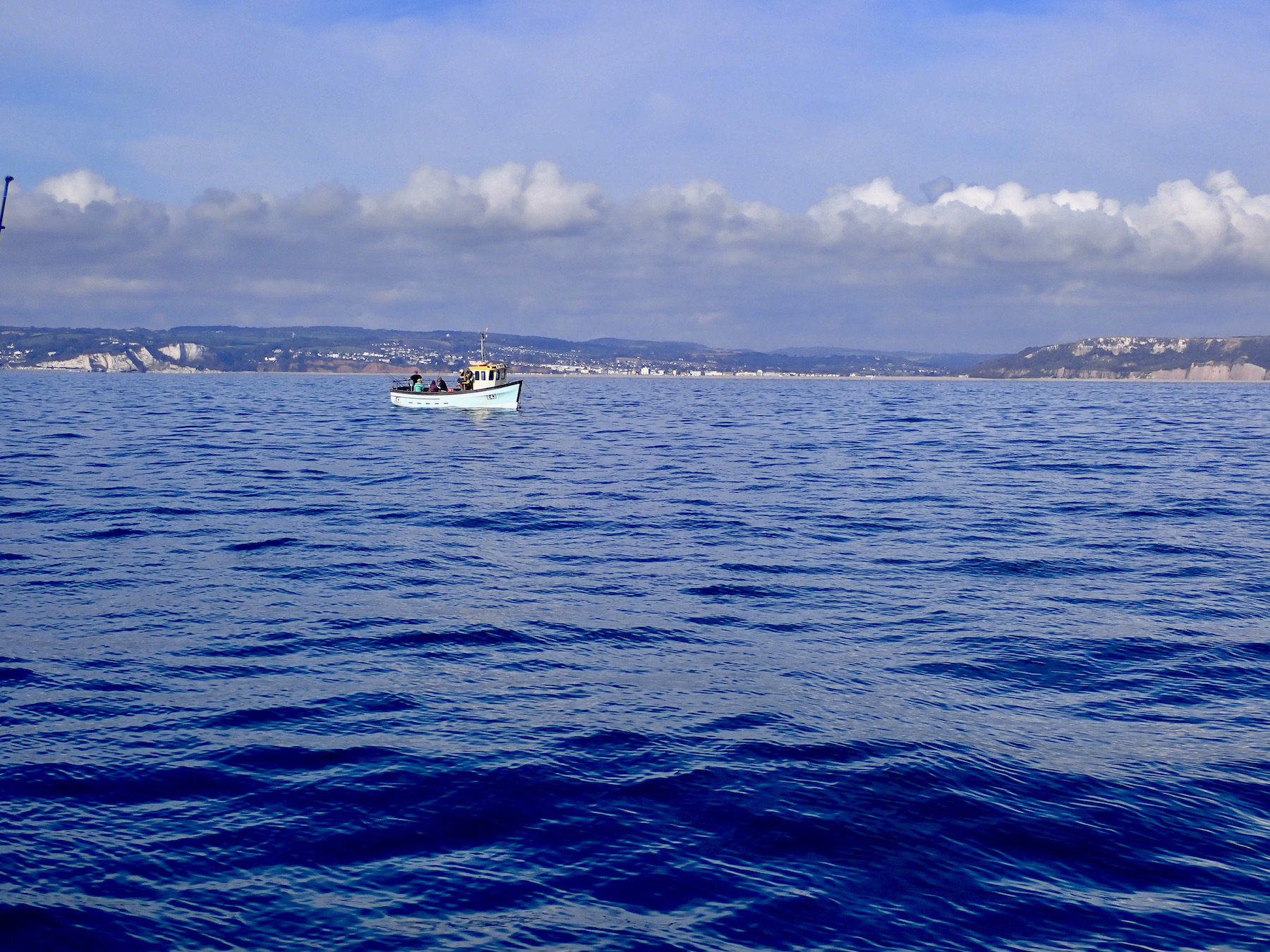 We lowered our bream baits to the sea bed. Stuart advised us to ignore the initial rattles on the rod tip and wait until the tip was dragged down into the water. We used size 4 Sakuma Chino hooks with slivers of mackerel. Stuart explained that frozen mackerel would out-fish fresh with the bream whilst fresh mackerel would be more likely to attract jumbo sized channel mackerel. This was to prove uncannily true throughout the day.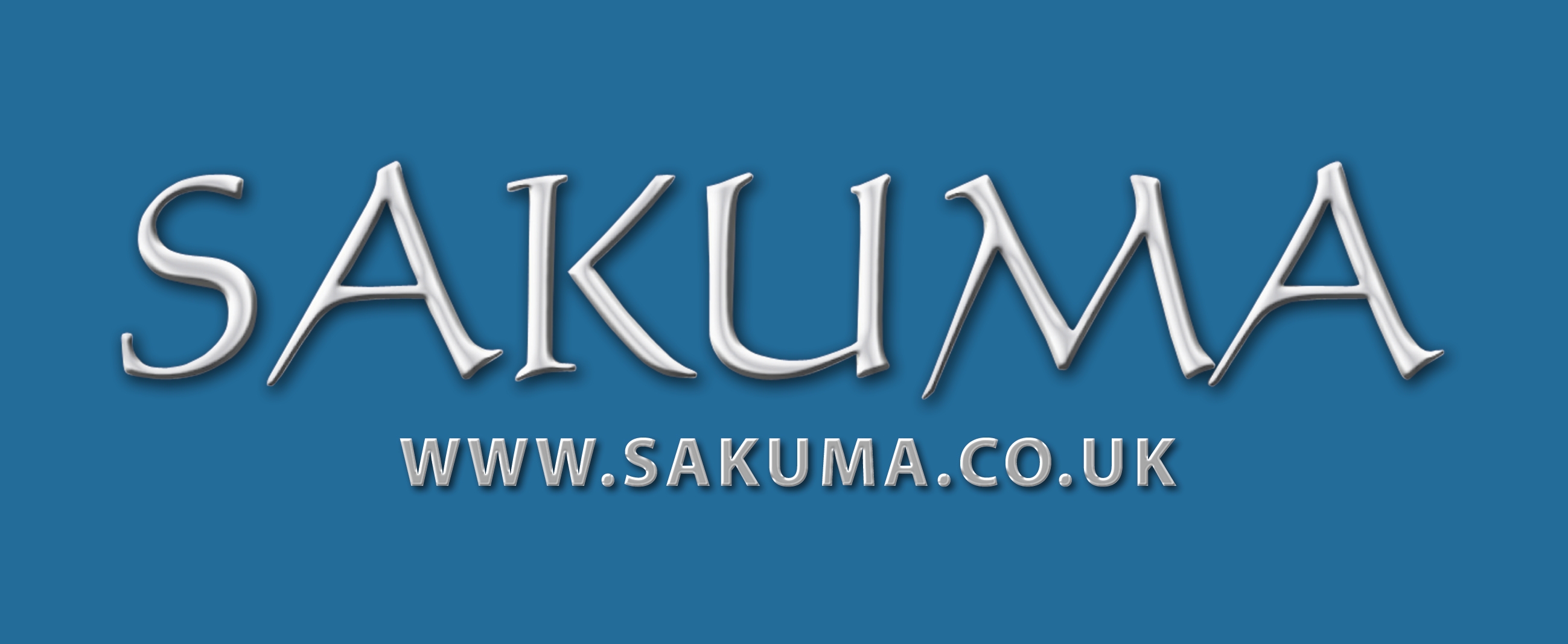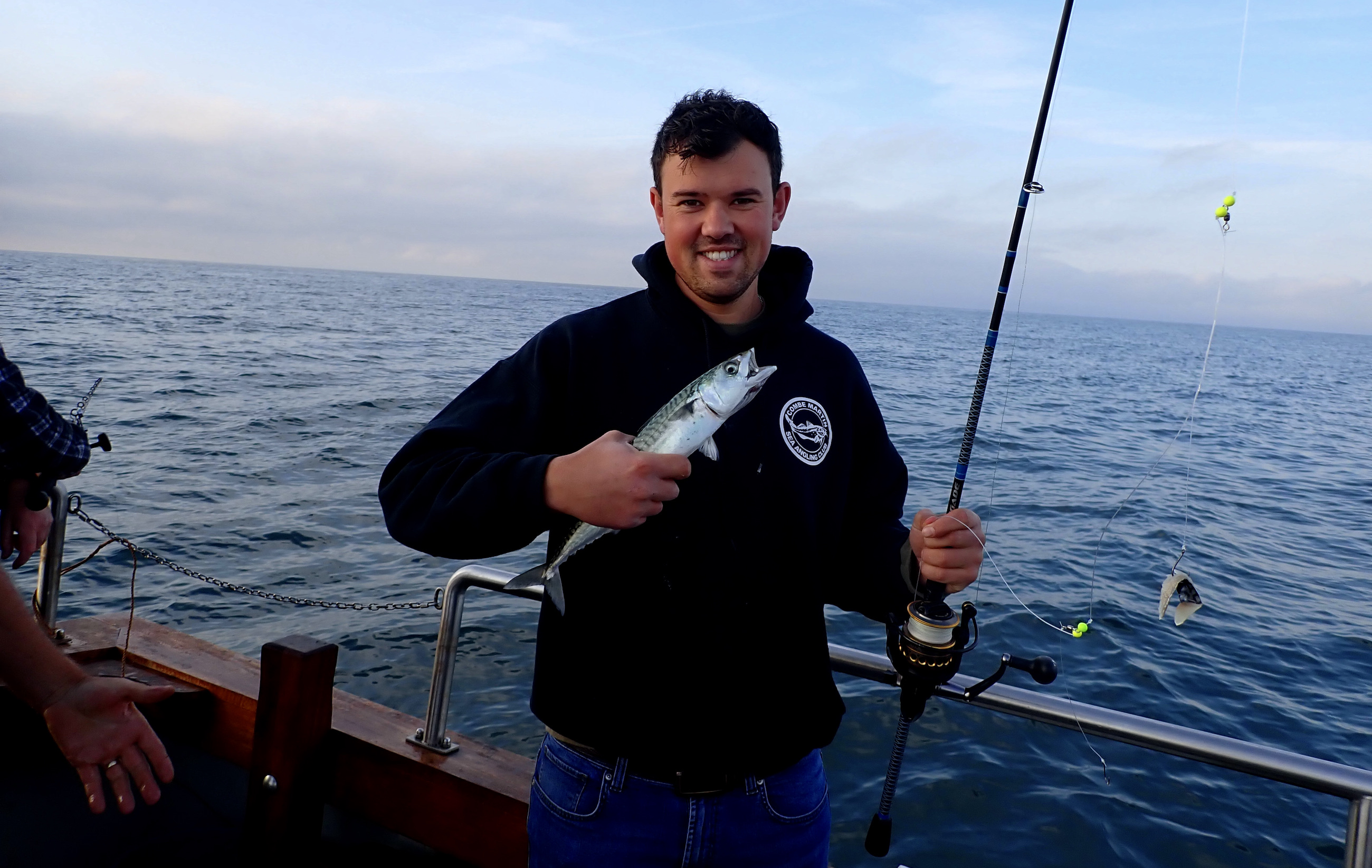 Shortly after lowering down the big rod its tip nodded vigorously. I took first turn and picked up the rod waiting until the tip plunged hard over before setting the hook by winding steadily until the rod was compressed. This was certainly no dogfish!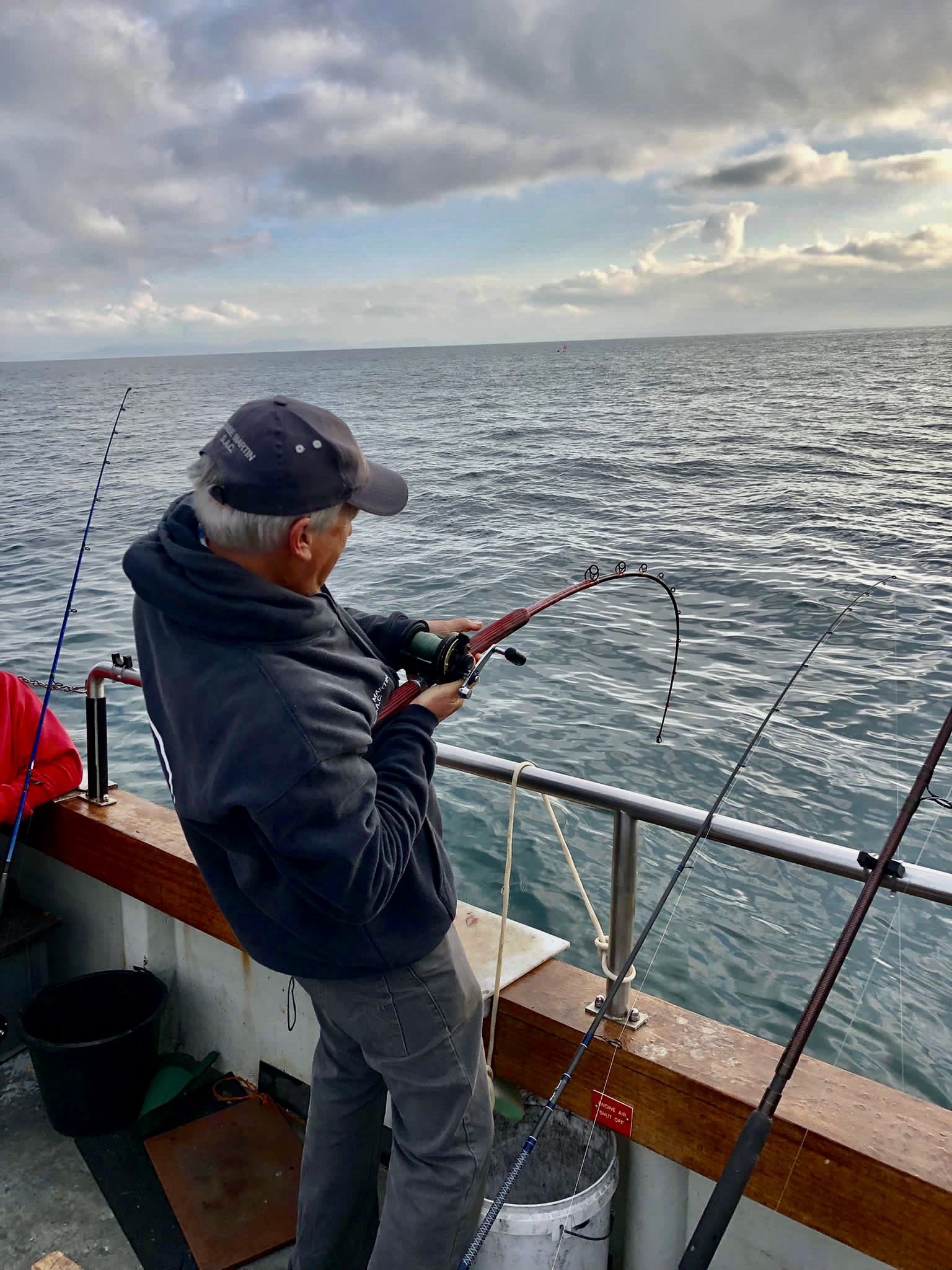 Steady pressure soon turned the battle my way and line was steadily retrieved as I pumped the fish away from the seabed. A pleasing blonde ray of 13lb 8oz was soon held aloft for a quick photo before being released. I took delight in watching the fish swim serenely back into the clear waters from whence it had come.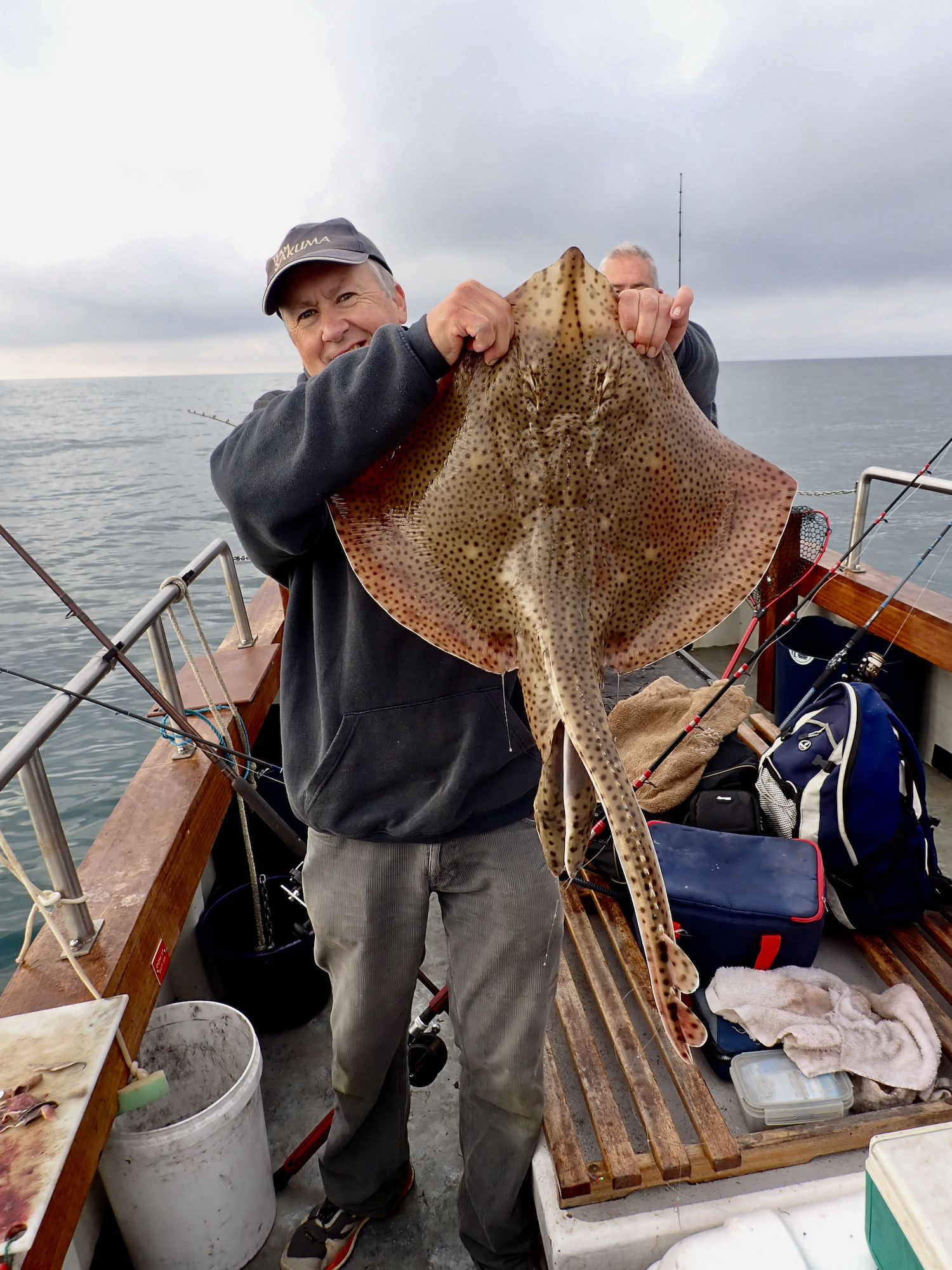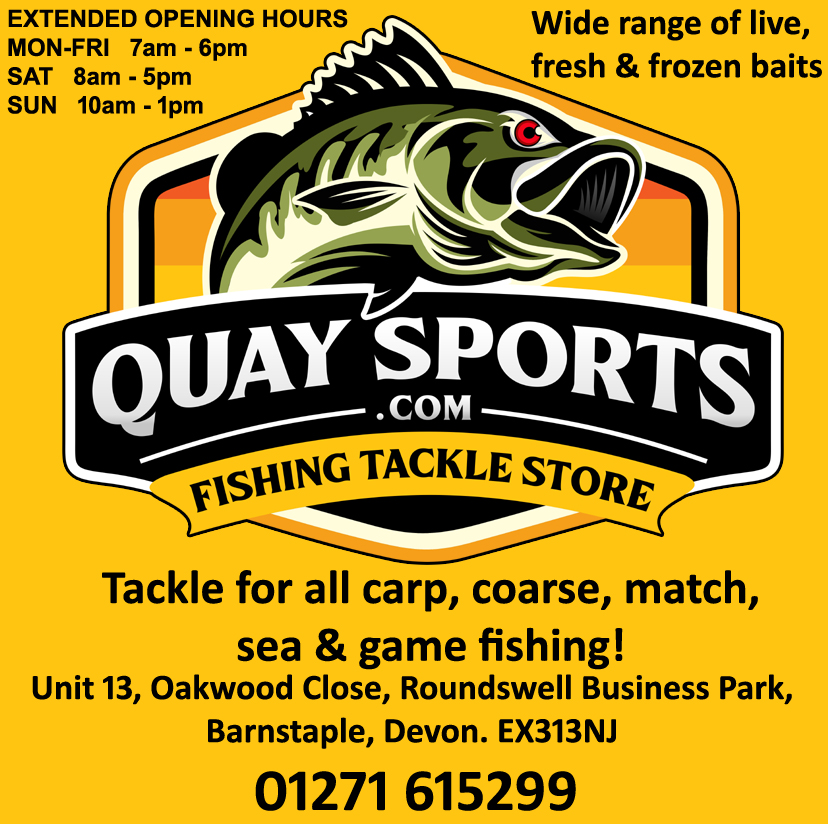 As the tide picked up the bream began to feed in earnest with a succession of these delightful fish coming to the boat. Their silvery iridescent sides illuminated in the sunshine. Bream after bream came to the boat each giving a spirited account on the light tackle employed.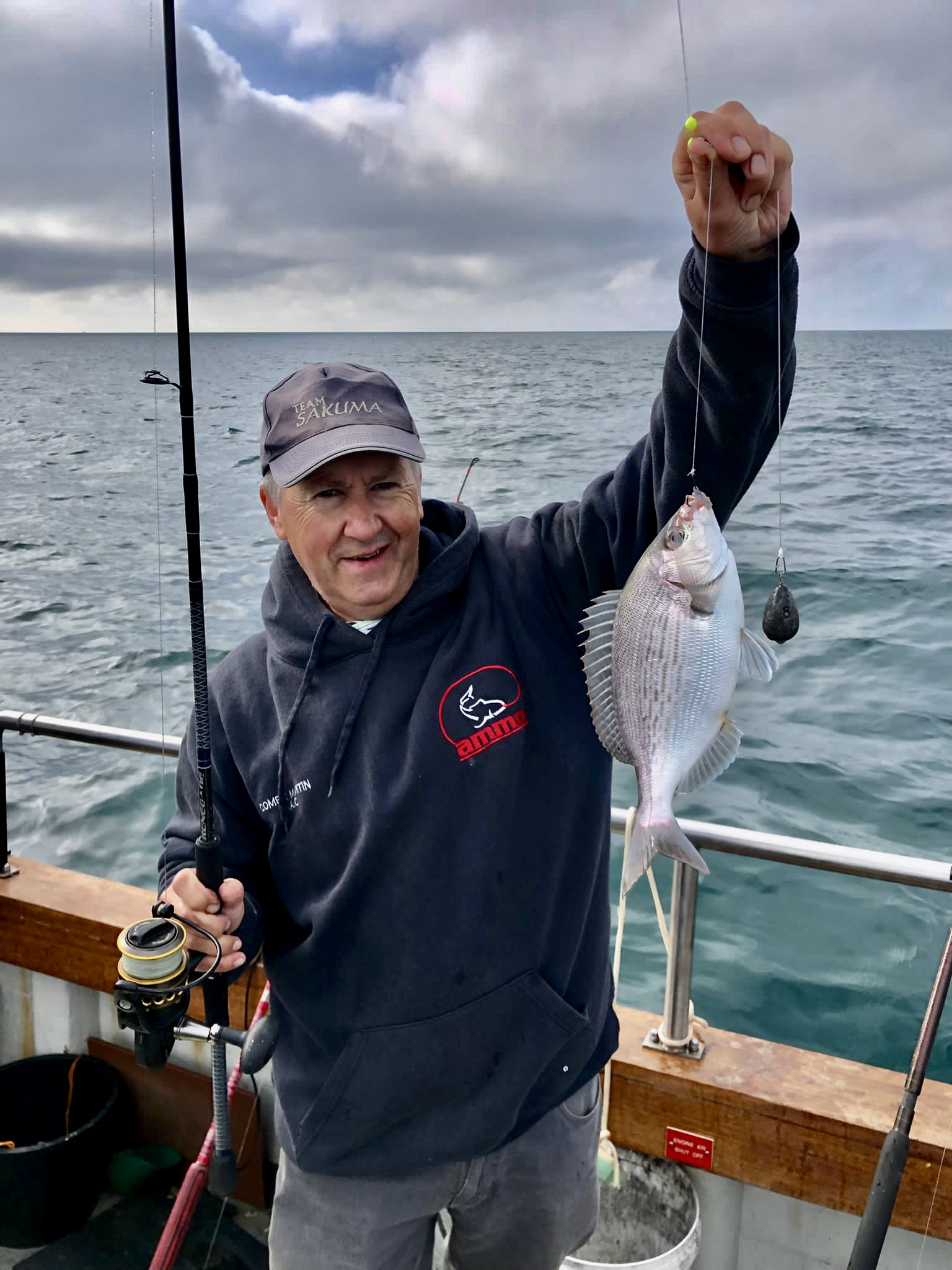 In addition to the bream came a few good sized mackerel and a couple of vividly coloured red gurnard.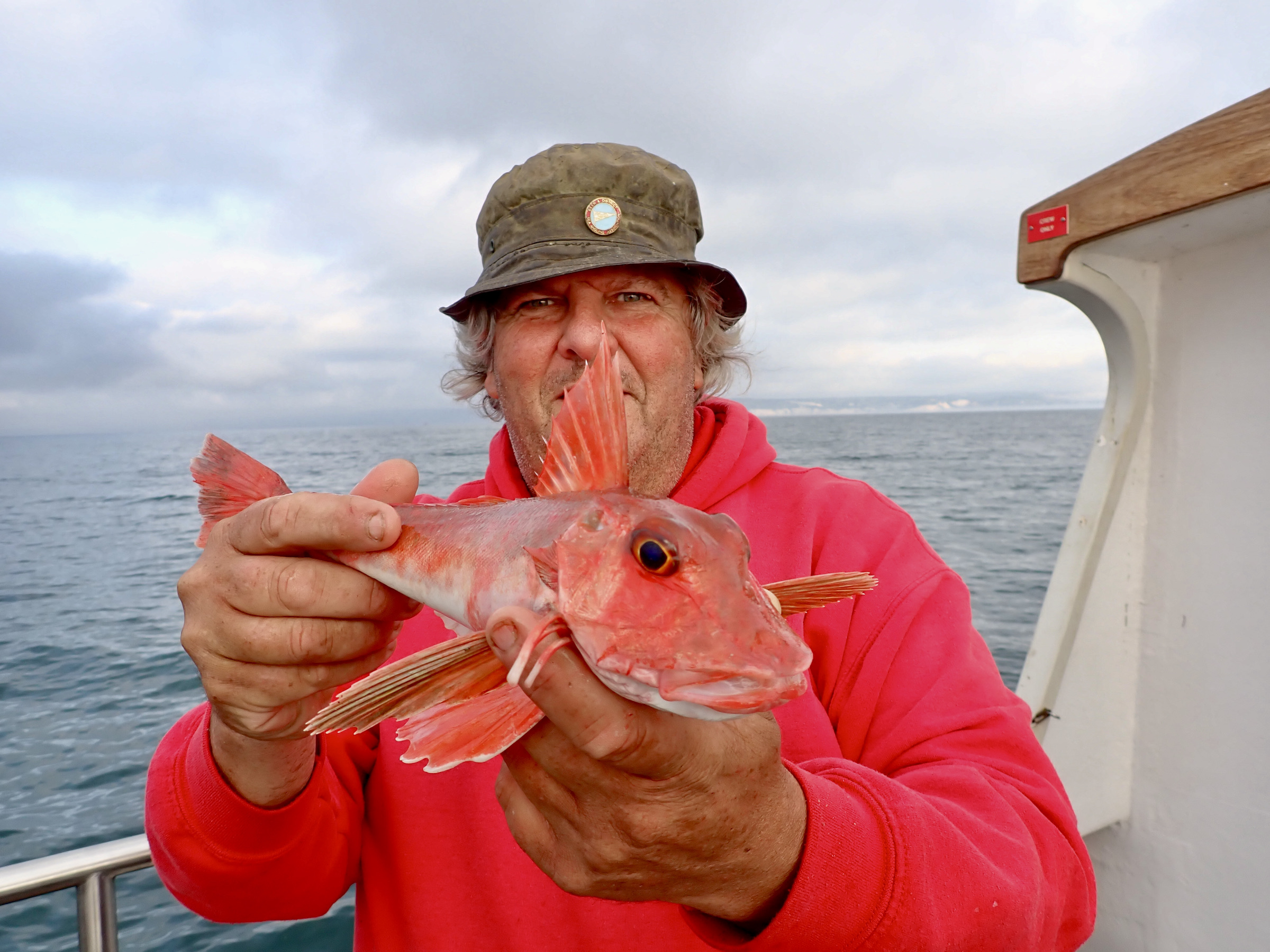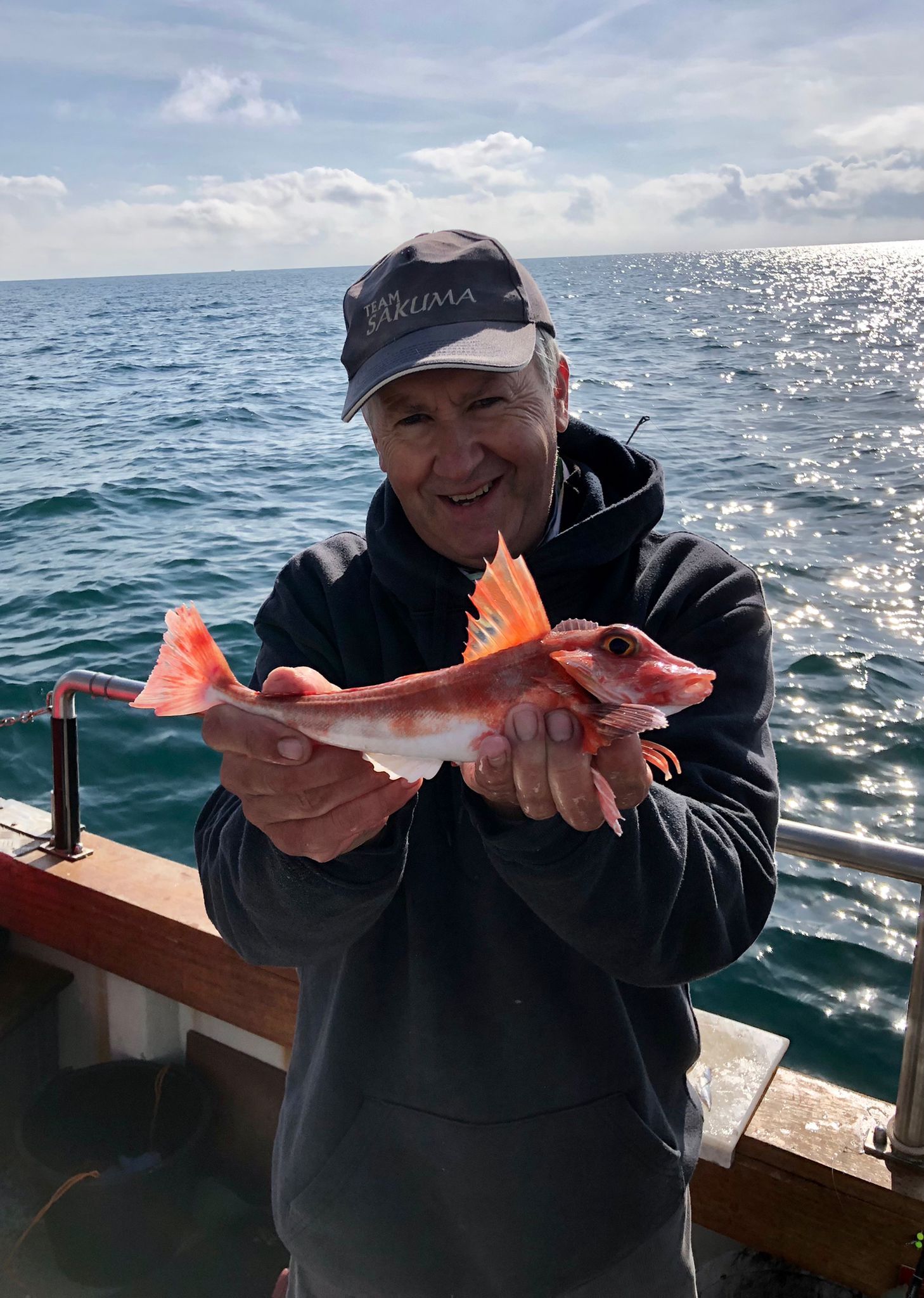 The bigger rod once again nodded and James took his turn to subdue another fine blonde ray of 11lb plus. Derek followed up with a small thornback ray. The bigger rod brought a succession of conger up to double figures and the occasional dogfish.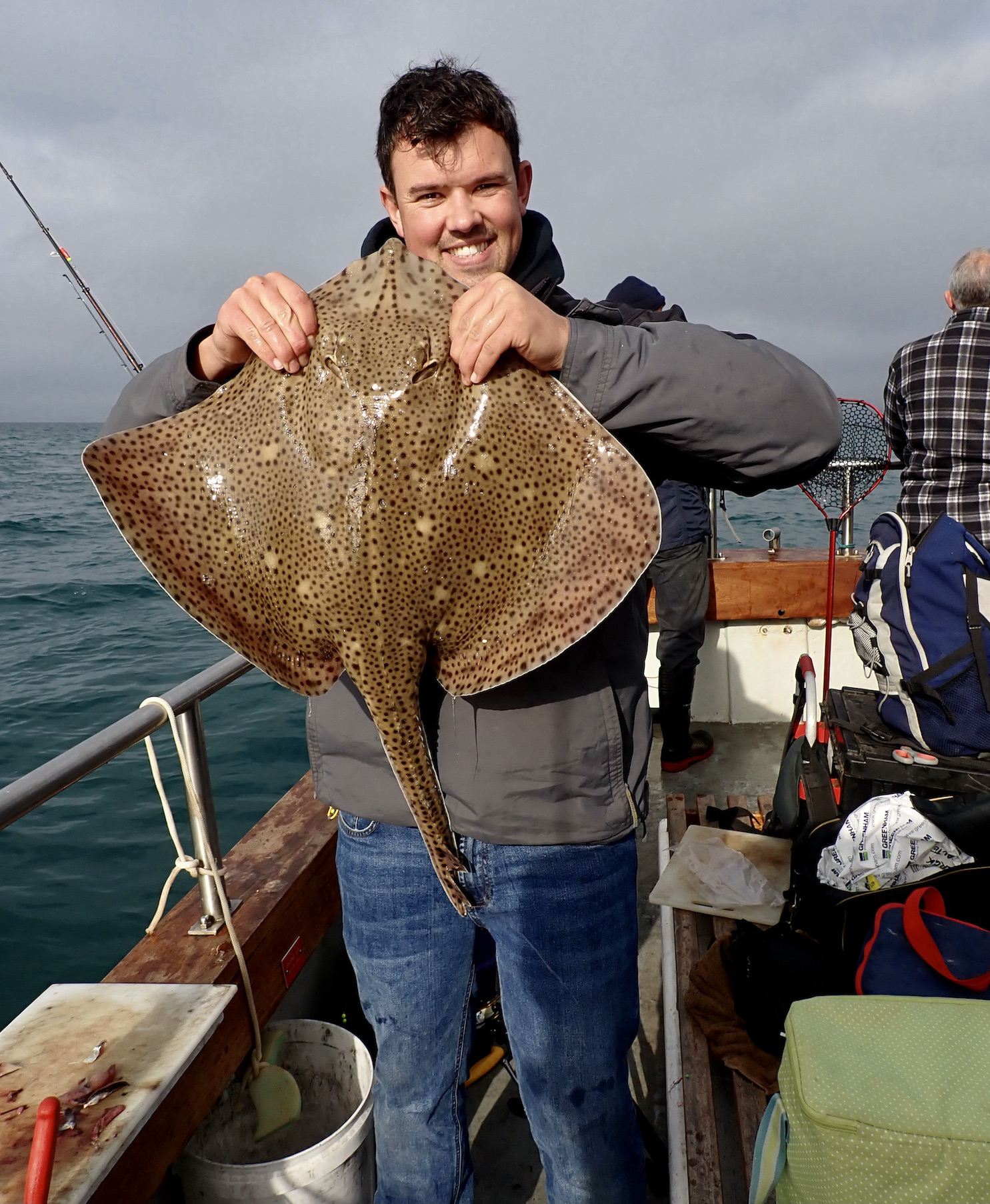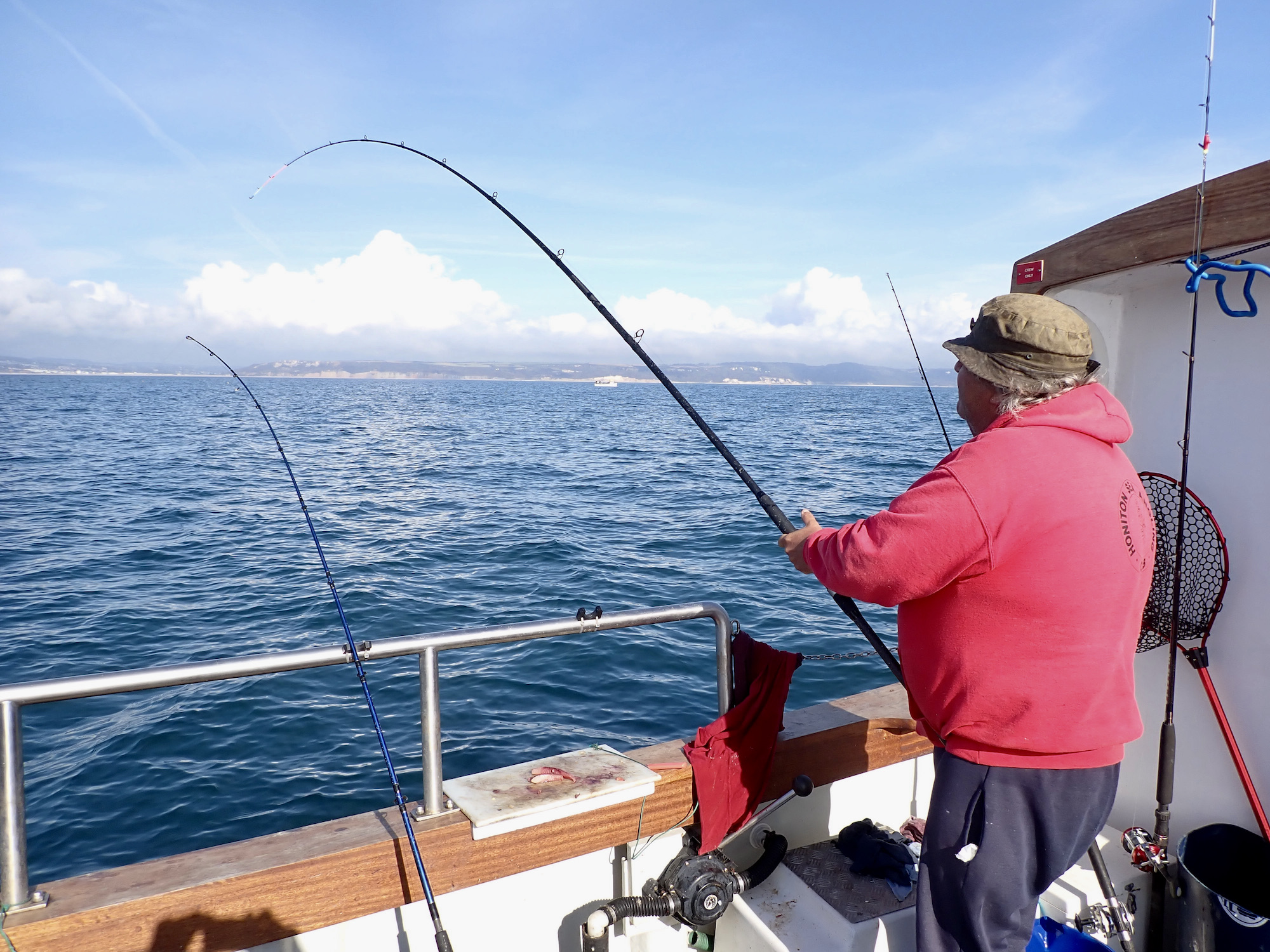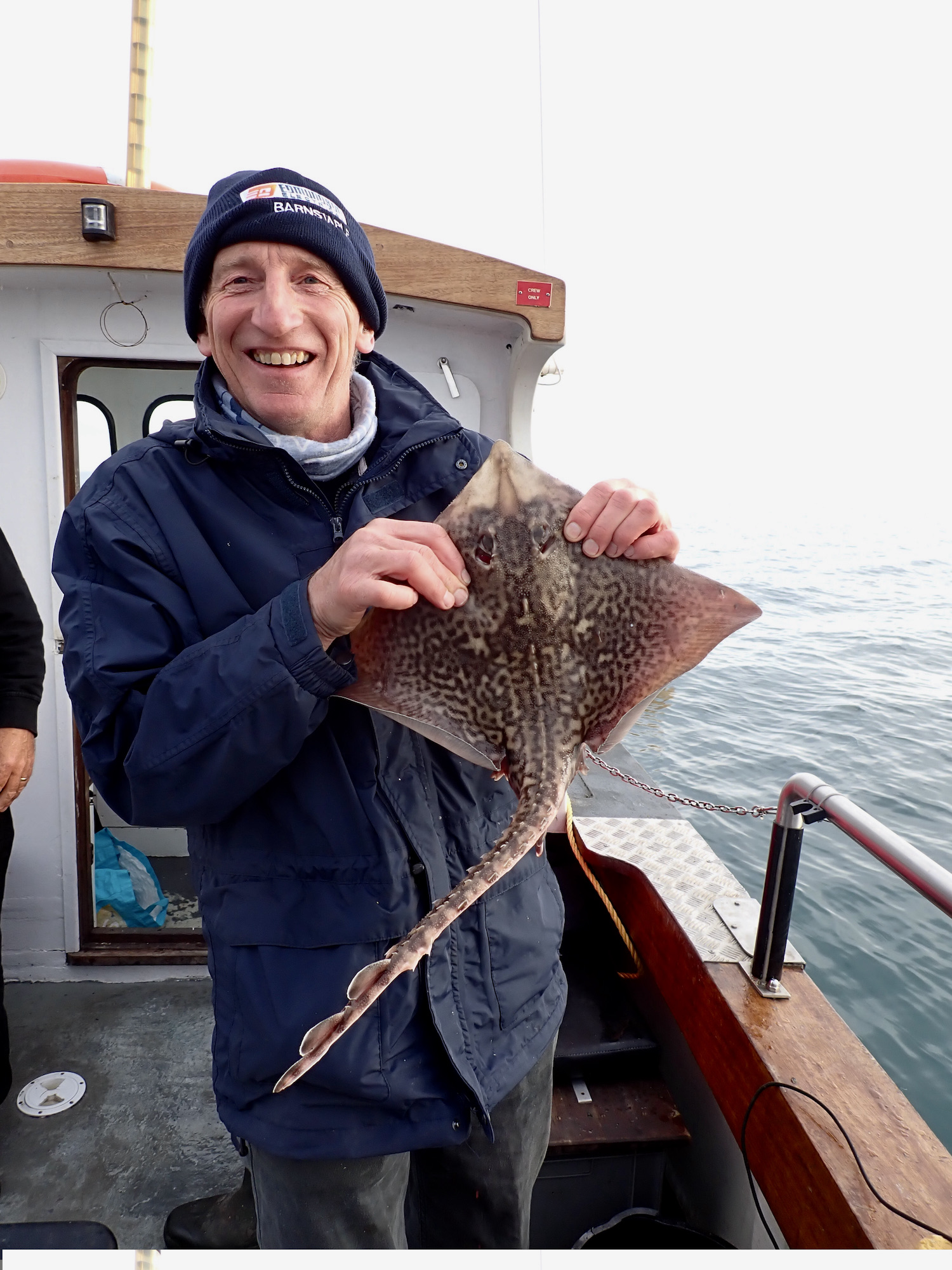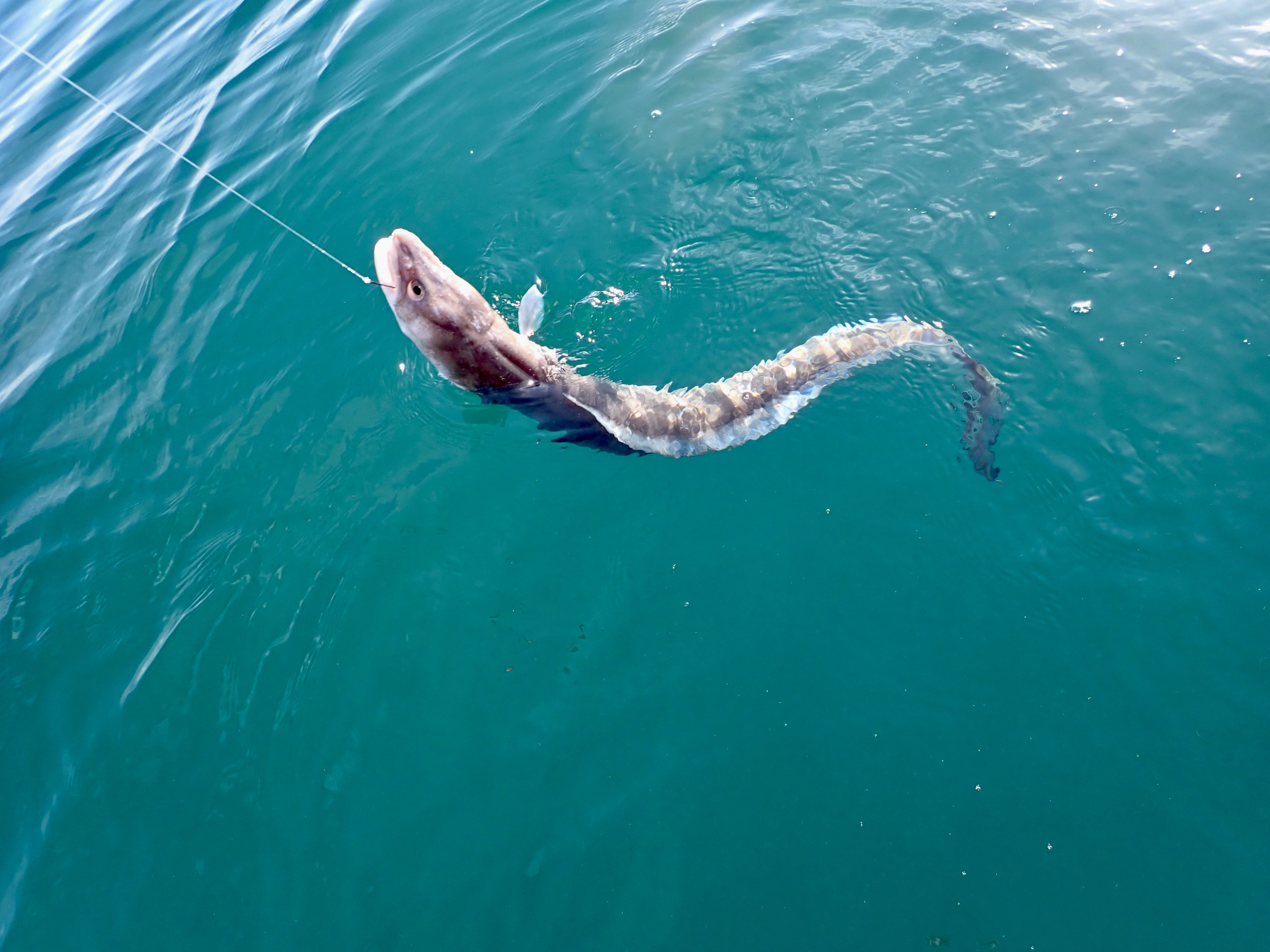 As the day drifted along beneath the warm autumn sun fishing slowed as the tidal flow eased . Stuart discussed options mulling over whether to make a move or stay and hope an elusive undulate ray would show as the boat swung with the changing tide.
We decided on a move higher up onto the reef. As soon as our baits touched down the rod tips signalled that the bream were present with a succession of good fish coming aboard some close to 2lb most around 1lb 8oz. A change to strips of squid brought a period of frantic sport with even my rigs bringing frequent double shots of bream to the boat.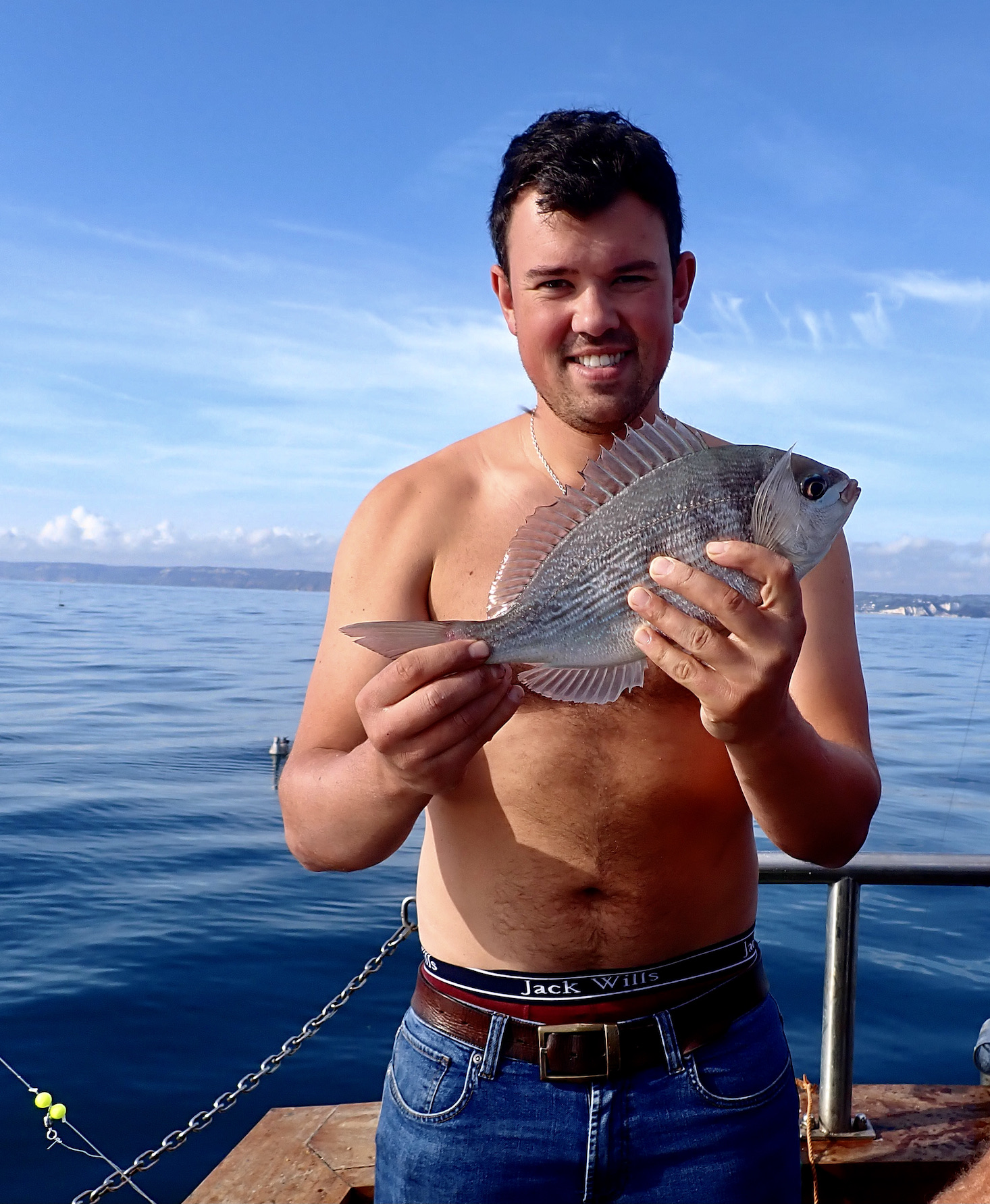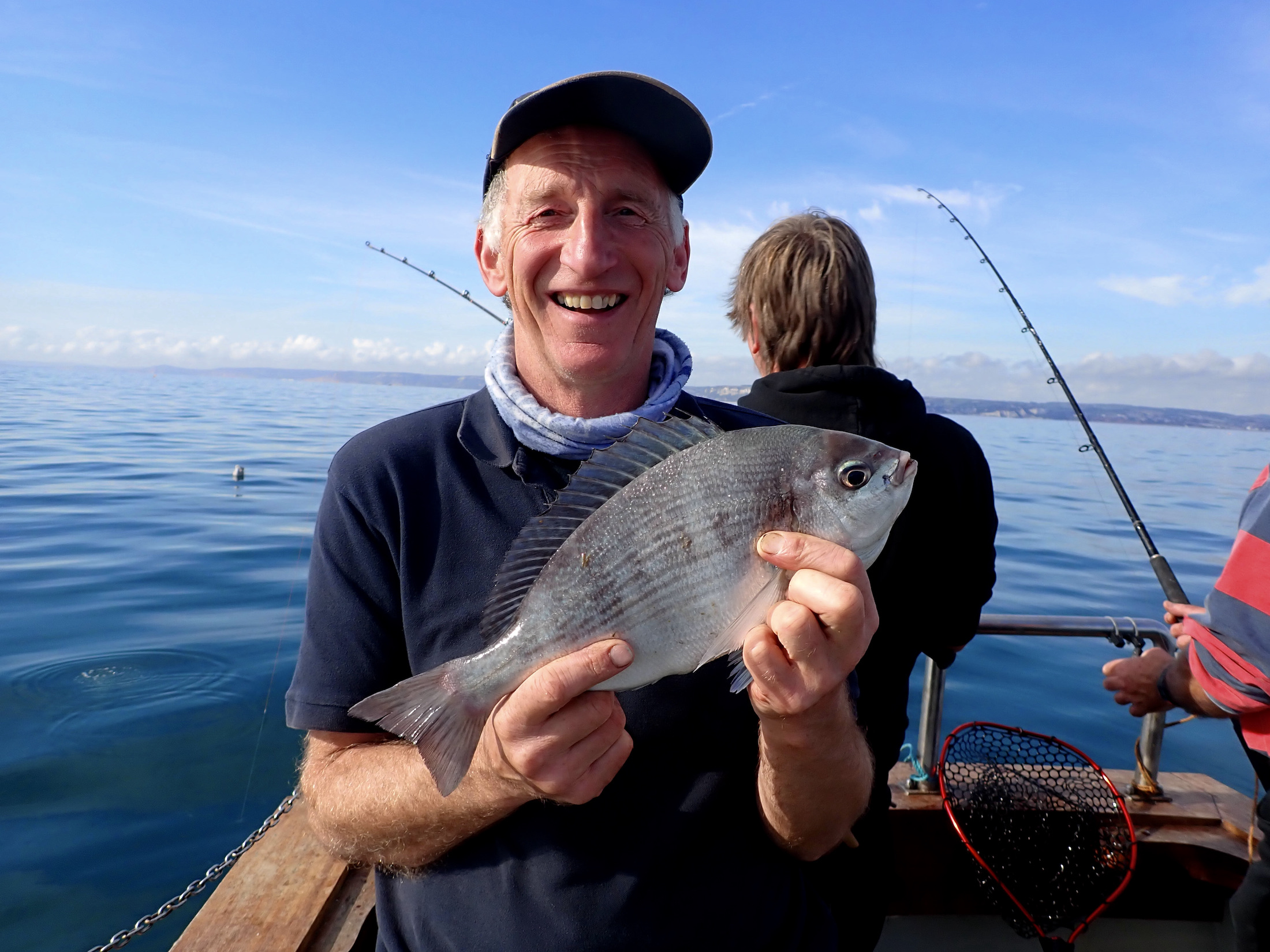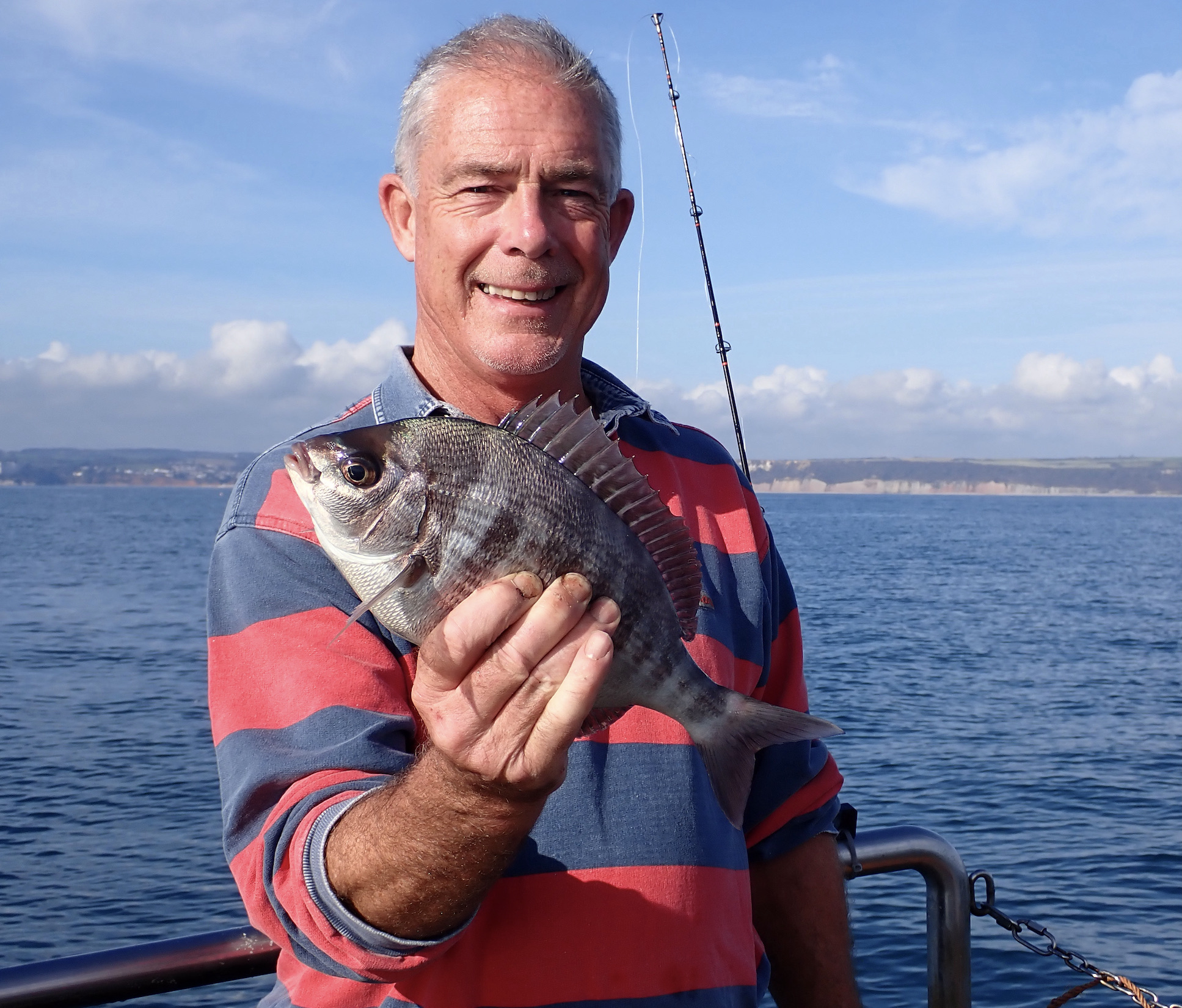 All too soon Stuart indicated that our day afloat was coming to an end. The bream bites were by then easing as pouting started to rip into the baits.
Throughout the day Stuart had worked hard unhooking fish and untangling the occasional entwining of lines. His knowledge of the fish and their environment was outstanding and his pleasure in giving his customers a good day plain to see. Stuart is a qualified Angling Trust coach and delights in introducing new anglers to the joys of boat fishing. He is also a keen angler himself enjoying shore fishing in addition to boat fishing.
As we prepared to leave the fishing grounds a huge dolphin rolled close by a sight that thrilled all on board. We sailed back to Beer's pebbly shoreline where the boat was driven pleasingly into the shore with a jolt before being hoisted up the pebbles over weathered planks of timber. A well-practiced routine plied by many generations of Beer fisherman.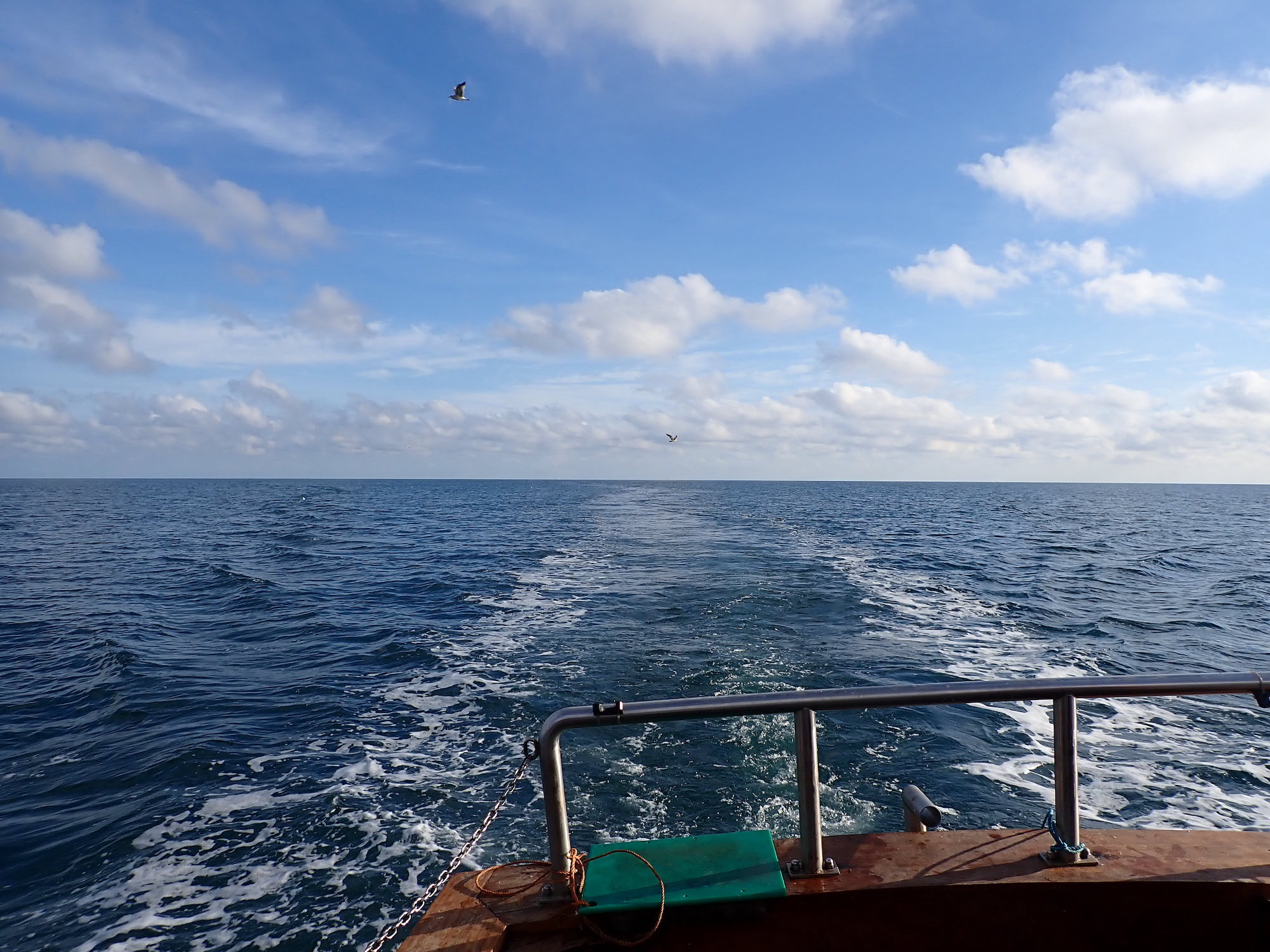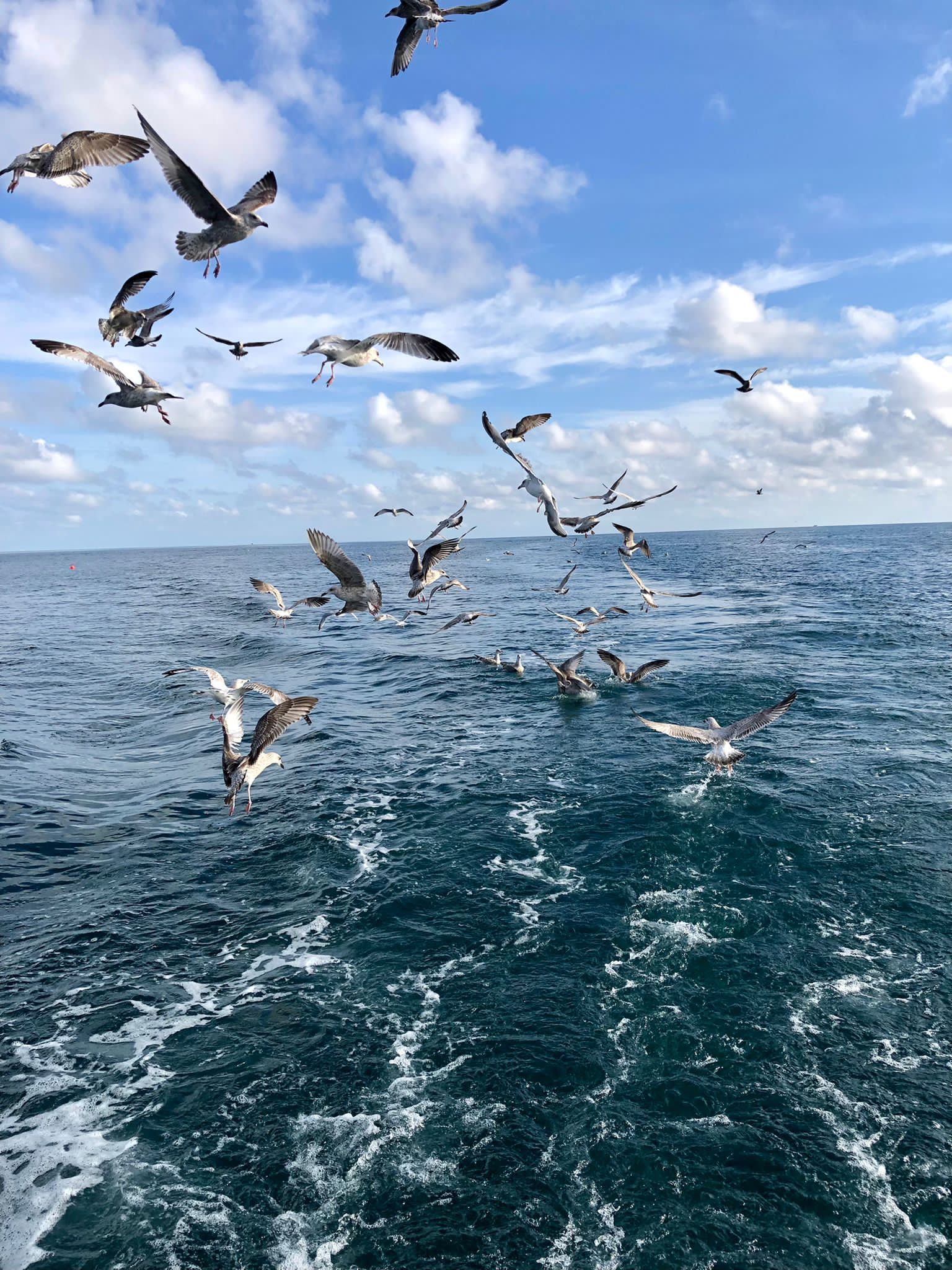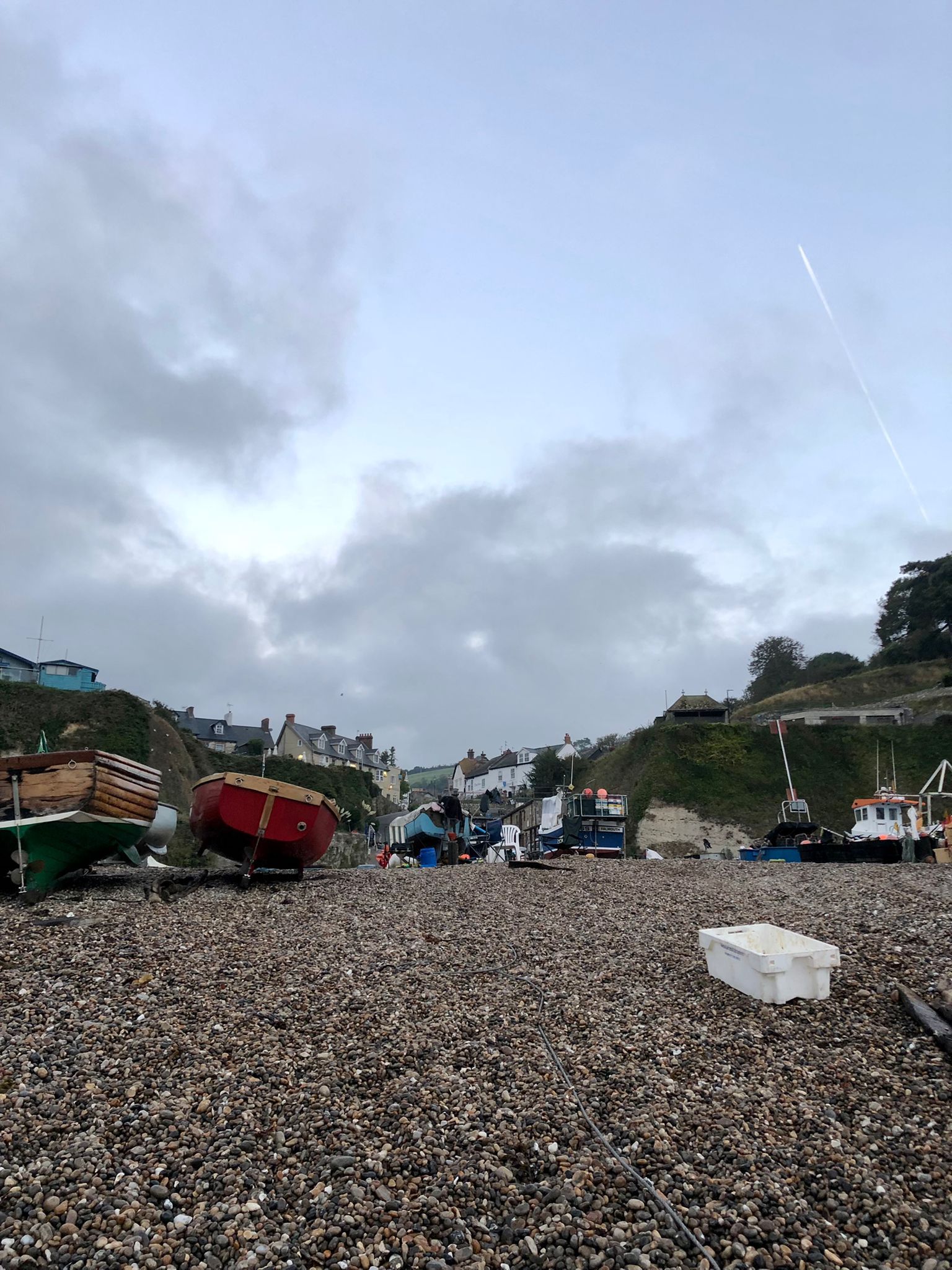 On shore day-trippers savoured the last days of sunshine and warmth. Ice-creams and coffee, children launching pebbles into the clear waters with pleasing plops. Those simple pleasures that have been enjoyed by many generations.
It had been a perfect day enjoyed with friends, memories made and vows made to set out on another adventure next year all being well.