April has to be one of my favourite months to target reservoir trout with that vibrancy of new life all around. Having enjoyed a good day at Wimbleball a few weeks ago I was keen to return and hopeful that with warm temperatures forecast there would be the chance of catching fish on the floating line.
This was to be a short session during the middle of the day with a catch and release ticket. Pauline would enjoy a well deserved rest with a good book whilst I waded out into the cool water. The drive across Exmoor proved to be an enjoyable experience with a stop off at Wheddon Cross to enjoy a Croissant and a hot coffee.
On arrival at Wimbleball it was clear that the holiday season had kicked off with families enjoying the warn sunshine, picnicking, floating about on the lake and generally having fun.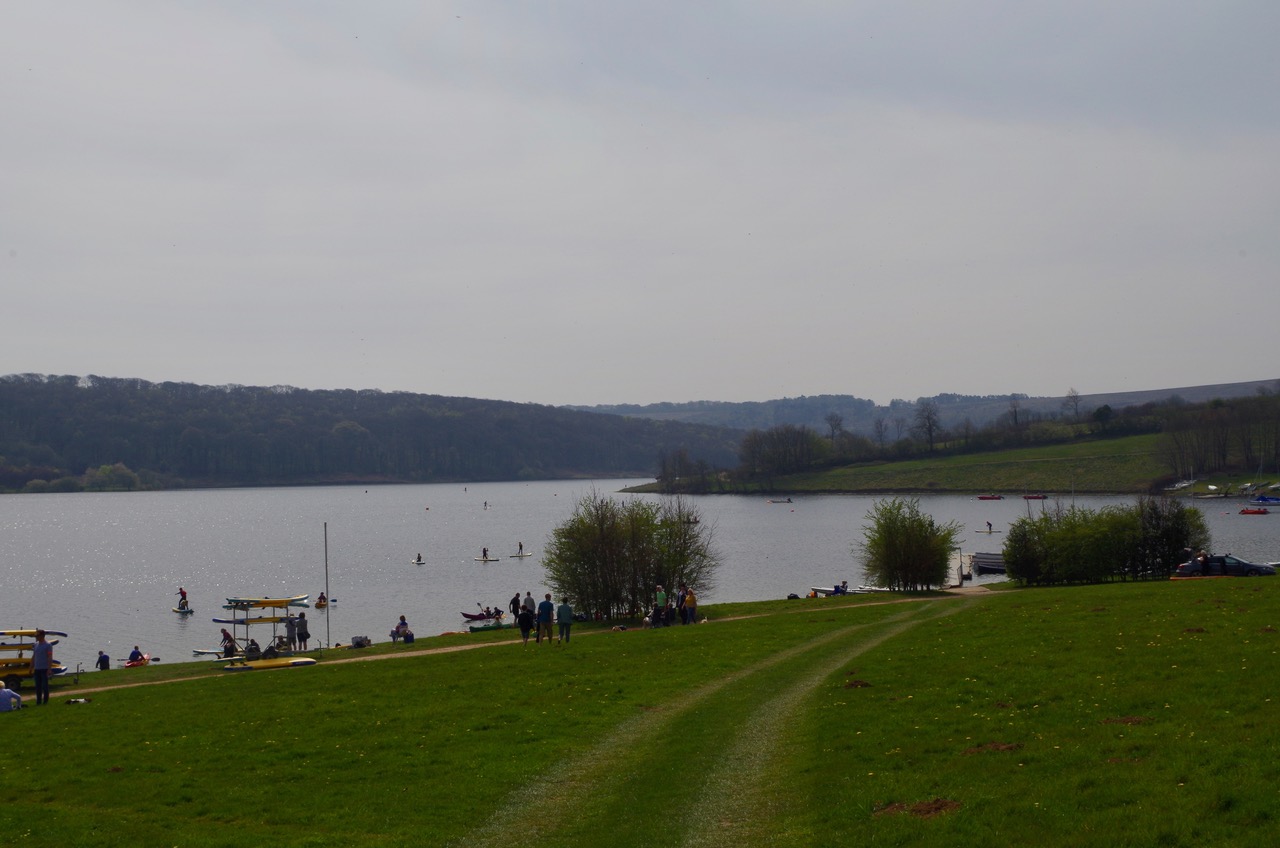 After checking into the ticket office and gleaning information from the catch returns it was time to head off and find a peaceful area of the lake away from the crowds. There is plenty of space at Wimbleball for everyone to do their thing. The information board in the ticket office indicated that some very good trout had been coming out to a variety of flies but that when the sun was out the fish tended to go down and become difficult to tempt.
We parked up past Bessoms Bridge and headed for the shallows where Jeff Pearce and I had enjoyed good sport a couple of weeks back.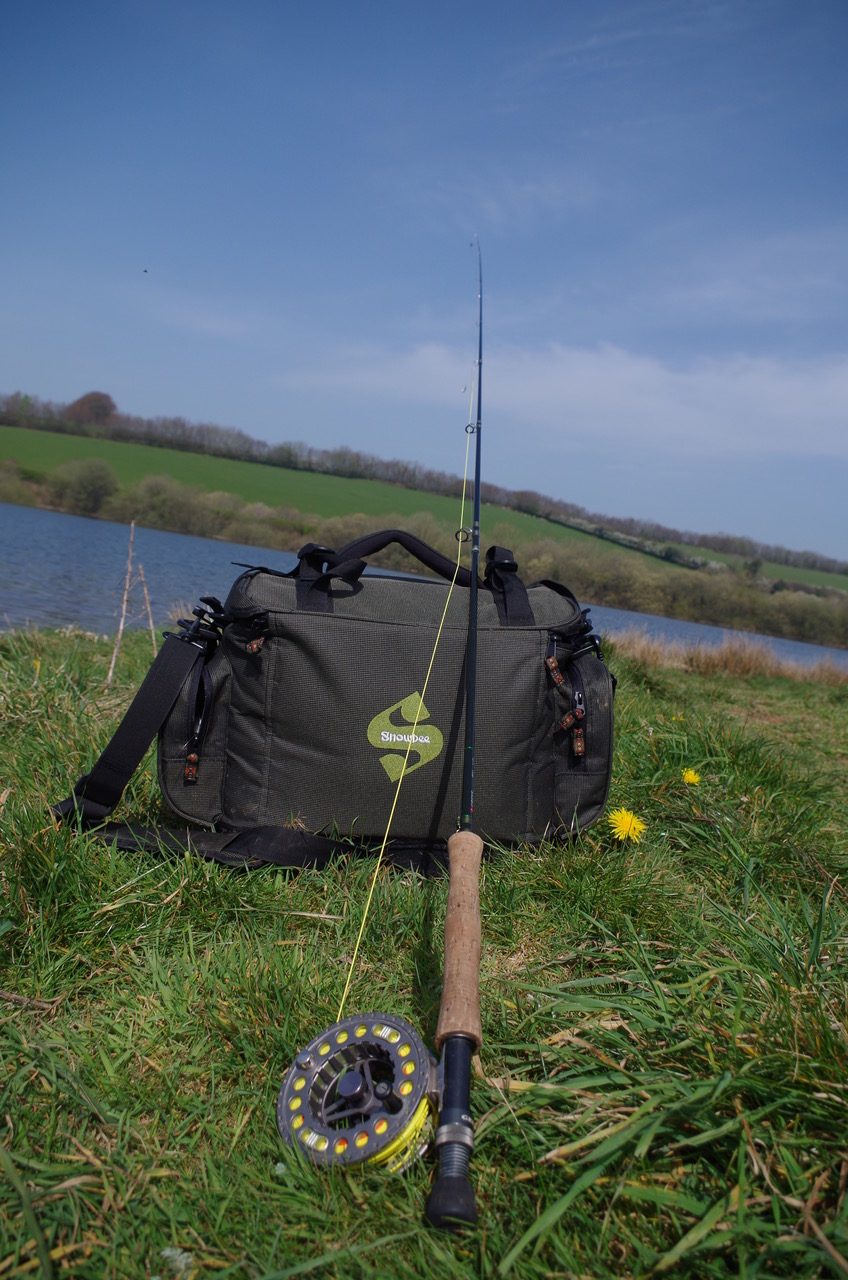 I put down the tackle and surveyed the scenery. The lake stretched out before us sunlight twinkling on the ripples whilst a few swallows, swooped past and a butterfly fluttered in the light breeze. It was an idyllic spring day and with a warm sun and light breeze I was confident that the trout would be up in the water despite no signs of fish rising.
I waded out in to the crystal clear water and worked out a length of line to place a team of three flies. On the point a Montana, a buzzer and a Zulu on the droppers. I soon settled into that rhythmic routine of casting and retrieving. Birdsong, the call of toads and the sounds of people enjoying the day drifted across the water. My eyes searched the lake for feeding fish, my chilled fingers retrieving the line in slowly with the expectancy of that pleasing tug through the line.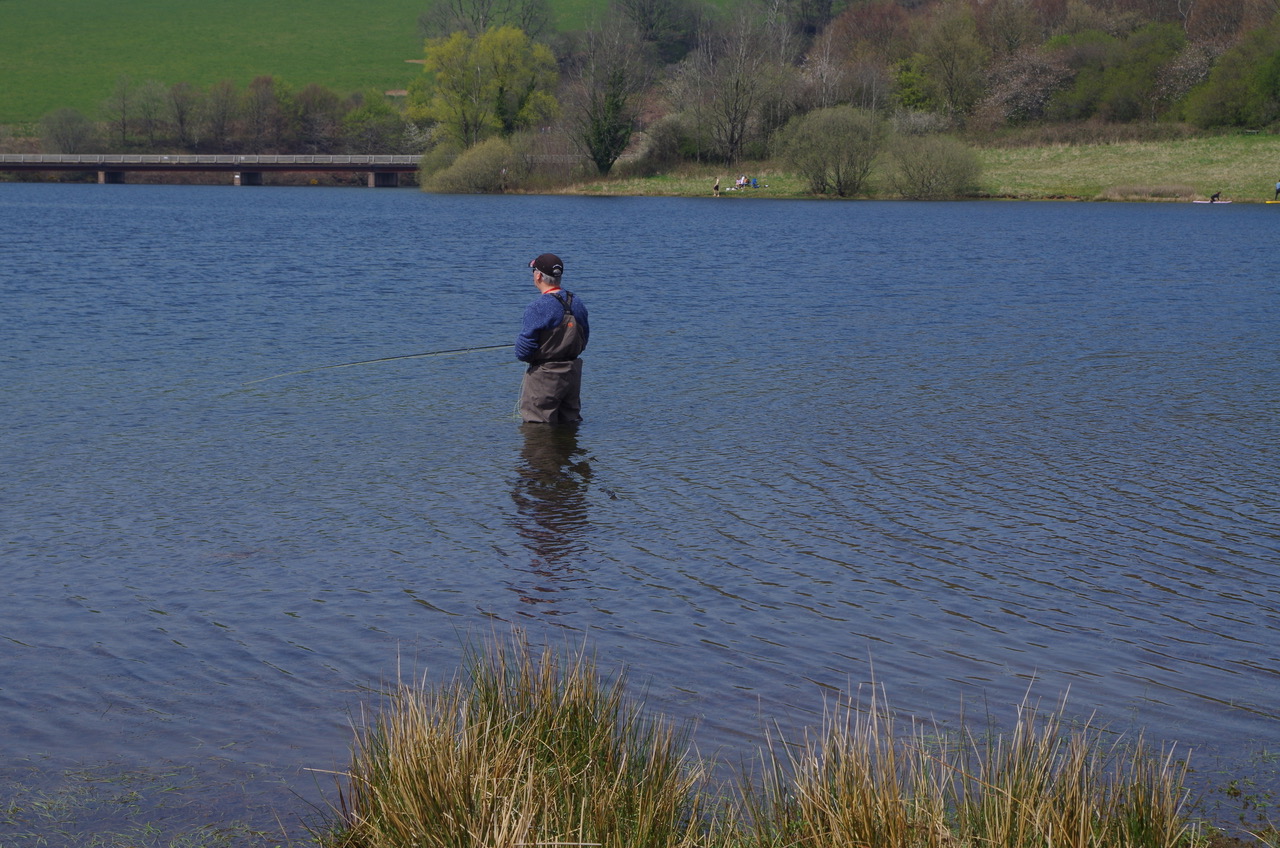 After ten minutes or so the line pulled delightfully tight and a trout cartwheeled on a tight line before shedding the hook. That connection however brief always gives faith that the tactics will work and allows fishing to continue with conviction. It wasn't too long before another trout was deceived and this time the barbless hook held firm. The trout was not to be easily subdued and threatened to strip line to the backing on several strong runs. After a couple of minutes the fish was ready for the net. A fin perfect rainbow of between four and five pounds.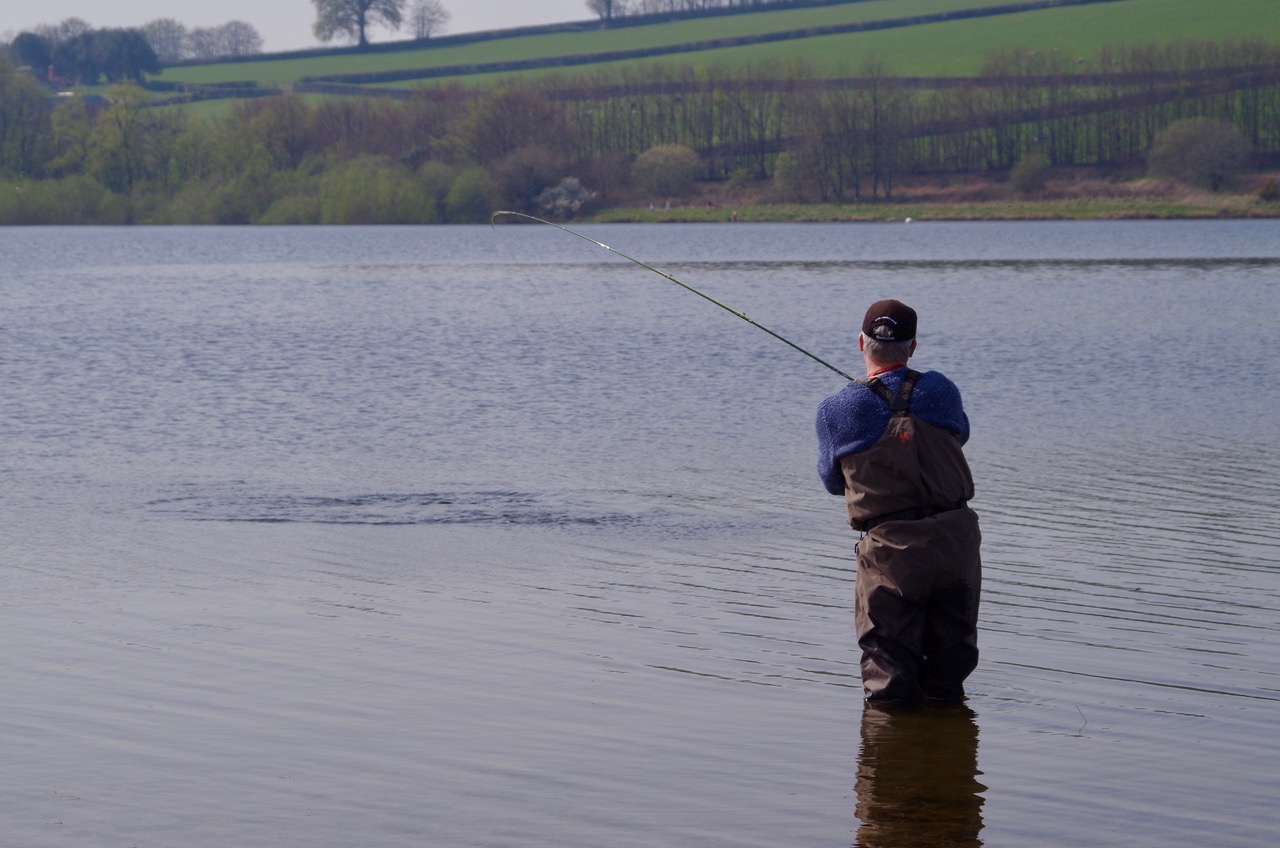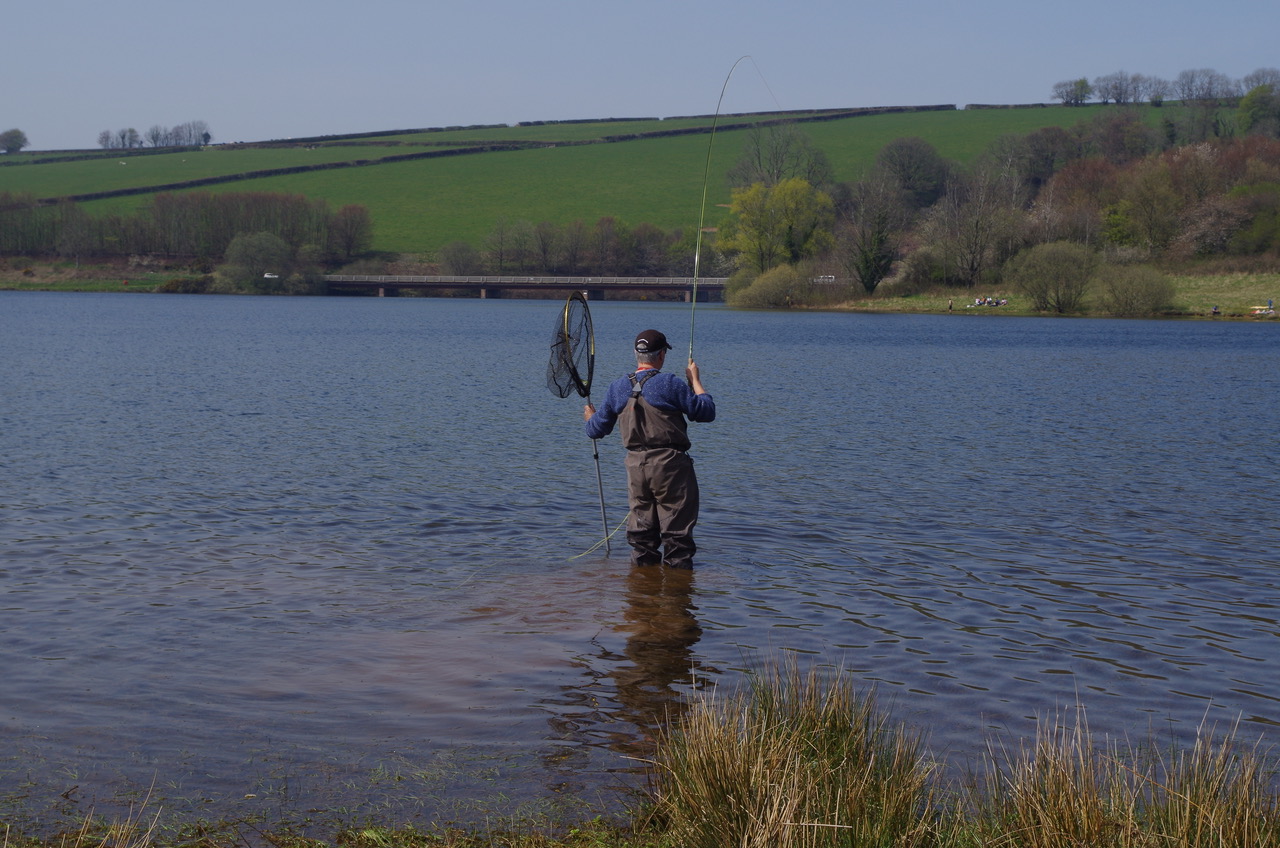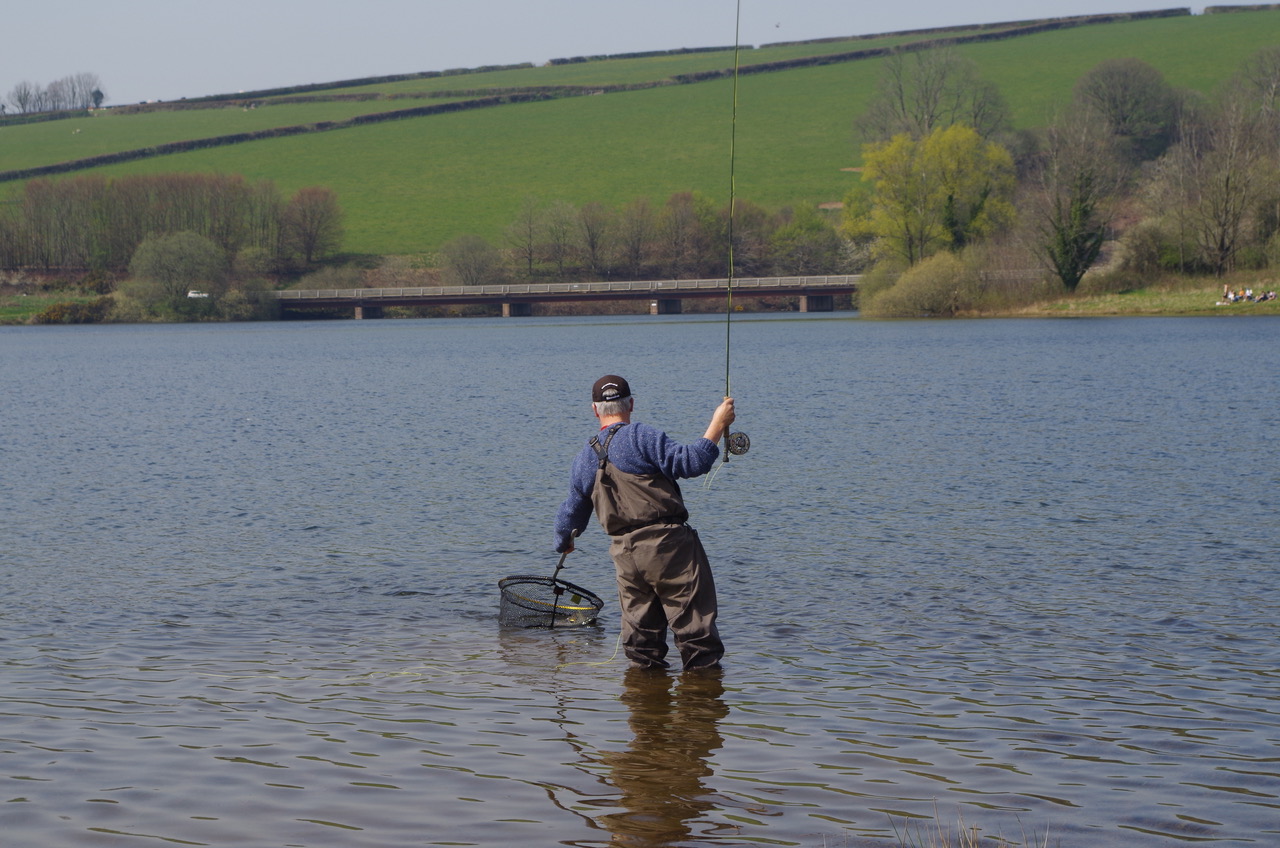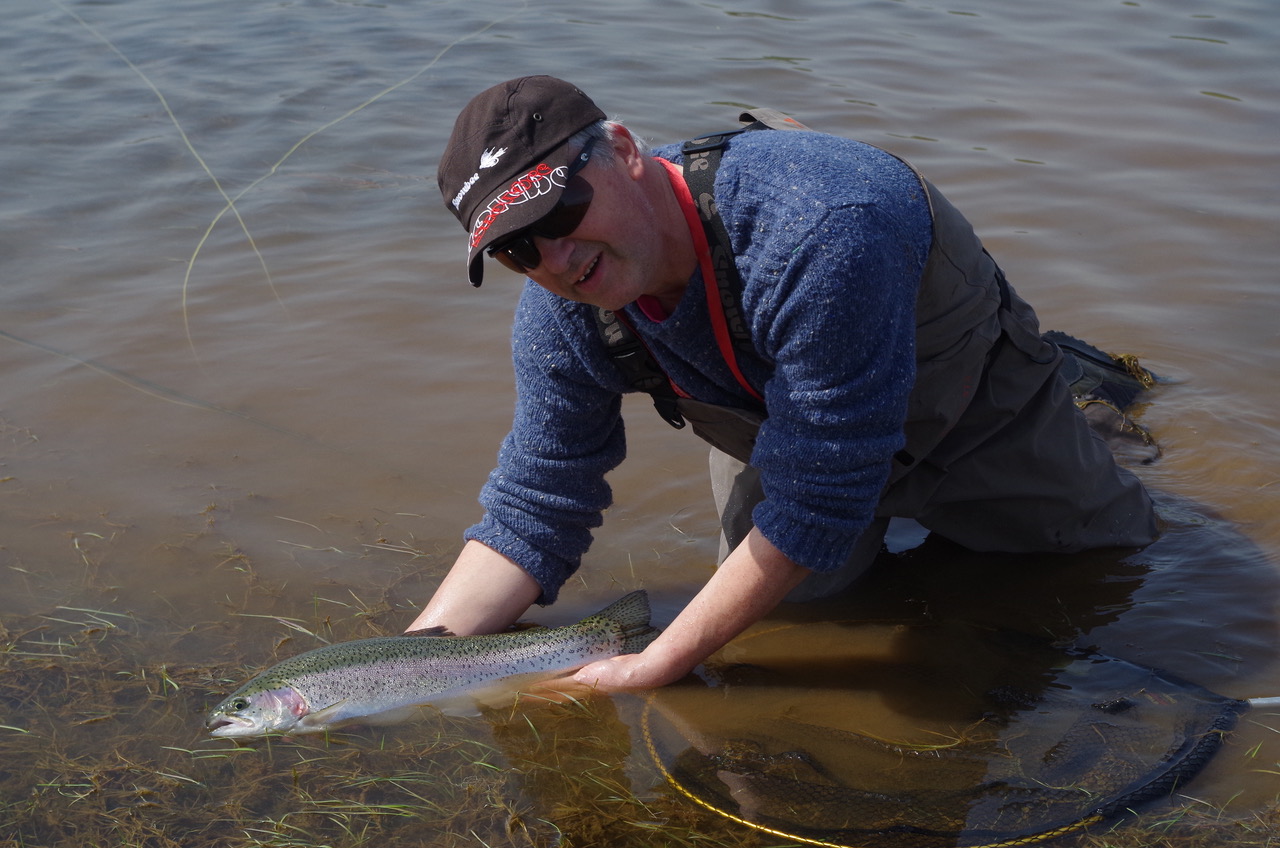 As the afternoon approached I was pleased to hear the pleasing sound of trout rising. Several fish could be seen breaking the surface just out of casting range. After losing a couple of fish I eventually connected again and another stunning battle a rainbow of over four pounds was admired.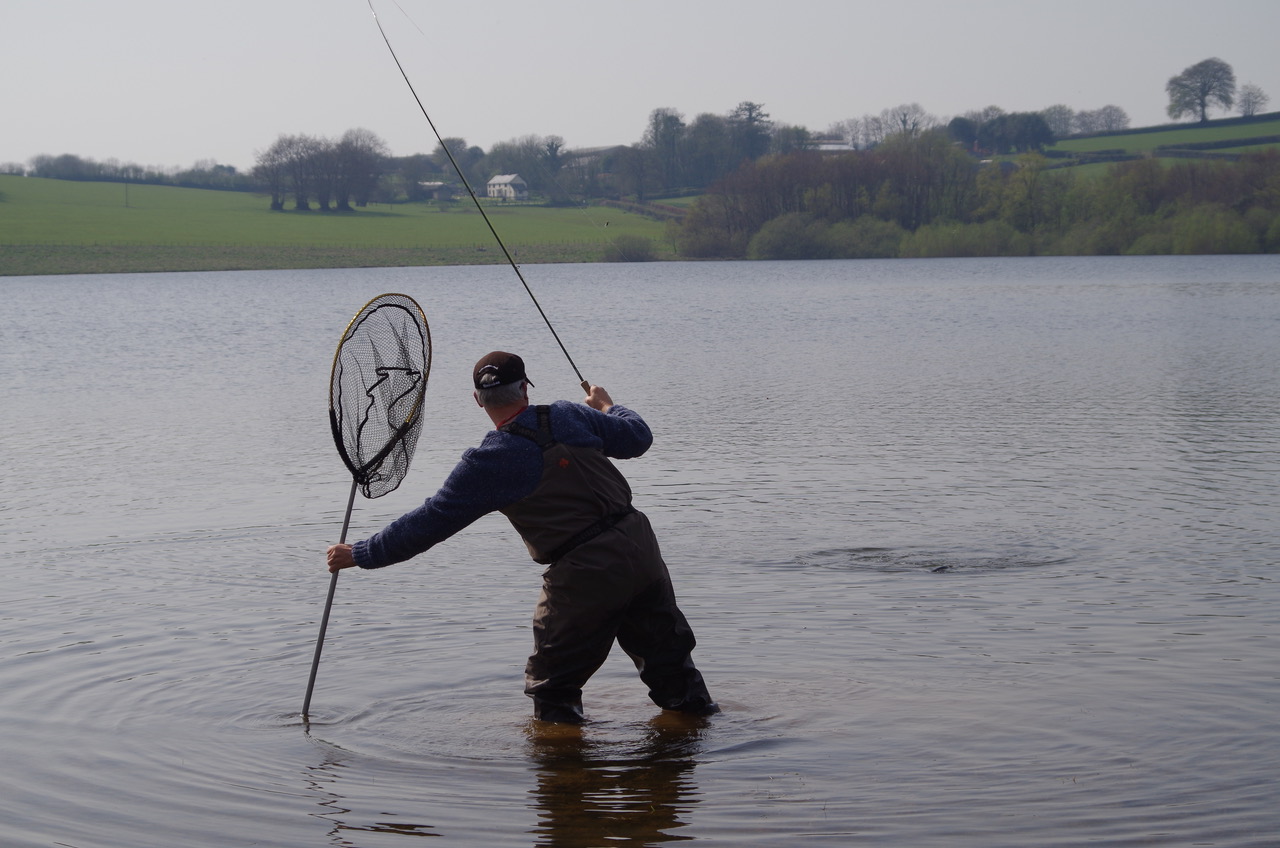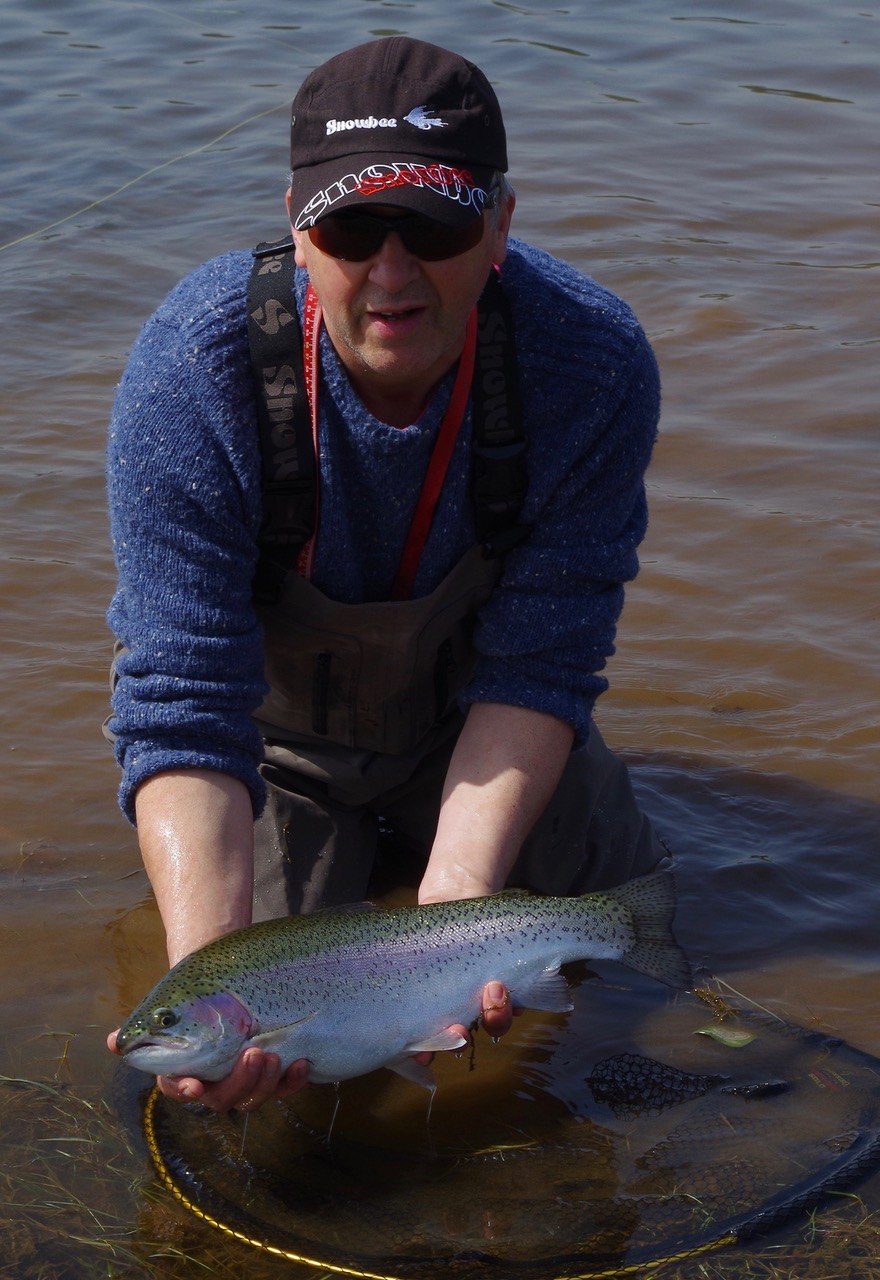 Pauline was called upon to briefly put down her book and capture the moments.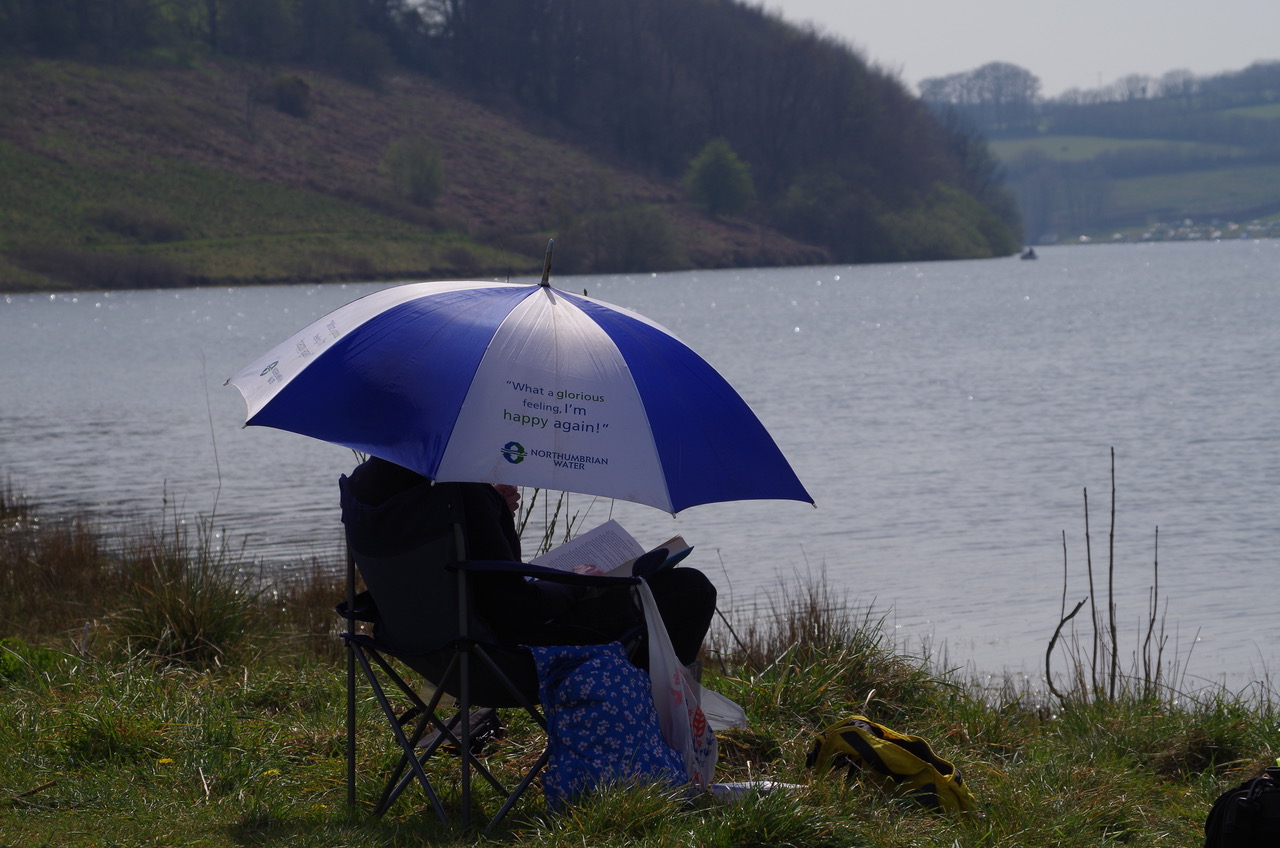 As the afternoon grew late it was unfortunately time to leave with other engagements looming away from the pleasing shores of this splendid lake. As other anglers passed by we chatted and exchanged notes. Several anglers had also enjoyed success and carried nets of weighty looking rainbows. As we walked back towards the car two anglers were fishing in the bay and one of them had hooked into a fine rainbow and was netting it as we approached. Yet another pristine full tailed rainbow of exactly 5lb was held up for the camera by captor Steve Essery who later informed me that he had finished his day with four fine trout scaling 2lb 4oz, 3lb 8oz and 3lb 10oz. His fishing companion had also enjoyed success ending with his five fish limit bag. He commented that it was great to see the fishery turned around under Mark Underhill's management.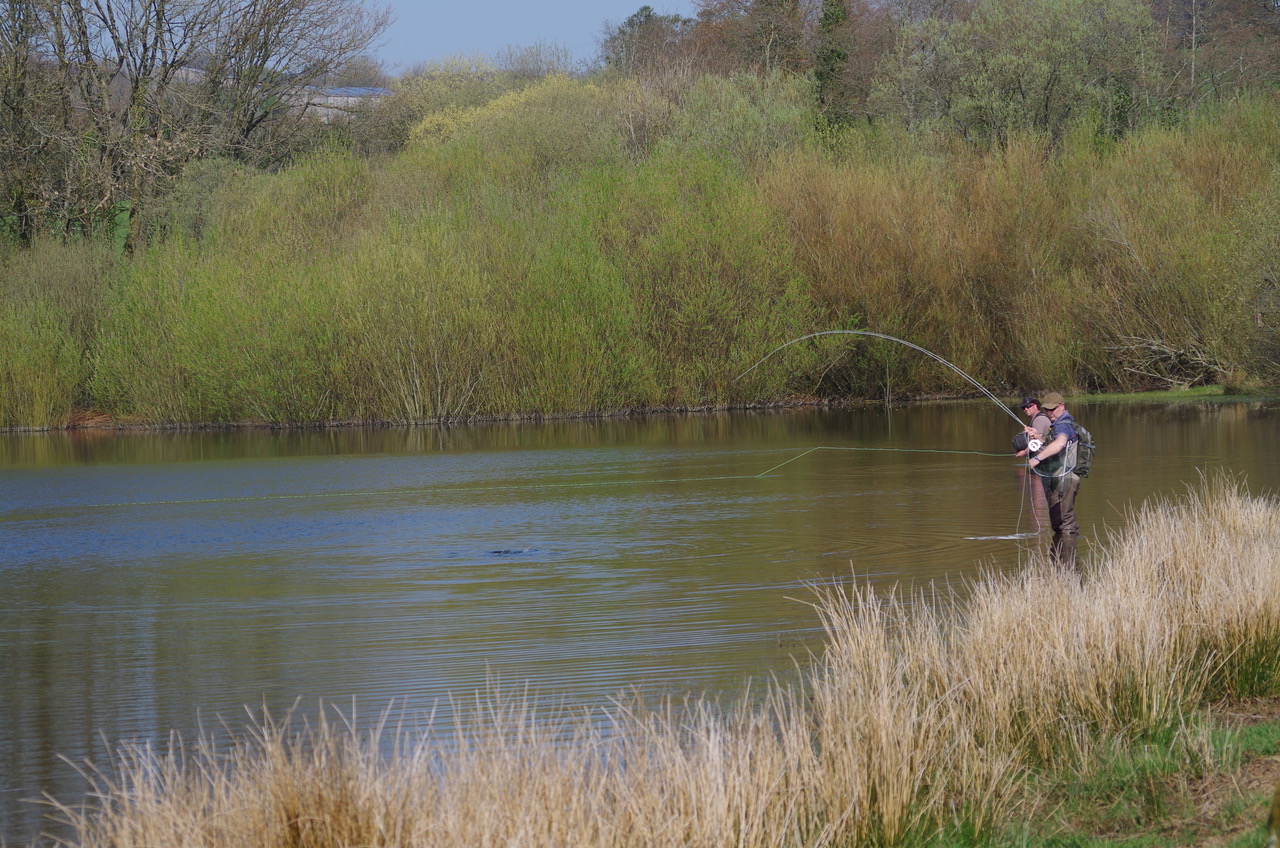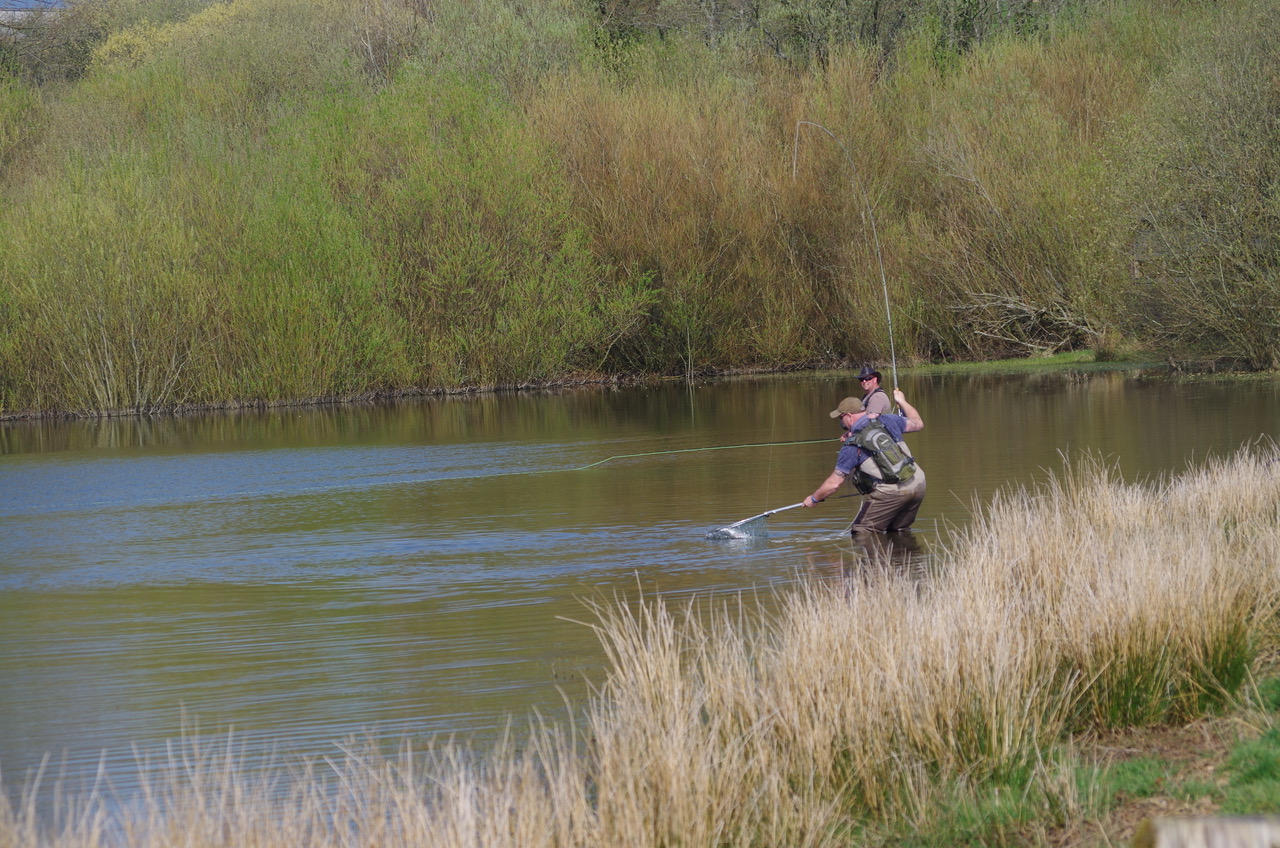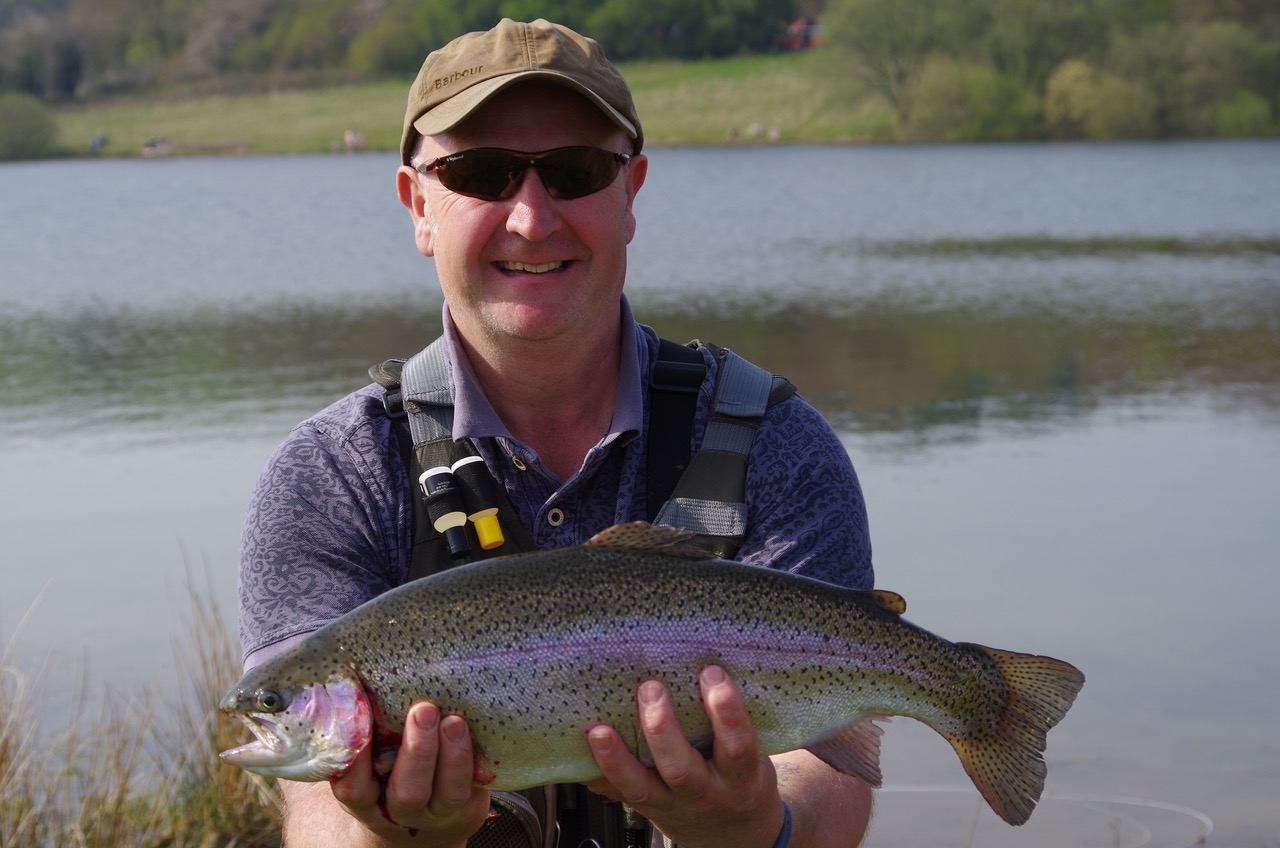 Wimbleball offers a superb trout fishing experience its not always easy but the fish are full tailed and hard fighting with the catch and release option working well. As the summer approaches it may well be worthwhile taking the option of a boat to cover more water. Summer evenings will I am sure provide some exciting sport from both bank and shore with free rising trout.