I CAUGHT A GLIMPSE – Fishing In North Devon
            I have been privileged to enjoy over forty years fishing North Devon's varied waters enjoying both success and failure. The places and the many people I have met along the way have greatly enriched the journey and as the years pass I realise that all we ever get is a fleeting glimpse of a period in angling history.
In this book I tell a few of my own stories of North Devon angling along with recollections from others; some from an earlier generation who enjoyed fishing in those good old days.
I have no favourite species of fish just the one I am fishing for at the time and this book reflects this with every discipline of angling represented. From the small crimson spotted trout of tumbling streams to the huge shark that roam the Atlantic Ocean.
Angling is in essence an attempt to reach into a different dimension. Its fascination has for me never ceased and I always believe that the next cast will be the one that connects, that marvellous moment of completed deception. The anglers I have interviewed in writing this book reflect upon past times when they too glimpsed piscatorial events that they enjoyed recalling. Stories of lost fisheries, big fish, record fish of angler's their attitudes and love of fishing.
I hope that I manage to share and convey the joys of angling in North Devon and provide a glimpse into a century of marvellous fishing.
Just a fleeting glimpse,
Of Memories gone,
A hopeful glimpse of what may come,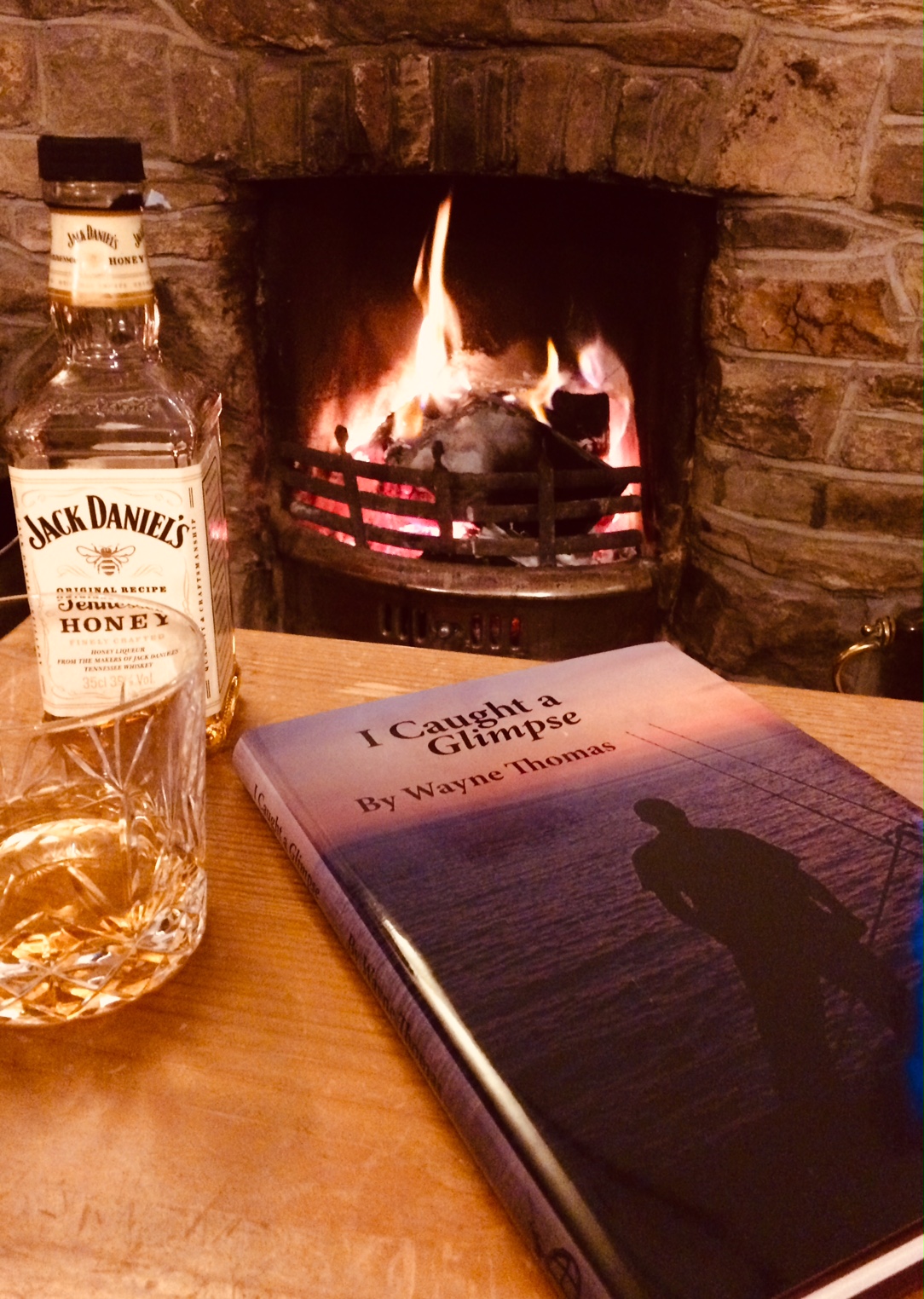 When its bitter cold outside its often good to settle down by the fire to read a good book.  " I Caught A Glimpse" has an array of fishing stories from North Devon with all disciplines catered for if your interested check out this review from Dominic Garnett and the comments from my friend Paul French.
https://dgfishing.co.uk/winter-coarse-fishing-and-new-angling-books-reviewed/?fbclid=IwAR1STJpBKb5FDftACxckmT4Gjl9zb5UknO9M0eyvbEQuhmITPgH2TQLF5As
I received this email from my friend Paul French who took the book on a cruise.
"We've recently returned from a cruise to Norway which provided me with ample time to read your book and what a thoroughly good read it was too! The passion you undoubtably have for this pastime of ours is embodied in the words on each and every page. The part mix of autobiographical and part historical is I believe a unique blende and certainly not something I've seen attempted elsewhere. It couldn't have been an easy project to undertake and metaphorically reading between the lines the reader may understandably not appreciate the hours and days of research you have put into it. You've smashed it, all round my kind of book. 
All we need now is a Glimpse of the next one".
https://thelittleegretpress.co.uk/product-category/author/wayne-thomas/
Available from The Little Egret Press or drop me a PM via my Facebook Page or North Devon Angling News.