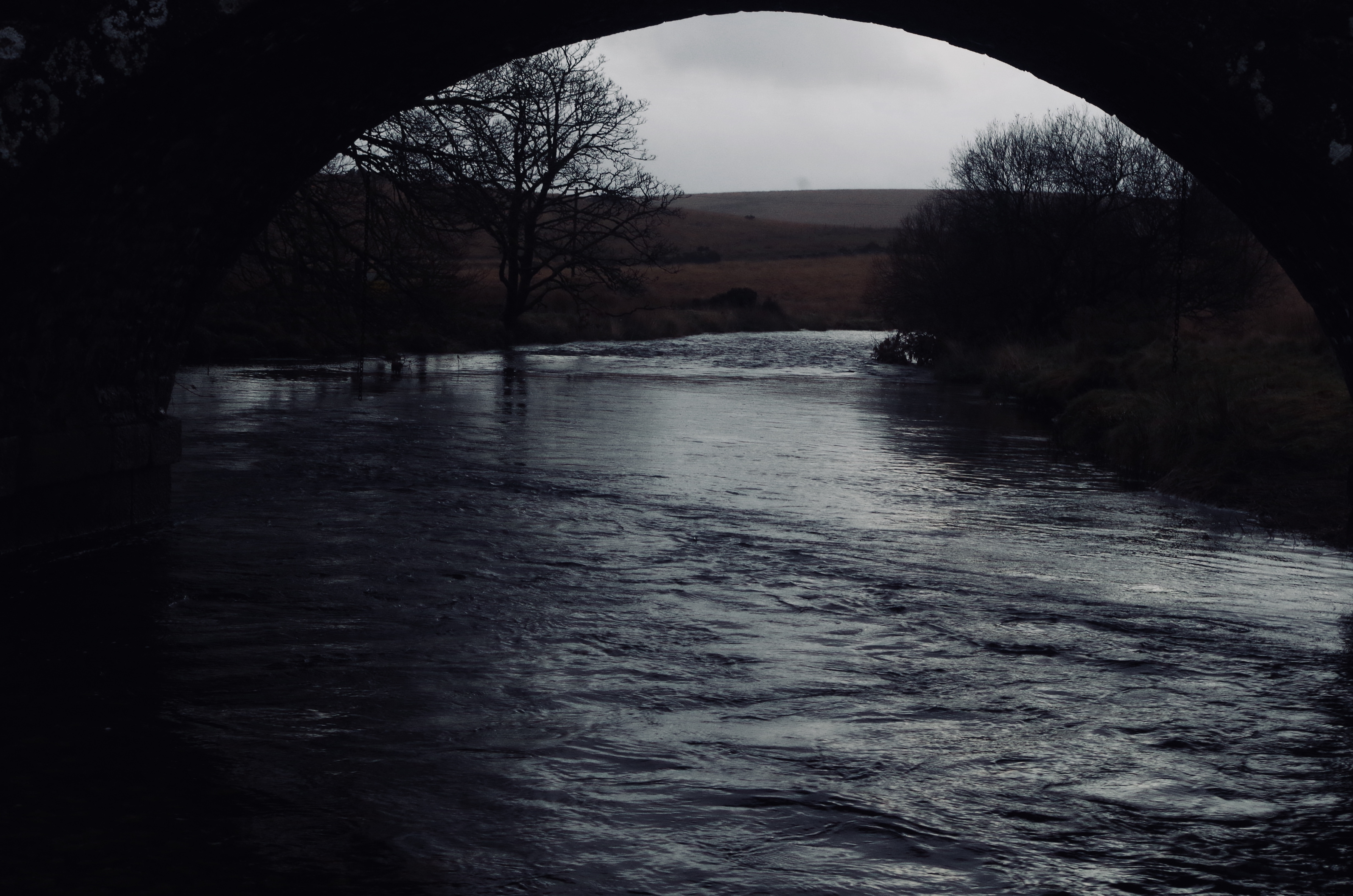 Mid winter and high on the moors salmon and sea trout are cutting redds ensuring the ongoing survival of these enigmatic fish that forge into our rivers each year in a struggle that is every bit as dramatic as the migration of the wildebeest on the Serengeti. This marvel of nature is overlooked by many who pass over swirling waters without a thought for these majestic creatures.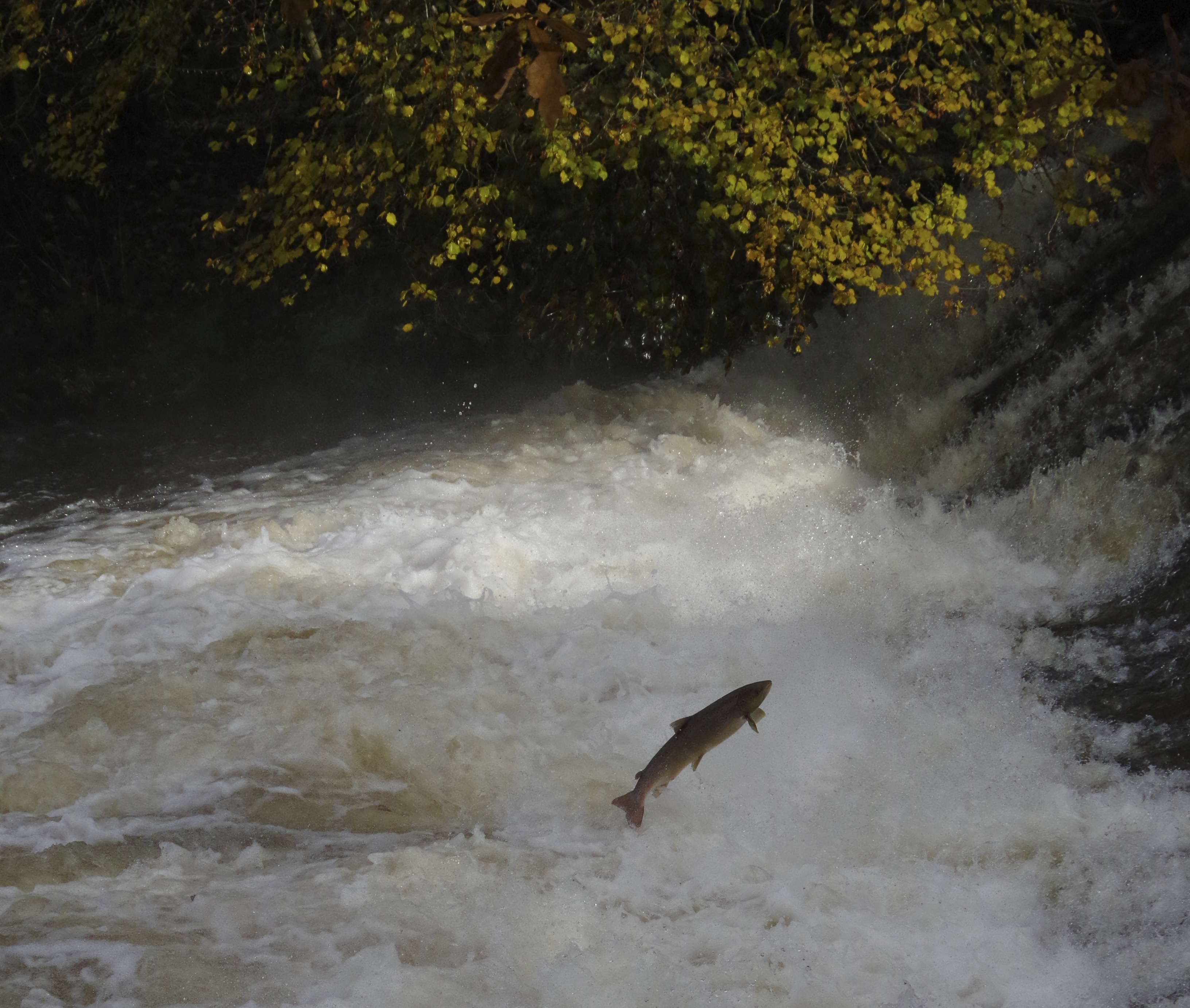 Anglers have a deep fascination for these fish and a passion to preserve stocks for future generations. I joined members of the River Torridge Fishery Association for their annual trapping of salmon for their hatchery located close to a tributary of the Torridge.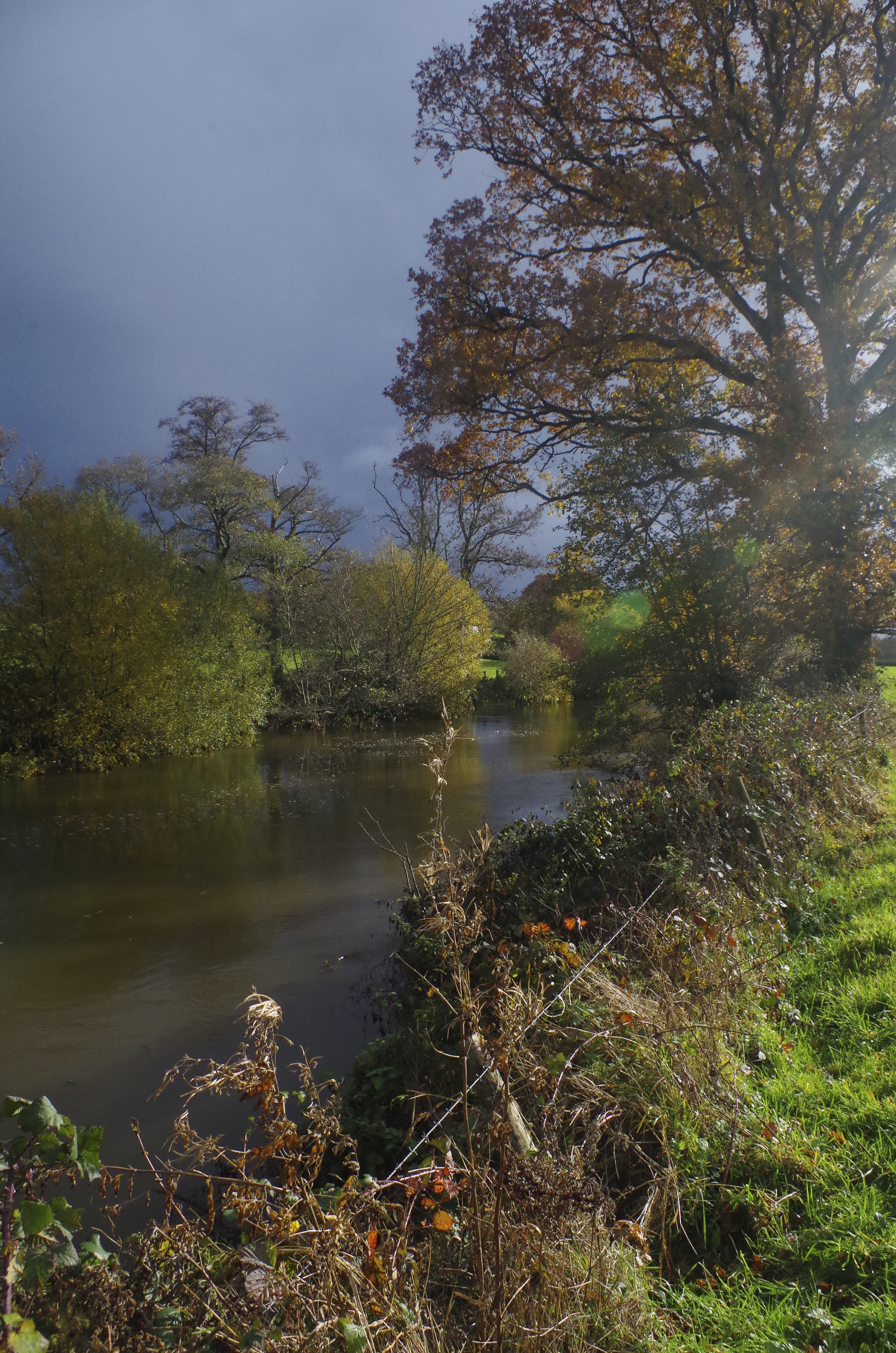 Below is a copy of Newsreel by kind permission of Charles Inniss.
The River Torridge Fishery Association – News Reel
President: Lord Clinton
Chairman: Paul Ashworth                                                                   Secretary: Charles Inniss
e-mail: [email protected]
NEWSREEL: WINTER 2018.
The salmon hatchery:  
            Over the weekend 10/11thNovember we successfully trapped the broodstock: 5 hens and 5 cocks all about 8/10lb and all in excellent condition. On Saturday 8thDecember we were able to strip all five hens in one go despite the gales and heavy rain. We now have just over 30,000 eggs laid out in the trays. All the fish have been successfully returned to the river and this year for the first time there was no sign of disease on any of the fish. So far so good.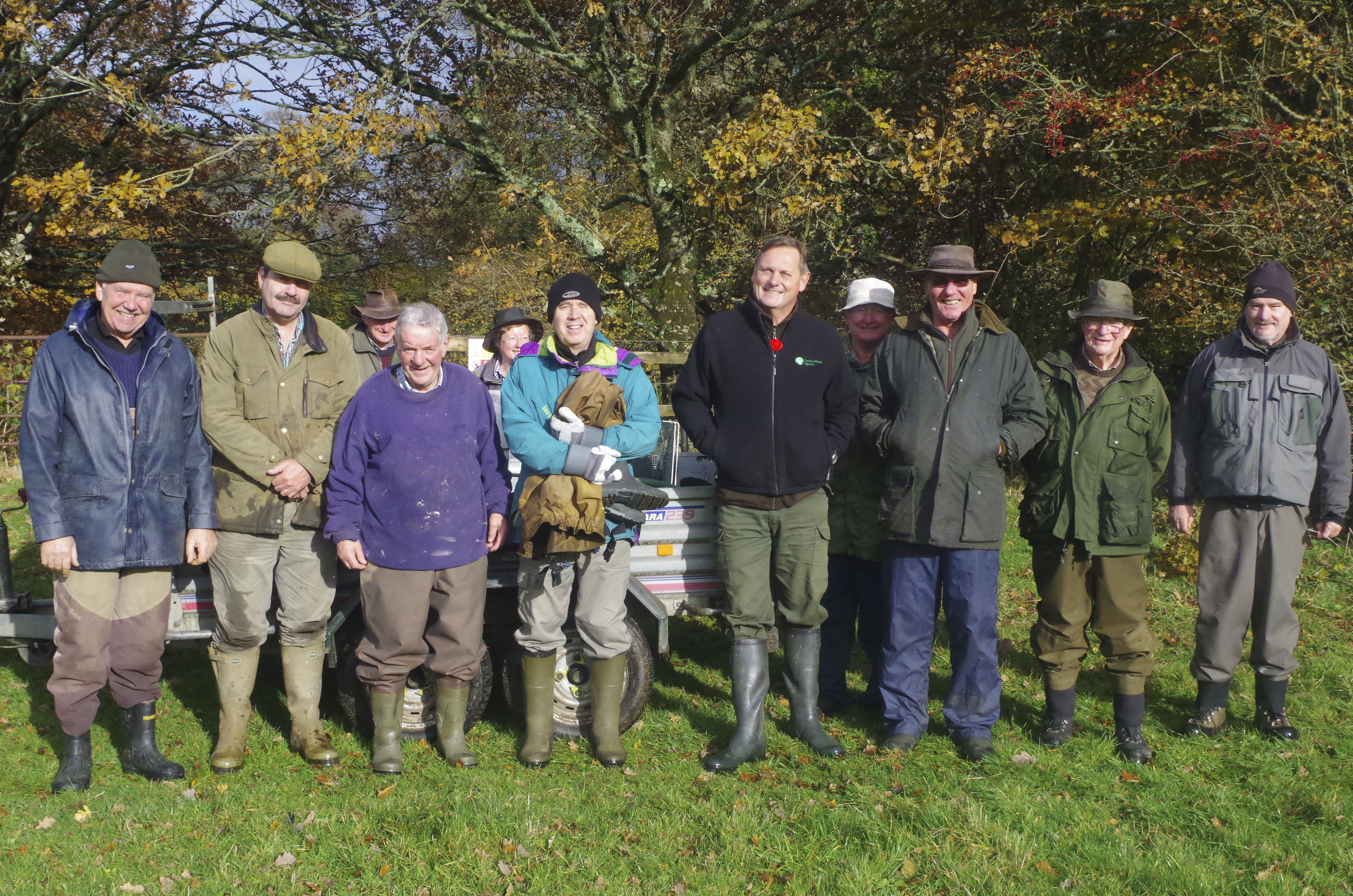 Juvenile Survey:
            The West Country Rivers Trust surveyed 40 sitesduring the late summer and early autumn. The results have not yet been published but apparently several sites on the Okement and Lew were encouraging. The sites on the Upper Torridge again revealed poor densities of salmon fry and parr.
This spring we released some salmon fry from the hatchery into the mill leat by the hatchery. This is a controlled area with no natural salmon production. The juvenile survey in September revealed good densities of salmon fry. The hatchery team was delighted to know its offspring were doing well and surviving in their natural surroundings.
The Annual Dinner and Raffle:
Another superb evening at The Half Moon. Over 50 of us enjoyed an excellent meal followed by the raffle and auction. Once again member support for the annual raffle was tremendous and over £1,500 was raised which will go towards continuing our efforts to improve the fishing on this beautiful river. In particular this money is used to finance the running of the hatchery and the cost of the juvenile survey. Particular thanks to Paul Ashworth, our Chairman, and his wife Geraldine who organised the raffle and the auction. There was the usual wonderful array of prizes.
The Fishing Season:
There are good years and poor years. 2018 will go down as one of the poorer years. Low river levels and high water temperature made fishing difficult. Too many of us, me included, wait for the ideal conditions and do not bother when the conditions are unfavourable. Those who ventured out caught fish having some success with the sea trout using dry fly.
Proposed Measures to reduce salmon exploitation:
            Despite rushing through the consultation process in the autumn of 2017, all has since gone quiet: presumably the proposals are sitting on a desk at DEFRA. Let's hope a final decision can be made for the 2019 season.
Winter well:
            My very best wishes to you all for a peaceful Xmas and a healthy New Year.
In 2012 River Reads Press published "Torridge Reflections" a fascinating tome by Charles Inniss I am delighted that a fresh print run of 100 copies has been announced wirh copies available from River Reads, Cochybondu books and Charles Inniss. The first edition sold out and is highly sought after by book collectors and lovers of fishing in North Devon.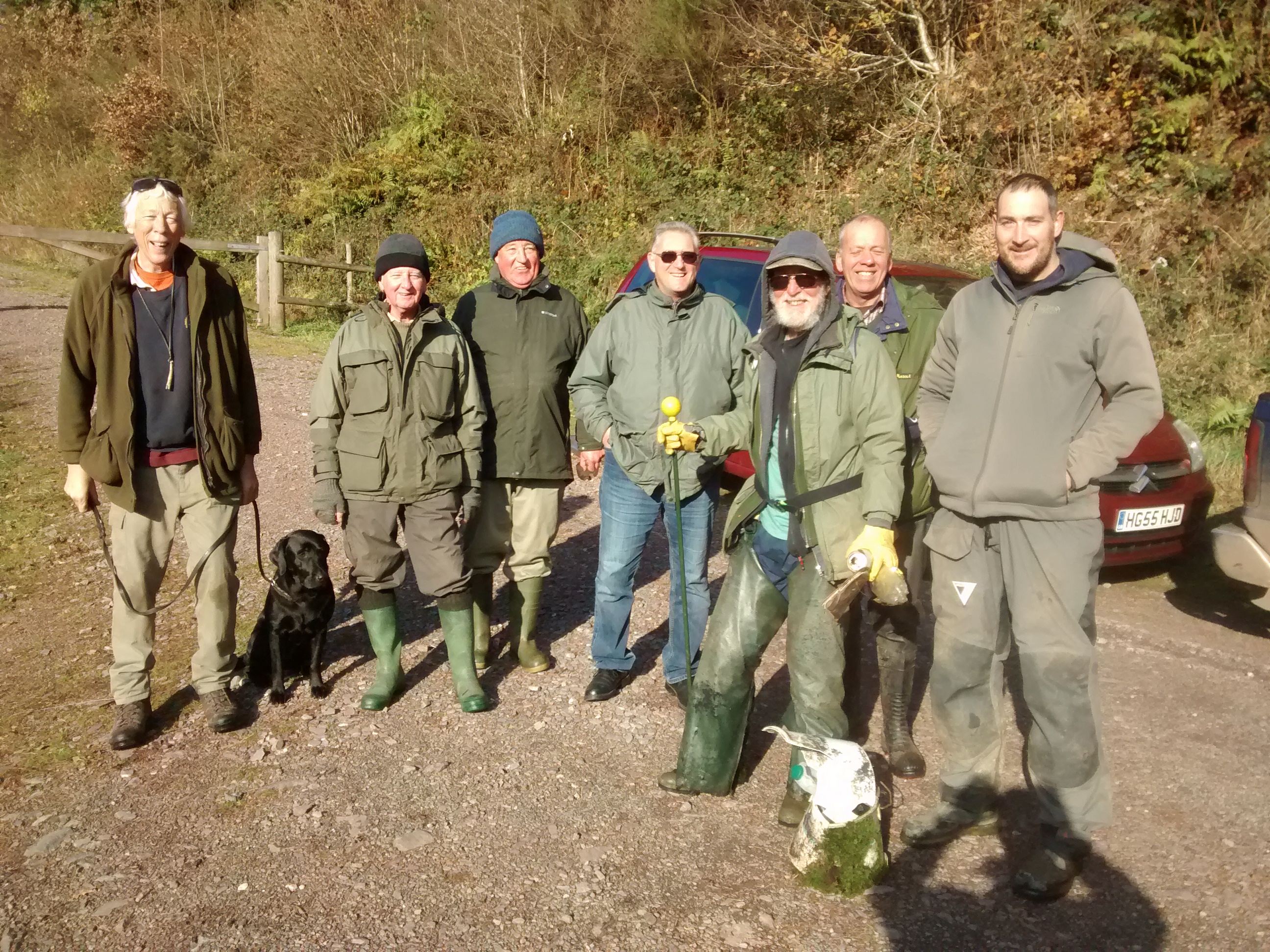 Observation of salmon, sea trout and brown trout spawning is an important part of river monitoring and since the dramatic reduction of Environment Agency staff this job is often undertaken by volunteers. The South Molton Angling Club visit the spawning areas on their waters on the River Bray each winter to assess the numbers of salmon spawning. This years observations have been encouraging with good numbers of salmon, sea trout and brown trout seen before winter spates clouded the waters.
Just a quick update on our redd counting morning from Ed Rands.
"The river was in good shape to see what was going on although most other rivers were high and brown.
We walked a familiar strech of river and saw several salmon and sea trout.
There were also a good number of redds there, of different sizes e.g. brown & sea trout and salmon had been spawning which is very encouraging as we didn't see much last year.
Hopefully they will hatch in the spring and go on their intrepid journey to keep these precious and vulnerable fish in our rivers.
 We also picked up plastic and other foreign bodies from the river.
So all in all a very enjoyable morning, thanks to those who attended.
Merry Christmas.
Ed Rands shared a number of old photos with me that had been found in the attic of a house during a house move. They are fantastic images that give a fascinating glimpse into the past.The images are from the Fortesque Hotel at Kingsympton and show salmon caught from the River Taw probably from the Junction Pool area. The these spendid catches of salmon were made during the 50/60's.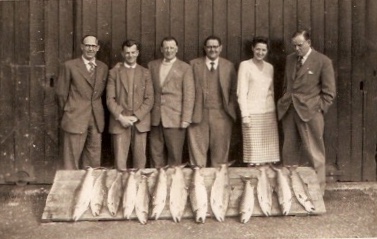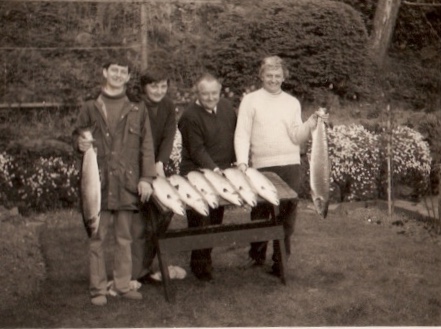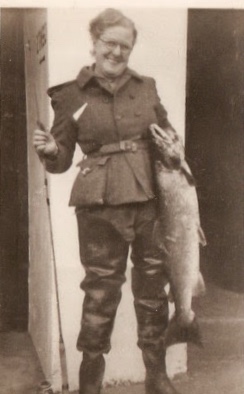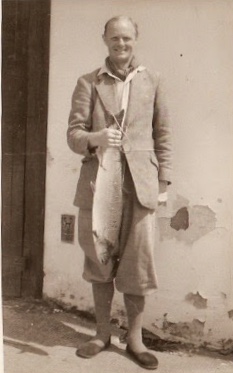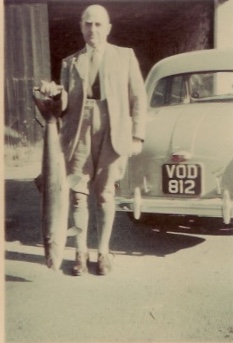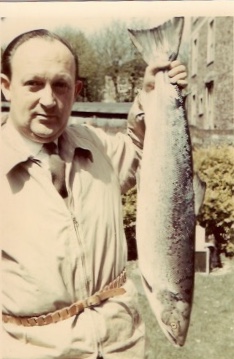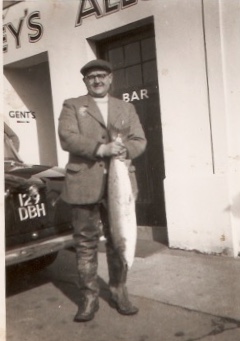 In those days of plenty virtually all salmon were killed as stocks were abundant and few feared for the future of the species. Whilst  anglers undoubtedly contributed to dwindling stocks other factors have had a far more dramatic impact. Pollution, Poaching, Global Warming, Disease, Over Exploitation, Farming Practices,Silting of spawning grounds, Obstacles to Migration, Predation and other factors have all played their part. These days anglers are fighting for the survival of these magnificent fish removing barriers to migration, improving habitat, campaigning to remove netting, practicing catch and release and attempting to improve stocks by using hatcherys to improve fry survival.
It is sad to see how stocks have been allowed to decline over the years. We have lost a great deal from our rivers it would be tragic if salmon were to be consigned to the history books like the mighty sturgeon that once migrated up many of our local rivers.