After my recent carp fishing blank, I was keen to make amends and actually put a carp on the bank. I decided that a change of venue would be a good idea to perhaps break the spell. A quick ring around and I secured a day's fishing at Hacche Moor Fishery's Bottom Lake close to South Molton. This lake has been established for several years and has a good head of carp up to 36lb with numerous twenty plus specimens. https://www.hacchemoorfishery.co.uk
On arrival one of the anglers at the lake was already in action playing what looked like a good fish. Eager to get set up I hurried on to choose a suitable swim and did not wait to see what the scales read.
There were four anglers on the lake and two were vacating swims and moving into the swims that I fancied in the prevailing conditions. The two anglers had already fished for three nights and days without a fish so moving into their vacated swims seemed a bit concerning. But it all looked right and the other two angers on the lake had caught indicating that success was likely if the correct approach was adopted.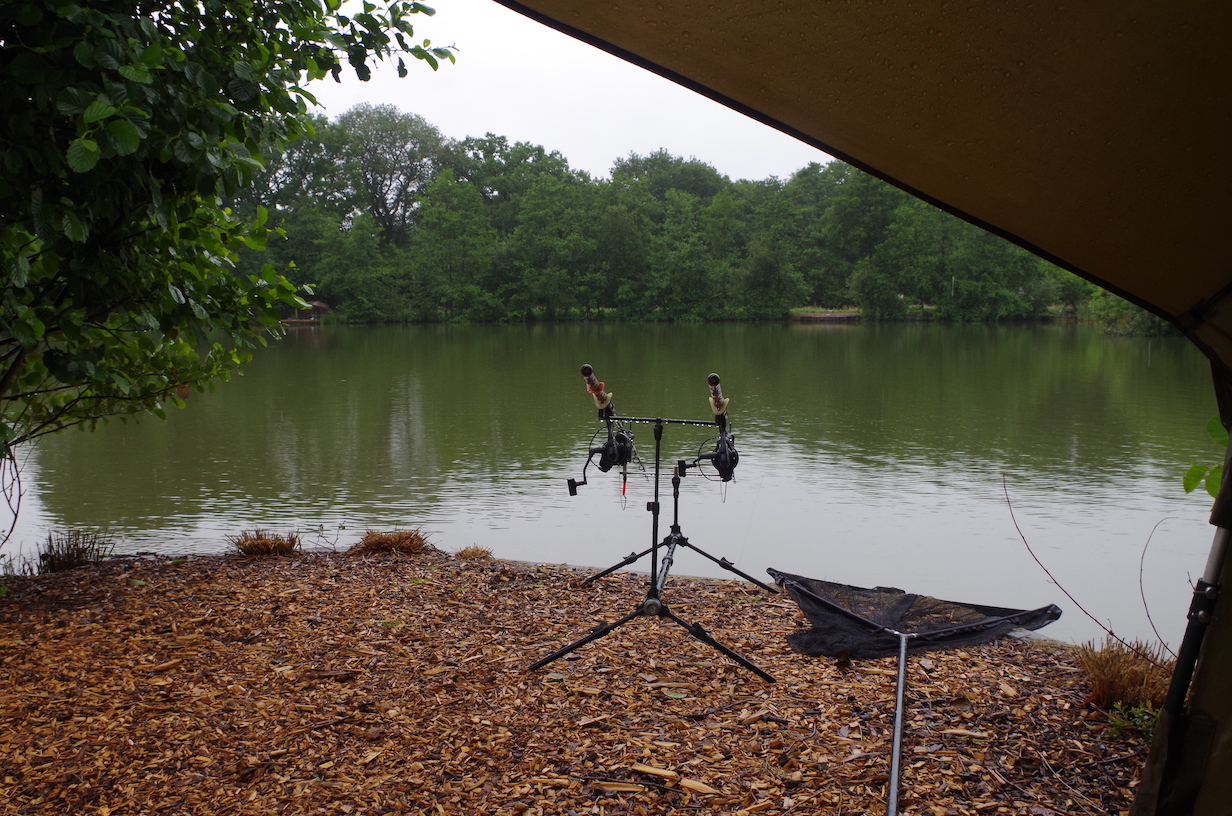 It was good to be set up and sheltering beneath my brolly confident that a carp would slip up. I fished one rod off the Island and another to my left a rods length from the margin. On the Island rod I fished a Sticky Bait Krill Boilie in conjunction with a small PVA bag of crushed boilie and small krill pellet. On the margin rod I employed a couple of old school baits planning to randomly  alternate bait with each cast.
I settled down to the waiting game changing baits from time to time and scattering a few free offerings around each rig. Swallows swooped over the lake and I relished the summer scene. In the background I could hear the constant buzz of traffic and industrial work at the nearby building site. The sounds reminded me of the outside world not too far from this oasis of calm water amidst lush green life.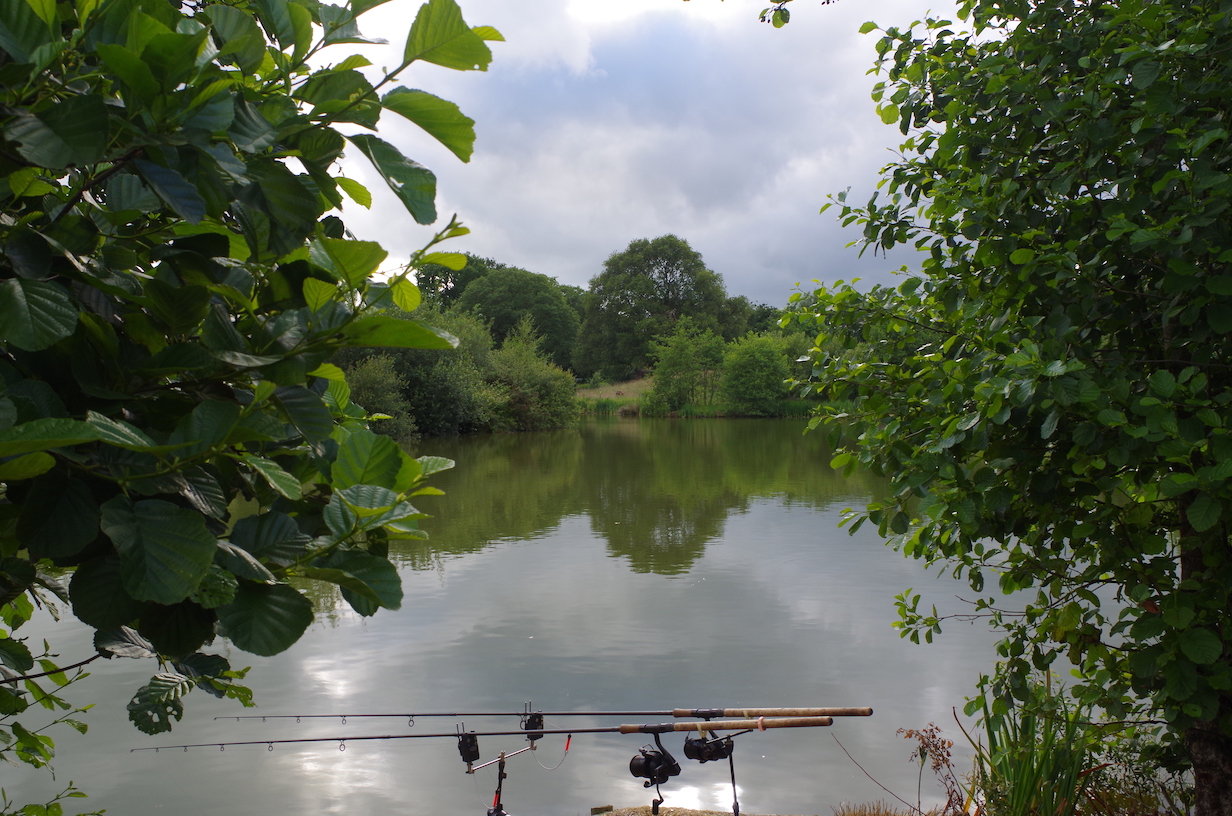 Late afternoon and my confidence was ebbing slightly. I decided on a slight modification to my margin set up and slipped a back lead to the line pinning it close to the bottom.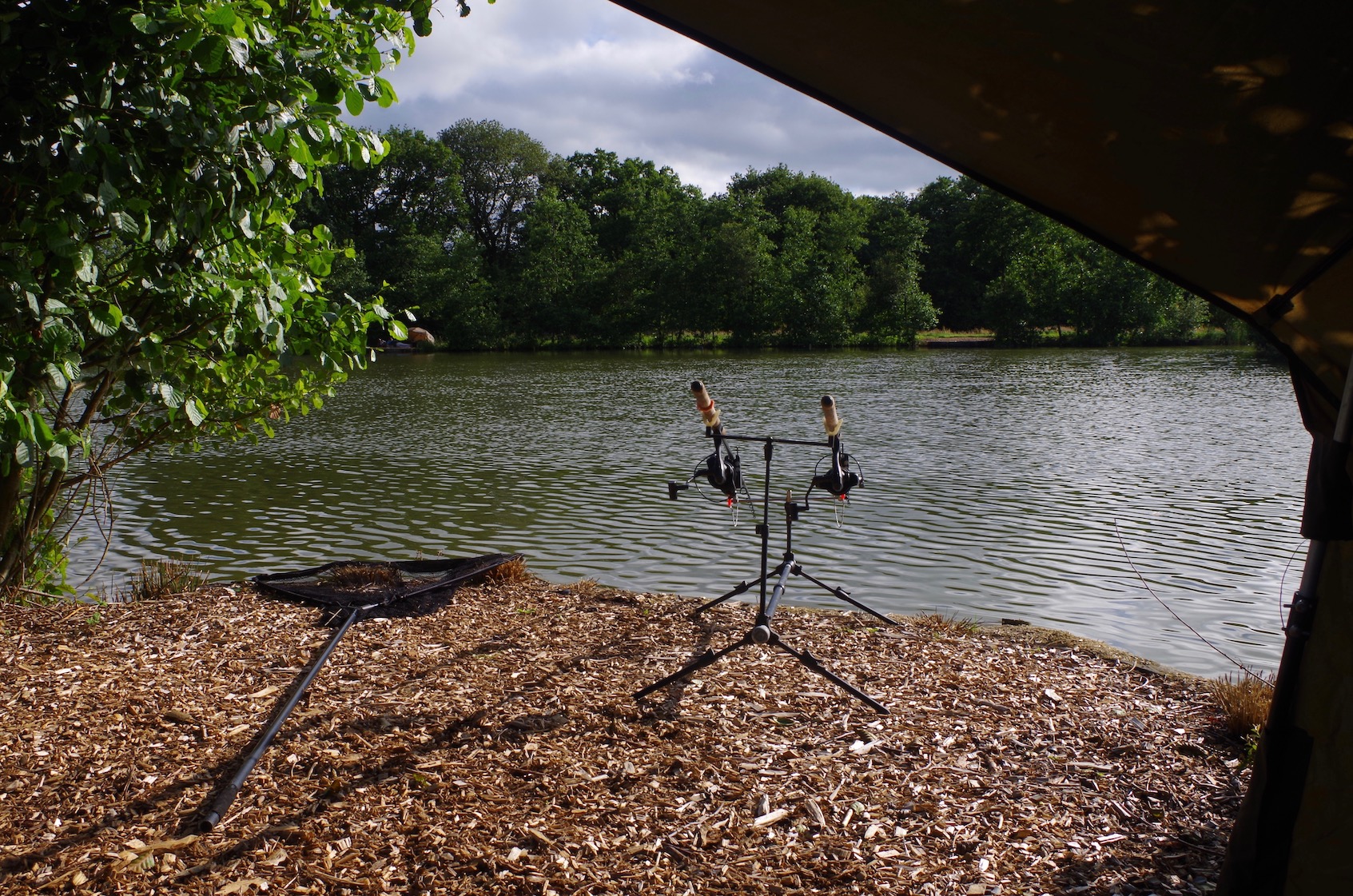 Half an hour later the Delkim sang out the line ripped from the reel and rod bounced in the rests…..after a pleasing battle a handsome mirror was safely in the net. At 14lb 8oz it was no monster by todays standards but very welcome.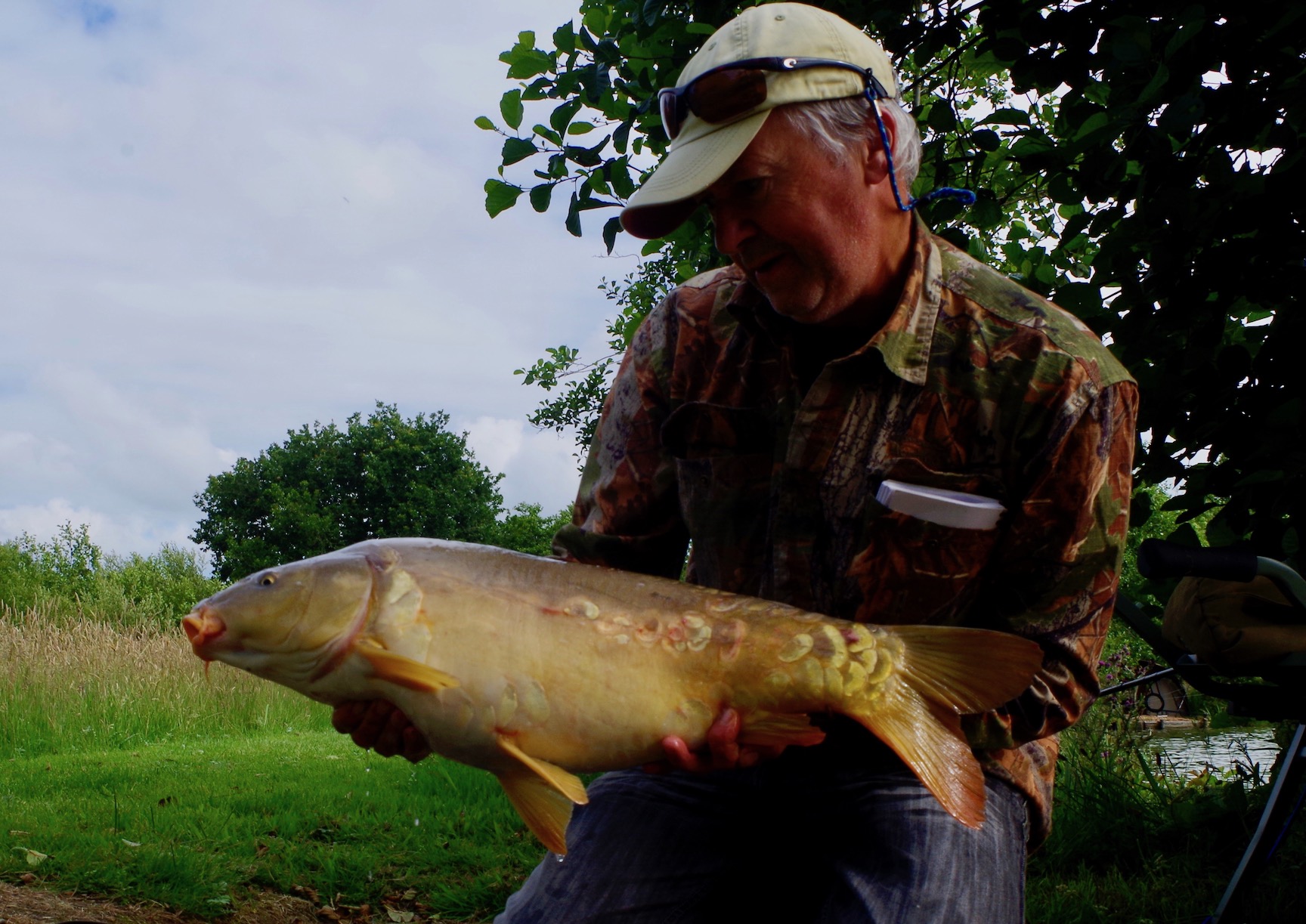 With confidence restored I made a fresh coffee and savoured a moment of success. Two hours later the same rod was away again and another fine looking mirror carp was safely netted and posed with me for a quick picture kindly taken by the angler next door. We both thought it would be close to twenty but I was not at all disappointed when the scales told the truth at 17lb 8oz.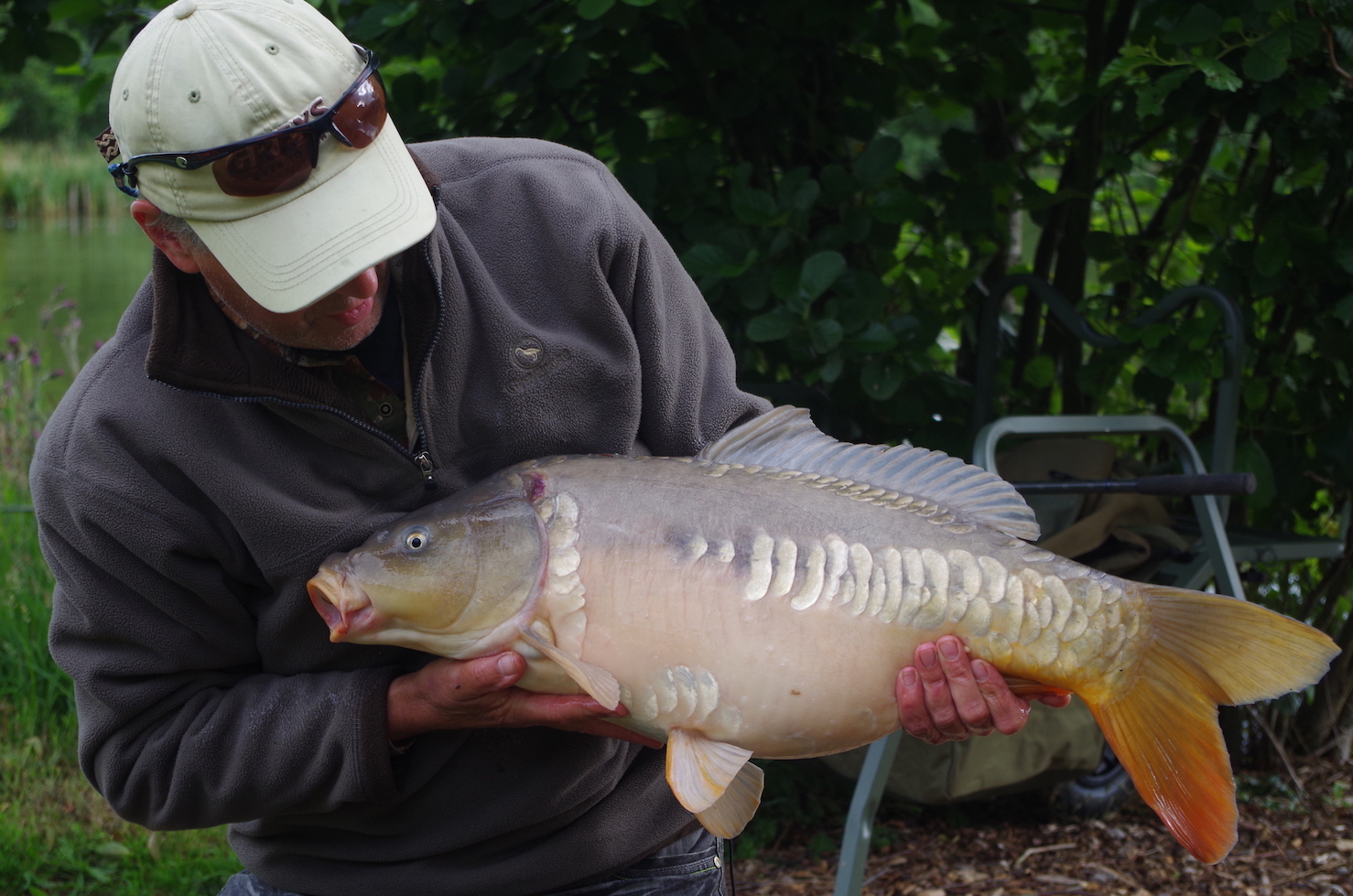 With the blank spell broken I can resume my occasional carp fishing with renewed confidence a vital ingredient to success in all fishing. I fished on for another couple of hours until the light began to fade and was delighted to hear a bite alarm ringing out as one of the long stay anglers enjoyed success adding to a fish he had taken earlier in the afternoon whilst I was banking my first fish.
I pondered as I drove home. Did the fish switch on to feed for that period or did pinning the line to lakebed disguise the trap?