Unlocking the mystery of the eel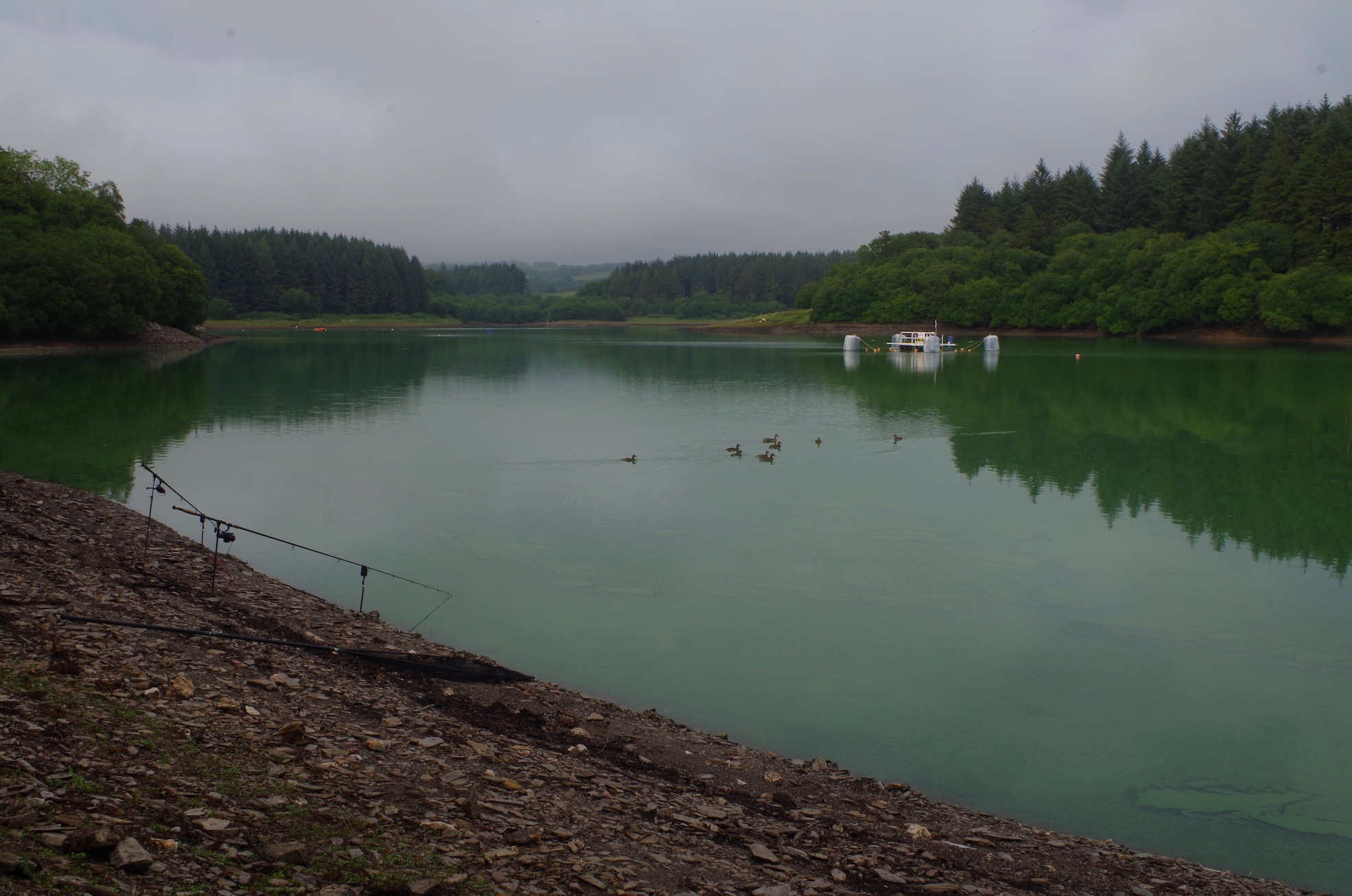 Wistlandpound Reservoir was created in an enduring feat of engineering by building a clay core dam  across Bratton Stream during the late 1950's. It supplies water to a large area of North Devon and has become a popular area for walkers and is used by the Calvert Trust to provide adventure holidays for disabled adults and children. The lake is managed by The South West Lakes Trust who also control angling at the venue which has a long history as a trout fishery.
My good friend Steve Dawe is a keen eel angler and member of the National Anguilla Club and we got talking about waters that contain eels and in particular large eels. I recalled how twenty or more years ago eels had become trapped in the inlet of the local water works and that these eels were of a good size.
Wistlandpound had never to our knowledge been fished for eels and it is a well-known fact amongst eel anglers that venues that have not been fished and have limited access for eels can hold the eels of dreams. The European eel has been known to live to over 100 years so it is possible that any eels trapped within Wistlandpound when the dam was constructed could still be present.
Steve and I spoke with Ben Smeeth who is head of angling at SWLT and after due consideration Ben agreed to an exploratory session to investigate the lakes eel potential.
Steves credentials as an eel angler are well documented so it was a welcome opportunity for me to join Steve and learn more about how to catch specimen eels. Whilst I have caught many eels over the years I have never caught a specimen of over 3lb and this target is now firmly in my sights.
Eventually in mid-June I met up with Steve and struggled to the banks of a depleted Wistlandpound with an array of tackle, bivvies' and provisions. The weather forecast was a little ominous with a weather warning in place for thunderstorms and possible flash floods! This did little to dent our enthusiasm as eels are reported to become  more active during thunderstorms.
With the reservoir at around 60% capacity we had a good choice of accessible bank and selected a swim that gave access to deep water.
Steve gave me useful advice on the rigs to use and how to mount the small dead-baits to give a good chance of hooking an eel. Fortunately, we arrived before the rain and managed to get set up before it arrived in spectacular fashion accompanied by a very long resounding  rumble of thunder.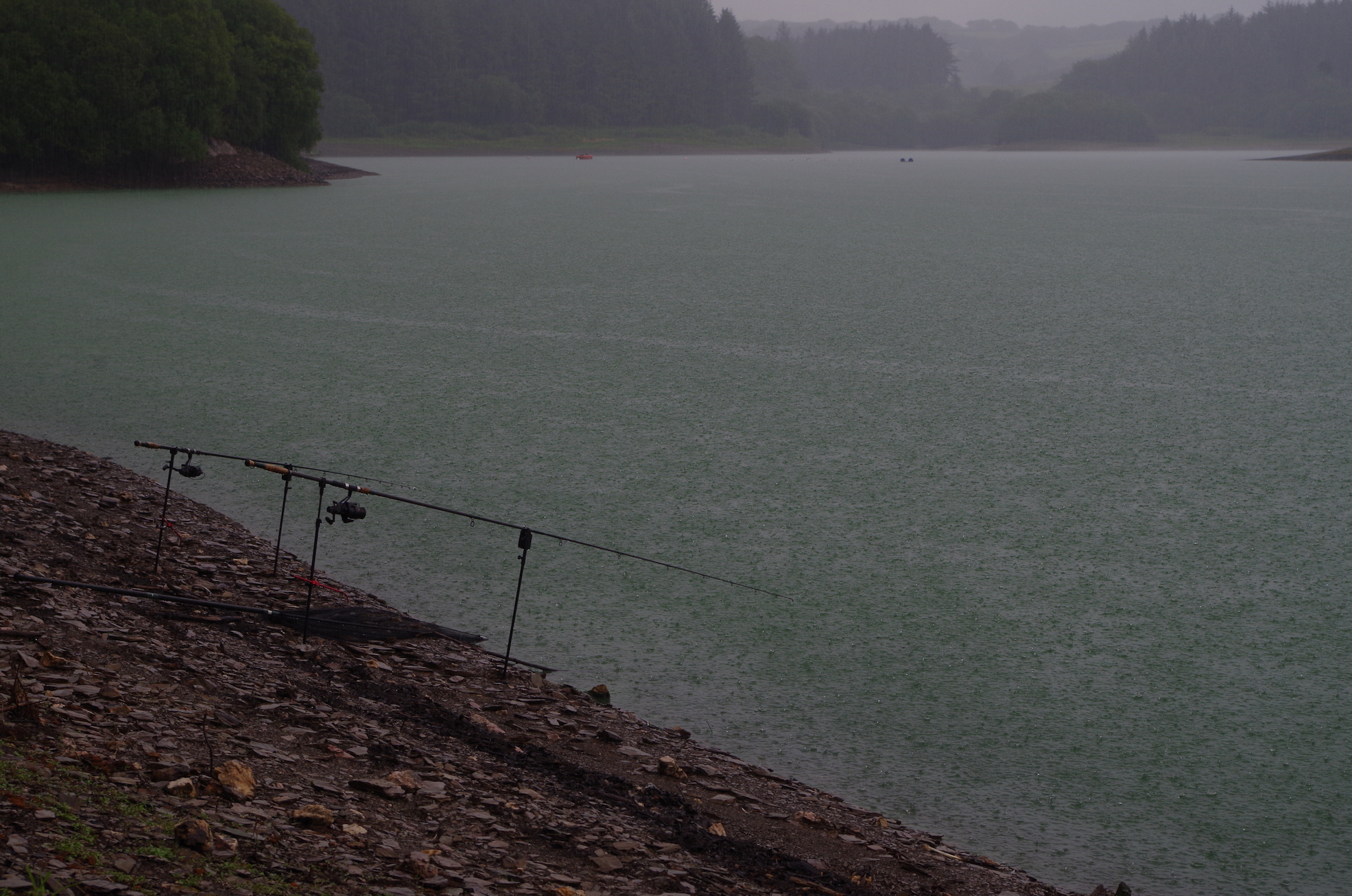 The rain beat down on our shelters and I looked out the rods hoping that a run would not come at this time. After a couple of hour's, the rain eventually eased and we brewed a hot drink and began chatting about fish and fishing.
Suddenly Steve's alarm burst into life and he was at his rod in expectation. To our disappointment he failed to connect and reeled in to find that his bait was gone.
We didn't have long to wait though for within minutes my alarm sounded and I hoked into the culprit. It was no eel but a stunning wild brown trout of around 1lb 8oz.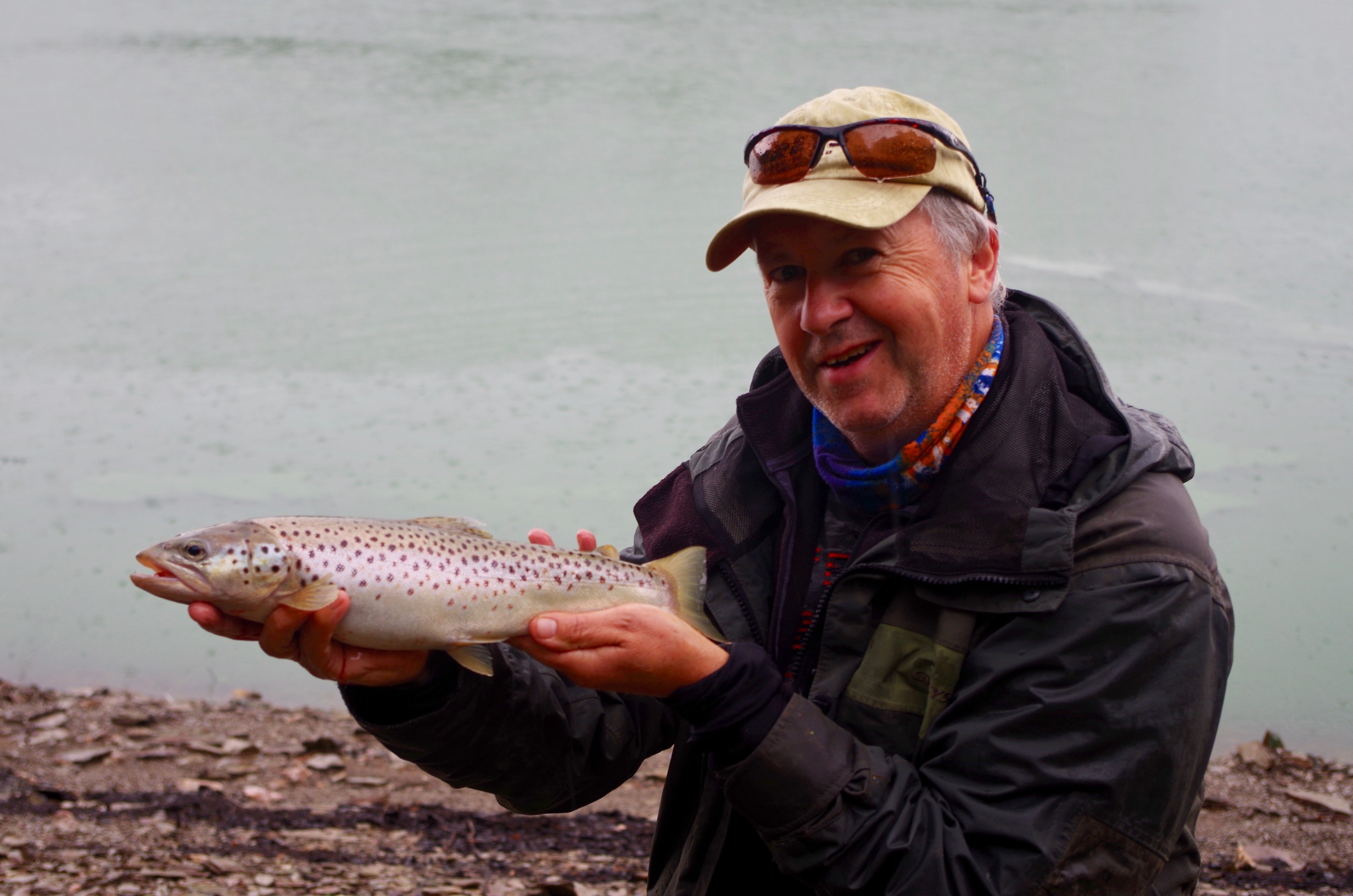 Within half an hour Steve was in action again and connected this time to bring to the net a stunning wild brown trout that must have been over 3lb. I wondered just how big these wild browns grow to within the lake. I suspect there are a few surprises as there is now an abundance of silvery rudd residing in the lake perfect prey the lakes wild browns to grow to a large size.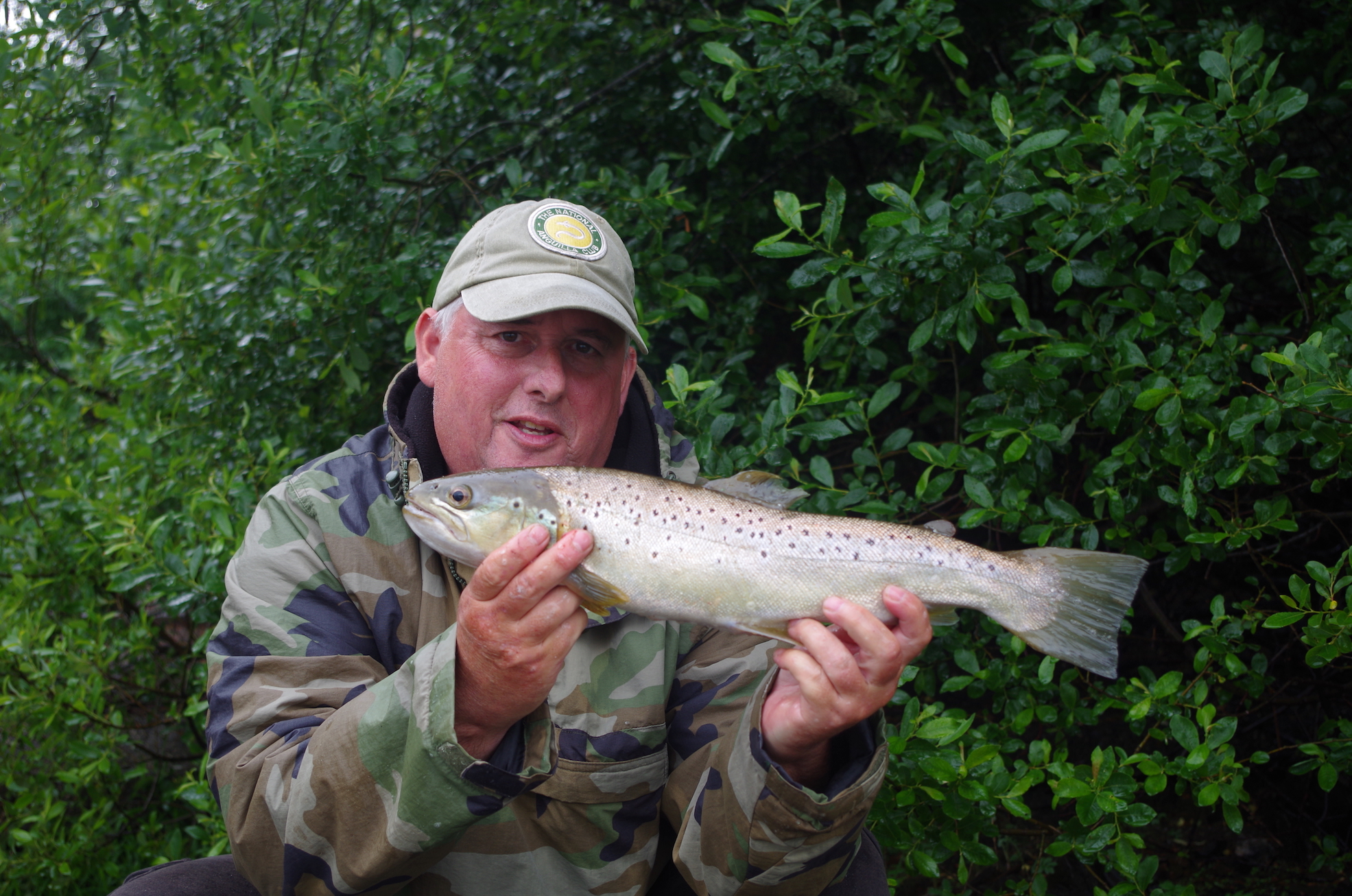 Recent seasons have unfortunately been blighted by an abundance of thick green algae making fly Fishing difficult at times. Whilst trout are no longer stocked into the reservoir there is a good head of wild brown trout present and I am sure that Fly Fishing during the autumn could produce the goods as these large browns feed on the lakes abundant fry.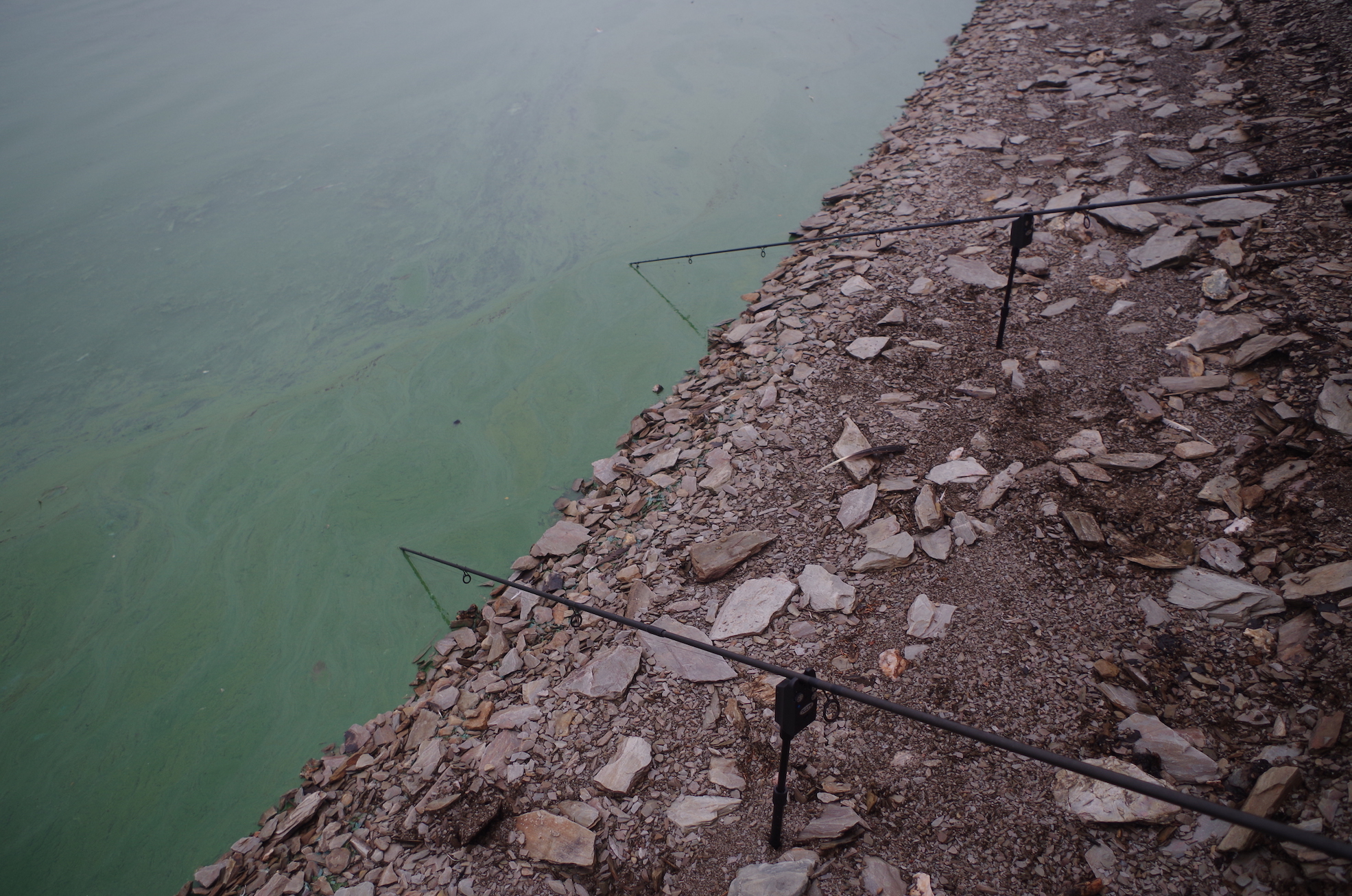 As the evening descended Steve and I talked extensively about our fishing lives and the many places  that we have visited and plan to perhaps visit in the future.
As we chatted we frequently cast our eyes upon the rods perched beside the lake their tips pointing into the green water. As the light faded expectation grew as this was surely the eels meal time?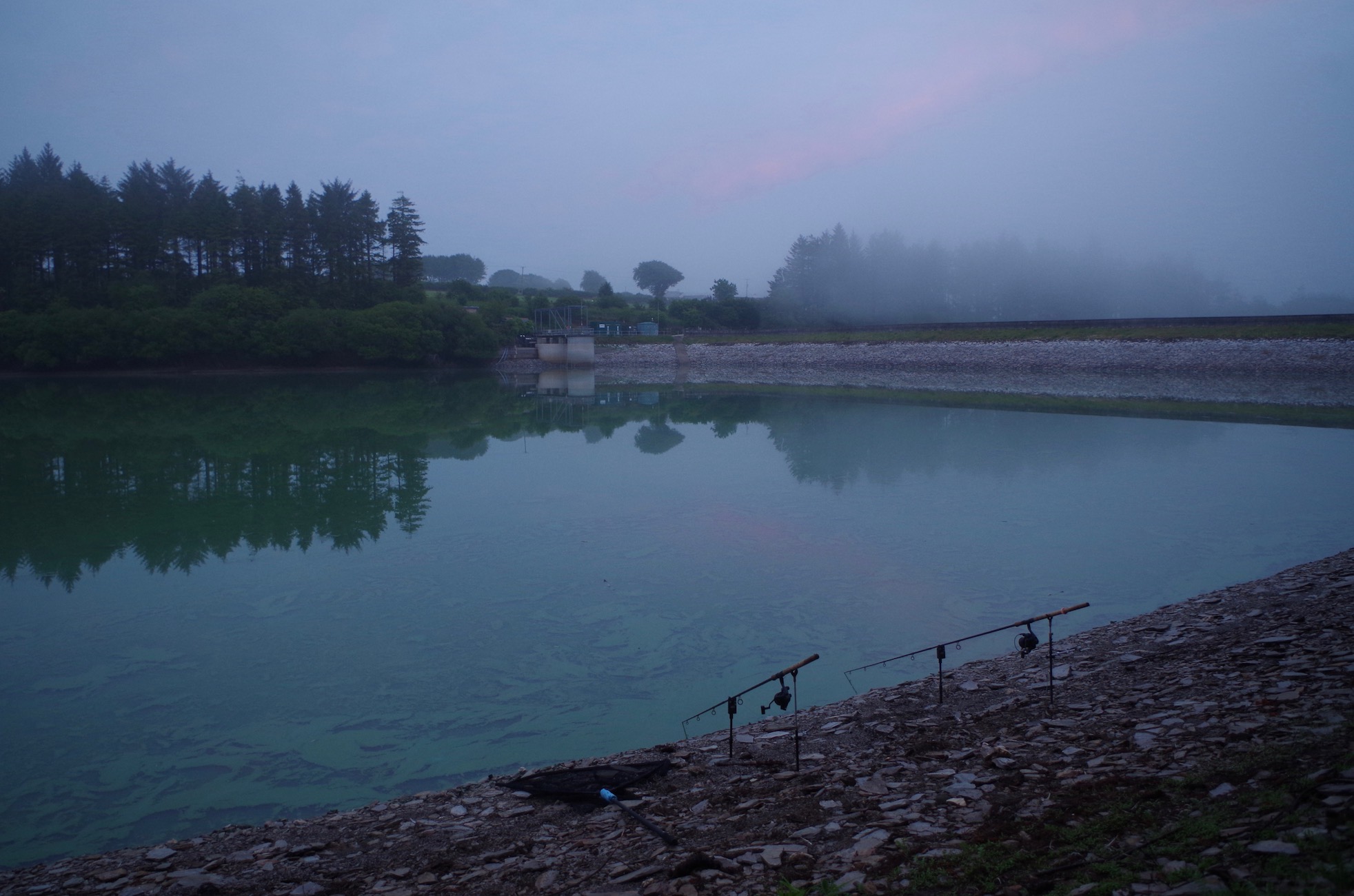 After last hot drinks we both retired to our shelters to catch some sleep. Occasionally an alarm would give a single bleep and I would tense in anticipation. On one occasion I looked out to see a shadow flit away from the rods, an inquisitive fox I believe.
Just before light some type of bird gave a repeated cry that echoed around the lake in a strange almost stereo like mode. I spoke to Steve later who thought it could have been a type of hawk. Thinking back, I should have recorded it on my phone.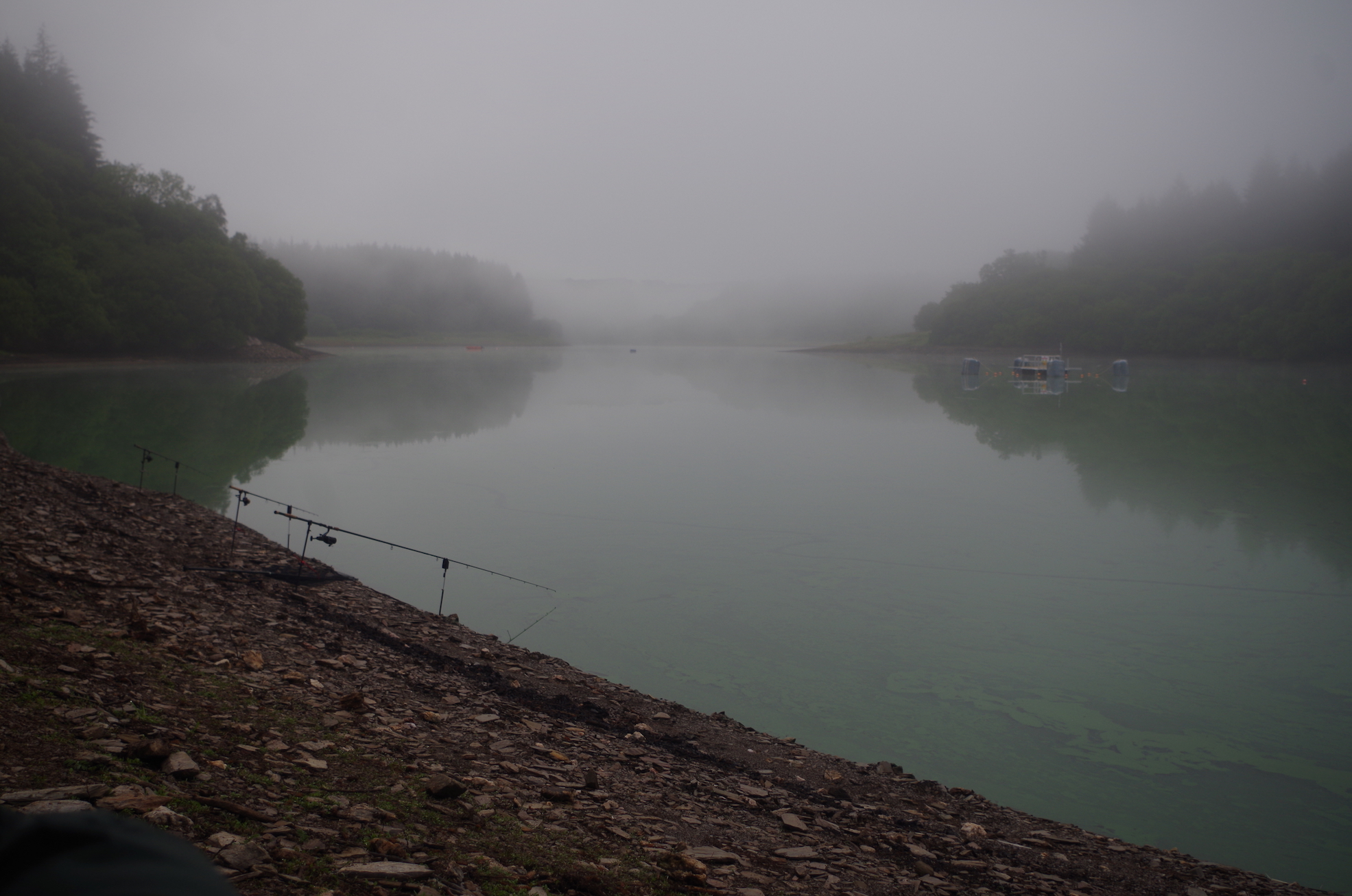 I snoozed intermittently as a grey and misty day dawned. I took a look at the weather forecast that told of heavy rain from 8.00am. The rods remained poised at the waters edge but by now our expectations of catching the mysterious eel had faded. After a rushed brew and breakfast we packed away our gear to escape before the rain. The question remains unanswered for now. The problem is that life is short and big eels can take time to find.
Fortunately there are plenty of other SWLT waters that have proven big eel potential. Upper Tamar lake, Lower Tamar, Melbury and Jennets all hold eels of over 4lb with far bigger eels likely to be lurking in the mysterious depths.