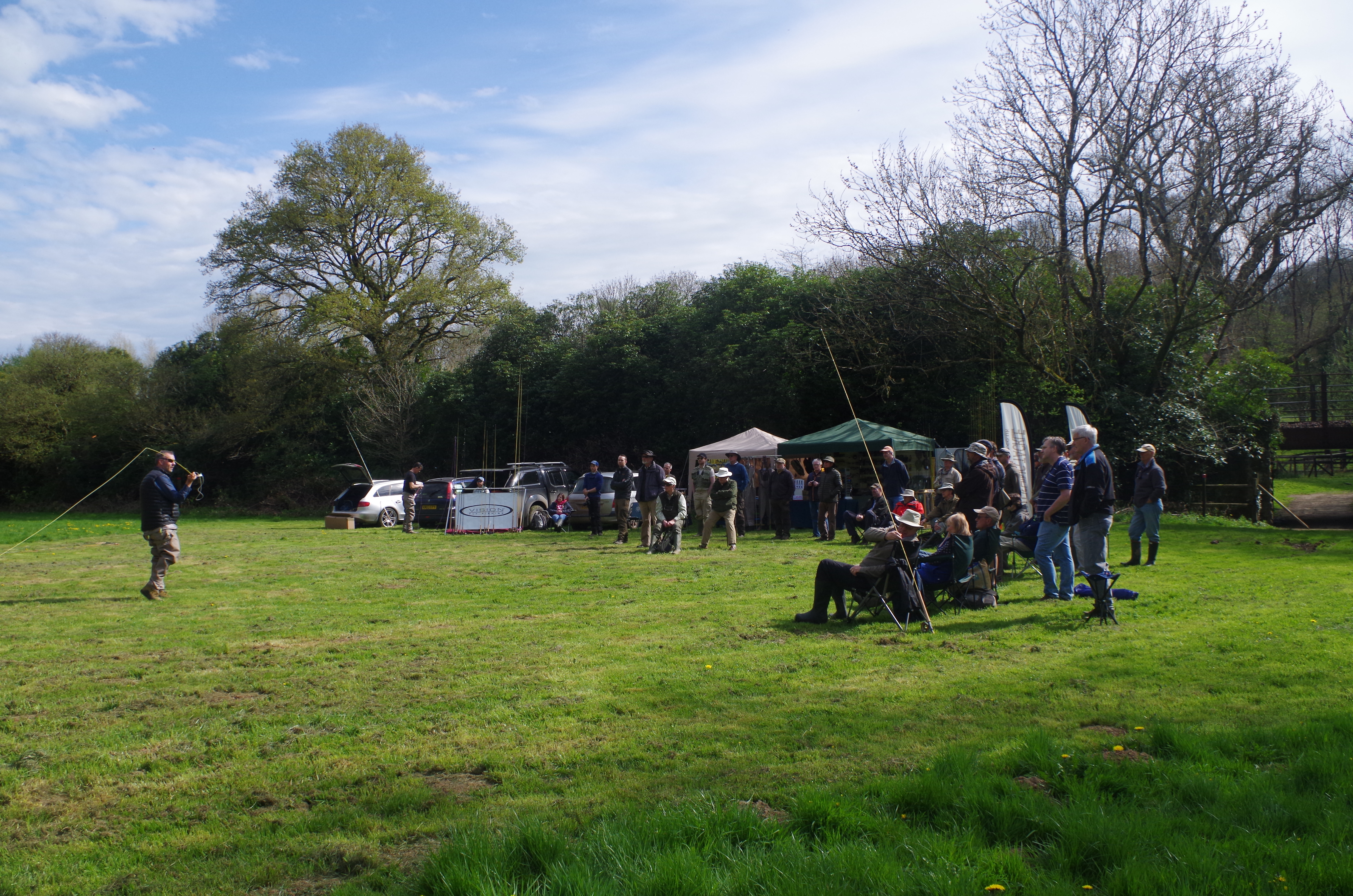 The 2018 Westcountry Fly Fishing Course has been running for thirteen or fourteen years at the Fox and Hounds Country Hotel at Eggesford and has become an eagerly anticipated event amongst those in the know. The event is organized by Crediton based Fly Fishing Tackle.co.uk and the Devon School of Fly Fishing. The format is to gather some of the countries top Fly Fishing Guides together with an assembly of top Fly Fishing Tackle from Vision Fly Fishing UK. Anglers who want to learn are invited and for the cost of lunch enjoy free casting tuition and advice. The event takes place in a riverside meadow that is reached via a pleasing stroll through the hotels grounds.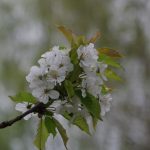 Fortunately the event was once again blessed with good April weather with just a light shower during the afternoon.
Peter Tyjas from the Devon School of Fly Fishing launched the event giving a passionate talk about the River Taw. Peter opened by talking of his love for the river and concerns about the effects of modern developments on the rivers future. He explained how intensive work by local organizations including the River Taw Fisheries Association has helped the river environment by improving upstream migration routes for migratory fish.
Peter then talked of fishing the Taw from its source high on Dartmoor near Belstone, down through the wooded valleys near Crediton and from there to the Fox and Hounds beats and then on to the bigger river below its junction with the Mole where the waters of Exmoor and Dartmoor converge.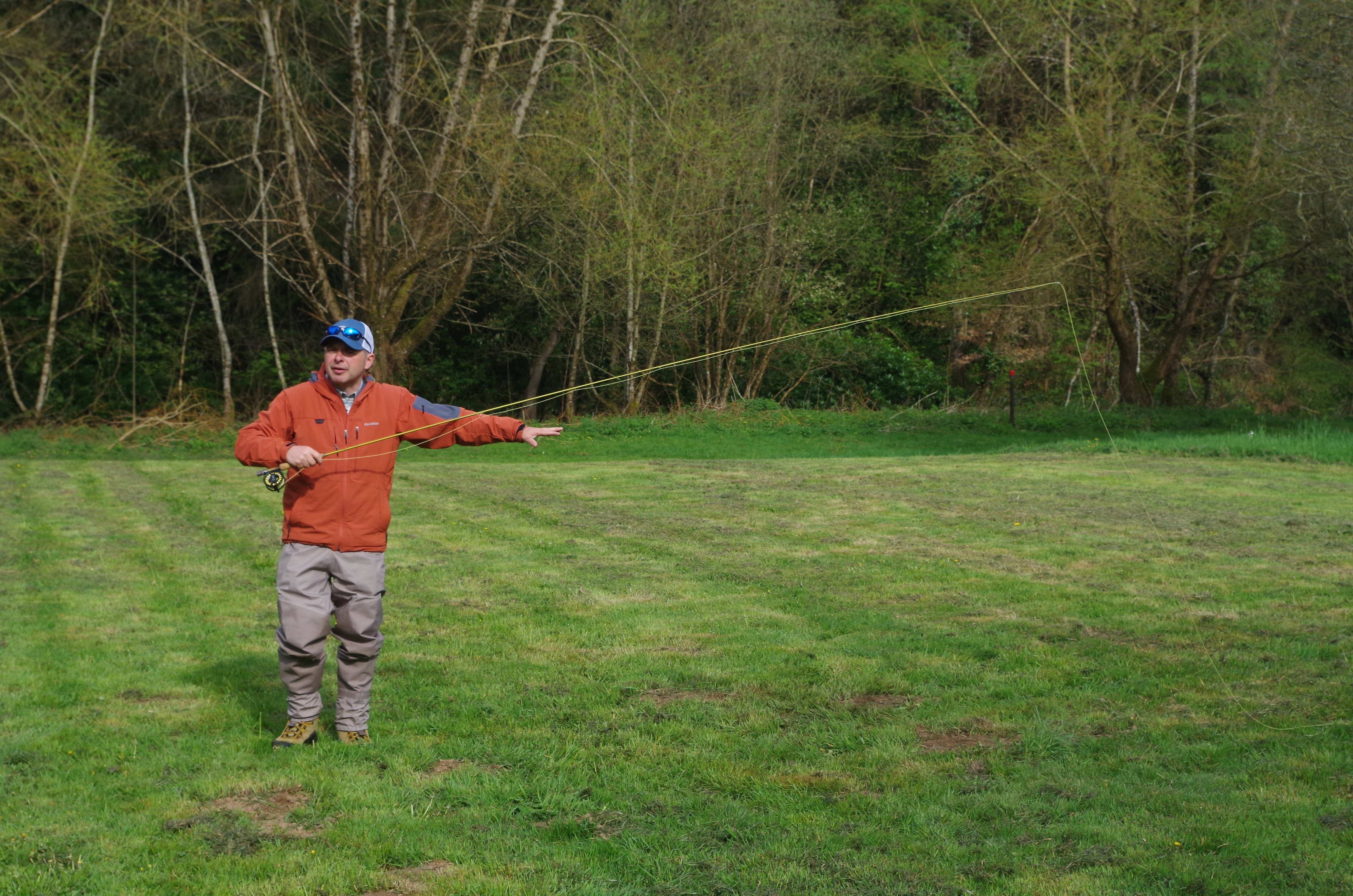 Each section of river has its own characteristics and challenges requiring a slightly modified approach and ideally tackle suited to the quarry and surroundings. For the higher open moorland a 10ft 3 weight rod was recommended, whilst in woody confines an 8ft 4 weight was considered best. As the angler moves lower down the river a 9 ft four weight rod is better for the trout. The salmon and sea trout obviously require heavier tackle and this was described in detail with switch rods and double handed rods explained in depth.
Peter described the tactics likely to succeed and the correct approach. Some key points being the need for stealth and careful consideration as to where the fish will be lying. Being a Fly Fishing Course there was of course emphasis on how to put the fly in front of the trout using different techniques.
Entomology was explained in some detail and which flies to select for different occasions. The need for good presentation was given a great deal of importance for Peter is a great exponent of putting the fly in the right place without scaring the fish. Far better to present the wrong fly right than the right fly wrong. Fish have only a few seconds to decide whether to take or eject the chance of food.
Peter repeatedly expressed his views on taking care of the precious resource of the fish within the river system. A fish should be held only briefly close to the water for a quick photo. The traditional pose with the angler holding the fish out of water is frowned upon.
I found Peters section on salmon and sea trout very thought provoking realizing that I can at times become a little mechanical in my own approach. Whilst the standard across and down searching of the river is often effective it is not the only way to fish. The use of streamer type flies cast across or upstream and pulled briskly to stimulate an aggressive approach from salmon and sea trout is a technique I will try more often. I have caught using sun-ray shadows and had aggressive follows and takes whilst retrieving the fly briskly but have tended to resort to these tactics on rare occasions late in the season. I have been guilty on many occasions of going through the motions. Pleasant as this can be there are times when thinking a little more out of the box may bring a bonus fish.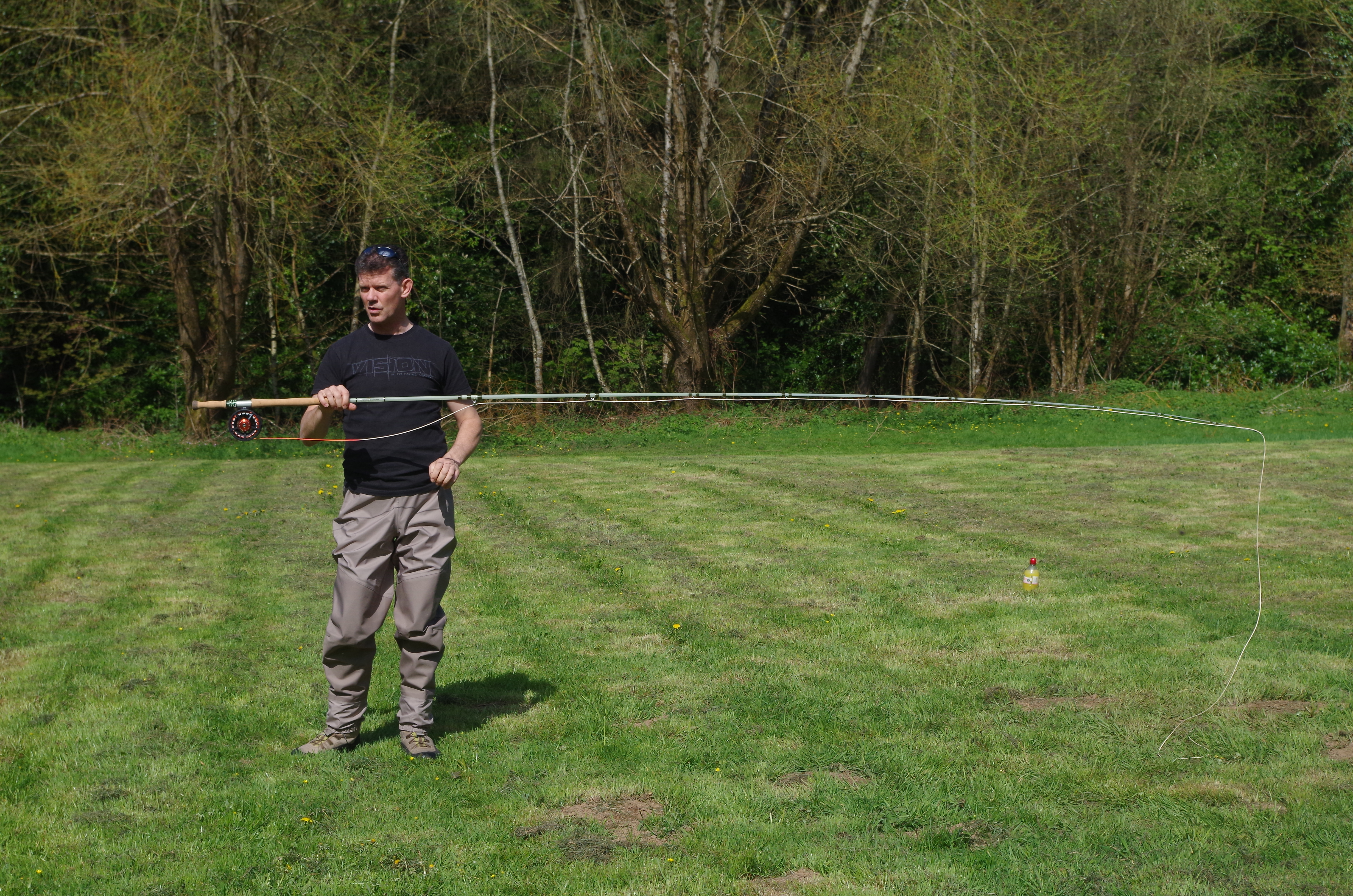 Following on from Peter fascinating talk we were treated to a talks and demonstrations from Jim Williams AAPGAI Master level fly fishing & fly casting instructor, sales manager for Vision Fly Fishing UK and Ian May AAPGAI Master Instructor based in Hampshire, teaching both single and double handed disciplines for salmon, trout and grayling. These talks focused on casting techniques to combat the weather, improving presentation, accuracy and distance. Loop speed, lines, rods, tension, balance, rods actions, materials and personal preference were all given careful deliberation and explanation in an entertaining way.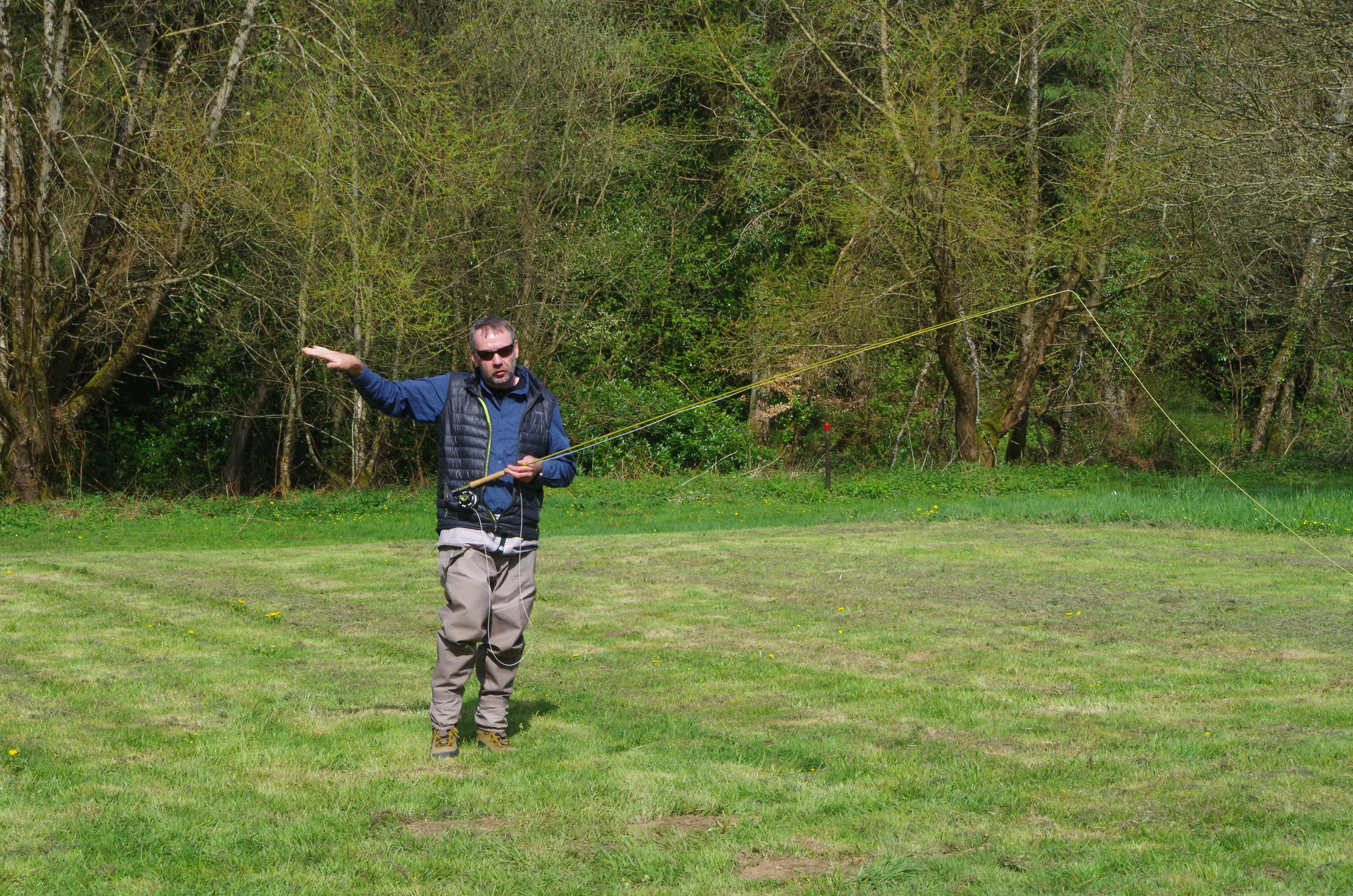 An hour's break for dinner took us all to the bar and dining room of the Fox and Hounds. The walls here are decorated with an array of fascinating photos. Many of which show ladies and gentlemen from a long gone generation posing with splendid catches of salmon and sea trout. Whilst in this more enlightened age we return the fish we catch we should not judge these anglers who took fish for the table in times of plenty. It would be wonderful to see the return of those runs of fish. There are some pictures that show a day's catch of salmon that would today constitute a season's haul not just for one angler but for whole beat.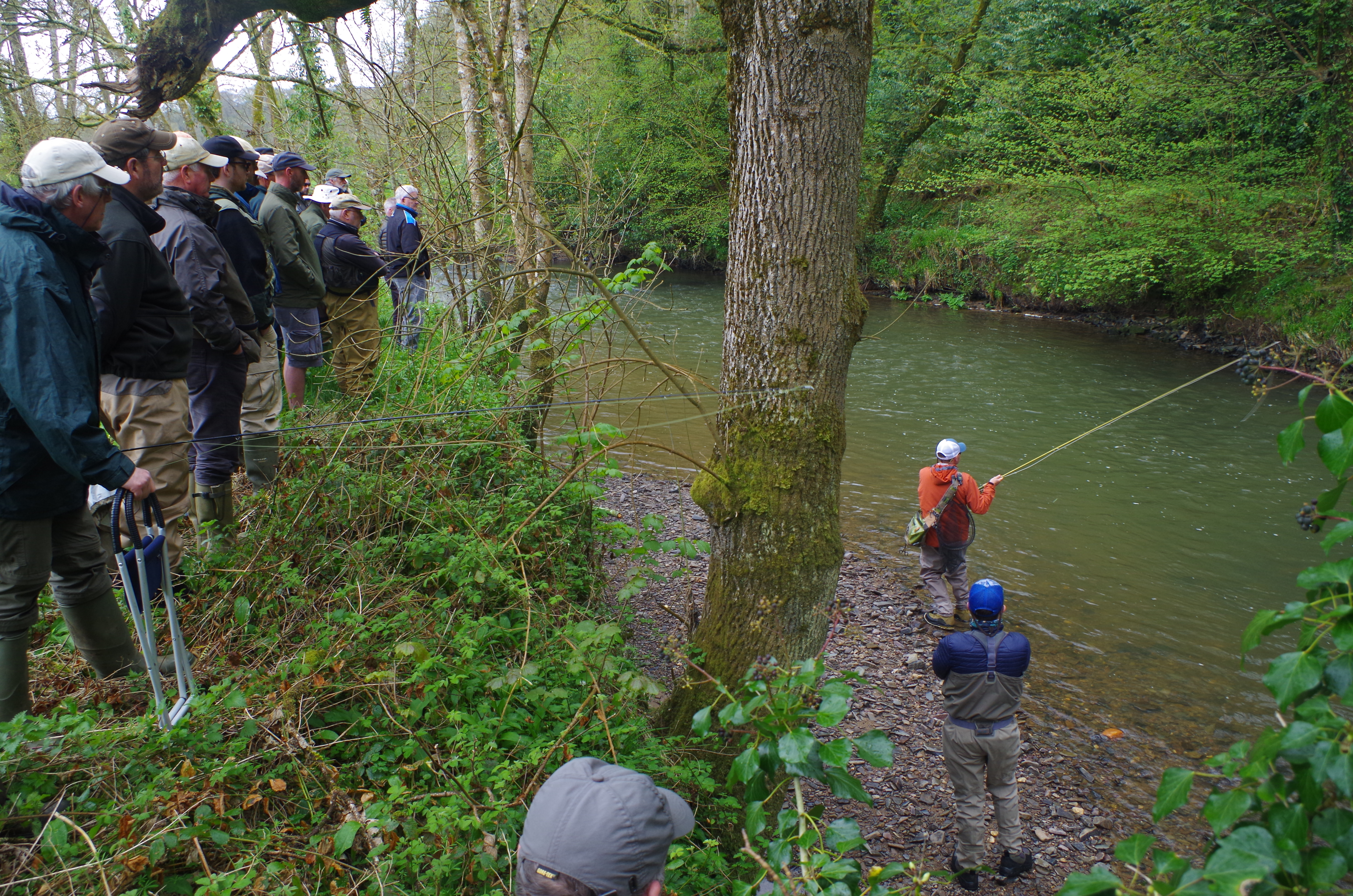 With our hunger sated we once again sauntered back to the water meadow for practical demonstrations on how to tackle the river. Peter Tyjas and Sam Baycroft displayed the art of fishing New Zealand style with a nymph and dry fly combination whilst Jim Williams gave a fascinating insight into the art of French nymphing.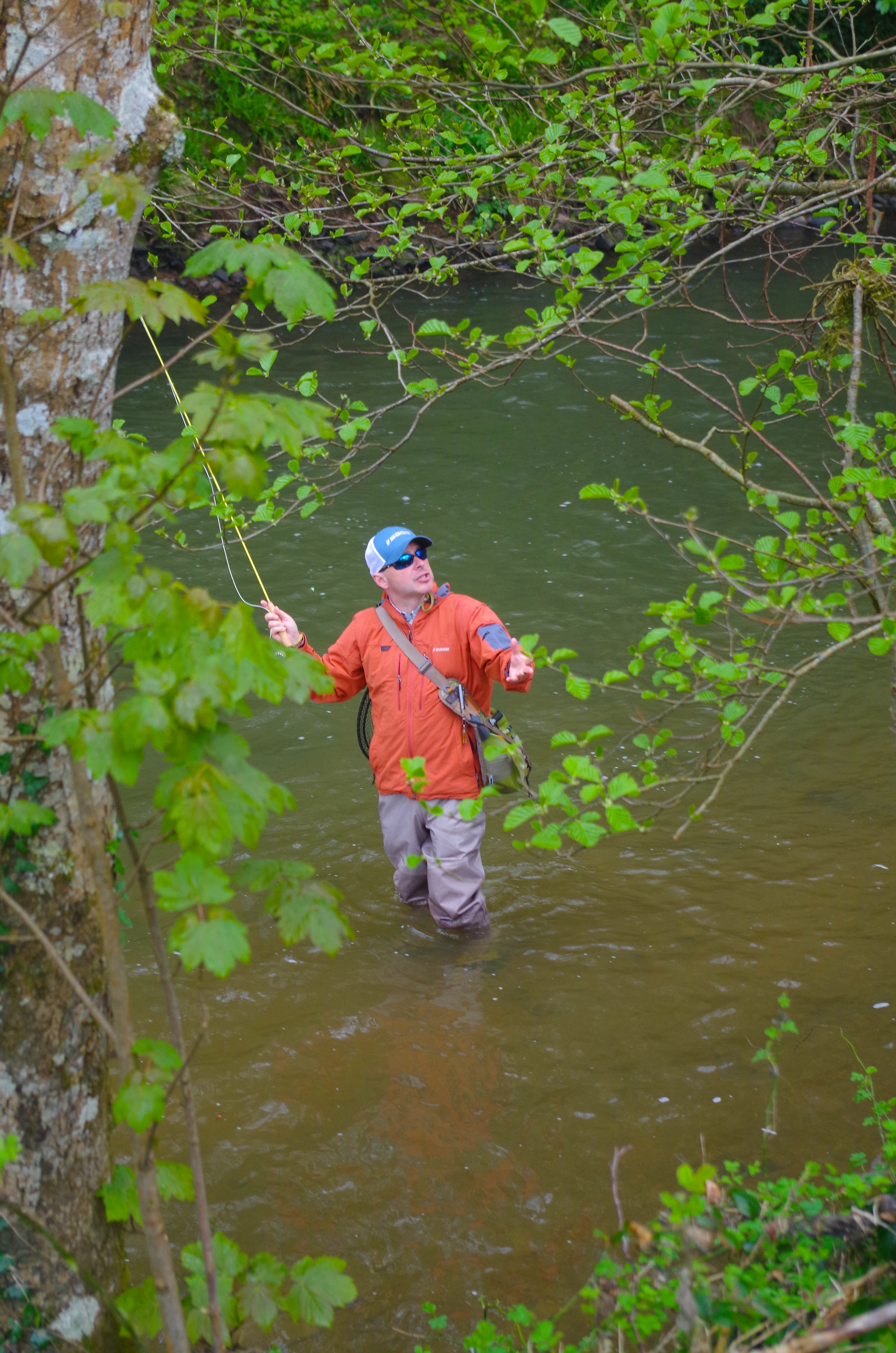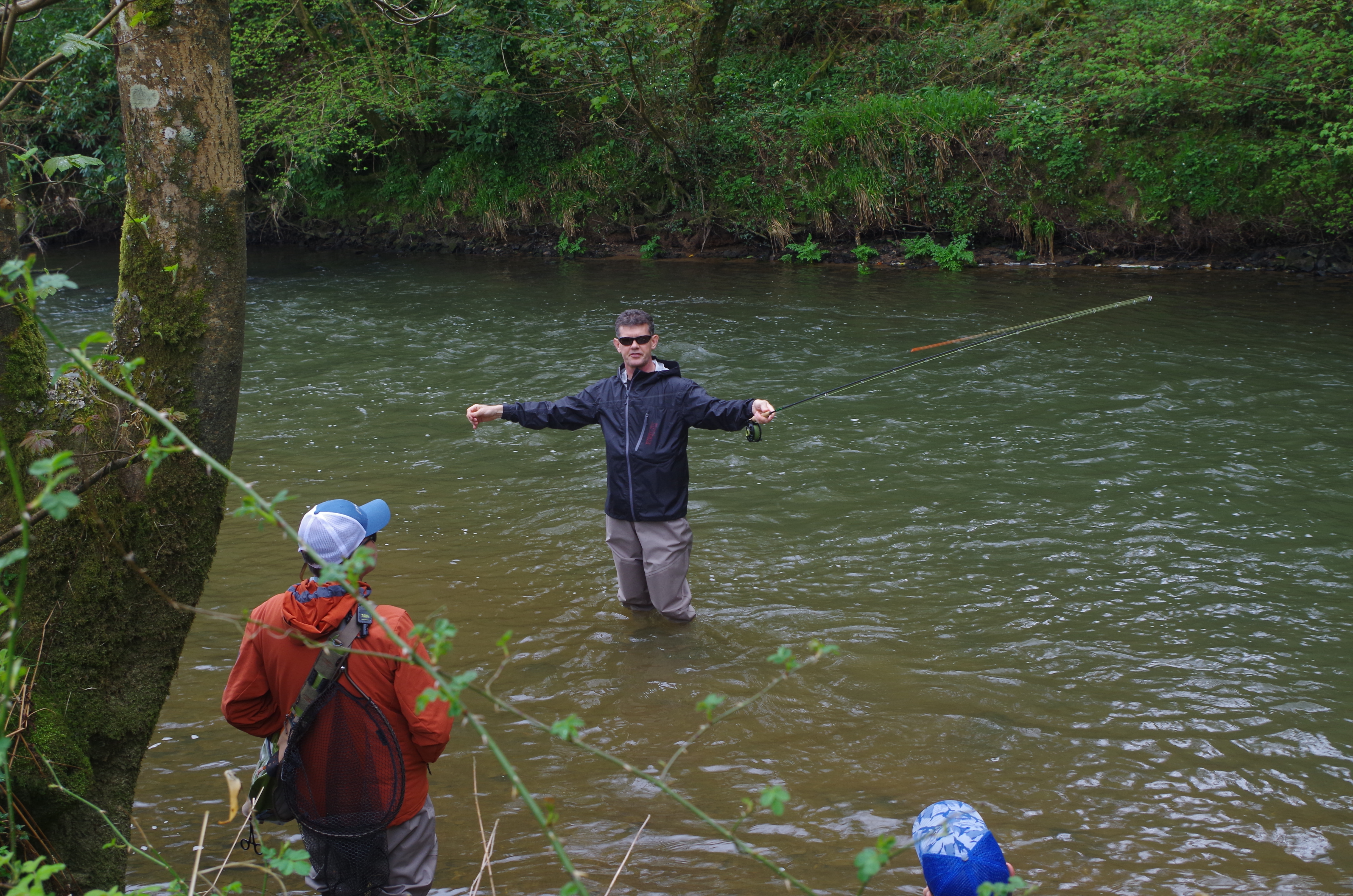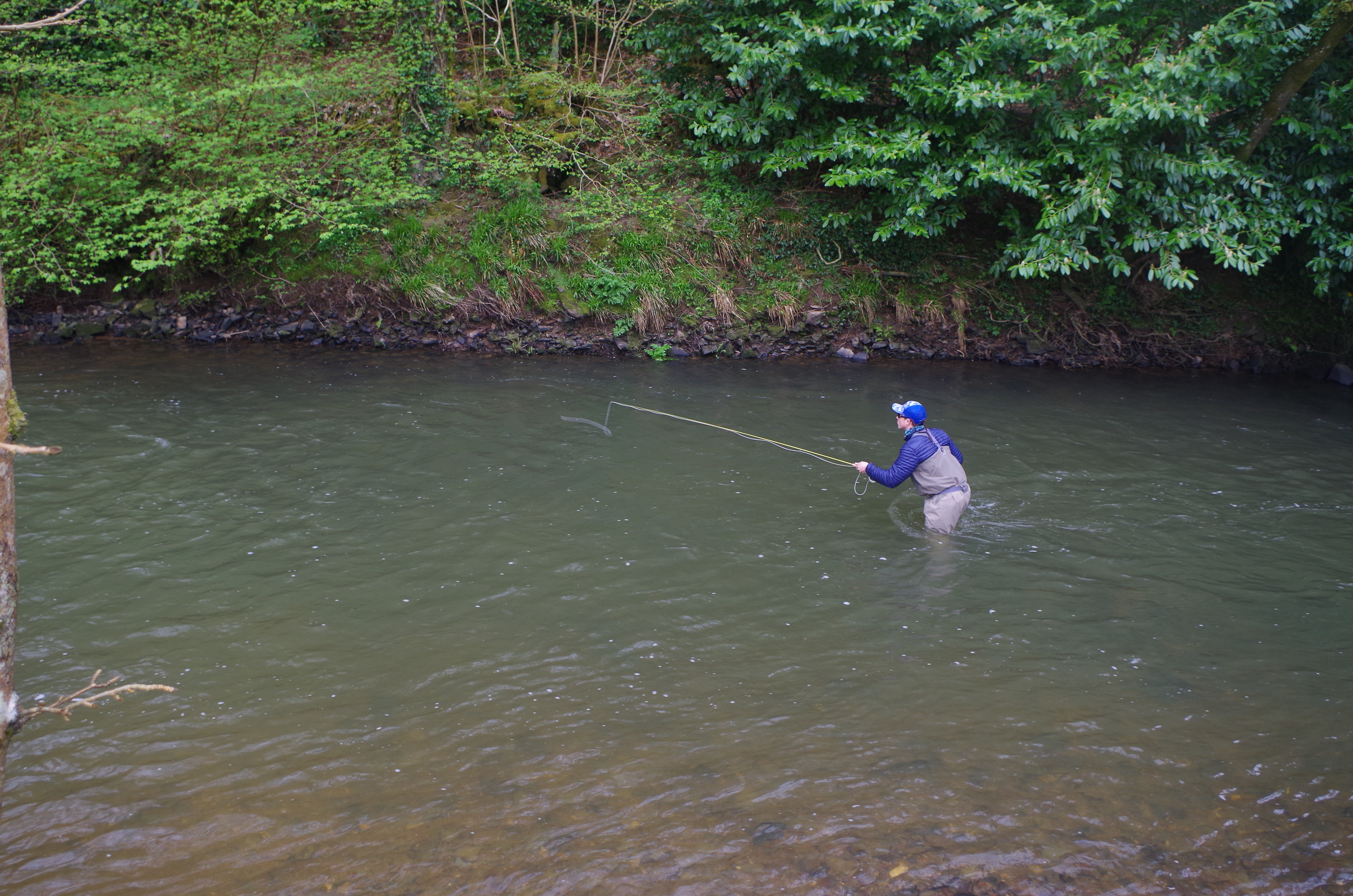 A short session of further casting instruction and rod waggling followed in the field before proceedings were brought to a close with a draw for a quality landing net donated by Vision. I am sure all who attended left eager to get out fishing trying out their new found skills. Thanks must go to all involved in the delivery of the day. Such events are invaluable in promoting the sport. It would be good to see a few more ladies and young anglers at the events as there is much to enjoy within this wonderful sport that engages with the environment and fosters a deep appreciation of the countryside. There are also I feel many benefits to participants for both mental well being social interaction and good health.