I always enjoy Richard Wilsons witty column of comment that so often resonates with my own experience.  I must admit I often feel a little outgunned when I visit the waters edge and open my small fly boxes of often bedraggled flys. I generally manage to catch a few though despite not having boxes full of every size and colour buzzer available. I often wonder if the the natural world has as many types of nymphs as the average anglers fly box. Got me thinking of an article on fishing fashion outfits. It has to be camo for carp and blue for Match fishing……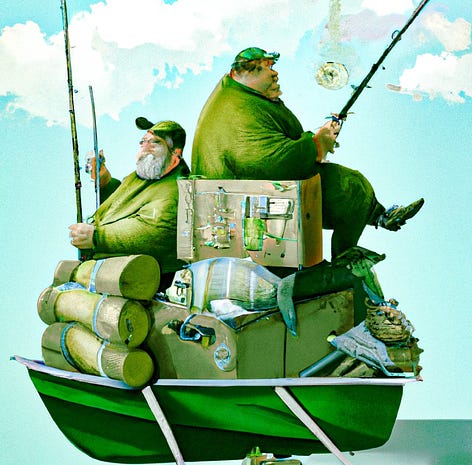 RICHARD WILSONS  FISH RISE
All the Cool Dudes – And why the fish don't give a damn.
Wanna flash your fancy gear or check out the cool kit & kaboodle that other folks carry? Or maybe just keep up with the times, fishing-wise? Maybe you, like me, worry that you're behind the curve; an also-ran in the thrusting world of fish-tech?
What to do? Who to ask? On my bit of the planet, I can spend all day on a river and never see anyone. The only other angler out there could be naked and who'd know? Not me – for which I am very grateful. But this isolation means I'm getting a bit set in my ways.
We all know that Silicon Valley mantra: move fast and break things. That's not me. Of course not. Change, even keeping up to date, comes slowly. So it was a bit of a surprise when I crashed into a transformational Eureka!moment that mugged me, unexpectedly, in a car park full of fishing folk.
A few years ago I moved house and now live near a reservoir created almost 125 years ago. It's big, well-stocked with hard-fighting rainbow trout and a place of pilgrimage for those who live further afield. By any standard you care to apply, it is well-bedded into its landscape.
The fun begins when the car park gate opens at 8 am and the arrivals parade from car to pontoon-catwalk and into the waiting hire boats. It's showtime. The display includes uber-cool 4-wheel trolleys laden with fishing luggage, multiple rod tubes and more. All greenish, of course. It's a scaled reminder of those swanky quay-side luggage displays from the golden age of transatlantic ocean liners. You're only as grand as your bags.
This is competitive. Expensive tackle, of the pay-and-display variety, is on show to upstage the less well-off with their bargain-basement rods and reels. Increasingly the only way I can tell the two apart is by price and brand logos. The last genuinely bad rod I owned was an upmarket brand. And the one before that.
I'm also witnessing a demonstration of the first rule of fishing: All tackle expands to fill the space available to it. Here the carry-on luggage limit is set by the size of the hire boat or your wallet, whichever sinks first. My craft bobs along high in the water with just me, one rod, a net, a small shoulder bag for tackle and a plastic shopping bag with a few provisions. I worry that my fellow anglers are looking down on my feeble kit assemblage with the faux concern of the well-endowed.
Once we get out fishing there are at least 20 boats, well spread out but in clear view. Initially, I'm driven by anxiety that my tackle inadequacy means others will outperform me. I'm doing what the pros call 'covering the water well' which, to you and me, means blanking. Thankfully nobody is catching anything much.  So that's OK.
Next my attention turns to how well, or not, they're casting. This would be more interesting if I could see who's doing what in the cheap seats and who's fishing the posh logos. So all I learn is that some people cast better than others. Ho-hum.
As the fishless day gets longer, I start to wonder why everyone is wearing the same colour clothes.  Greenish, of course. By now it's clear I need to get a life or catch some fish.
Despite their clear kit advantage, most of the regulars are struggling with the conditions. And so am I. Fish are not being caught.
But not quite. Because not everyone is blanking. There is a brazen exception that warms the cockles of my non-conformist heart. With a metaphoric single finger to convention, a solitary boater is breaking the dress code for just about every sort of fly fishing everywhere and ever. It's the eureka! moment that lights up my day – and it's up there with having an Osprey land on your ornithological hat.
A silver-haired gent in his late 70s is wearing a red Puffa jacket and hauling in yet another fish almost every time I look his way. He is vibrantly not in anybody's herd. And whatever he's doing it's working with no reliance whatsoever on the colour greenish. His trousers are old and dull orange, probably corduroy, lightly paint-stained and discordantly at one with the jacket.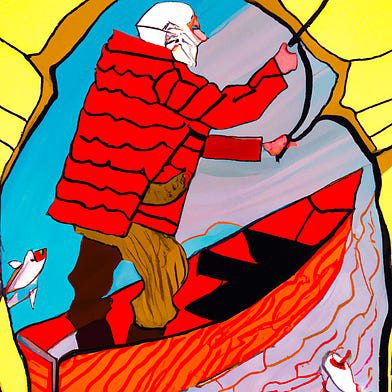 By chance, we both call it a day at the same time and step onto the pontoon a few minutes apart. We exchange greetings, his more chipper than mine.  My new acquaintance is tall and elegant – a picture of good health and a fine, Heston-esque model for his jacket. He's also wearing what seem to be comfortable rubber-soled bedroom slippers.
I was quitting because nothing was happening for me.  He has had an excellent day's sport and is in early because advancing years shorten the day.
I am awestruck and humbled. As an aspiring minimalist, I like to think my kit is inconsequential. My new acquaintance puts me to shame.  He carries no tackle bag. Just a nondescript rod and a modest but deep net, along with some spare nylon and a small fly box (all buzzers) which fit comfortably in one pocket of his iridescent jacket. I assume he also has nippers and some bits n'bobs tucked away somewhere.
He had launched with a rod, a light lunch, a net and tackle to fit in 2 modest pockets.  And he's the most successful rod on the water.  So hurrah for that! If a red jacket catches fish, I'm getting one.  I might just get one anyway.  Just to be awkward while pretending to be nearly 80 and that I haven't grown up yet.
So here's a controversial thought: Maybe the fish don't give a damn about the colour of our kit, as long as it doesn't flash or strobe.
And what if trout actually like red? This could be tough for them because red light is very hard to see when you're underwater. So if it doesn't shout Boo! they may not even know it's there. They can, however, see greenish very clearly. Brownish too. Are there two more dangerous colours for fish? When did you ever see a heron wearing red?
So, what are we waiting for?  I've seen the future: On my boat I want nothing that isn't cheap and cheerful. I will keep all the necessary tackle trimmings, like flies, in the pockets of my Hawaiian shirt.  With my red Puffa jacket I'll be sporting carpet slippers, a daft hat, plastic aviators and slobby trackies. And the rod will be jacket-matching red –  really cheap, much too short and loaded with a homemade shooting head. I can stun livestock on the far bank with that. And who's to say I won't also catch fish?
Does anyone want to enter one of those competitive tournaments with me? Is one of you fishing pros up for joining me on this? I don't think we'll disgrace ourselves and, who knows, we might even win something. With no luggage aboard we could even find space for a Ghetto Blaster. So best play-list, maybe?
Move fast, break things and go fishing. And all of it while sitting down. Eureka!