All the latest catches from Anglers Paradise as reported by Zenia Gregorek . Don't forget there are plenty of day ticket opportunities in addition to the famous holiday complex.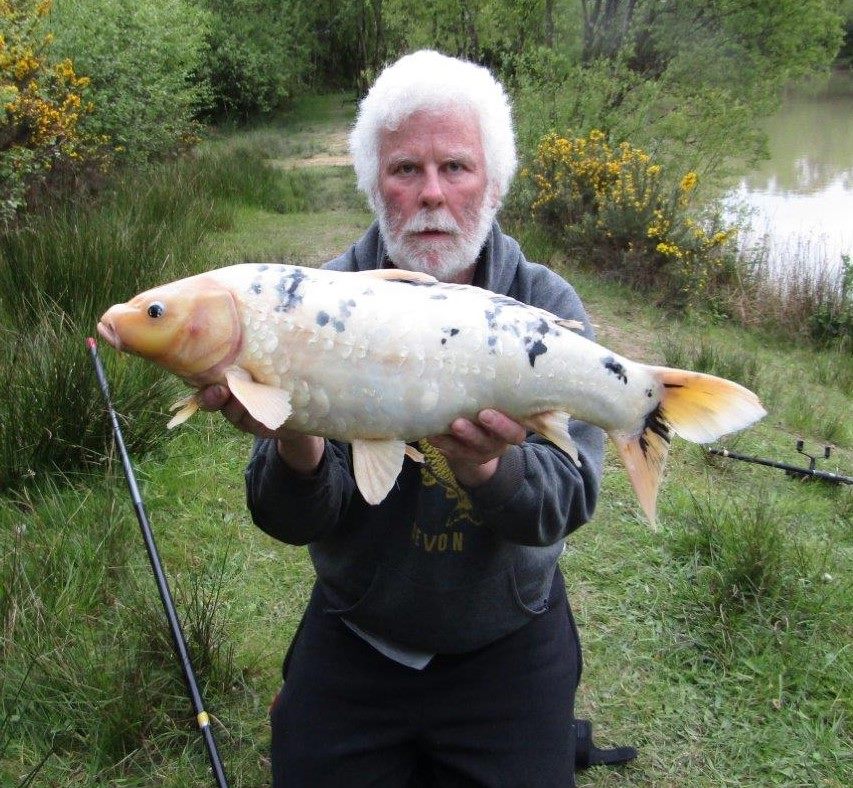 Michael Molloy who has been visiting Anglers Paradise for 20 years  and caught his Personal Best 11lb 12oz Koi from the Koi Lake on Dog Biscuits!
Michael has been trying for many years to catch an 8lb Koi so when he landed this Beauty – he was more than happy
Michael Said –
"I have been coming to Anglers Paradise for 20 years now with my Wife and Family as the fishing is fantastic as well as everyone that runs it.
I always like to have a go at the Koi Lake and have tried many years to catch an 8lb+ Koi, but haven't had any success. My nephew Luke wanted to come with me who had travelled all the way from Ireland to join us for our 2nd week of our annual AP Holiday.
We caught several Koi up to 7lbs+ on floating dog biscuits, just as we were about to pack up, a Koi came up and sucked in a biscuit!! After a good fight, I landed it and knew it was over the magical 8lb with the scales going to 11lb 12oz!!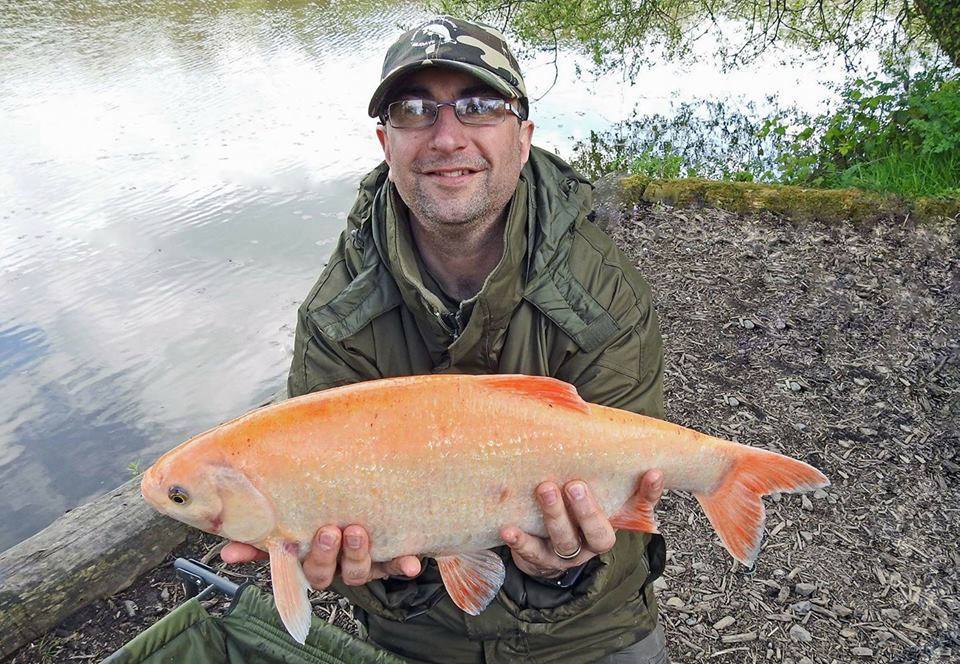 (Above) Gavin Simpson with his Winning PB 6lb 12oz Golden Orfe from the Main Lake – just 1lb 9oz short off the British Record!
Gavin's Story –
"I decided to go for an easier day and fish (read go for a sleep) on the picturesque Main Lake on the Tuesday as the previous day I'd had a non stop day catching Carp to 11lb on a waggler rod. I believe it was all down to buying a magical Anglers Paradise hat, Ziggy did tell us on the Sunday night that the fish would recognise you if you brought an AP hat or hoody! What a load of rubbish I hear you say, well, my Dad was on the next peg and only caught two all day, now there's some proof, I even asked him to make sure he actually had a hook on at one point! That'll teach him for being tight!
The Main Lake is a magical lake full of amazing fish, I had previously caught a PB Carp there last year after going to one of Jo's Rig Clinics. I looked for some signs of fish but none were showing so I settled for the famous Nev's Point and had a cast around with a lead to find any features. At 6.5 rod lengths out I found what felt like a gravelly area and set my line clip with my measuring sticks so I would reach the same spot every time along with lining up to a far bank tree.
On my first cast, with a small PVA bag of pellets attached I had an indication within about 30 seconds (see the lucky hat was working again) and caught a small Carp. Another two followed over the next couple of hours, so knowing some fish were out there I put a few freebie boilies out in the same area. After about 4 hours of fishing I had a great bite, better even than the Carp, I struck but this fish felt different. As I played it towards the net I saw this huge orange flank and thought WOW! I put the net under it and couldn't believe what I was seeing, the most enormous Golden Orfe I had ever seen, what an amazing fish! It weighed in at 6lb 12oz, I had to check what the British Record was as I was sure it couldn't be a lot more. I was right, the current record is 8lb 5oz, this fish was just 1lb 9oz off of the British record!
What a great fish and what a great memory for a trip that was a present from my wife Kerry for my 40th Birthday. I am sure there is a British record to be had in that lake for someone. Get yourself to Anglers Paradise, buy yourself one of Zyggy's magic hats or hoodies and get yourself in those record books! I'm 'Orfe' there again soon myself to try and catch a bigger one!"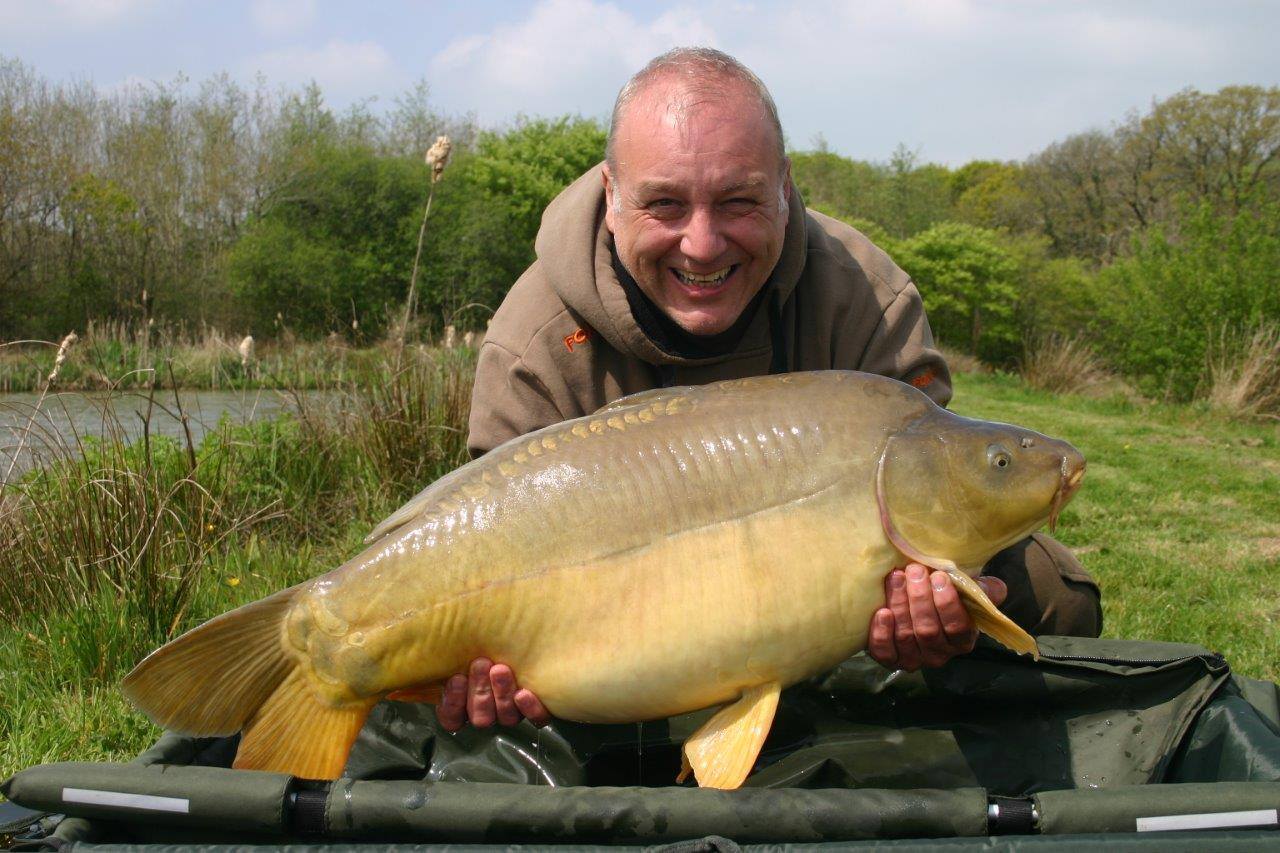 Graham Tasker fished our Day Ticket Kracking Carp Lake during his annual Anglers Paradise holiday and caught himself a lovely 34lb 2oz Mirror after a 10 minute fight!
Graham fished from Peg 2 tight to the margin on the opposite side with a 2oz lead on a snowman rig with a Salty Squid Boilie topped with a Raspberry Pop Up fished over 2kg of Salty Squid freebies.