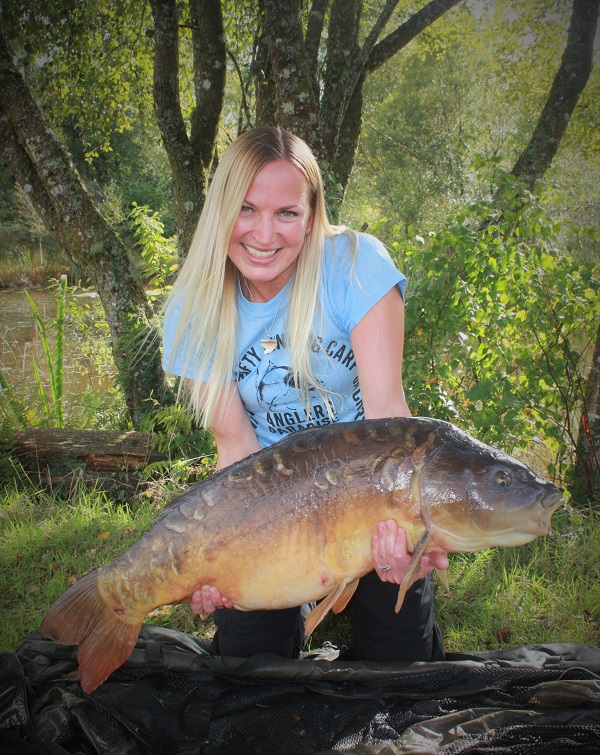 Zenia at Anglers Paradise sent this excellent account of her recent success at Angler Paradise with a little help from top angling guide Julian Chidgey.
I'm still shaking as I write this, as I still can't believe that after so many years and having 2 Sons, meant I had to take a step back from my favourite Sport Fishing, but knew when they grew a little older, that I would get my turn again!
I am now 32 Years of age, a full time Mum and Run Anglers Paradise with My Mum and Dad (Rose and Zyg Gregorek) and Husband Joe Drury, so time never allowed me to fish like I used to before becoming a Mum, hence the 6 year wait! After so many years not fishing, but looking and writing about other angler's catches, it kept me going and just felt happy to see others do so well and also sharing the passion I know and love for the sport, but it was finally time that I got out there too, I mentally couldn't wait any longer!
It had been a long time, so my memory of knots and techniques needed remembering, so that's why I asked my good Friend Julian Chidgey from Inspired Angling Services to take me Fishing and 'Re-train' me!
We first set up on the Main Carp Lake and walked around the Lake to find the Fish, it was a hot sunny day and the Fish were showing on the surface, so we took a rod, some dog biscuits and away we went on my long awaited adventure. We found a good spot, but the fish were crafty and we had to work for it, finally my first Fish was on! It was a good fight and took me straight into the Lily Pads, Julian knew how much this meant to me, and before I knew it, he was in the water and like the Fishing Indiana Jones, he waded through as I fought the fish and untangled it free to my Net! I jumped for joy as I saw it was my First Ever Grass Carp at 11lbs 7oz, my smile says it all, absolutely over the moon!!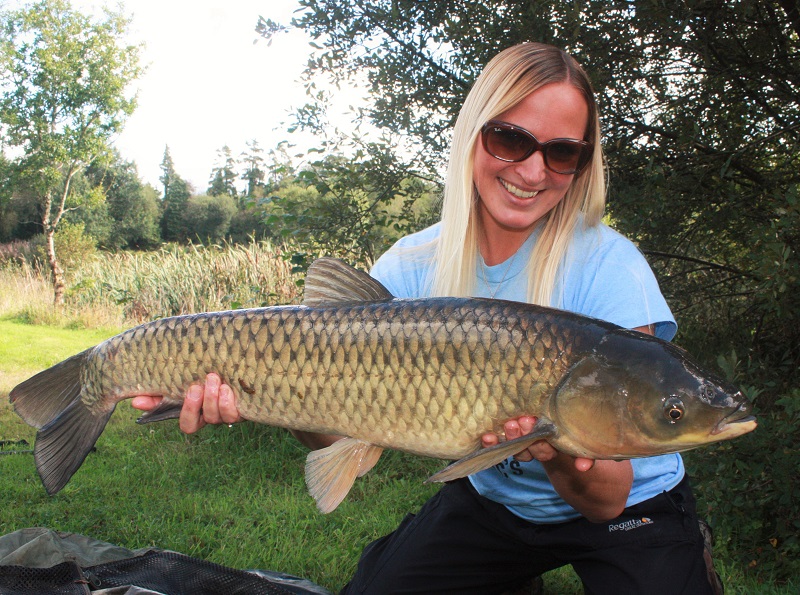 After a quick Lunch Break to re-fuel, we decided to keep on with the same tactic to search for bigger Fish off the top, that's when we went to the Specimen Carp Lake, there was plenty of Stunning and Big Carp basking in the Sun, so we wasted no time, we crept around the lake and threw some dog biscuits in to get them feeding and confidence up, every time I saw these Big Beautiful Mirrors and Commons swim past my heart was pounding, Julian said to me when we were walking to the Lake, you're going to catch a 30, and I told him to be quiet as that would never happen and I didn't even want to risk jinxing it, there's no way I could do that on my first session!!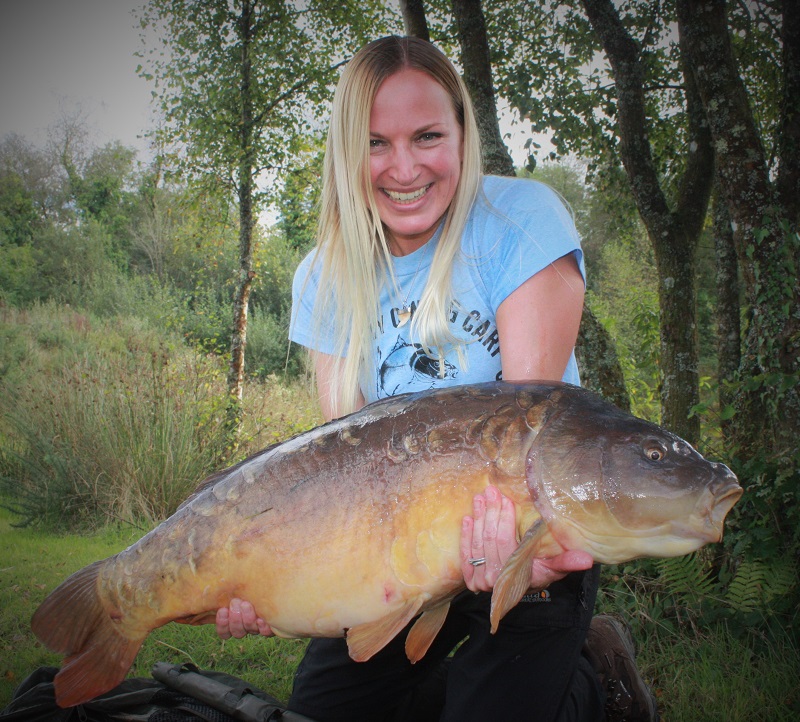 Then, the Big one came towards us, almost teasing us and turning away right at the last minute each time, but after a few turns, she finally took the biscuit and she was on!! I knew it was a big fish as soon as I felt the strength of her fight, in true Carp Style, she did everything she could to take me into the Lily Pads, and that she did, Indiana Julian wasted no time and again he waded in, I kept the rod high and line tight with all my strength, whilst Julian cleared the Lilies, I've never fought so hard to catch a fish, but there was no way we were letting this possible PB go! She came free and I continued to play her, I couldn't believe she was still on, and by me and Julian working together like a team, after another 10minutes fight she was in the net!! I couldn't believe it when I saw her, it felt like a dream. We got her on the scales, the suspense was killing me, 10 years ago I caught my PB Mirror of 27lb 8oz, never would I think I could beat that on my first session back, I couldn't look, Julian's face said it all, he asked me to look, and told me that was no longer my PB…I had to look to believe him, there it was 31lbs 4oz on the Scales – OH MY GOD!!! I couldn't believe it, and I was shaking with adrenaline and excitement all in one, I tried not to scream too loud but this was a very special moment to me and I am so grateful to Julian in helping me gain the confidence to do what I live for, without his help and tuition, this day would not have happened.
The afternoon was spent Rig Tying and Knot tying, as I wanted to be confident in going fishing again on my own, and would need to do these without Julian next time.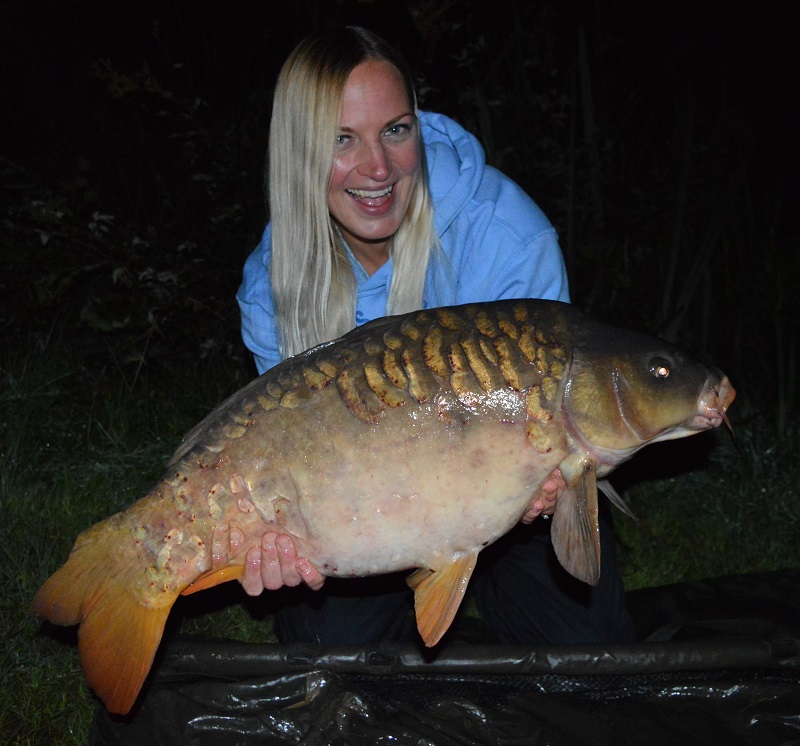 That night, on the D Rigs I had tied, I baited them both with a Paradise Baits Original Raspberry Pop Up, and hoped that my luck would continue. At 3am, I reeled in and netted a 19lb 11oz Mirror followed straight away by a stunning little Fully Scaled 10lb Mirror.
I can honestly say that the 6 year wait was DEFINITELY worth it, and I am the happiest girl in Devon right now!! Thank you to my Friend Julian for his guidance and tuition as he has given me the confidence and knowledge that I needed and I can't wait for more angling adventures, because now this Mummy is ready to fish again. Fishing is a Sport all about Sportsmanship and helping others achieve their goals as well as our own, Julian did that for me, and I am so grateful to him helping me achieve a Fishing Dream made to reality!
The Morale of the Story is Ladies; never stop believing in yourself, if I can do it, then you all can too!