Many thanks to Martin Turner for his regular North Devon Match Group Reports.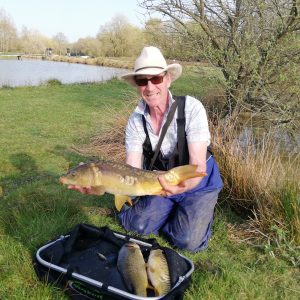 North Devon match Group Championship No 4 @ Highampton
1st  Nathan Underwood 124lb 2oz
2nd  Mark Richards 47lb 2oz
3rd Neilsen Jeffery 35lb 12oz
4th Paul Ware 33lb 8oz
5th Paul Elworthy 27lb 1oz
6th John Forster 21lb 11oz
18 Anglers fished this event held in glorious hot sunny conditions, we used both lakes and the fishing proved quite challenging for most. Local expert Nathan Underwood  took full advantage of a reasonable draw to completely dominate the field, he alternated between a method feeder and pole with paste on peg 10 on the larger lake. Mark Richards celebrated his 59th birthday with a hard earned 2nd place for the reed beds on peg 14 , 3rd spot went to Neilsen Jeffery on peg 21 on the smaller lake.