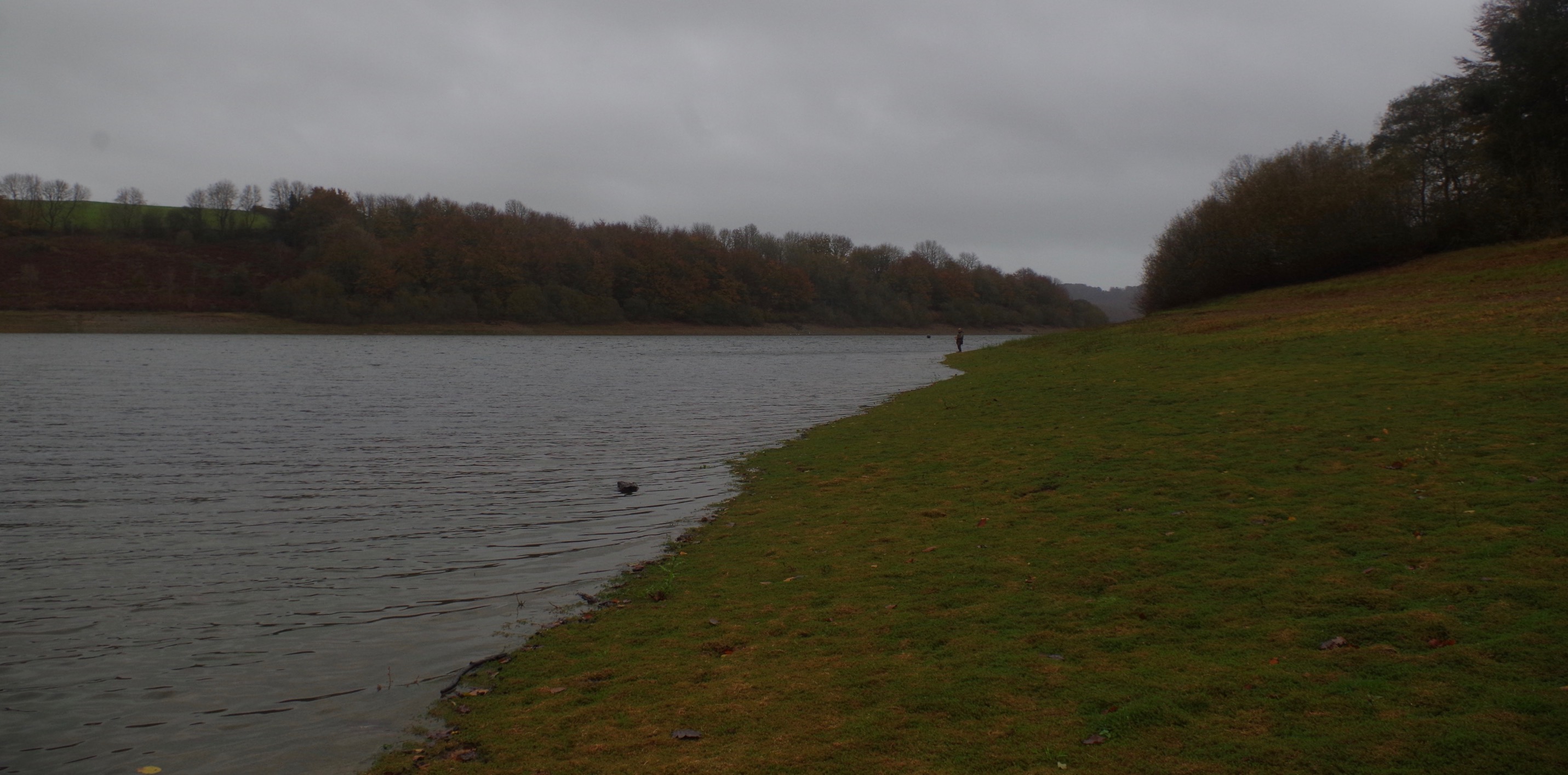 Gale force winds and heavy rain were forecast to sweep across the South West but with the wind from a Southerly direction I was optimistic that I would find the trout on the feed. November 1st was an informal meet up for members of South Molton Angling Club with the Mac Trophy up for the biggest trout banked at one of the clubs meets.
I set off at around 8.00am for the drive across Exmoor and arrived at Wimbleball for around 9.00am. A couple of members were already fishing and I wondered how they were faring. I had visited the lake a couple of weeks ago and found fish in the sailing club bay so I decided to head there for the first hour and see if I could connect. After half an hour I caught one small brown trout and decided to move on and find somewhere with a bit more movement. The gale force winds that had been forecast had failed to materialize and the rain was light and sporadic. To my surprise it was also very mild.
I tramped along to the Bessom' bank and started searching the water using an intermediate line and a small black lure. After my previous blank my confidence was starting to wane a little. An angler fishing to my left had found some action and I wondered what tactics he was employing. I changed flies a couple of times trying olive damsels with a long leader and a couple of droppers.
The sight of a bent rod once again to my left was too much to resist and I wondered over to take a look at the handsome trout that had just been netted. There was a warm cheery greeting from the angler who had now completed his five fish bag concluding with a superb looking 5lb 8oz rainbow. The Taunton based angler Krystian Makucewicz was eager to assist and showed me the fly he was using combined with a floating line and long leader.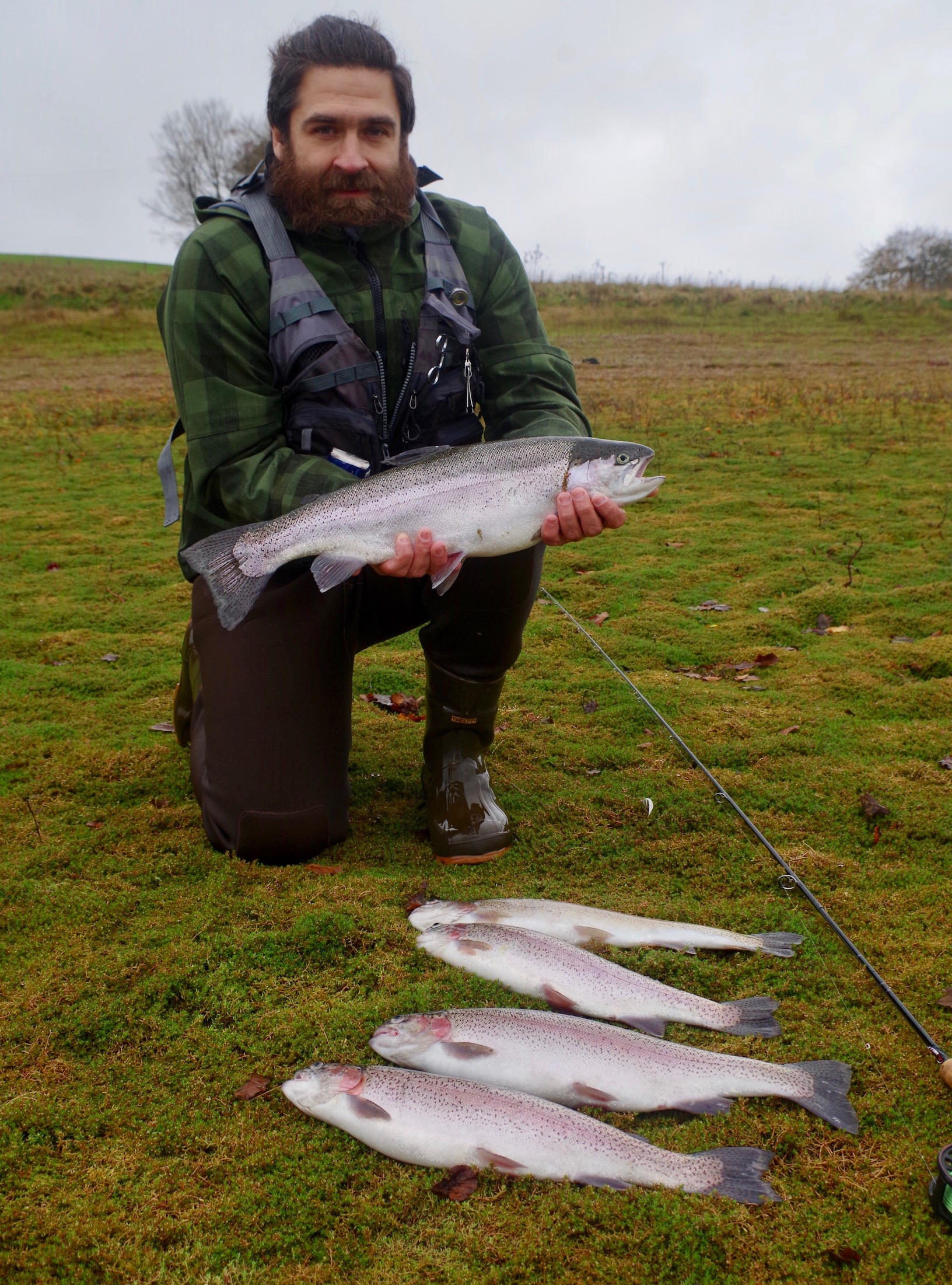 It is always a pleasure to share in the joy of success and I was inspired by the fine bag of trout displayed on the bank.
I changed over to a floating line with a long leader and attached a black lure on the point. Half an hour later the line zipped tight and an acrobatic rainbow was battling on the end of the line. Confident in my tactics I persisted catching steadily over the next four hours completing my bag at around 3.30pm as the light started to fade slightly. The fish were all good full finned rainbows the best an ounce under four pounds.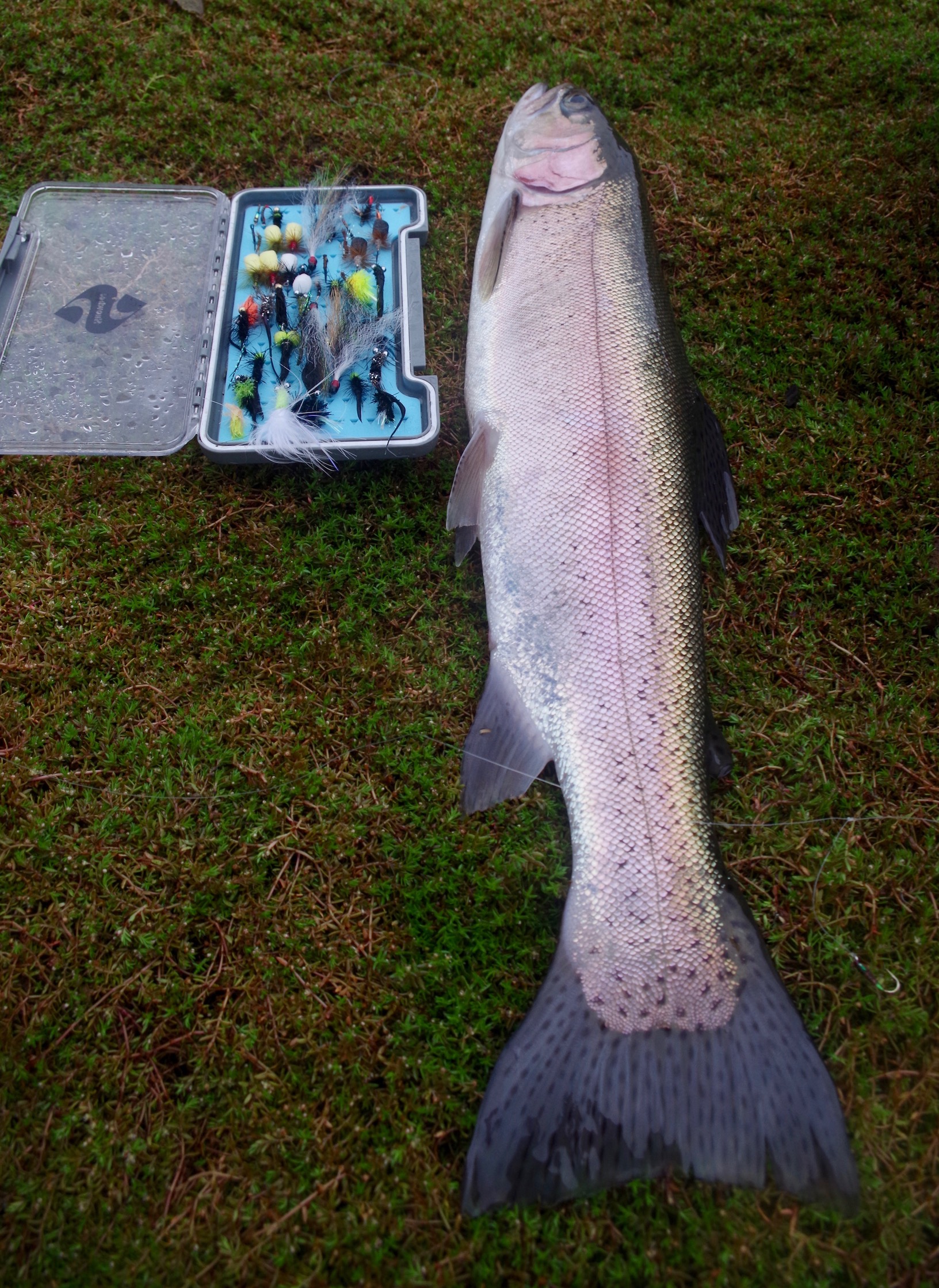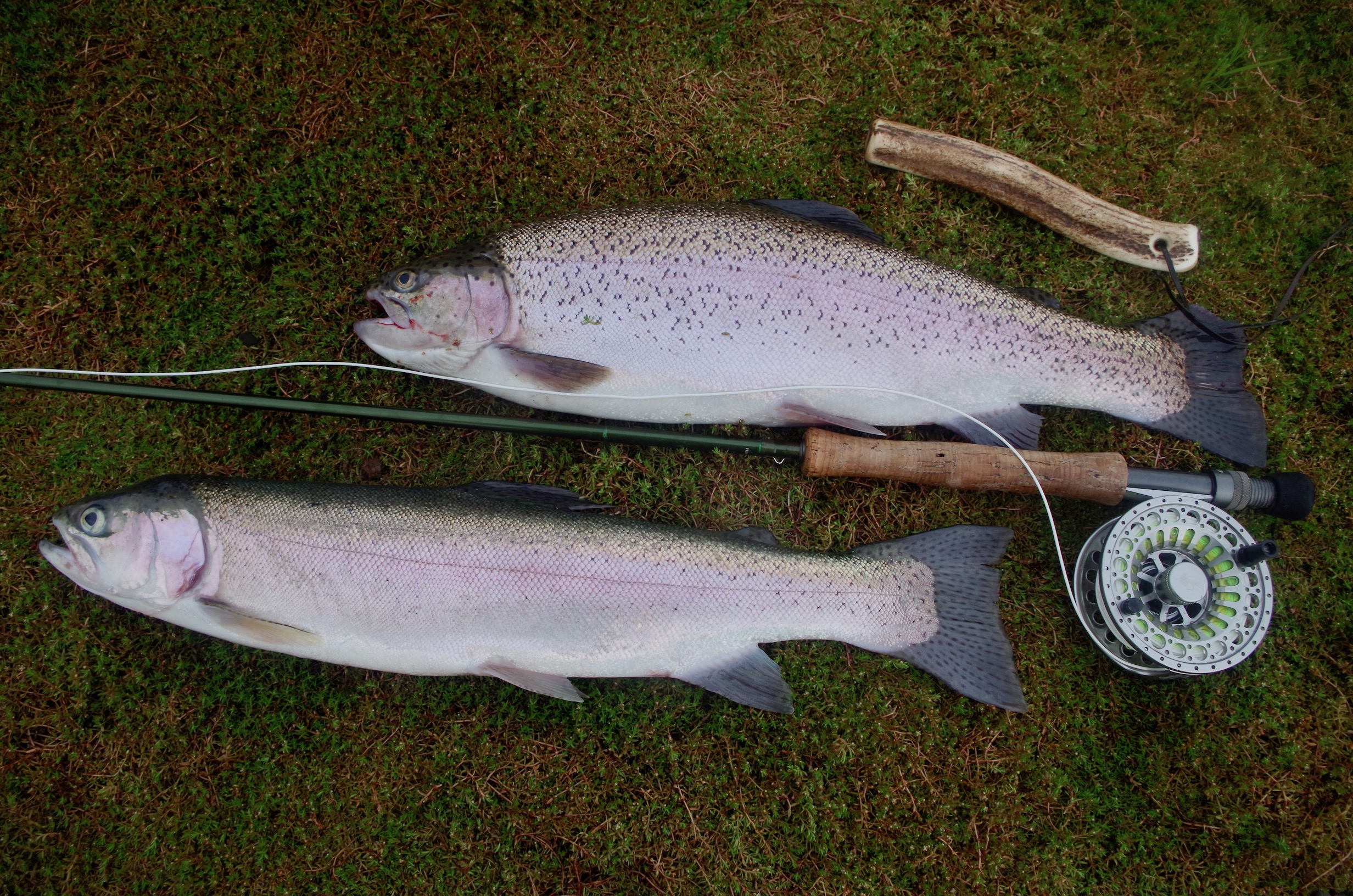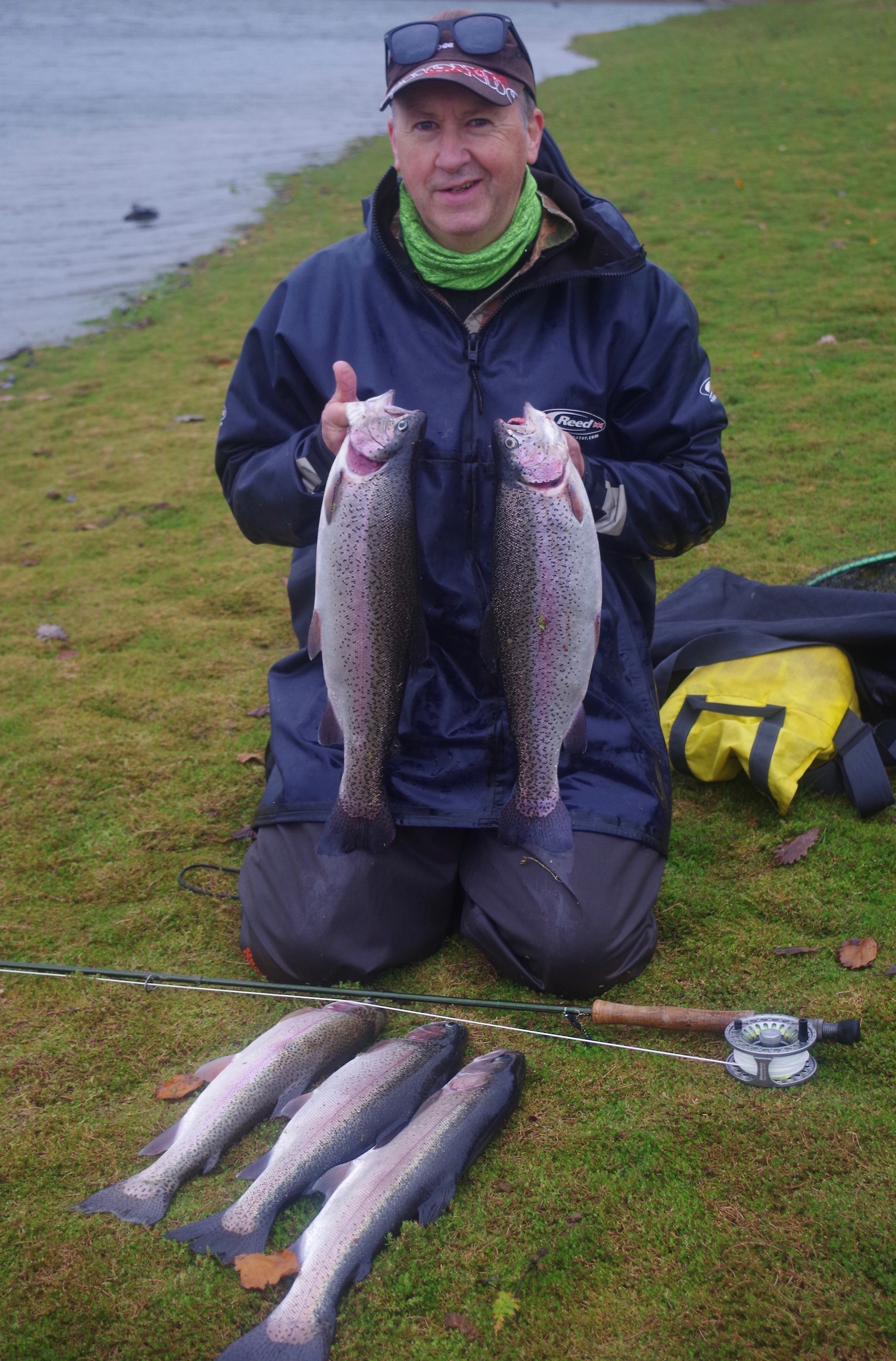 My fellow club members also managed a few rainbows but no other limits so I must give thanks to Krystian for being so generous with his advice.
When I got back into the car I was surprised to see the temperature was 15 degrees C exceptionally warm for early November. The ride back across the misty moor listening to Johnny Walkers sounds of the seventies rounded off another perfect Sunday.
Fishing is due to continue at Wimbleball until the end of December COVID regulations permitting.