Stafford Moors Sunday Open on 3rd July saw some excellent nets of fish; full report from Joanne Coombes below
We had a continental payout today. We had 25 guys fishing .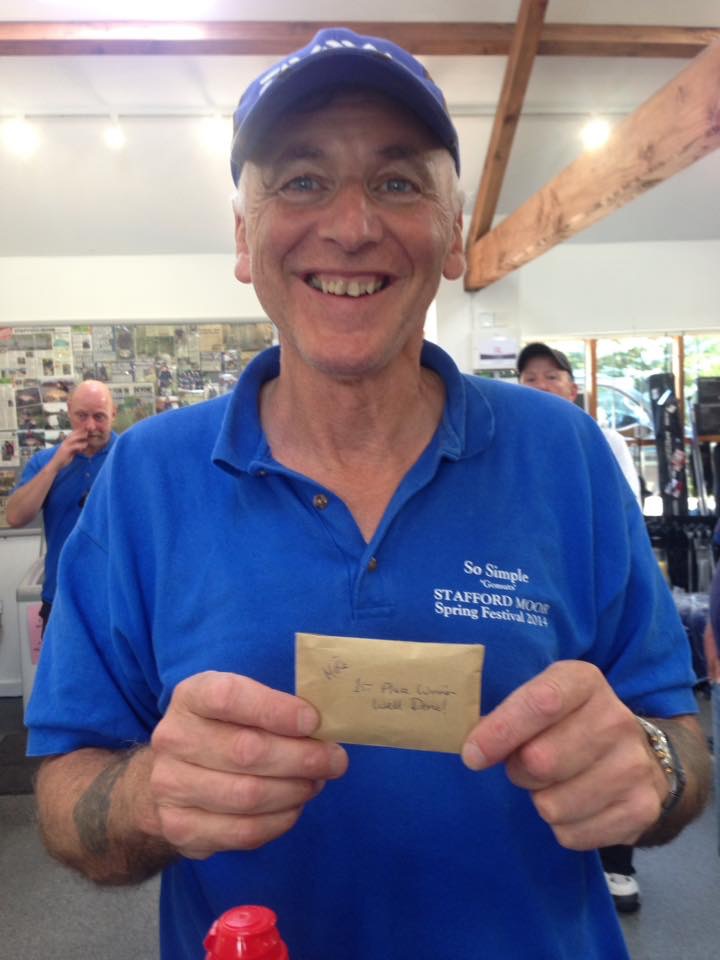 The winner was Mike Iacono (pictured below) on Woodpecker peg 32 with 183lb fishing 8mm pellet on the waggler.
In 2nd place was Tim Hagg on Tanners peg 9 with 122lb 1oz
In 3rd place was Tony Burslem on Woodpecker peg 36 with 159lb 15oz
In 4th place was Andy Webb on Tanners peg 13 with 118lb 8oz
In 5th place was Mark Cullerton on Woodpecker peg 16 with 155lb 14oz
In 6th place was Dave Stockton on Tanners peg 35 with 109lb 6oz
Our silvers winners were : Tim Hagg on Tanners 9 with 7lb 9oz & Bruce Hunt on Woodpecker peg 26 with 12lb 6oz.
Fridays residents match today on Tanners lake had a great winning weight from Steve Pearce peg 36 with 137lb 13oz fishing 8mm pellet on the bomb well done Steve! who has actually won the residents match 3 years in a row! Please see full match results below.
Overall
STEVE PEARCE Peg 36 Tanners: 137lbs 13oz
PETER VERNON Peg 9 Tanners: 122lbs 4oz
KEITH NEEDHAM Peg 11 Tanners: 90lbs 9oz
ALBERT PEARCE Peg 3 Tanners: 73lbs 14oz
BILL PEARCE Peg 35 Tanners: 73lbs 0oz
LUKE BURFORD Peg 30 Tanners: 71lbs 2oz
JOE LONERGON Peg 18 Tanners: 48lb 12oz
Mid Week Open Wednesday 5th July
What a glorious day weather wise. Had so many great weights as you can see in the full match report below. Well done to Nikki Miller who bagged himself 169lb 6oz from peg 9 fishing 8mm on the waggler.
Overall
NICKKI MILLER Peg 9 Tanners: 169lbs 6oz
BRUCE HUNT Peg 36 Tanners: 135lbs 1oz
STEVE SHAW Peg 6 Tanners: 132lbs 4oz
MARK HAYMAN Peg 35 Tanners: 129lbs 1oz
MARTIN HEARD Peg 18 Tanners: 104lbs 15oz
TERRY CLARK Peg 34 Tanners: 80lbs 2oz
ROY WORTH Peg 32 Tanners: 67lbs 8oz
PAUL CASSON Peg 11 Tanners: 66lbs 13oz
IAN CROXTON Peg 3 Tanners: 47lbs 6oz
ADRIAN CRAWLEY Peg 25 Tanners: 39lbs 7oz
STUART RUSSELL Peg 20 Tanners: 34lbs 8oz
ANDY WEBB Peg 27 Tanners: 32lbs 14oz
PETER SHERBOURNE Peg 16 Tanners: 32lbs 5oz
DAVE BARNET Peg 30 Tanners: 29lbs 15oz