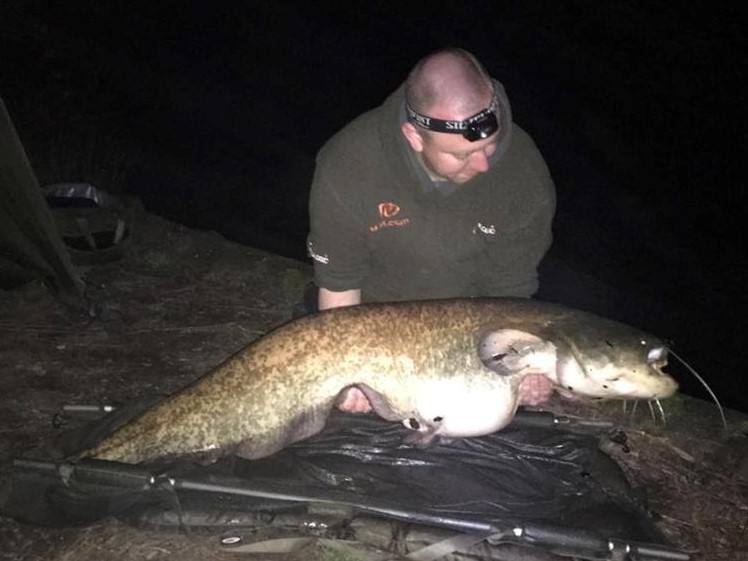 The latest big fish news supplied by Zenia and Anglers Paradise.
NEW CATFISH COMPLEX RECORD…73LBS 8OZ!!
Regular Sean Tacy, had the week of fishing dreams when he landed Anglers Paradise's NEW CATFISH RECORD!!!
Sean landed a Monster 73lb 8oz Wels Catfish from the Main Lake, and had the shock of his life when he saw it!!
The previous Record was held by Adam May for 2 years running with a 70lb 12oz Catfish also from the Main, but that has now been beaten!!
Sean caught the Monster using 15mm Robin Red Pellet topped with half a Paradise Baits Original Raspberry pop up, served over a bed of mixed sizes robin red pellets. Fixed lead clear dark matter leader, size 6 korda kurv shank hook.
Sean's Story –
"After trying for so many years to beat my PB Catfish which I achieved many years ago here at AP and failing to do so I decided it was time to have a go on the Specimen Cat Lake and drove down a day early, after losing a fish on there, I really was gutted, so headed straight to the Octopusy as soon as the welcoming party had finished!
It started off with a not so productive time and me playing about with baits that I was happy so along come the night out. Alarms buzzing, like an angry bee I stumbled out of my bivvy losing my head torch to god knows where and no shoes! At last it felt a monster, finally I thought this has to beat my PB for sure…but it was not meant to be! *play sad music* so unable to go on the Specimen Carp Lake, I decided to go on the Main Carp Lake putting out the same combo that had worked the night before up against the island.
I decided great really confident! But the day went on and nothing to come except a cracking Blue Orfe! Then BOOM!! Off goes the alarms again, jumping out of the bivvy this time with shoes, I hit into it! It felt a monster and a monster I couldn't control!! To start it just went, I am sure the fish was playing me more than me playing it!
Eventually I managed to get my phone, so shouting to siri to call the old man to come help net this monster that I hadn't even seen yet! He come and eventually managed to get it in close to see it but it just didn't want to go in the net, almost deciding to jump in the water and picking it up finally it went in!! It was a beast for sure and one that I never thought I would be seeing!!! Truly a fish of a lifetime and one I am sure will be dam hard to beat!
So again AP has been another great holiday and really cracking fishing and people!"
WOW!! HUGE CONGRATS SEAN – AMAZING FISH, AMAZING CAPTURE AND NOW YOU ARE THE CURRENT CATFISH RECORD HOLDER!!
**CONGRATULATIONS!!!**