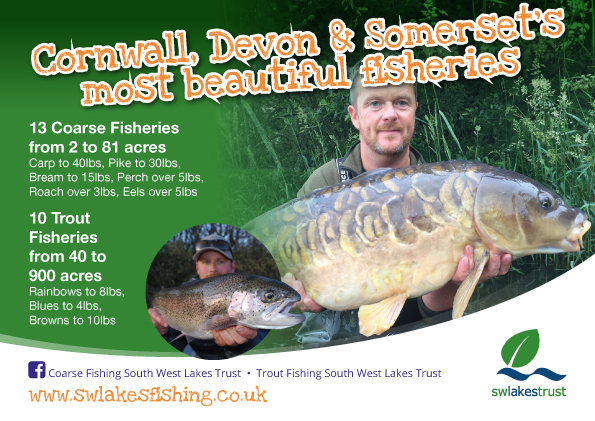 The unseasonably warm weather in February could not continue and early March saw strong winds and heavy rain, making conditions challenging for anglers. However, as the month progressed the weather became warmer and calmer, with some hatching insects evident, and a few surface-feeding fish (a few fish even being caught on dry patterns). The water levels are still all full, with water temperatures rising – up to 10ºc by the end of the month.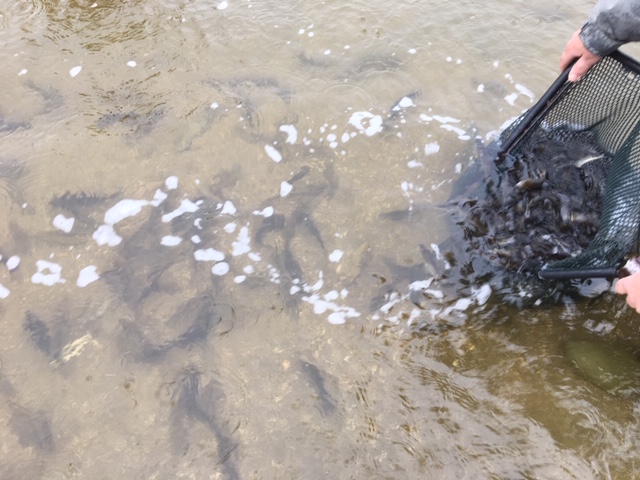 Fishing:
Kennick– Rods averaged around 3 fish per angler, with a number of full bags and fish over 3lbs being caught. The North end of the fishery continued to prove the most productive, with bank anglers finding fish from the Causeway, Laployd and Smithacott Banks, as well as Clampitts Bay, while boat anglers tended to concentrate on the Narrows and deeper central water. Some surface-feeding fish are evident in the early mornings, although few hatching insects have yet been seen, and no fish could be tempted to rise to a dry pattern. Gold-head Damsels and Montanas fished on floating or intermediate lines have caught well, as have lure patterns (such as Kennick Killers, Tadpoles and Cat's Whiskers). The best Rainbow caught during the month was a 3lb 11oz Rainbow, caught by Jim Heathcote (from Totnes), while Wes Ower caught a bag that included a Rainbow of 3lb and a wild Brown of 3lb while fishing from a boat. Mr A.Lobb had two excellent sessions, catching full bags on both occasions, with two fish and three fish of over 3lb respectively, although the best bag of the month was caught by Mr. M.Ure, catching (and releasing) 17 Rainbows up to 3lb 8oz on a tadpole pattern.
Siblyback– After a tough and windy opening weekend, both the weather and the fishing improved as the month progressed, with some nice full bags of fish being caught, rods averaging around three fish per angler, and surface feeding fish evident at the Marshes and Two Meadows (a few being taken on Black Gnats and Hoppers). With plenty of Buzzers hatching, small nymphs and teams of Buzzers have been successful patterns, while pulled deeper fished lures (Baby Dolls, Orange Blobs, Tadpoles and Vivas) have also caught well. The best fish caught in the month was a 3lb 8oz Rainbow caught by Mr Westlake.
Burrator– With two Coulam boats now at Burrator, and boats available for anglers from the beginning of the season, the opening weekend at Burrator got off to a flying start from both the banks (Longstone and Sheepstor Dam) and boats, with rods averaging 5.6 fish per angler. In addition to the freshly stocked fish, a number of wild Browns and overwintered Rainbows were caught. While fish have generally been feeding on small buzzers, small lures and flashy nymphs fished on intermediate lines proved to be the most effective method. Local club member, Stuart McCullough, caught the best fish of the weekend – a Rainbow of 3lb 8oz. As the month continued, catches remained high, with anglers averaging 5 fish per rod (and plenty of fish over 3lbs), with the best fishing to be had from Longstone Bank, the Lawns and Sheepstor Dam, mainly on Intermediate/Slow-sink lines, with a selection of patterns (Green-flash Damsel, Cats Whiskers and Tadpoles) slowly retrieved. Mr McMahon (from Walkhampton) also caught a 3lb 8oz Rainbow on a Goldhead, while Allan Lawson caught the best bag of fish – nine Rainbows from Longstone Bank and eight from the Lawns, using a Blue-flash Damsel.
Stithians– Pub Bay, The North Bank and Yellowort have proved to be the best locations in the opening month at Stithians, with anglers averaging just fewer than two fish per rod. As yet there are few surface-feeding fish and most fish have been caught on either a selection of nymph patterns (Pheasant Tail, Hares Ears, Diawl Bachs, Damsels and Montanas) or deeper fished lures (Orange Blobs, Tadpoles and Nomads). As the month progressed, fish also started to be caught from the banks at Mossops and Goonlaze.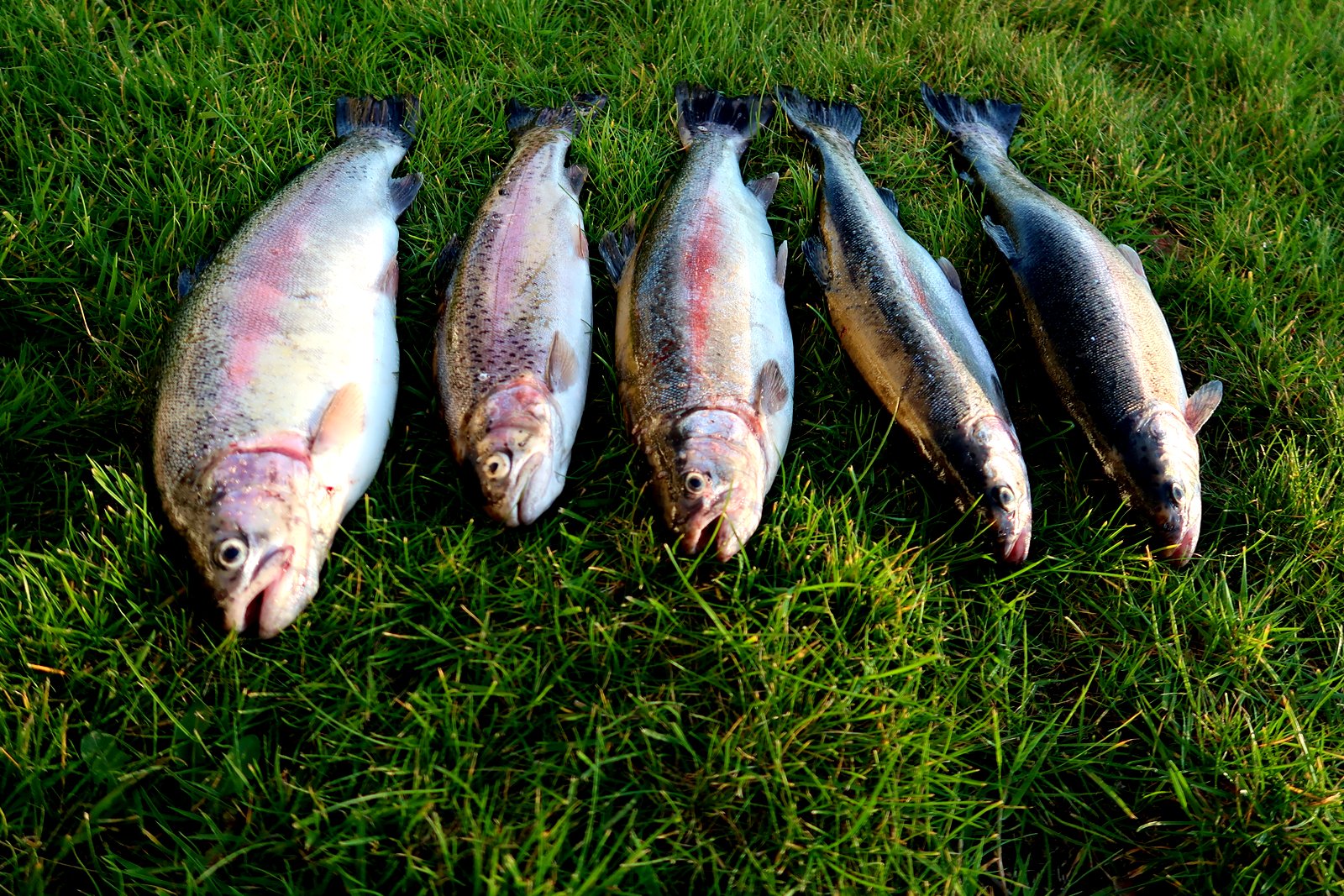 Roadford– The opening weekend at the Brown Trout waters was met with gale force winds and driving rain, deterring all but the hardiest of anglers. Duncan Kier (from Belstone) caught six fish up to 1lb, fishing from the more sheltered banks in Dam Bay and Shop Inlet, using a Woolly Bugger. The weather improved the following week and local angler Dean Boucher caught nine fish in good condition from Davey's Bank using a Black Tadpole. There are two new Coulam Boats on the water this year and over the winter we have cleared hundreds of metres of self-seeded willow from the banks to improve accessibility to the water's edge.
Fernworthy– The first week of the season produced some wonderful sport at Fernworthy, with a number of anglers catching more than ten fish in a session and, overall, anglers catching 5.5 fish per rod. Fish have been moving throughout the day, taking buzzers and small nymphs (try Hares ears and Midge Pupae) in the calmer conditions, but otherwise Black Mini-lures on floating lines caught well in the deeper water by the dam.
Colliford– Fish are well spread out over the water and being caught off most banks – it pays to keep on the move to cover as much water as possible at Colliford. With some fish already starting to move on the surface, a few fish have been taken on dry patterns (Soldier Palmer and Black Bits). Floating or intermediate lines have worked best, even in the deeper water by the dam, with Black Spiders and dark lures catching well.
Chris Hall (April 2019)
ENDS
Issue date: 3 April 2019
For more information, please contact:
Rosie Vine
Customer Communications and Marketing Manager
South West Lakes Trust
01566 771930