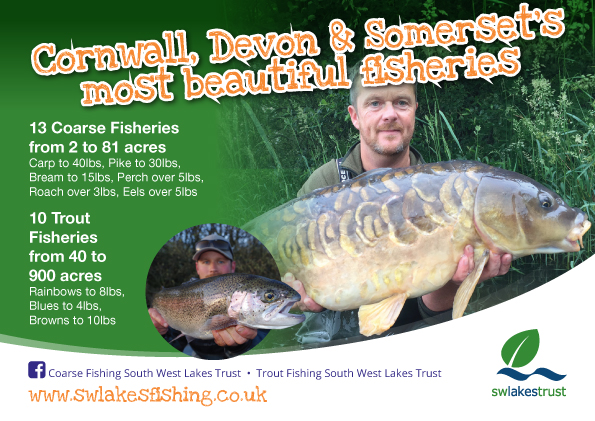 May 2021
All of the South West Lakes Trust trout fisheries continue to be operated under strict Covid-19 restrictions, in line with the Angling Trust and Government guidelines. At the time of writing, the on-site permit huts are still not yet open, so day tickets, season tickets, and boats should be pre-booked online (www.swlakestrust.org.uk/trout-fishing).
Fishing:
Kennick – The water continues to warm up, although strong, cold winds and one of the wettest Mays on record have meant that this is a slow process, and fishing on some days has been challenging. In spite of this, anglers from both bank and boat have enjoyed some excellent sport, averaging just over three fish per rod (mainly rainbows, along with a few browns). There have been plenty of buzzer hatches, and when these occur, the fish tend to lie in shallow water taking buzzer patterns just under the surface; otherwise, fish tend to be feeding 10-12' below the surface. In addition to buzzer patterns, other successful flies included Diawl Bachs, Damsel Nymphs, or deeper fished lures (such as Orange Blobs, Cormorants, and Cats Whiskers). Fish were well spread out, with anglers catching well at Clampitts Bay, Oak Tree Point, and off the Lawns, with boats also picking up fish in Boat Bay. Plenty of decent bags were caught, including a bag of ten fish caught by Geoff V, nine rainbows to 2lb 8oz caught by Matt B, ten rainbows to 2lb 8oz caught by Malcome Ure, and nine fish to 3lb caught by James H. David B caught the best fish early in the month – a 4lb rainbow.
Siblyback – Stocky Bay, Crylla, and Two Meadows proved to be the best locations, with rods averaging 3.3 fish per rod. Floating lines with a slow retrieve proved to be the most effective method, with fish often taking just below the surface. Successful patterns included Montanas, Black Buzzers, Diawl Bachs, and Damsels, with the occasional fish coming up to take a Beetle, Sedge, or Black Gnat; otherwise pulled lures (Green Baby Doll, Viva, or Appetiser) caught fish in deeper water. George H caught five rainbows to 4lb in an evening session using Back Sedges and Bibios, while Al L caught a bag of 8 rainbows.
Burrator – Another great month's fishing at Burrator in spite of the weather, with anglers averaging 4.5 fish per rod. The best locations were Longstone, Pines Bay, Pig Trough, and Sheepstor. Fish have been well distributed throughout the water column, with anglers catching on floating, intermediate, and sinking lines, usually with a slow retrieve. With occasional fish moving on the surface, dry patterns (including Foam-backed Beetles and Sedges) have met with some success, although nymphs (Diawl Back, Hares Ear, Pheasant Tail, Damsel, and Montana nymphs) and deeper fished lures (Cormorant, Cats Whisker, and Kennick Killer) have proved the most effective. Better bags included nine rainbows, caught by Alan J; six rainbows to 4lb; and Simon Jeffries catching a 'full house' of five rainbows, three browns, and a blue in one session.
Stithians – With plenty of surface activity (especially in the evenings) and terrestrials being blown onto the water, floating lines and dry patterns (Foam-Head Hoppers and Hawthornes in particular) have been producing some exciting sport, with some decent bags of fish up to 2lb 4oz. Nymph patterns (Hares Ear, Montana, Diawl Bach, and Buzzer) and Lures (Viva, Cormorant, Kennick Killer) have both worked well with the deeper feeding fish. Fish are well spread out around the water, with anglers reporting a variety of successful locations (including Yellowort, Pipe Bay, Mossops, and Carnmenellis).
Colliford – Weather conditions have played a crucial part in the sport at Colliford this month, when a sudden change (such as a change of wind direction, cloud cover, or rain) has killed off what had started as a promising day's sport of feeding fish and surface activity. Nevertheless, slow retrieved nymphs (Diawl Bachs, Buzzers, and Crunchers) on floating lines worked well for roving anglers, and when conditions permitted, a Dry Sedge or Bob's Bits brought fish up to the surface. Successful locations included Hut Bay, the Dam area, and Browngelly Bay.
Fernworthy – In spite of the challenging weather conditions, anglers averaged three fish per rod in May, on either sub-surface nymph patterns (Damsels, Black and Peacock Spider, and Hares Ear) or, as there have been good hatches, with plenty of fish moving on the surface, small dries (Black Gnats in particular) fished on the surface letting the wind take the fly naturally; fish have also been rising to take a twitched sedge pattern. The most popular and successful location has been the bank near the permit hut, with anglers finding fish while fishing the margins. The better bags included eleven fish caught by Andrew G, and eight fish caught by Stuart M.
Roadford – Rods averaged around four fish per rod over the month, and while fish are well spread out around the lake, Big Oaks, Grinnacombe, and Goodacre Bay are worth a mention, with both boat and bank anglers catching fish. The trout are present throughout the water column, and are being caught on floating, intermediate, and sinking lines with a wide variety of patterns, from dry Hawthornes to a selection of nymphs (Pheasant Tails, Orange Buzzers, Montanas, and Damsels), and deeper-fished lures (Tadpoles and Woolly Buggers) – all with a slow pull retrieve. Notable bags included eight browns to 12" caught by Ian S, seven fish to 1lb 8oz caught by Duncan Kier, and five browns caught by Gary Stickland.
Please visit the South West Lakes Trust website (www.swlakestrust.org.uk/trout-fishing) for the latest Covid-19 updates, as well as details on ticket prices, fishery information, clubs, competitions, and boat availability.
Chris Hall (May 2021)