Zyg Gregorek continues his globetrotting adventures achieving yet another milestone as he describes below!
Well done Zyg looking forward to meeting up at the lure fishing weekend at the end of February.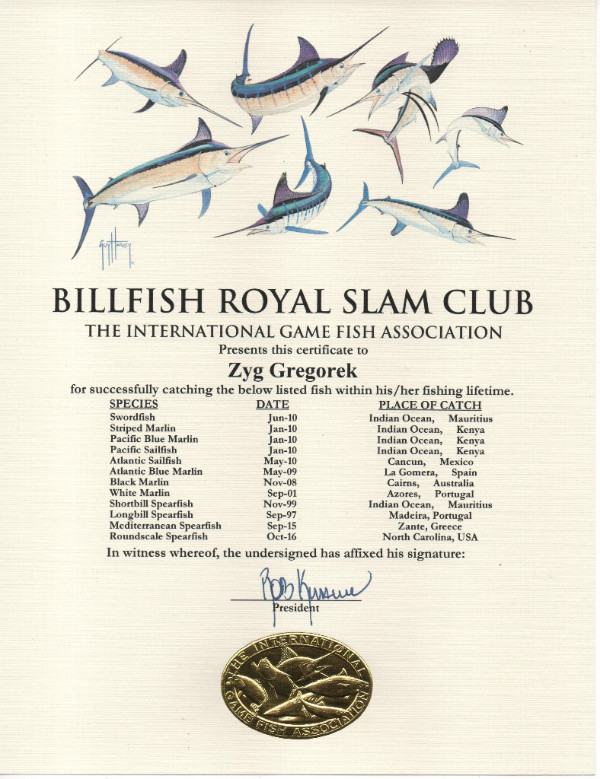 Hi All
Having recently returned from North Carolina, on my latest quest to catch a Roundscale / Hatchet Spearfish. This was my fifth attempt in the last four years.
I decided to try North Carolina, after contacting several skippers, I picked Dan Rooks on Tuna Duck. Dan has fished the area for nearly 20 years and was very knowledgeable on the necessary identification patterns. He was very willing and wanted to help our expedition. Despite adverse weather conditions surrounding Hurricane Ermine, of the many Marlin caught during the four days only two of the fish were positively identified by Dan as Roundscale Spearfish. Thank God. Mission accomplished.
All fish were photographed and released.
Following the skippers report to the IGFA and photographic evidence. I can now confirm and am very proud to say I finally caught the Roundscale Spearfish and have now caught all the known Spearfish species, Long Billed, Short Billed, Mediterranean the elusive Roundscale. I believe I am the only person to have achieved this feat.
In addition following the capture of the Roundscale Spearfish I have achieved the coveted IGFA Royal Billfish Slam with 12 different species.
If you try hard enough you will achieve.
Best Fishes
Zyg