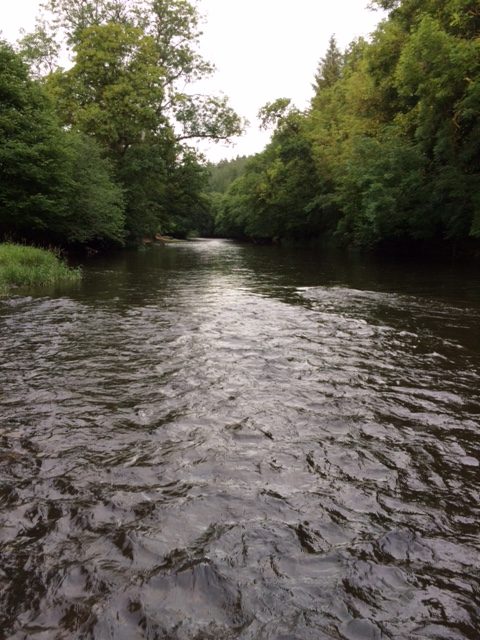 The Taw and Torridge are both in perfect condition following recent rainfall and fish are there to be caught. Clinton Marshall fished the Weir Marsh and Brightly Beats of the Taw to land a 5lb grilse and Len Francis fished the same beat to land a 6lb grilse. Both fish were fresh in from the sea with silver flanks and sea lice still attached.
I fished the Middle Torridge with the river in fine trim I expected a fish at anytime but not a pull. The sight of a kingfisher alighting on a branch opposite where I fished was reward for my effort plus the glimpse of two barn owls as I drove home.
At least seven salmon were landed from the Torridge from beats throughout the river all of them grilse up to 4lb. Martin Weeks and his party fish the Torridge every summer specializing in sea trout fishing after dark. Their latest visit to the river saw them land twenty six sea trout to 3lb in three nights fishing.
It is surprising how many sea trout can be in the river with anglers being unaware of their presence. Whilst there are a number of fishers who target the fish after dark there are far fewer than fish the famous sea trout rivers of South Wales. If more anglers adopted nocturnal habits it is likely that far more of these enigmatic fish would be tempted.
The best book on sea trout fishing is undoubtedly Hugh Falkus's classic work Sea Trout Fishing published in 1962. It is surprising that this classic tome was written so long ago as its is still totally relevant to this day and well worth seeking out. A book that captures the atmosphere of sea trout fishing through the night is BB's The Pool of the Black Witch.